The Independent's journalism is supported by our readers. When you purchase through links on our site, we may earn commission.
8 best statement bikinis to make you feel as good as you look
Make a stylish splash at the pool or the beach this summer with these bold two-pieces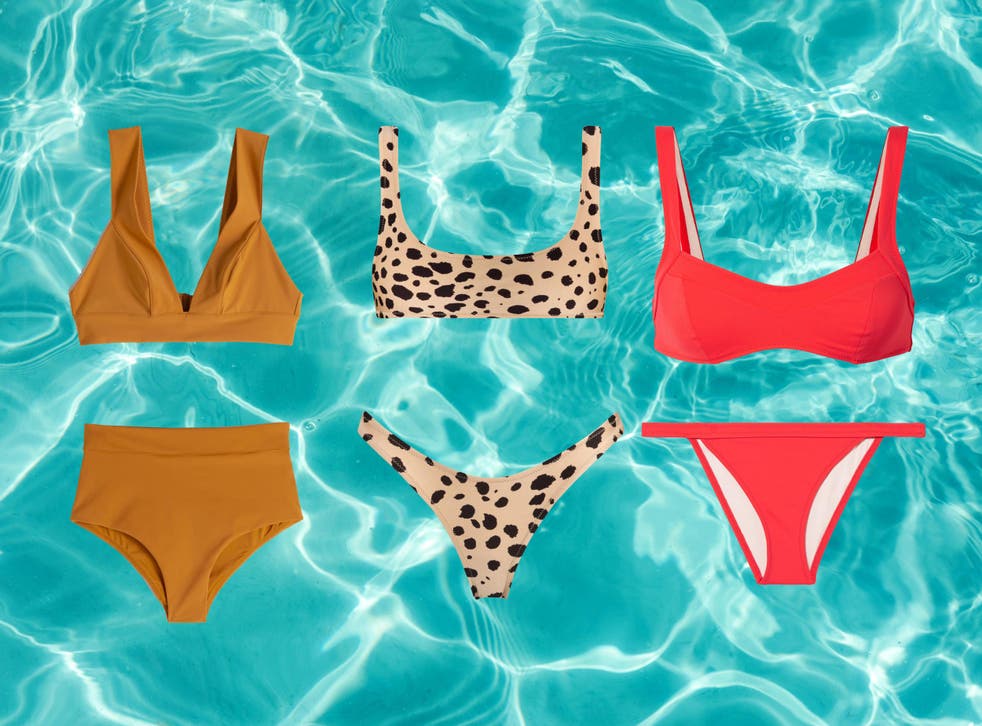 When it comes to clothes, few items conjure up feelings of dread quite like that of the humble bikini. Two simple – often small – pieces of fabric, one giant step for women everywhere.
It shouldn't be, of course, but in a society that has conditioned women to view their bodies as their social currency, bearing it all for the world to see can prompt all sorts of anxieties.
We scrutinise everything and ask ourselves ridiculous questions, like: "What if this strap squeezes this part too much?", and: "How do I position my bottom in a way that will look good on Instagram?".
The thing is, bikinis may mask themselves as sartorial Satans, but if you find one that fits you well and complements your figure, wearing it can do wonders to your confidence. It might even make you feel empowered: "I am woman, see my body in a bikini".
It helps if the pattern is playful, the cut is flattering and the colour is vibrant. Hence, the statement bikini was born, with brands like Agent Provocateur, Hunza G and Triangl leading the way in terms of trend-driven swimwear that heralds attention without compromising on style or fit, much like any other good statement item of clothing.
Here's our pick of the best statement bikinis to shop now.
Agent Provocateur mazzy bikini: £195, Agent Provocateur
The famous lingerie label has been making this bikini for years. We know because we've spent years pining after one, and for good reason, it turns out. The fabric is thick and stretchy, providing good support on both top and bottom. In other words, it keeps you firmly in place regardless of how many dives you do off the side of the pool. There's no padding in the cups so you don't have to worry about strange lumps of material cropping up after you've washed it. The wraparound straps are strategically placed to flatter any figure and enhance curves. It comes in other colours, but the black and white combination is by far the most stylish and easy to wear. The fabric loosens slightly after swimming, but the bikini still fits like a glove afterwards.
Buy bikini top now
Buy bikini bottoms now
Topshop leopard bikini: £36, Topshop
This bikini is practically made from scuba material, which is oddly satisfying if you've spent years navigating itsy bitsy bikinis made from flimsier material than your grandmother's tissue?! This is different. The bandeau offers good coverage and the bottoms are comfortable and shouldn't ride up when you rise from your sunbed. The dark cheetah print offers an innovative twist on the fashion set's perennial penchant for animal prints, namely leopard. The bottoms are cut in a high-leg too, which adds a retro vibe to the ensemble.
Solid & Striped the Molly bikini top and bottoms: £140, Solid & Striped
Solid & Striped is a go-to for sculpting swimwear that comes in vivid colours and prints, and this one is no different. The briefs are cut in a Brazilian style that offers just enough coverage without veering into thong territory. Meanwhile, the top is ideal for women with larger breasts who want a full-coverage cup. If you're worried about strap marks, you can simply pull them down and thanks to the quality of the fit, the bandeau part won't fall down when you do so. Hurrah.
Buy bikini top now
Buy bikini bottoms now
Triangl jera bikini: £68, Triangl
As the original Instagram bikini, Triangl first shot to fame around 2014 thanks to its signature pop art structures and impressive social media marketing strategy. At one point it seemed like everyone and their #bae was wearing one of Triangl's super stretch nylon spandex bikinis. The Australian company clearly knows what it's doing, because five years later, people are still talking about the quality of its swimwear. And influencers are still wearing them. This one is perfect for women who enjoy swimming on holiday, really swimming. You can't really do the same in a strapless top or a triangle one, because it would probably fall down. Hence, Triangl's sports bra-shaped top is a breath of fresh air. The bottoms fit well, though they can be a little rigid due to the thickness of the fabric, which means you may have to do the occasional restructure. Also, it comes in a matching cheetah print bumbag, perfect for festival season.
Hunza G Tracey frill bikini: £135, Hunza G
These crinkly bikinis may look teeny tiny, but the stretchiness of the fabric is what makes them flattering on any body type. This is one of the 1990s-inspired brand's best-selling bikinis, designed in collaboration with journalist and influencer Pandora Sykes, and features adorable little white frills for a fun, girlish look that adds a unique texture the overall ensemble. It certainly looks good, but it's not the most practical of bikinis for avid swimmers given the strapless design of the top, which can occasionally slip down.
Ganni all-over print swimwear wrap bikini: £120, Ganni
The cult Scandinavian brand might be renowned for its ditzy floral dresses, but it does pretty good swimwear too. This leopard print bikini offers a refreshingly different shape in the top. It's a bandeau with straps to keep it in place and a fun centre-tie to add a bit of shape. The bottoms offer full-coverage and are made from a comfortable and soft polyester fabric that doesn't budge. It's also comes in a delightfully vivid leopard print that oozes poolside glamour.
Ayla Swim arima frill papaya top and skimpy bottoms: £140, Ayla Swim
This boutique bikini brand is swiftly doing the rounds on Instagram thanks to its distinctive prints and eye-catching frilled details. This particular top is best paired with the label's dotted "skimpy" bottoms. Don't worry – they're not as skimpy as the name suggests – in fact, they're incredibly comfortable and sit on the peachiest part of your bottom without riding up. All of Ayla Swim's bikinis are made from Italian fabric and are completely seamless. But the real winner for this label is the fact that its fabric contains SPF 50 – yes, really. This is one special, and safety-conscious, bikini.
Buy bikini top now
Buy bikini bottoms now
& Other Stories v-cup bikini top and high-waisted bottoms: £46, & Other Stories
This Scandinavian high street brand produces divine lingerie and swimwear that is always of designer-worthy quality. This style is particularly popular thanks to the plunging cut of the top and high-waisted briefs, which are very on trend given the resurgence of retro-inspired swimwear. The mustard colour will do wonders to any complexion too given its neutral, base. If you're worried about your belly missing out on any sunshine, the good news is that you can easily roll the tops of the briefs down for maximum exposure. Or keep them up, the choice is yours. This bikini is nothing if not versatile.
Buy bikini top now
Buy bikini bottoms now
The verdict: Statement bikinis
While there's much to be said for each of the bikinis listed here, the winner has to be Agent Provocateur's mazzy bikini. There's just something about those wraparound straps that enlivens confidence thanks to their instantly elongating effect. The extra straps also add a sense of security, which never goes amiss in the realm of swimwear.
Register for free to continue reading
Registration is a free and easy way to support our truly independent journalism
By registering, you will also enjoy limited access to Premium articles, exclusive newsletters, commenting, and virtual events with our leading journalists
Already have an account? sign in
Register for free to continue reading
Registration is a free and easy way to support our truly independent journalism
By registering, you will also enjoy limited access to Premium articles, exclusive newsletters, commenting, and virtual events with our leading journalists
Already have an account? sign in