The Independent's journalism is supported by our readers. When you purchase through links on our site, we may earn commission.
11 best vegan protein powders: Plant-based shakes that support workouts
From vanilla to toffee and coffee flavours, give yourself a post-exercise boost with these tasty shakes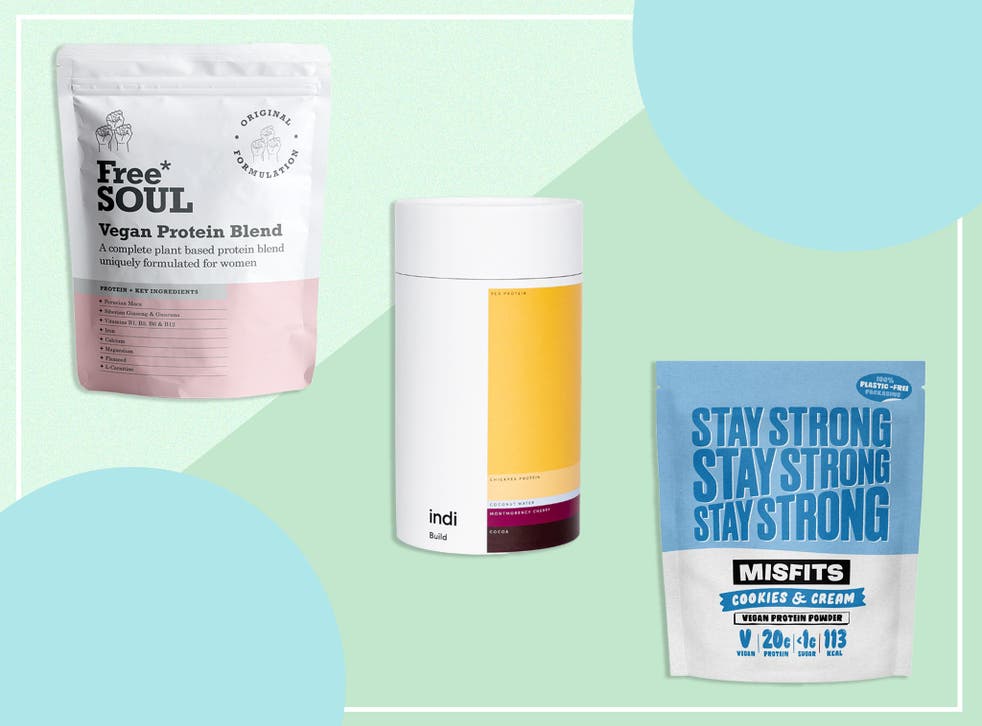 When it comes to protein powders, it's very easy to feel overwhelmed. With so many brands and flavours to choose from – each with its own list of rather unfamiliar ingredients – it's hard to know which is the right one for you (and actually tastes OK, too).
The first thing you need to decide is whether you want an animal or plant-based protein powder. Of course, this comes down mainly to dietary preference.
If you opt for an animal-based protein powder, you'll likely be recommended whey protein (which comes from cow's milk). But if you want a plant-based protein, you'll need to look for "vegan" on the label – or powders made from pea protein.
The debate around which is best, and whether vegan protein shakes are as effective as regular ones, is a topic for another day. But the best vegan protein powders seem to be the ones composed of a variety of protein sources, from pea and rice to hemp and algae.
Next, you need to choose a flavour – and you'll be surprised by how many different options there are out there, from chocolate and vanilla to toffee and coffee.
Read more:
Personally, we tend to prefer to disguise the often chalky texture of protein with as many ingredients as possible – and whizz up a protein shake with milk or yoghurt, oats, frozen berries, bananas and even a little bit of peanut butter in a blender. Or, if we're feeling fancy, we'll bake with unflavoured protein to make protein-packed flapjack or banana bread.
How we tested
For this taste test, we tried some of the leading vegan protein powders with just water, as per packet instructions. They were all tested primarily for flavour, with nutritional information taken into account.
For the best results, we'd still recommend blending protein into a fruit smoothie, but if you're in a rush straight out of the gym and you've only got a water bottle to hand, they're ideal for that post-workout boost.
The best vegan protein powders for 2022 are:
Vegan protein shakes FAQs
Can you build muscle with vegan protein powder?
Yes – provided that you buy a powder with mixture of plant proteins – such as those from pea, rice, hemp and algae – for optimal nutritional value.
Which is better vegan or whey protein?
While this is a hot topic that requires more than a simple answer, there are a few main points to be made. In terms of muscle gains, this study published in Nutrition Journal found that brown rice protein performed just as well as whey when building muscle, gaining strength, and aiding in recovery.
Plant protein is also generally digested more easily. Although, as mentioned earlier, vegan protein powder needs to include a combination of different plant proteins to create a full amino acid profile like the one found in animal proteins.
The verdict: Vegan protein shakes
If money were no issue, the NGX bodyfuel, with its personalised nutrition, is definitely the most impressive vegan protein powder currently out there. We loved the fact that it's optimised especially for you and targets everything your body personally needs. The downside is that unless you want to set up a regular delivery, it will cost you a pretty penny for a one-off DNA test and bodyfuel.
But if you're not ready to commit to a monthly delivery just yet, then we'd recommend opting for Nua – with a creamy texture, it tastes great, there's no cheap ingredients or fillers and packs a massive 35g protein punch.
Voucher codes
For the latest sports and fitness offers, try the links below:
Say goodbye to post-workout soreness with the best massage guns for relieving aches and pains
Register for free to continue reading
Registration is a free and easy way to support our truly independent journalism
By registering, you will also enjoy limited access to Premium articles, exclusive newsletters, commenting, and virtual events with our leading journalists
Already have an account? sign in
Register for free to continue reading
Registration is a free and easy way to support our truly independent journalism
By registering, you will also enjoy limited access to Premium articles, exclusive newsletters, commenting, and virtual events with our leading journalists
Already have an account? sign in