11 best Easter eggs under £10
Indulge this weekend with some top quality chocolate that's also a reasonable price
Thursday 13 April 2017 18:51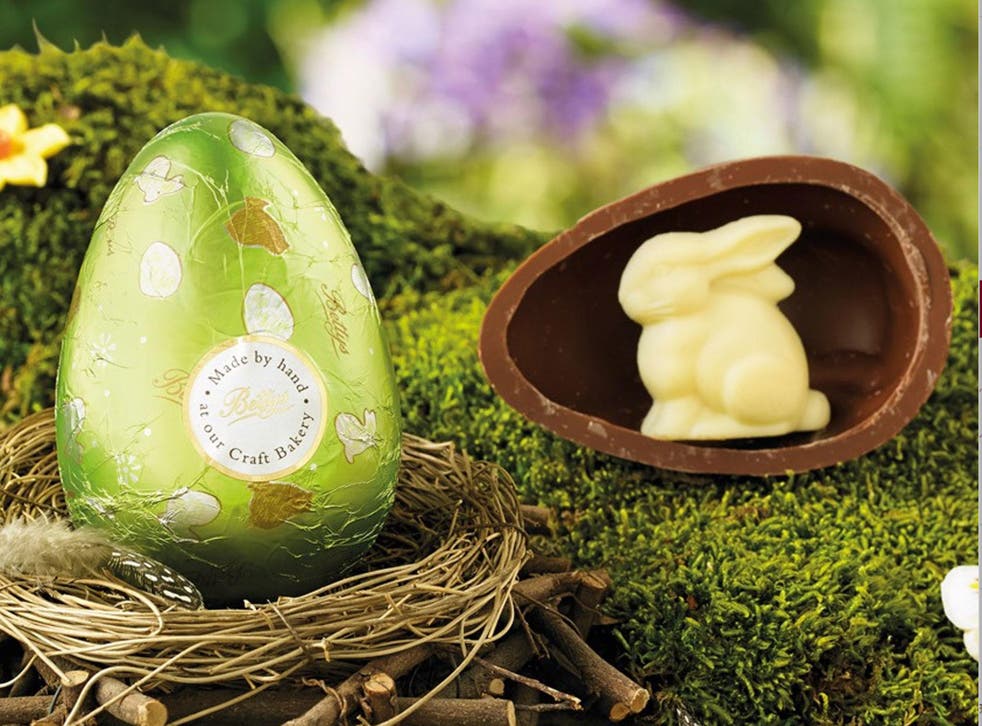 Easter is almost upon us, so that means you'll need to find some Easter eggs the whole family will enjoy. We've already found some delicious luxury Easter eggs for chocoholics who are willing to spend a little more and some tasty dairy-free options for anyone with specific dietary requirements. But if you're after a classic chocolate egg that's also wallet-friendly, below are the treats to try.
We looked out for eggs that taste good, are well-presented and aren't too sickly after a few bites. There's also a mix of dark, white and milk chocolate, as well as some flavoured options for you to pick from. Enjoy!
1. Seasalt Cornwall Easter Egg, 200g: £7.95, Seasalt Cornwall
Traditionally a clothing brand, this year Seasalt Cornwall has created a delicious, handmade egg to help celebrate Easter. Made in Cornwall from sustainably sourced cocoa, the milk chocolate is flavoured with caramel and Cornish sea salt to give it a crunchy and slightly gooey texture that really works. It's got the blend of ingredients just right, making it a moreish treat that any salted caramel fan (or anyone in fact) will love. You'll wish you bought more than one.
2. Bettys Milk Chocolate Goose Egg, 90g: £6.50, Bettys
This isn't the biggest egg on our list – you wouldn't expect anything massive at this price – but the thickness of the chocolate itself makes up for it. It's handmade in Yorkshire, the home of Bettys' famous tea rooms, using deliciously smooth Swiss chocolate. Once you've cracked the thing open, there's a small, white chocolate bunny waiting inside, which we think would be a great surprise for kids (and adults, for that matter).
3. Asda Extra Special Belgian Milk Chocolate & Honeycomb Easter Egg, 240g: £6, Asda
This egg doesn't look like it's from a supermarket – beautifully packaged (with no branding) it looks more expensive than it is. Designed in the shape of honeycomb, its crunchy texture makes a pleasant change to some sickly, plain chocolate eggs you come across. The honeycomb pieces add sweetness to the milk chocolate base but it's not overpowering. Dusted with gold shimmer powder – be careful, it covers your fingers – this egg is ideal for picky parents.
4. Lindt Lindor Milk Shell Egg, 285g: £8.99, Lindt
Lindt is well known for creating silky smooth chocolate that you can't stop eating. But if you're after something other than its signature chocolate bunny wrapped in gold foil, try out this milk chocolate egg that also comes with 10 mini truffles. Bite into one of the truffles and you'll find a delicious melted chocolate middle – one or two at a time was just enough for us, though. The egg itself has a smooth, creamy texture that is all too easy to eat in one sitting. For those who love a classic milk chocolate egg, this should be top of your list.
5. Montezuma's Organic Dark Chocolate Button Egg, 150g: £9.99, Waitrose
This all-organic egg from the British chocolatier is one for the fans of strongly flavoursome dark eggs. Containing 73 per cent cocoa solids, the chocolate has an almost fruity twang to it, which we loved. It's not the thickest egg in the world, but the overall size makes up for it – and it's easy to crack open, which is always a plus. Once you're done with the main event, you can snack on the delicious organic chocolate buttons which are also included.
6. Sainsbury's Taste the Difference Belgian White Chocolate Easter Egg with Pistachios, 220g: £5, Sainsbury's
It's hard to tell from the box, but this one is half green. We think that's to reflect the fact that the white chocolate is studded with pistachios. Either way, while not the thickest egg out there, it's just the right balance of sweet and creamy, with a deliciously nutty texture. There's enough chocolate here for the whole family to share with a cup of tea.
7. Tesco Finest Belgian Truffle Layer Easter Egg, 310g: £9, Tesco
Another impressive supermarket buy, this golden egg looks the part and is a decent size – there's certainly plenty to go around. It's also the right level of thickness, as each bite is satisfyingly chunky. The gold powder coating the egg does get everywhere pretty quickly though, but getting gold fingers is worth it for the Belgian milk chocolate beneath. Coming in a bright box that reminds you of spring, you won't be disappointed with your choice.
8. Chococo Venezuelan Milk Chocolate Button Egg, 150g: £8.50, Chococo
Founded by a husband and wife duo, Chococo is an ethical chocolate maker which has created a tempting range for us to enjoy this Easter. We especially like this rich, hollow milk chocolate egg, which is thick enough for you to feel satisfied with but easy to break into and share with the family. And once you've cracked it, you'll find dark chocolate buttons inside, which is an extra treat for chocoholics.
9. Hotel Chocolat Easter Pen Pals: £10, Hotel Chocolat
A budget-friendly option for kids is this cute set of three animals from Hotel Chocolat. The sheep (Woolliam) is a creamy white chocolate, the chick (Elizapeck) is crunchy caramel, while the bunny (Rabbert) is a moreish milk chocolate – catering for all preferences. The animals make it more fun than your standard egg and these three characters have a whole range of chocolate treats on offer, including Woolliam mini eggs and Elizapeck chocolate buttons, so you can pick which one you think the kids will enjoy the most.
10. Charbonnel et Walker Alice Through The Looking Glass Mini Milk Chocolate Set: £6.95, Charbonnel et Walker
If you're looking for something a little different, you could try this milk chocolate set from Charbonnel et Walker, iconic London chocolatier since 1875. It's teamed up with boutique brand Alice Through The Looking Glass to create a set of chocolate bars wrapped in Alice in Wonderland-inspired foils. Each small milk chocolate slab is smooth but not sickly, making them a great treat to gift at the end of any Easter parties.
11. Waitrose 1 Dark Chocolate Egg with Caramel Truffles, 372g: £10, Waitrose
Coming from Waitrose 1 – the supermarket's premium range – this dark chocolate egg contains 81 per cent cocoa. It's certainly not bitter, though, and instead has an alluring creaminess to it. In fact, we found it rather addictive, in the same way a sugary milk chocolate egg might be. The chocolate itself is pleasingly thick, and we were big fans of the intense salted caramel truffles that come as an accompaniment.
The Verdict: Easter eggs under £10
Because it tastes simply delicious, with just the right amount of crunch, Seasalt Cornwall's Easter egg is our winner. Chococo is ideal for those in search of a plain milk chocolate egg, while Hotel Chocolat's animal treats are great for kids.
IndyBest product reviews are unbiased, independent advice you can trust. On some occasions, we earn revenue if you click the links and buy the products, but we never allow this to bias our coverage. The reviews are compiled through a mix of expert opinion and real-world testing.