The Independent's journalism is supported by our readers. When you purchase through links on our site, we may earn commission.
10 best Christmas cookbooks
Ace festive fare with the help of a mouth-watering seasonal recipe collection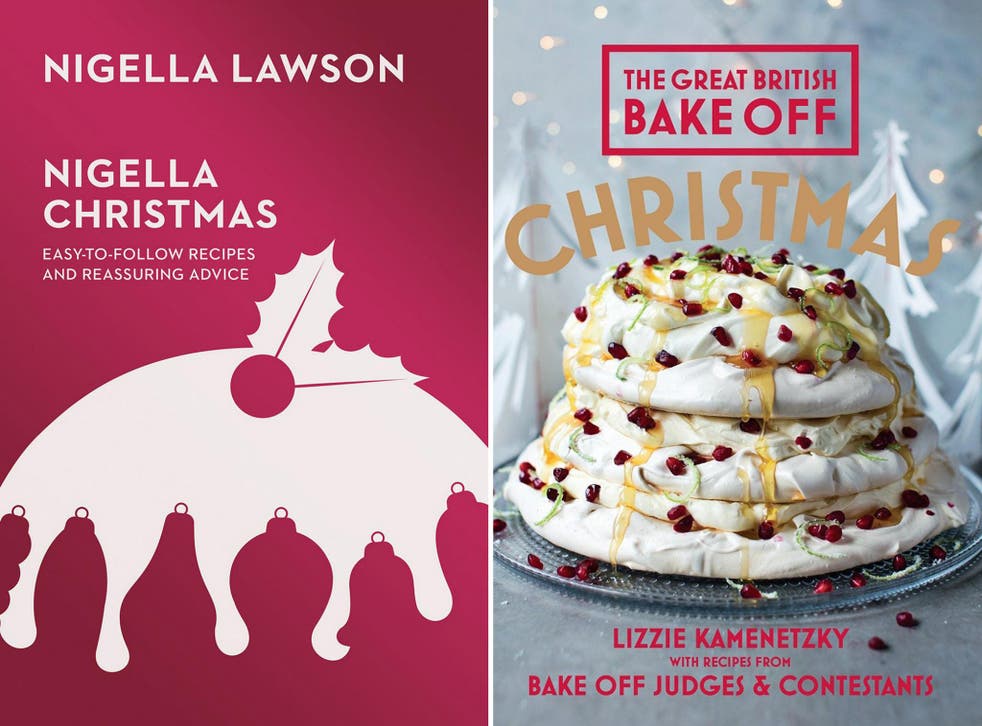 Christmas is a time of abundant feasting, with most festive get-togethers centred around food. This is great, unless you find yourself in charge of providing said food.
Whether the idea of cooking a turkey and all the trimmings fills you with terror, or whether you're looking for extra-special dishes to treat your loved ones to this Christmas, this selection of cookbooks caters for all. We've chosen both new releases and books that have become Christmas food classics, as well as volumes filled with edible gift ideas and fun cocktails to get the party started. When deciding which ones to feature, we looked for easy-to-follow recipes using accessible, affordable ingredients (we tested some to make sure). We also kept an eye out for options to suit free-from diets, or particularly inventive ways to use up leftovers.
1. Jamie Oliver's Christmas Cookbook by Jamie Oliver: £26, Penguin Books Ltd
This is the celebrity chef's latest release and our favourite so far. It is a 400-page-plus volume featuring recipes that will become your go-tos for the festive period and beyond. We love the huge variety of dishes: roasted meat with all the trimmings, edible gifts, fun drinks, shareable appetisers, and vegetarian and vegan options (try the cracker-shaped homemade ravioli). We particularly like the advice on how to use up leftovers: from turkey risotto with leftover gravy to turkey banh mi and turkey falafel. If you have a sweet tooth, look out for the likes of banoffee baked alaska and black forest arctic roll. All the recipes use accessible ingredients and include advice for how to save money. They're easy to follow too. We tried our hand at the homemade truffles, which come out looking pleasingly like the photograph.
2. The Great British Bake Off Christmas by Lizzie Kamenetzky With Recipes From Bake Off Judges & Contestants: £20, BBC Books
Bake Off-as-we-know-it may have ended this year, but a copy of the show's official Christmas cookbook will keep its legacy going. In 2014, judges and former contestants from the much-loved TV show teamed up to create this delicious selection of festive bakes. Look out for traditional favourites such as Mary's Christmas pudding and beef wellington, as well as exciting new recipes like the stunning cinnamon and raspberry whirl wreath and pumpkin and coconut tartlets. We tested out the seedy flatbreads for cheese, a simple recipe that resulted in incredibly moreish crackers that stay crisp for a long time and are gluten-free to boot. We particularly like the chapter on gifts and decorations, which features a selection of sweet treats including florentines and stained glass tree biscuits. There's also a mouth-watering array of ideas to use up your leftovers – we're still thinking about the panettone bread and butter pudding. It's an ideal Christmas gift for Bake Off fans, but also a wonderful cookery book to be enjoyed in its own right.
3. Gizzi's Season's Eatings: Feasts and Celebrations from Halloween to Happy New Year by Gizzi Erskine: £25, Octopus Publishing Group
Not only is this imaginatively organised book by British chef and TV personality Gizzi Erskine an entertaining read, it covers Halloween and New Year parties as well as Christmas. The simple-to-make breakfast carbonara is earmarked for New Year's Day. The traditional Christmas fare is still there, of course. There's everything from brined turkey to three types of stuffing and a recipe to make the perfect roast potatoes (the secret is in the goose fat to vegetable oil ration, says Gizzi). There is also a helpful itinerary for planning your Christmas Day, so that you don't forget anything important and a helpful guide to setting your Christmas table, including advice on picking atmospheric candles and flowers.
4. Christmas Cookies to Make and Bake by Ryland Peters & Small: £9.99, Ryland Peters & Small Ltd
Bake up a storm with this collection of traditional festive treats, such as gingerbread, florentines and shortbread. We especially recommend this book for those who enjoy decorating, as it includes recipes for Santa biscuits and meringue snowflakes. For the less experienced, there's a useful introductory chapter that outlines icing techniques, and the recipes come with helpful tips that should help your creations turn out like the photos. It's also perfect for those in search of inspiration for edible gifts. From elaborate gingerbread houses to super-simple biscuit tree decorations, whatever your baking skills, you'll be covered.
5. Nigella Christmas: Easy-to-Follow Recipes and Reassuring Advice by Nigella Lawson: £20, Chatto & Windus
This trusty tome from domestic goddess Nigella has remained successful since it was first published in 2014 for a number of reasons: the witty writing ("even a never-ending school concert is a little more manageable with a hit of this inside you," she writes, describing her lychee martini or "lycheeni" recipe), the interesting introduction explaining the history behind Christmas, the helpful advice about preparing for the big day, and of course, the amazing food. There's a whole array of inventive recipes such as Christmas cornflake wreaths, and more traditional ones like bread sauce and glazed ham. We also love the chapter on edible presents, which features Christmas-spiced salt and pomegranate vodka, as well as helpful tips for how to sterilise jars. There's also a suggested itinerary for food preparation on Christmas Day, as well as dinner party menus.
6. Cocktail Cookbook by Oskar Kinberg: £18, Frances Lincoln Publishers Ltd
Try this collection of 75 cocktail recipes from Oskar Kinberg, head of Oskar's Bar, which is located in the basement of top Brit chef Ollie Dabbous' eponymous restaurant. Although this is not specifically a Christmas book, it is a very useful one to have to hand during the festive period, especially if you find yourself catering for a thirsty crowd. Kinberg blurs the boundaries between food and drink and his creations include some unexpected ingredients - pea shoots, aloe vera, or olive oil to name three. From Peas, Love and Understanding to The Grape Gatsby, drinks have witty names that guests will like. There are also some specific festive recipes, such as pine syrup-based cocktails that he suggests you make by picking a few sprigs off your Christmas tree.
7. Primrose Bakery Christmas by Martha Swift: £20, Square Peg
Founder of the popular London-based Primrose Bakery, Martha Swift's festive book is a must for any keen baker. There's a selection of inventive recipes, such as eggnog cupcakes and mince pie cookies, as well as more traditional recipes like yule cakes and a beautiful Christmas pavlova wreath. The gorgeous close-up photographs are mouth-watering, and guaranteed to make you want to immediately rush into the kitchen to make them yourself. It's a good thing, therefore, that the recipes are easy to follow and simple enough for novices.
8. Gennaro's Italian Bakery by Gennaro Contaldo: £20, Pavilion Books
As a young boy, Italian restaurateur and TV chef Gennaro Contaldo worked at his Uncle Alfonso's local bakery and in this book he revisits these memories and dishes, including some festive favourites. Try the quick mini panettone and mostaccioli Christmas biscuits for sweet treats. The step-by-step recipes are easy to follow – Contaldo told us that his young daughters help him whip these up in the kitchen. For post-December, there are some great vegetarian recipes, as well as gluten-free sweet treats and pizza dough, alongside more traditional ones like onion and anchovy focaccia and buondi (Italian croissants).
9. Delia's Happy Christmas by Delia Smith: £25, Ebury Publishing
First published in 2009, this is a Christmas food bible for many households. As well as Delia's fail-safe take on classic dishes that seem to work every time, there are some inventive additions. We especially like the chapter on desserts, which features some good alternative to Christmas pud such as mincemeat soufflé and prune and Armagnac ice cream. There's also an extensive chapter advising on a time plan for the last 36 hours before Christmas Day to make sure you nail the tricky timings. We've seen it in action and we can vouch for it working. There's also a chapter dedicated to preparing food for Hogmanay, the Scottish New Year celebration, which makes this one stand out from other festive cookbooks.
10. Soup for Syria: Recipes to Celebrate our Shared Humanity by Barbara Abdeni Massaad: £24.51, Interlink Books
Planning a soup starter for Christmas? Then this will serve up some ideas. Although not strictly a Christmas book, this is a great selection of recipes by acclaimed chef, complied for a fantastic cause. Every penny of the profits will be donated to help fund food relief efforts through the UN Refugee Agency. The collection includes recipes by Yotam Ottolenghi, Claudia Roden, Greg Malouf and Anthony Bourdain and features both all-time classics, such as cream of mushroom, as well as more unusual ones (we recommend the Caribbean fish and Armenian courgette). This book is great for recipes to kick of festive feast, but will be equally handy come January when you're on a detox, and all you want to eat is something warm and comforting.
The Verdict: Christmas cookbooks
We love Nigella's book for the ease and simplicity of the recipes, as well as the entertaining writing. Gennaro's is a must for keen bakers, while the Cocktail Cookbook is perfect for liqueur connoisseurs. But our absolute favourite is Jamie Oliver's Christmas Cookbook, for its inventive recipes and helpful advice about how best to deal with Christmas and beyond.
Register for free to continue reading
Registration is a free and easy way to support our truly independent journalism
By registering, you will also enjoy limited access to Premium articles, exclusive newsletters, commenting, and virtual events with our leading journalists
Already have an account? sign in
Register for free to continue reading
Registration is a free and easy way to support our truly independent journalism
By registering, you will also enjoy limited access to Premium articles, exclusive newsletters, commenting, and virtual events with our leading journalists
Already have an account? sign in