12 best sloe gins
Fend off the chilly winter weather with a glass (or two) of this warming liqueur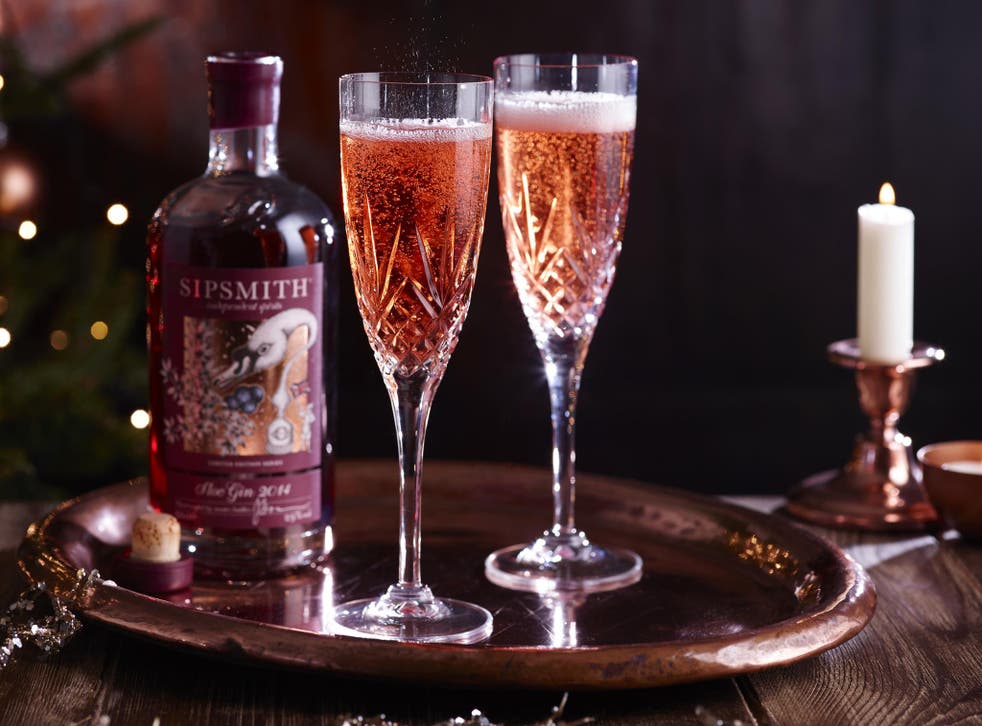 Hip flasks at the ready; it's time to ward off those winter chills with a drop of probably the only booze it's socially acceptable to have a shot of on a brisk winter walk.
Yes, that's right, as the days get shorter and the jumpers get thicker, it's time to reach for a bottle of sloe gin.
If you foolishly forgot to roam your local hedgerows this autumn (what were you thinking?), and missed out on making your own, don't fear. Though in our humble opinion, there are few things as satisfying as steeping, nurturing, and then enjoying your own homemade sloe gin, there are some beauties on the market.
First thing to note is that there's a huge array of tastes and flavours out there. Factors such as the length of time the sloes have been steeped, the fruit to gin ratio, strength (though this usually sits around the 26 per cent mark), and sugar content, can vary wildly. And there's no getting around the fact that if you haven't got a great gin to start with, you're not going to end up with a great sloe gin.
So, what should the perfect sloe gin taste like? Though a rich burst of fruit is important, so too is the ability to taste the complexity of the gin underneath. A good sloe gin should balance sweetness and bitterness, avoiding being a syrupy, jam-like sugar hit, instead delivering something warming and flavoursome. Depending on the gin, you may get some spice, and you may get some almond nuttiness.
But whether you like to sip it neat or mix it in a cocktail, here are this year's best sloe gins.
1. Ableforth's Bathtub Gin Sloe Gin, 33.8%: £27.95 for 500ml, Master of Malt
One of the strongest on our list, this gin comes with the instruction that it's better mixed than sipped. And that seems to make sense. But part of the joy of a sloe gin is sipping it. So, what do you get if you do? Sharp but smooth, Bathtub stands out for its strong pine notes and a real "green" freshness. Half a pound of sloes per bottle mean that you get a strong, fruit hit but the character of this copper-pot distilled gin still holds its own, delivering coriander spice, orange peel, and a hint of cloves. Served with tonic, and that character still shines through, but minus the alcohol burn.
2. Plymouth Sloe Gin, 26%: £22 for 700ml, Waitrose
If you're a homemade sloe gin fan, the colour and the nose on Plymouth's may seem familiar. Probably one of the fruitiest on our list, this gin really delivers a strong burst of sloes first, followed by a little sourness, and then a long, smooth finish. For its strength, there's very little burn meaning it's great for sipping, pouring decadently over your ice cream, or as the bottle label naughtily suggests, pairing it with cheese. For the bottle size, this also feels like incredibly good value.
3. Monkey 47 Sloe Gin, 29%: £38.69 for 500ml, The Drink Shop
While most sloe gins are from our fair shores, this one comes all the way from Germany. What do you get here that justifies such a price? A lot. It screams quality. Distilled in small batches once a year, using a stonking 47 botanicals, the gin is macerated for three months with wild-growing, handpicked sloe berries from the Black Forrest. The result is an almost chewy, red berry fruitiness, followed by a fresh, cooling, menthol-like finish, with nutty notes. This is one you should clear the afternoon for, find the comfiest arm chair you can and keep sipping and appreciating the different flavours that reveal themselves with each sip. No mixers needed.
4. Sipsmith Sloe Gin 2016, 29%: £24 for 500ml, John Lewis
London craft distiller Sipsmith produces its sloe gin annually, letting you know which "vintage" you're drinking, with a date stamp on the label. Why is this important? Well, in the same way that wine varies from year-to-year depending on the growing conditions of the fruit, so do sloes, and therefore so should sloe gin. Though the 2015 harvested batch has just been released, you may find mainly the 2014 on the shelves of stockists. Whereas the 2014 batch has some pleasing cherry, chocolate notes, 2015 is more plummy, with a hint of apple, and a little bit of orange. It's perfect to sip as is, but add lemon and tonic for a long serve.
5. Mother's Ruin Sloe Gin, 25%: £14.50 for 200ml or £26.50 for 500ml, Mother's Ruin
Made with wild sloes picked from the hedgerows of Essex and Cumbria, and cold infused in Walthamstow, East London, Mother's Ruin is charming from the outset. I mean, just look at that earthenware bottle. This small batch gin is all about intense fruit flavour, but without any hints of that, artificial, jam-like syrupiness that can get a little much. And that's hard to do. Instead it delivers a silky mouthfeel with just the smallest hint of cherry and chocolate. And just like chocolate, it's dangerously moreish.
6. Williams Aged Sloe Mulberry Gin, 29%: £29.75 for 500ml, The Whisky Exchange
Okay, so we're cheating a little bit here. Yes, there's a good dollop of mulberries in this gin too. Thick and warming, a process of aging the fruit for a whole year in oak casks, means this tipple is smoother than an ice rink, belying its strength somewhat. Ripe redcurrant, a bold hit of cherry, and some subtle oak and treacle notes give way to a hint of almond, meaning the overall result is somewhat like a liquid trifle. Yummy.
7. Sloemotion Handmade Sloe Gin, 26%: £17.95 for 350ml or £26.95 for 700ml, Sloemotion
There's a lot to love about Sloemotion. First, the name. Nice. And second, the story behind the gin itself. Hailing from the Howardian Hills of North Yorkshire, Sloemotion is made from fruit from farmland that has been given back to nature, ultimately reclaimed by wildflowers and hedgerows. What's more, left over spirit-infused fruit is used to make chutney and chocolate truffles. We see a food pairing coming on. The gin itself is particularly spicy, with strong cumin, coriander-like notes, elements of tea and a long, dry finish. It really stands out, but our prediction is it may disappoint sugar-lovers looking for a sweet hit.
8. Hayman's Sloe Gin, 26%: £25.24 for 700ml, Amazon
If like us, you enjoy tasting the character of the underlying gin as much as the fruit itself, then this is the sloe gin for you. Family-run distillery Hayman's has been making gin for over 150 years, so one of the big plus points here is that the base gin is top notch. And that really comes out in the aroma, which is slightly buttery, with strong almond notes. To sip, you get the gin taste first, followed by the fruit, which arrives with heat and spice, intensely plummy notes and a natural sweetness. Probably better for mixing than sipping - try adding to sparkling wine, or cut with a squeeze of citrus.
9. Greenall's Sloe Gin, 26%: £20.99 for 700ml, Amazon
A nutty, slightly chocolatey aroma is the first hint you get that this gin is going to be a real treat. Thick and indulgent, the balance of mulled, clove-like spices to fruit here makes it a perfect choice for Christmas. A bite of mince pie and a sip of this are the ideal pairing.
10. 6 o'clock Sloe Gin, 26%: £33.26 for 700ml, Amazon
This ruby-coloured beauty uses handpicked, hedgerow sloes from close to the Bramley & Gage distillery in Gloucester, which have been steeped for six long months. That's a long time. In fact, it's over double the amount of time of many other brands in our list. That, combined with a high fruit to gin ratio, means that as well as a chewy, almost chocolate-like richness, there's plenty of warming spice notes and instead of sweetness, an almost sour note. Mature, and brooding, it's lovely on its own, but try it instead of whisky in a sour (lemon, sugar syrup and egg white). You won't regret it, we promise.
11. Pickering's Sloe Gin, 30%: £21.82 for 350ml, Master of Malt
Small but perfectly formed, though the bottle is on the small side, this gin from Edinburgh's charming Summerhall Distillery, does represent good value. Why? A little stronger than most, pleasant enough to sip neat although it's much better mixed, meaning a little is likely to go a long way. Those familiar with Pickering's gin may know that it's made by following a "secret" Bombay recipe from 1947, and it's packed with intense cardamom, coriander, and clove notes. Though for this release, a one-off distillation has been created, those signature notes are very much there. But you may find the sloe element much more subtle than others listed here, with plum and marzipan notes the most prominent. And for mixing, especially with a quality tonic, that's no bad thing.
12. Beckett's Sloe Gin, 29%: £29.95 for 700ml, The Whisky Exchange
Subtle, delicate, slight – there's a hundred adjectives you could choose to say that this sloe gin from London's Kingston Distillers initially doesn't give much away. That may be down to its ingredients. Made using sloes handpicked from Surrey's Box Hill, Beckett's also has the interesting addition of mint from Kingston upon Thames. Those looking for something spice-heavy or overly-sweet won't find it here. Instead the result is something altogether tighter, with stewed fruit notes with an enjoyable cooling afternote.
The Verdict: Sloe gin
Bursting with character, fruity without masking the base gin, and great mixed or straight, Ableforth's Bathtub Sloe Gin seems to reveal a different flavour with every sip. If you're a homemade sloe gin traditionalist, you'll love it. And if you fancy yourself a cocktail buff, you'll love it too.
IndyBest product reviews are unbiased, independent advice you can trust. On some occasions, we earn revenue if you click the links and buy the products, but we never allow this to bias our coverage. The reviews are compiled through a mix of expert opinion and real-world testing.