11 best vodkas: Smooth spirits to sip neat or mix in a cocktail
From breakfast bloody marys to late night espresso martinis, vodka is at the heart of a wide range of cocktails – here are the best bottles to stock your bar with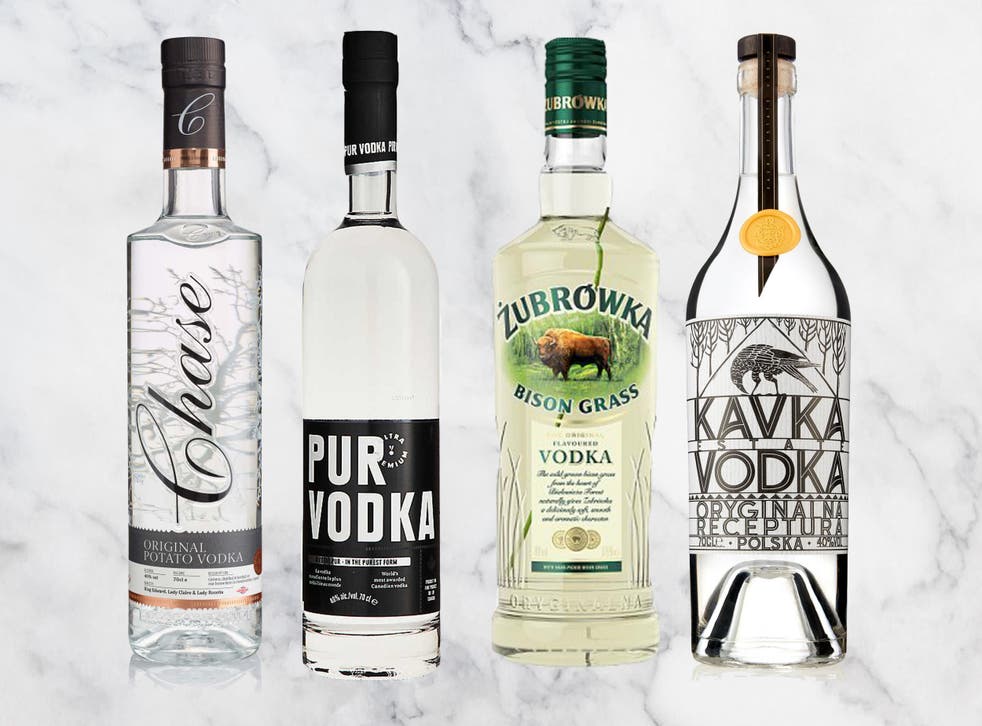 The mixologist's favourite, a good vodka is the backbone of any home bar, so it's important to make it one to remember... for all the right reasons.
Vodka is versatile – it's delicious served chilled and drunk neat as the Russians do, or over ice with a slice of lemon, or in a wide variety of cocktails. As such, we think it's about time vodka shakes off its reputation as a bland, flavourless spirit.
You can expect a good vodka to have a creamy mouthfeel, a balance of citrus notes and pepper or spice, and a clean, smooth finish (it shouldn't burn the throat). And that's just for starters. Factors from location to infusions will add something special and unique to each given vodka.
Potato, rye, and even old grape skins have been used to impart flavour but a special vodka needs an exceptional water source – and only the purest and freshest will do.
We've included brands with long, rich histories, to new emerging small batch producers creating amazing spirits in tiny distilleries. There are vodkas from across the world, including the most obvious Russia and Poland, as well as ones from much closer to home – even right here in the UK.
From breakfast bloody marys through to late night espresso martinis, vodka is at the heart of a wide range of cocktails. So when testing our selection, we tried all of them neat, before mixing up a few classic cocktails to see how they blended with other ingredients.
Reyka vodka, 70cl, 40%: £26.95, Master of Malt
Made from a blend of wheat and barley, Reyka claims to be the world's first green vodka. It uses Icelandic's pure glacial water and is distilled in a coastal village with air so clean that CO2 levels are actually falling. It's made in small batches and the distillery is powered by geothermal energy from underground volcanoes. So far, so trendy. But it turns out all of that stuff makes for really tasty vodka. Clean, peppery and with the faintest touch of aniseed, it's particularly impressive given the price.
Chapel Down chardonnay vodka, 70cl, 40%: £32, Chapel Down
Not content with being one of the leading names in English winemaking, Chapel Down has turned its attention to spirits, adding gin and this vodka to the range. Using the previous year's harvest, leftover grape skins are used to add the same fresh, zingy profile as we've come to expect from the brand's wine. Light and smooth with subtle vanilla and citrus notes along with an aniseed finish, this would work in all the classic cocktails. They recommend it in a winemaker's martini: one part vodka, one part vermouth, shaken and strained, garnished with a chilled olive and a frozen grape. If it all goes wrong you could just pour yourself a glass of their wine.
Absolut vodka limited edition 'drop' bottle, 1L, 40%: £31.03, Amazon
Travelling to anti-LGBT+ and racist protests around the world, Absolut collected ink from the hateful signs it encountered and used it in the artwork for this limited edition bottle. Each vessel contains a drop of ink within the mint and pink bottle design, turning something awful into a positive message of love in celebration of LGBT+ History Month. Inside you'll find the same Absolut vodka we've come to expect from the Swedish brand. Rich, with a full mouthfeel and notes of grain and vanilla.
Kavka vodka, 70cl, 40%: £38.41, The Drink Shop
This Polish rye and wheat vodka draws inspiration from the production methods used in the 18th and 19th century, a period in which vodka tasted truly flavoursome – according to Kavka. The antithesis of a neutral spirit designed to blend into the background of drinks, this vodka has had a small amount of aged apple and plum spirits added to the mix, which delivers welcome complexity.
Zubrowka bison grass vodka, 70cl, 40%: £20, Waitrose & Partners
With each bottle containing a single blade of handpicked bison grass, this Polish grain-based vodka has a smooth, clean flavour profile, with distinctive herbaceous and vanilla notes. Emitting a green-tinged hue, the most popular way of serving it in Poland is with cloudy apple juice, a suggestion we'd heartily second if you're in the mood for a long, sweet drink.
Belvedere vodka, 70cl, 40%: £32.95, The Whiskey Exchange
You'll probably be familiar with this bar cart staple, a smooth, crisp and precise vodka which works well in a multitude of cocktails. Quadruple-distilled and made from one particular strain of rye, the hardworking spirit has a creamy mouthfeel and notes of vanilla and white pepper. Consistently good, it's the perfect base for a martini, straight up or with espresso.
Mamont vodka, 70cl, 40%: £33.99, Master of Malt
With a bottle shaped to resemble a mammoth's tusk, this really is one for pride of place in your drinks cabinet. Created with Siberian water and wheat, it's triple filtered through birch charcoal for a crystal clear, extra smooth finish. The thick, creamy mouthfeel gives way to hints of liquorice and a lovely sweetness, particularly when served super cold.
Konik's Tail vodka, 70cl, 40%: £36.95, The Whiskey Exchange
Made in small batches from spelt, rye and wheat, this Polish vodka gets its name from the Polish horse depicted on the bottle. Again, silver birch charcoal is used for filtration, which results in a fresh and balanced spirit. Creamy butterscotch notes make this particularly good in dessert cocktails but a dose of warm spice and black pepper add complexity.
Chase original potato vodka, 70cl, 40%: £35, Chase Distillery
When not turning their spuds into Tyrell's crisps, Chase is creating award-winning vodka, all from the Herefordshire, family-owned farm. Each bottle contains a whopping 250 potatoes, and there is an unmistakable hint of the veg on the nose – but overall this is a very clean, fresh spirit, albeit one with a creamy mouthfeel. Try in a ginger and honey collins by mixing vodka, lemon juice and honey with cubed ice before topping with ginger ale.
Ketel One vodka, 70cl, 40%: £22.95, Amazon
If the only way you're interested in drinking vodka is shaken up in a cocktail then there's no point spending a fortune. Ketel One is a dependable base for a plethora of cocktails, thanks to its clean, mineral nose and citrusy, black pepper notes on the palate. With more than 300 years under their belt, the Dutch brand consistently delivers when it comes to affordable vodka.
Grey Goose vodka, 70cl, 40%: £30, Amazon
Distilled and bottled in France, Grey Goose vodka is made with just two simple ingredients, wheat from Picardie in northern France and spring water from a limestone well in Cognac. There's a reason this premium vodka is so popular. Oh-so-creamy, it's a delight drunk neat when well chilled but equally blends seamlessly with ingredients – we'd recommend trying it in a gimlet.
The verdict: Vodkas
Given the price, we feel that the Reyka vodka really over-delivers. Not only is it making use of Iceland's natural resources in a unique way, but it's also super smooth, versatile and delicious. Kavka are also one to watch if you're interested in trading in your neutral spirit for a flavoursome, traditional vodka.
IndyBest product reviews are unbiased, independent advice you can trust. On some occasions, we earn revenue if you click the links and buy the products, but we never allow this to bias our coverage. The reviews are compiled through a mix of expert opinion and real-world testing.