The Independent's journalism is supported by our readers. When you purchase through links on our site, we may earn commission.
10 best ports for a taste of the Portuguese wine: From vintage ruby to tawny
The celebrated drink isn't just a Christmas tipple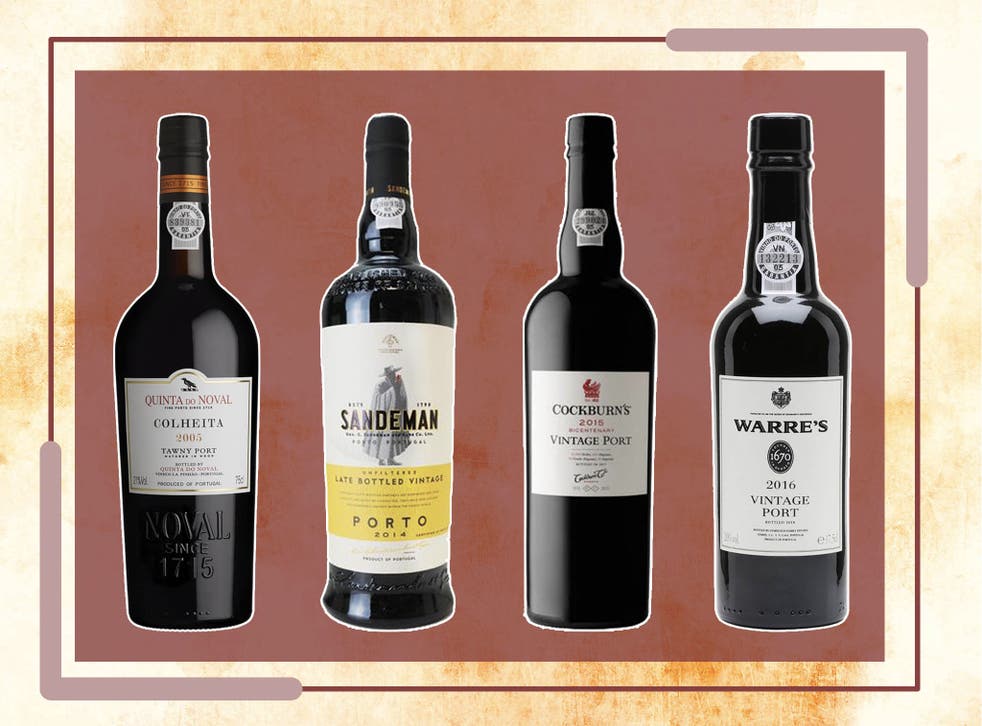 Few will remember 2021 as a vintage year, so perhaps we'd be forgiven for investigating places where vintage years have been celebrated – such as Portugal's Douro Valley. 
For it's here, in serried terraces that the grapes that go towards making one of the world's greatest fortified wines, port, are grown.
Vintage ruby ports, with their deep and rich fruit flavours, produced during a declared "vintage" year mature in the bottle and are often at their best and most mellow 20 years or so after bottling.
Tawny ports, lighter in hue and slightly nuttier in flavour, are matured in oak casks for 10, 20 or even 30 years.
LBV or late bottled vintage ports have often been filtered to avoid the sediment found in crusted or unfiltered ports.
Read more:
All of them offer what can only be described as the finest after-dinner drink there is – rich, textured and elegant and a fruitful reminder of better times.
The best ports for 2022 are:
Port wine FAQs
What is port wine?
Produced in Portugal's Douro Valley, port wines are classified by the fact they've been fortified, which essentially means they've had alcohol (often brandy) added to them. The result is a sweeter, more full-bodied wine (lending them well to deserts) with a higher ABH. This higher alcohol content makes them one of the longest lasting wines, and will keep long after they've been opened.
What are the different types of port?
Vintage port wines, as the name suggests, are produced in a declared "vintage year", and spend no more than two years or so in the barrel before they are bottled. And, like a fine wine, they only get better with age, tasting most mellow 20 years or so after bottling.
Tawny ports on the other hand, are usually made from red grapes and spend more time in the barrel – matured in oak casks for 10, 20 or even 30 years, where they're exposed to oxidisation, making them a lighter, golden-brown colour with a nuttier taste.
Crusted ports are made from a blend of different vintage ports. These are bottled, without being filtered, before being aged for three years, where they form a "crust", or sediment, that can (of course) be decanted before serving.
And port doesn't just come in ruby reds – you can find white and rosé port wines too.
The verdict: Ports
The choice may be wide but the quality of these ports remains consistent. Whether it's the excellent Sandeman unfiltered LBV at under £20 or the hugely impressive Quinta do Noval Colheita at under £40, you're getting a fortified wine that's the end result of years of careful maturing and blending and centuries of history and tradition. Some, such as the beguiling Fonseca crusted may need decanting, others such as the majestic Cockburn's 2015 bicentenary vintage will get even better with age. 
The best buy is a relative newcomer that's easy on the pocket – and the environment. The Fonseca Terra Prima organic, made from organically grown grapes, is rich, fruity and eminently drinkable. As such, it deserves a place at any dinner table.
Voucher codes
For the latest alcohol deals, try the links below:
Discover more wines from around the world with the best Spanish bottles and best pinotage wines for a taste of South Africa
Register for free to continue reading
Registration is a free and easy way to support our truly independent journalism
By registering, you will also enjoy limited access to Premium articles, exclusive newsletters, commenting, and virtual events with our leading journalists
Already have an account? sign in