The Independent's journalism is supported by our readers. When you purchase through links on our site, we may earn commission.
8 best camera tripods to elevate your photography
Get sharper shots in tricky conditions with these top-quality stands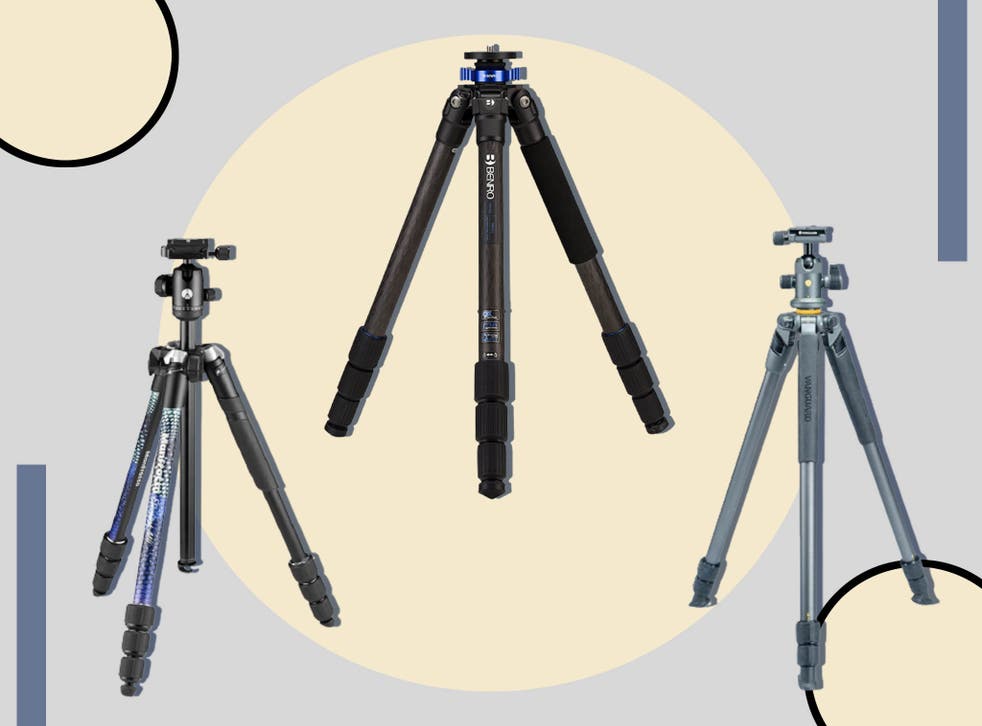 Tripods can add an enormous degree of flexibility to your photography, but buying the right one for your needs can sometimes be a confusing process.
There's a large amount of jargon and technical terms associated with camera stands. And we'll explain a little bit more about why they're used, what they're made of and what to look for when buying one later on.
But, generally speaking, the main reason to invest in a tripod is that it will increase the sharpness of an image and therefore improve your pictures – especially those taken in low-light conditions and gloomier landscapes.
How we tested
We've tested these mainly outdoors, in largely windy conditions with a range of camera models, from small compact setups to larger DSLRs with heavier lenses. We also tested on uneven ground in prone positions for sturdiness.
Here are the best tripods on the market at the moment.
Read more:
The best tripods for 2022 are:
Camera tripod FAQs
Why use a tripod?
Although correctly using a tripod can be a fine art, it is easiest to think of it as an elaborate stand to stop the camera shaking. One of the main reasons for using one is to increase the sharpness of an image – by securing the camera you can decrease the ISO and increase the shutter speed, which makes it perfect for low-light conditions and gloomier landscape environments, where the margin for error is smaller.
Additional reasons to use a tripod might be to secure heavy and cumbersome equipment, like big lenses, or to add a degree of precision to your photography in terms of framing and composition. They're also often used in studio spaces, to ensure portraits and subjects are well framed, sharp and fully in focus.
What to look for when buying a tripod
A good tripod strikes a balance between a number of different factors: if you are intending on travelling with your equipment, weight is obviously going to be a factor and it'll give you a significant advantage to purchase a lightweight, portable tripod that folds down easily and quickly. The downside is that these tripods tend to be a bit more flimsy and less rigid for obvious reasons, so it's worth testing a few out to strike the right balance for you.
You'll also need to think about what kind of head you want on the tripod itself – this is what keeps the camera on the tripod – and you can generally choose from pan and tilt heads, ball heads and gimbal heads, the latter tending to be for heavier equipment and the first two being for more general use.
Also look at the quick-release plate, which is an aluminium plate at the top of the tripod used to take the camera on and off. Inspect its quality – lower-end tripods can use plastic plates and these are not as sturdy as metal ones.
The verdict: Camera tripods
Vanguard's multi-angle centre column (MACC) system is one of the most enjoyable to use, and allowed for a greater degree of freedom in our photography. The Vanguard 3+ 236AB would be our choice here – it's a little on the pricier side but, in our opinion, it's worth it for a solid all-rounder.
If you're in the market for a slightly lighter model for travel, we'd choose the 1.5kg element MII aluminium from Manfrotto as the best option here, as we were impressed by its ability to hold our heavier setups.
Voucher codes
For more camera and tech offers, try the links below:
Can't decide between DSLR, compact, instant or mirrorless? Read our camera buying guide to make it easier
Register for free to continue reading
Registration is a free and easy way to support our truly independent journalism
By registering, you will also enjoy limited access to Premium articles, exclusive newsletters, commenting, and virtual events with our leading journalists
Already have an account? sign in