The best furniture to buy from Ikea, according our favourite interiors experts
From DIY hacks to stylish storage solutions, here's your guide to the best of the Swedish superstore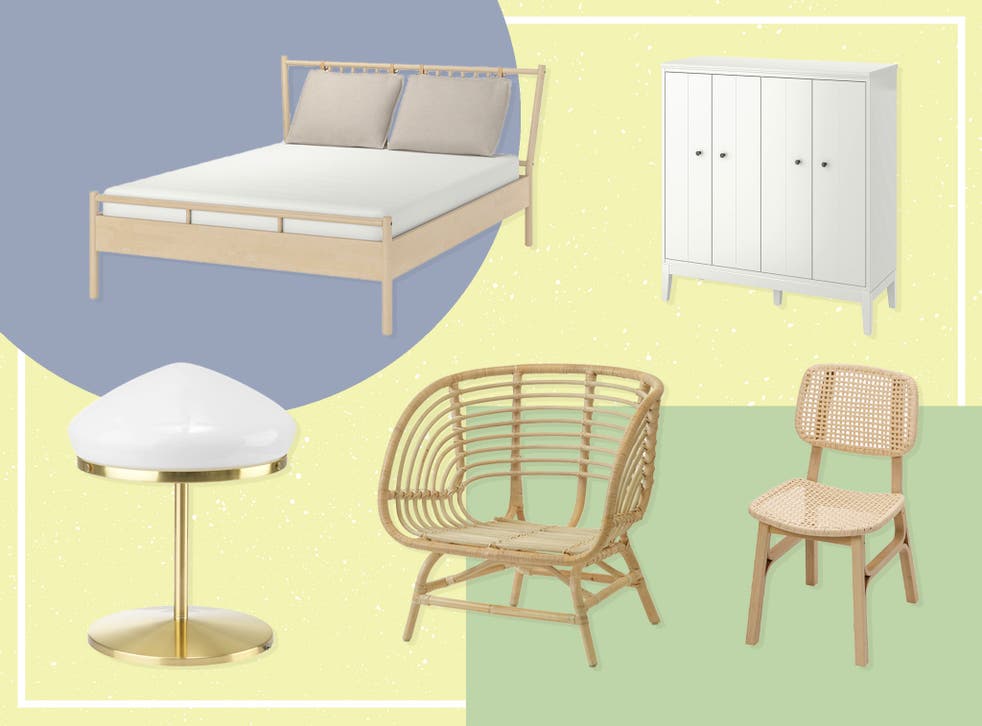 Ikea, love it or loathe it, is the destination for homeware. Whether you're doing a pre-university shop, moving into your first home, or you're desperately in need of a new wardrobe, chances are you've stepped into the treasure trove of flat-packed furniture and perused the bargain basement countless times.
Much like Aldi, it manages to pull you in every direction – if you went in for candles and photo frames, you'd be forgiven for leaving with a new sofa, Billy bookcase, a mattress topper and three packs of Daim bars.
But aside from its unique ability to get you to fill those infamous blue frakta shopping bags with anything and everything, the Swedish superstore is a reliable and popular one-stop shop for kitting out your home on a budget.
So popular in fact that research has found that Ikea is the most Instagrammed homeware brand – with more than 12 million posts under the hashtag #Ikea.
Navigating the superstore is no mean feat though, and if you do want to know exactly what's worth buying, you might be interested in the brand's bestselling products, which of course includes the billy bookcase, because who hasn't owned one?
Read more:
But to help you a little more, we asked some of our favourite interiors experts how best to shop the Swedish superstore, asking which pieces they think look a little more luxe than the rest. From DIY hacks to stylish storage solutions, here's your guide to shopping Ikea like a pro.
Interior stylist and home DIY expert Luke Arthur Wells really does have a home of dreams – think modern and sleek interiors. His Instagram and blog provide inspiration and tips on everything from tablescaping to how to create a DIY boucle scalloped bench seat.
It's his approach to Scandi-inspired interiors that caught our eye, so we were intrigued to find out his tips for making Ikea furniture look more high end in your home.
"While many of the more budget-friendly Ikea furniture styles are made from particle and fibreboard, a number of the ranges are made from solid wood, including oak and pine, which are really competitively priced and will undoubtedly last longer but still capture Ikea's original and forward-thinking design ethos that a lot of high street brands can't compete with," says Wells.
Opting for these ranges, in particular, means your home will instantly feel more chic. When asked for his favourite three products, he noted the ivar cabinet (£85, Ikea.com) as a great choice.
For a "solid base cabinet with endless opportunities for putting your own stamp on it", reach for this one. It "is pretty much unmatched anywhere else", says Wells. It has been in and out of stock throughout lockdown, so it's clearly a popular piece that's worth getting your hands on.
Similarly, he praised Ikea's range of solid timber beds for being surprisingly sturdy. The design of the Ikea bjorksnas bed frame (£350, Ikea.com) "riffs on contemporary design classics and looks much more expensive than its price tag", he says.
Another popular favourite is the malm (£129, Ikea.com), which featured in our review of the best double beds, with our writer noting that it's the "cheapest yet most versatile bed" they'd come across. And it looks as premium as the bjorksnas bed frame (£350, Ikea.com).
"Ikea is great at doing something a bit different", notes Wells, and it's recently "introduced bi-folding doors on cabinets and wardrobes".
"I prefer the versatility in storage that a cabinet offers over drawers," says Wells, making the idanas cabinet (£199, Ikea.com) one of his standouts. The "bi-folding door is so much more functional, especially when space is tight", he adds. Owing to the popularity of the new line, it's currently out of stock online, but Ikea has confirmed it'll be back soon.
Having transformed her rental property into a Seventies-inspired home, if you don't follow art consultant and interiors stylist Emma Jane Palin on Instagram, you'd better do so ASAP. She's always providing inspiration on how you can add personality and upgrade affordably.
When trying to shop for more expensive-looking homeware at Ikea, Palin recommends perusing "the Ikea inspiration pages online" and keeping an eye out for designer collaborations. She still has a number of pieces from the jassa collection that she bought in 2017.
She also always encourages a little Ikea hacking, which is what caught our eye. She transformed a set of Wells's recommended ivar cabinets (£85, Ikea.com) into a trend-led statement piece.
By "adding in strips of wood and painting it a subtle pink", Palin upgraded this affordable item into something that looks double the price.
If it's seating you're after, Palin "loves a statement chair" and this buskbo rattan chair (£99, Ikea.com) is exactly that.
"You can buy it with or without the cushion," she says, but she'd "buy without and have one upholstered to make it more luxurious and personal to you".
Similarly, "another great option is the voxlöv chair (£75, Ikea.com), which is made of strong handwoven paper twine and durable bamboo". "If I didn't already have dining chairs, I'd be adding these to my collection."
For an even more affordable choice, the karljan chairs (£35, Ikea.com) featured in our review of the best dining room chairs, with our writer praising them for being "simple, stylish and affordable".
Similarly, Ikea is a well-known brand for its fantastic range of lighting. Palin recommends the attersken table lamp (£40, Ikea.com), which, considering it's made from brass and glass, "is an absolute steal" but "wouldn't look out of place in a high-end London cocktail bar".
Owing to the fact it's temporarily out of stock, we'd recommend reaching for this solklint table lamp (£13, Ikea.com), which features a brass base and a grey clear glass shade. It's a similarly high-end-looking piece
Take our word for it, interiors writer Lisa Dawson has a wealth of knowledge and advice when it comes to styling your home on a budget, and Ikea is one of her go-to destinations.
Within her own home, she has "Ikea products that were bought over a decade ago but still look relevant and contemporary in their current setting", she notes.
Her advice, much like Wells's, is to "head for simple, solid products in natural materials which will stand the test of time trend-wise".
In her garden at home in York, she's recently invested in the havesten chairs (from £195, Ikea.com), which are also available in orange and off white.
"You can create your own arrangement by adding on as many seats as you like, which makes them really flexible," says Dawson. What's more, "they're astonishingly comfortable".
Another trusty purchase she's made is the PS cabinet (£70, Ikea.com), which she says "is a good example of a simple style that can be multi-tasked across your home".
"I've used this piece in almost every room, from the kitchen through to children's room, and it always looks great."
Similarly, for another stylish storage solution, Dawson purchased four besta cupboards (£50, Ikea.com) and "used them as a long sideboard to stretch across the living room".
"Over the past seven years, they've adapted to the way that we live and two of them are now stacked and painted as office storage," she adds – truly proving the longevity of Ikea furniture.
Voucher codes
For the latest discounts on homewares and garden furniture offers, try the links below:
Looking for more expert recommendations? We asked DIY influencers to share their home improvement essentials
Register for free to continue reading
Registration is a free and easy way to support our truly independent journalism
By registering, you will also enjoy limited access to Premium articles, exclusive newsletters, commenting, and virtual events with our leading journalists
Already have an account? sign in