The Independent's journalism is supported by our readers. When you purchase through links on our site, we may earn commission.
12 best teapots for the perfect brew
Whether you prefer a classic builders or a green blend, you'll find the perfect vessel here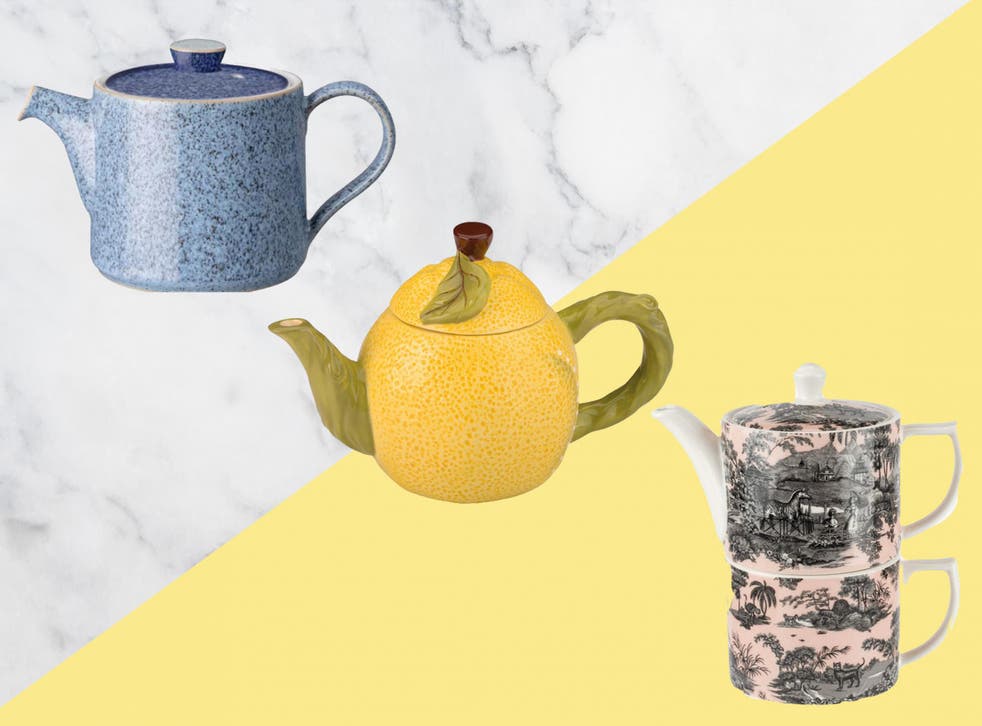 A cup of tea makes everything better, so why not indulge in the ritual of proper tea making and treat yourself to a teapot for a superior brew?
But will it be tea for two and two for tea, a big pot to service busy family breakfast times, or are you looking for a solo pot to curl up with a biscuit and a book?
Then you'll need to consider how you like to brew; if you're a loose-leaf fan then consider pots with an inbuilt strainer, while teabag devotees can pick any pot. Material plays a part too – will you be best with formal china, modern stainless steel or prefer to opt for glass to keep an eye on how well your tea is steeping?
We've been brewing up a storm to find the best pots to add to your afternoon tea collection: from classy heritage designs to contemporary styles and quirky ceramics. A lot of biscuits were eaten during our test. Here then, is our definitive list of best teapots. Happy brewing.
You can trust our independent reviews. We may earn commission from some of the retailers, but we never allow this to influence selections. This revenue helps us to fund journalism across The Independent.
Charlie Collier kyusu teapot
The Rare Tea Company is the brainchild of Henrietta Lovell, otherwise known as the Rare Tea Lady. It was set up to bring the finest loose teas direct from farmers and their tea gardens to the UK, so it makes sense that it'd stock all the right gear too.
Green tea aficionados will appreciate this stunning pot from British ceramicist Charlie Collier in which to brew their favourite blend. Kyusu is a traditional Japanese teapot used for steeping leaves, and this is made in the authentic style with a side handle and clever gravity-defying lid which stands its ground even during extreme pouring.
This teapot is made from stoneware with a celadon glaze resulting in an attractive duck egg colour with a satin finish and natural flecks. It holds 450ml of tea which equates to two cups (we'd recommend the Rare Tea Company's Japanese genmaicha which is beautifully mellow) and has a built in ceramic gate to filter the leaves – plus the upturned spout means zero drips. It's certainly pricey, but if you take your brew seriously, this one's for you.
Spode zoological gardens tea-for-one teapot and cup set
We're suckers for Spode with its signature Italian blue and white toile design that always makes us feel like Lady Mary (it is actually used in filming Downton Abbey). But heads have definitely been turned by its current collection inspired by three traditional 19th-century Spode designs from the archives: zoological, Aesop's fable and Indian sporting scenes.
This particular design is a mix of exotic landscapes and wildlife blended with literary themes in an up-to-date rose, charcoal and white colour palette. The set includes an earthenware stackable teapot and cup made in the UK and is perfectly sized for one person. It is handily dishwasher, microwave and oven proof and makes a beautiful gift if you can bear to give it away. Very fancy.

Robert Welch drift teapot
A chic stainless-steel teapot from Cotswold-based design family Robert Welch that complements its afternoon tea inspired Drift collection (if you buy anything else from the range make it the beautiful sweeping cake stand). All of the collection pieces have smoothly elegant lines and seamless joins, making this teapot both a work of art and an ergonomic pleasure to use – so much so it won the Red Dot Product Design Award last year. The teapot has a 450ml capacity, allowing for at least two cups despite its diminutive proportions, and is reliably drip-free. It is dishwasher safe too. The range allows for complementing accessories like a tea infuser, should you require.

Denby studio blue flint brew small teapot
Instantly recognisable as being from the Denby Studio, this two-cup capacity stoneware pot is perfect for settling down with at teatime. We went for this attractive mid-blue speckled design which is handcrafted in its traditional style in Derbyshire. There's a range of matching items in varying natural blues available. We were pleased to discover the integral stainless steel strainer inside, despite the traditional design, which makes for a fuss-free way to brew yourself a real cuppa. The convenience continues as it's dishwasher-safe, and comes with a 10 year guarantee should the Denby durability falter.

Sorrento teapot by BIA
This Mediterranean inspired stoneware teapot will add a drop of sunshine to your teatime. With warm yellow tones and rustic lemon tree styling, this cheery item will hold 5-6 cups of tea and is surprisingly lightweight with an easy pour shape and relatively large handle. It's microwave and oven safe (though not dishwasher) but the dimpled exterior is easy to clean thanks to a protective glaze. The matching side plates, mugs and milk jug are utterly charming too.

ProCook glass teapot
We like this glass teapot from ProCook. It holds 1200ml like some of the larger teapots we tested, but takes up much less storage space. It is dainty and looks modern and smart, particularly with the integrated infuser, plus the glass means you can see how well steeped your tea or other infusion is. The infuser is removable for easy cleaning, and the whole thing claims to be dishwasher safe, though we'd probably wash the lid by hand as it is a tad flimsy. The teapot feels light to handle, but sturdy enough when pouring and the handle stays cool. A good value and attractive glass pot for 2-4 people.

Robert Dyas glass and stainless steel teapot
Can't decide between glass and stainless steel for your teapot needs? This bargain buy from Robert Dyas offers the best of both worlds. With a half glass body that allows you to view your infusion steeping, and half stainless steel for extra thermal benefits, this 900ml pot serves 3-4 people. Featuring a handy – removable – straining basket, this is a practical drip-free teapot for two or three people and won't take up too much space in your cupboard. It's hand wash only and the lid does get hot, but at this price we don't mind.

Mary Berry signature collection fine china teapot
A classic white teapot here – would you expect anything else from Mary Berry? – that is as serviceable as it is stylish. Made from fine china and with a timeless beaded design and subtle grey trim, this pot holds 800ml (three cups) and would be at home in formal or informal dining situations. It's dishwasher and microwave safe and the upturned spout means leaking is minimised; though we found it quite heavy to pour from when full. A good quality teapot that offers value for money and stays hot throughout tea time.

Harper hey there hot tea ceramic teapot and infuser
This quirky little teapot makes spoiling yourself easy with its uplifting rose gold and blue design and inner infuser basket. The pot is ceramic and features a hinged easy-open stainless-steel lid; it holds 560ml – enough for 2-3 cups of tea and the basket is removed for easy cleaning. The stay-cool handle is comfortable and sturdy – the whole pot feels reassuringly solid actually – and we can report that no dripping occurred during testing. This pot makes a nice gift for the tea-lover in your life as the box is glitzy and flowery, though it's worth noting the colour of the pot we tested was a much darker navy than the royal blue shade seen on-screen.

Suisen red Japanese teapot
This pretty Japanese-made pot holds enough tea for up to five people and is a definite talking point with its eye-catching floral design and wicker handle. "Suisen" is Japanese for daffodil, which decorate the body and lid of the pot along with smaller delicate flowers covering the porcelain, all in a soft red and pale green shade. The wicker handle means cool and comfortable gripping while allowing for easy pouring, and the pot itself contains a removable infuser for loose leaf tea which is always useful. A really special and authentic teapot that will add a touch of ceremony to your tea break.

Cornishware Cornish large Betty teapot
The company has been making pottery since the late 19th century and the enduring appeal of this teapot in the classic Cornish blue colourway is evident. With characteristic chunky detailing, rounded curves and enough capacity for six cups, this lovely pot is at home on every family breakfast table. These days, Cornishware striped teapots are available in a variety of cheerful colours and sizes – we really like its new sunny yellow – and with matching tableware and dinnerware galore, all of its products are still made in the southwest. Sturdy, attractive and well-made as well as being dishwasher proof, you can't go wrong. Many items can also be personalised.

Emma Bridgewater blue star four mug teapot
There's always room for some more Emma Bridgewater in our collection, and this starry royal blue and off-white teapot will please any pottery fan. Hand made and decorated at the Stoke-on-Trent factory, its range of vintage styled teapots in varying sizes means you'll always find one to covet for yourself or give as a gift. Choose from stars, hearts, roses and more with the option to personalise many, then treat yourself to the matching – or mis-matching – mugs, teacups and cosies for the ultimate teatime setup. With a robust, solid earthenware pot and lid, this pot is built to last, pours beautifully and doesn't drip. We've had ours for ten years and it's still going strong despite dishwashing and frequent use.

The verdict: Teapots
We picked the Charlie Collier kyusu pot as our outright winner as it ticks every box: looks beautiful, exceptional craftsmanship, pours perfectly and extra points for the non-moving lid and inbuilt grate. We do appreciate not everyone is looking to spend triple figures on a teapot though, so we'd also point you towards the Sous Chef suisen teapot for a less costly alternative that still looks the part. Feeding a brood? We'd suggest going all in with a Cornishware collection which you could spend many joyful years adding to.
Register for free to continue reading
Registration is a free and easy way to support our truly independent journalism
By registering, you will also enjoy limited access to Premium articles, exclusive newsletters, commenting, and virtual events with our leading journalists
Already have an account? sign in
Register for free to continue reading
Registration is a free and easy way to support our truly independent journalism
By registering, you will also enjoy limited access to Premium articles, exclusive newsletters, commenting, and virtual events with our leading journalists
Already have an account? sign in