The Independent's journalism is supported by our readers. When you purchase through links on our site, we may earn commission. Why trust us?
6 best dog activity trackers
Keep an eye on your pet's exercise, health and location with a clever piece of pet tech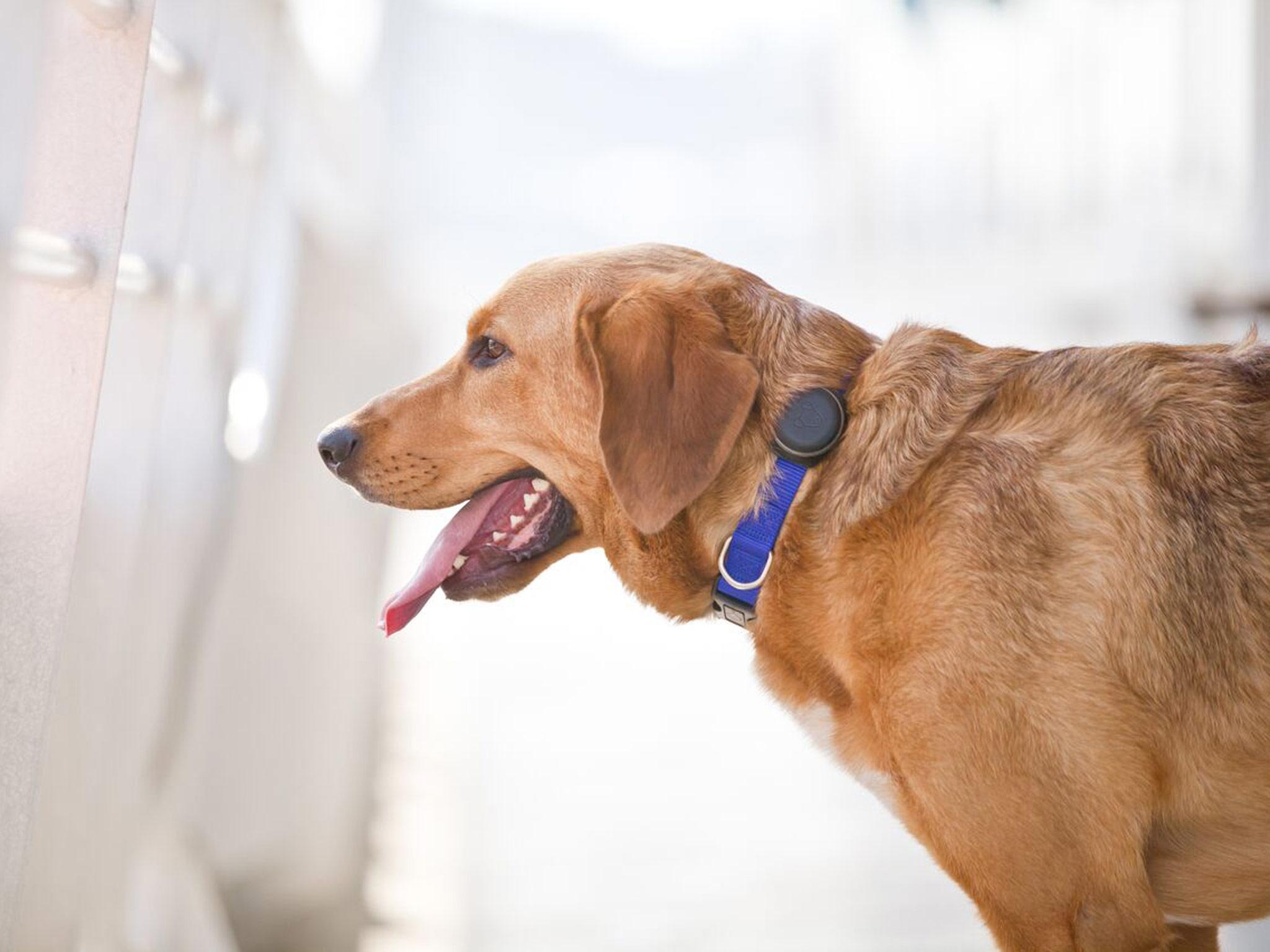 Dog-owners are turning to wearable technology to monitor their wellness. These collar-gadgets – activity trackers for hounds – show how much time pooches spend walking, running, playing and sleeping. Some devices even pinpoint where doggy is via GPS.
They sync up with our smartphones via Bluetooth, can be used in water – most dogs like a good splash, after all – and have batteries that last up to a year.
We tested six models, each with different features – which makes choosing one difficult.
So I asked Hannah Capon, a vet and founder of the Canine Arthritis Management website, and behaviourist Lisa Webb, from Canine Thinking, which specialises in dog behaviour and training, for some expert advice.
"The biggest benefit is helping people track changes in their dog's activity over the medium to longer term, as small changes are often missed by owners, especially when they are progressive," says Capon. "But being able to compare baseline data over months is incredibly valuable, especially in picking up early-onset health and behaviour changes."
With this in mind, I looked at how user-friendly each monitor is, considering how it fits to the pet's collar, weight, durability, how simple the app is to set up and how the data transferred from the gadget to our smartphones.
I picked out the best performing trackers, all of which are used by owners across the UK, and was helped out along the way by my dog, Daisy, a 13-year-old terrier cross.
FitBark 2: £56, FitBark
Battery life: 6 monthsWeight: 10gDetailed sleep tracking: YesAnimals: Dogs Waterproof: Yes (keep rubber cap covering charger point at the back firmly closed) GPS tracking: NoApp: Free (iOS and Android)
The compact, bone-shaped FitBark is developed by vets. It's the closest thing to an activity-tracker. In fact, if you use a FitBit, Apple HealthKit or Google Fit device, it syncs up. A daily graph shows how dog and owner are doing reaching goals (my dog Daisy, beat me most days).
It's suitable for small dogs too. Made of durable polycarbonate, it attaches securely to the collar with zip ties.
It will sync to your phone via Bluetooth, and of all the trackers we tested, we found this one to have the most useful functions – particularly the so-called "sleep score". FitBark monitors your pet at a time when they should be sound asleep (for Daisy, this was between 1am and 5am).
Each day you are given a percentage showing how much of that time they slept and if this drops, it's an indication something might be wrong. FitBark also gives a tailored target of "Bark Points" for your dog to hit each day depending on age, breed and weight. These points are gained by time spent active and playing. FitBark does show how many calories your dog has burned and how many kilometres they have covered, but doesn't give a breakdown of running and walking, or minutes of activity.
I felt the daily health index, which monitors your dog's recent activity and sleep patterns and compares them to their typical patterns and that of similar dogs, shown as a percentage each day, was most useful. If it drops, it's an idea to have your dog checked over with the vet. Each week you get a progress report of how your dog is doing compared to other dogs of their age and breed.
"If the sleep tracking is reliable then it is an amazing tool behaviourally," says Canine Thinking's Lisa Webb. "It is a constant debate I have with owners as to whether their pets rest properly or not, and whether this is due to stress or anxiety or discomfort, in the case of dogs with arthritis."
Cases, available in a range of 12 colours, are sold separately.
PitPat 2: £39, Amazon
Battery life: 12 monthsWeight: 12gDetailed sleep tracking: NoAnimals: DogsWaterproof: YesGPS tracking: NoApp: Free (iOS and Android)
The PitPat is the simplest tracker on our list to use and takes just few minutes to set up. It's lightweight and comes attached to a piece of Velcro which wraps around your dog's collar and is easy to remove if you need to wash their collar. It's suitable for small dogs and stays attached to them at all times.
Users are asked to create a profile with the name, breed, birthday, gender and weight of their pet, as well as whether they're neutered, to calculate their exercise goal. Daisy's was 35 minutes of exercise per day, with the app suggesting "shorter, more frequent walks for a lady of Daisy's age. Slow sniffing and extra belly rubs are good too." This is exactly what my dog likes, more of a potter, so I was really impressed at how specific PitPat was to her needs.
Each time you go for a walk, you press the paw icon on the monitor and syncit with the app on your smartphone, via Bluetooth. This provides you with information on how many minutes the dog has spent walking, running and playing. Resting and pottering time is shown in hours and the app reveals how many calories have been burned. Distance covered is being added soon. I found it a fun way to keep track of Daisy's health and my boyfriend's children loved using it, taking turns to push the paw button.
PitPat asks users to share their doggy snaps with the #pitpatpack hashtag. It's built a friendly community with some fascinating ambassadors on Instagram.
"Anything that helps people engage more with their pet is great," says Capon. "But it's really important to check the exercise suggestions with your vet rather than what is 'prescribed' by the tracker, as every dog is individual and may have specific health requirements."
PoochPlay: £40, PoochPlay
Battery life: 6 monthsWeight: 6gDetailed sleep tracking: NoAnimals: DogsWaterproof: YesGPS tracking: NoApp: Free (iOS and Android)
Pooch Play was the lightest of all the trackers we tested, a clip-on device that you attach to a collar or harness. It's really small, so ideal size for dogs such as chihuahuas. It didn't fit as securely as the others, but owners can order a £5 extra secure band which wraps around the collar.
The tracker connects via Bluetooth and all instructions are given through the app, which makes it simple to set up. You give very detailed information on your dog, including lifestyle with five options (from very active down to lazy). It asks how well-trained your dog is, when they were last wormed and vaccinated and the dog's microchip number.
Along with breed, gender, date of birth and weight, owners are asked to give their dog's "body condition score" by examining their shape from above and from the side. It tells you if your pet is too thin, overweight or obese and it's something vets are urging owners to consider rather than simply the figure on the scales.
There's also a "recommended food intake" option that uses data from a range of pet brands and works out how much food your dog would need each day which I thought was really helpful, particularly if switching to a new food. Daisy's given target was 60 minutes of activity. I thought this was quite high. This was updated as a percentage throughout the day, rather than stating how much walking and running she'd done.
Overall, it's a very well thought-out monitor that aims to cover all aspects of dog health and safety. I was very impressed with the option to remind about worming and vaccinations, and the microchip checker – this has been a legal requirement since April 2016.
Capon liked this feature, saying: "This forms the basis of a health check reminder service and is really helpful for owners and their vets too."
Available in pink or black.
WonderWoof: £100, The Gadget Flow
Battery life: 3-4 daysWeight: 20gDetailed sleep tracking: No Animals: DogsWaterproof: Yes (ensure USB cover on charging port is secure) GPS tracking: NoApp: Free (iOS and Android)
The WonderWoof comes in a quirky bowtie design and monitors how long the dog spends moving, playing and resting. It presents the info in minutes and as a percentage of the day in the app which connects via Bluetooth. Knowing how much of the day your dog is active is useful and when it comes to size, I would say it's suitable for dogs no smaller than a terrier.
It has a "reminder" feature, allowing you to set alerts for feeding time, playtime, walks, grooming and when they need to take medication. I liked that the grooming symbol was a toothbrush – research by Direct Line found two thirds of UK dog owners don't brush their teeth regularly. Poor dental hygiene causes dogs pain, and built-up bacteria can lead to heart disease, so this is an important daily prompt.
Of all the trackers, the WonderWoof looked the most cute and stylish. When I took Daisy out in some of the other devices, I had a few funny looks (one person even asked if she was wearing a shock collar). But with the WonderWoof, everyone just cooed over her.
There's also a WonderWoof social network where users can meet up with other tech-loving owners nearby, arrange walks and pooch playdates, and challenge each other on a leaderboard to see who has spent the most time being active and playing.
The only thing I would add is that it didn't seem very secure on her collar, so may not be suited to dogs who love dashing through undergrowth in forests, as it might get lost.
Available in black or aquamarine.
Kippy Vita: £49, Kippy
Battery life: 3-4 daysWeight: 50gDetailed sleep tracking: Yes Animals: Dogs and cats Waterproof: Can withstand rain, puddles and quick immersions in shallow water GPS tracking: YesApp: £4 a month for GPS service (iOS and Android)
As a terrier mum who has spent many hours standing in forests and parks with a lead in my hand, yelling for a dog that won't come back, the Kippy Vita sounded appealing.
It's an activity monitor and a live GPS tracker, allowing you to pinpoint the exact location of your pooch. A "geofence" feature lets you can create a safe virtual area where your dog can stay, like your garden or yard, and an alarm goes off if they go outside the zone. To use the tracking service, it will cost you £4 per month via your mobile phone network.
After inputting Daisy's age and breed, the tracker suggested a 60-minute goal, comprising 20 minutes each of walking, running and playing, which I thought was excessive for a senior dog. Daisy was also given a rest goal of six hours and a sleep goal of nine and a half.
Each day you get a report with a range of scores for your dog, from "very quiet" to "very active", as well as how much rest they've had, how much sleep and calories burned. All of this activity data is presented on the home page of the app. It doesn't offer the wellbeing tips that other trackers do, but does allow users to set daily goals.
The Kippy Vita was the bulkiest of the trackers we tried and felt very heavy on Daisy's collar, so we think it is best suited for larger dogs.
"A lot of people are now using trackers with GPS to give more off-lead exercise," says Webb. "If a dog won't come back when called, they shouldn't be off the lead, whether wearing a tracker or not. Instead owners should work with a trainer and teach their pet recall." If you're concerned about losing your dog, however, then I reckon £4 a month for peace of mind is worth paying for.
The tracker is available in black, green, pink, navy or camouflage.
Mishiko: £99, Mishiko
Battery life: 2-5 days (depending on GPS use)Weight: 40gDetailed sleep tracking: No Animals: DogsWaterproof: YesGPS tracking: Yes App: Free (iOS and Android)
This tracker is similar to the Kippy Vita, with GPS tracking that traces your pet to within just four metres and a geofence that can be activated to prompt alarms if your pet strays outside of a certain area. It has online tracking, too, while you're out on a walk, which meant I could spy on where my boyfriend had taken Daisy (turns out it was to the pub) and gives a map too.
Mishiko asks owners to give their dog's date of birth, breed, weight and gender and works out how many steps they should take each day. I found this less helpful than the trackers that suggested a time goal as it's hard to calculate how many steps they will take. Daisy's was 51,136 steps a day, which worked out at over four miles. I thought this was too much for her.
The app is clear and simple to use, showing how many kilometres the dog has travelled, as well as the hours and minutes they've been active for, but it isn't broken down into walks, runs or play.
The battery on this tracker ran down on this the quickest. It needed charging after two days and you need to shut down the app on your phone as it runs in the background. Mishiko flashes too. This is helpful on an evening walk, but to avoid it disturbing your dog's sleep, you can deactivate it by turning on the "Power Save" mode.
Of all the trackers, this had the most basic health features, and I felt it was best suited to a larger and very active young dog because of the size and weight of the device. And, as Webb adds: "It's important that the tracker is comfortable on the collar when lying down and doesn't bother the dog."
It comes in either black or white and with its own collar, or if you want to attach it to a different collar, there's a Velcro strip you can use.
The Verdict: Dog activity trackers
FitBark is our winner and I felt it was the most comprehensive. I liked that it has been developed by vets and my favourite feature was the sleep score as this can be a key indicator of health problems. PitPat comes a close second for its simplicity and I loved the messages of encouragement through the day. PoochPlay gets a paws-up for focusing on weight control, health reminders and microchipping.
Rachel Spencer is a pet journalist and founder of the Paw Post Pet Blog