The Independent's journalism is supported by our readers. When you purchase through links on our site, we may earn commission.
Little Folks Furniture open coil single bed mattress review: Is it comfy enough to give your kids good sleep?
It's so snug you might struggle to get your youngster out of bed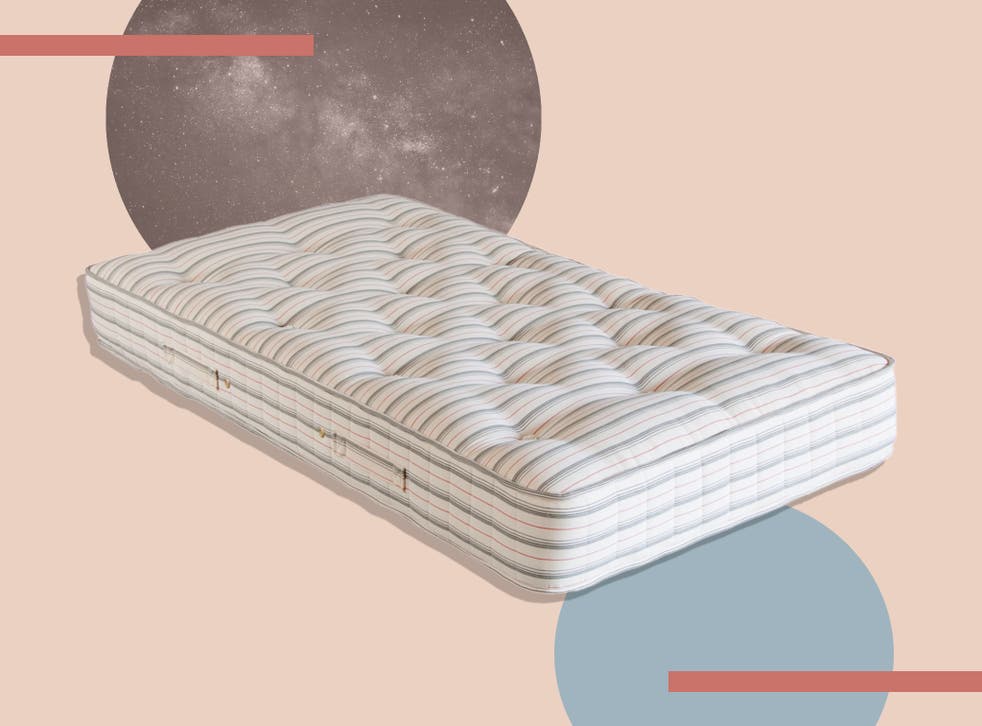 If you've ever shared a bed with your little one, amongst taking up all the room and radiating heat, you may have noticed they toss and turn a lot during the night. Many children move more in their beds than adults and they do most of their growing while sleeping, so their mattress has quite the task. It's got to be responsive as well as supportive. If you think about it, that's exactly what a spring offers.
Wiltshire-based kids' furniture brand Little Folks Furniture wanted to stock mattresses to match the superior quality of their beds – and they only stock sprung mattresses as they reckon they're best suited to the job.
Generally speaking, there are two types of spring construction used to make up the inner core of the mattress: open coil and pocket sprung. And Little Folks Furniture has teamed up with experienced UK-based mattress makers to develop a small range of mattresses designed especially for children, including an open coil single bed mattress.
But what does open coil mean, and how does it differ from pocket sprung?
If you were to dissect an open coil mattress you'd find individual high-tensile steel springs arranged to stand up straight and linked together to create a single layer, approximately the same size as the mattress.
Read more:
There are fewer springs in a pocket sprung mattress than in an open coil one because the pocket springs are smaller meaning more are required. This of course makes the open coil option more purse-friendly, but does that scupper the quality? We were curious to see how this mattress fared.
How we tested
Our five-year-old snoozer slept on the open coil single bed mattress for two weeks to really put it through its paces. Crucial to our testing process was comfort, but we also looked at practicality, longevity and cost too.
Open coil single bed mattress
Buy now £232.75, Little Folks Furniture
Sizes available: Full size single 190 x 91 cm, double and high bed options available
Mattress depth: 20-21 cm
Material: Open coil spring
Guarantee: Five years
Rating: 7/10
Design and features
The first thing we noticed is the depth of this mattress, at a chunky 20-21cm. It's plumply stuffed with an open coil sprung unit consisting of 192 springs (in comparison, the pocket sprung version has three times more with 608 springs). The open coil springs are linked together and covered in a cotton wool material made predominantly from recycled materials. On top of this, you'll find the comfortable upholstery layer composed of polyester fibres which not only gives a comforting cover to the spring core but also provides a bounce factor on the surface of the mattress.
Other things in its favour are the hand tufting and sewn fluted side which keeps all the layers in place to preserve its shape. Lastly, it's finished off with a 100 per cent cotton twill cover.
Comfort and performance
Just looking at it we knew this mattress was going to be comfortable, and that's down to the sheer thickness of it. The cotton twill cover is soft to the touch too. Naturally, the adults wanted to test it out too, and it was reminiscent of times spent on luxury hotel beds, albeit at a single size.
There were no complaints in the two weeks our five-year-old tester slept on it and she looked well supported, as the mattress responded to her wriggling – and we certainly couldn't hear the spring unit as she moved about. Our tester gave it the obligatory bounce test too, which got two thumbs up.
Admittedly, she is a good sleeper, but as the testing took place over the summer months, we weren't sure how our tester's sleep would be affected by the heat. However, the 100 per cent cotton cover seemed to do its job of keeping this mattress breathable.
Read more: 8 best kids' bunk beds that are fun and functional
Since we only tested this mattress for two weeks it's hard to judge the longevity factor, but everything is put in place to maintain its shape thanks to the hand tufting and sewn fluted side. We can't see this one ageing.
Practicality and flexibility
This mattress is too deep for safe use on bunk beds or high beds, so that does limit your options if you were to change beds. Sprung mattresses weigh more than foam, and with a mattress as chunky as this, it didn't surprise us that it weighs 22kg. There are strong flag stitch sewn handles for easier moving but we can't deny that it's heavy. As with any spring mattress, it's suggested you turn it regularly. The brand recommends letting the mattress breathe to extend its life by turning it every four to six weeks, so there's a bit of maintenance required too.
As the mattress cover is non-removable, given that the intended use is for a child, you'll likely want to purchase a mattress protector. The last thing you want when investing in a mattress is for it to be ruined by an accident.
The verdict: Little Folks Furniture open coil single bed mattress
We can't deny the comfort of this mattress, and that's surely the most important thing when reviewing a mattress. Behind the scenes, the spring unit is supporting our reviewer as she grows. Given its weight and limitations, it may not be the most practical choice but we think the comfort overrides that, particularly if it's likely to stay on the same bed frame. Pricewise, it's midrange. You feel like you're getting a high-quality mattress that'll see your little one through childhood for what you pay.
{{#hasItems}}
Price comparison
{{/hasItems}} {{#items}}

{{ merchant }}

£{{ price }}

Buy now
{{/items}} {{#hasItems}}
{{/hasItems}}
Voucher codes
For offers on mattresses and more sleep needs, try our discount code pages:
Tuck them in on their new mattress with these bedding sets which make nighttime a lot more fun
Register for free to continue reading
Registration is a free and easy way to support our truly independent journalism
By registering, you will also enjoy limited access to Premium articles, exclusive newsletters, commenting, and virtual events with our leading journalists
Already have an account? sign in
Register for free to continue reading
Registration is a free and easy way to support our truly independent journalism
By registering, you will also enjoy limited access to Premium articles, exclusive newsletters, commenting, and virtual events with our leading journalists
Already have an account? sign in