The Independent's journalism is supported by our readers. When you purchase through links on our site, we may earn commission.
8 best folding bikes that are lightweight and practical
There's no need to put the brakes on your journey with these ultra-portable cycles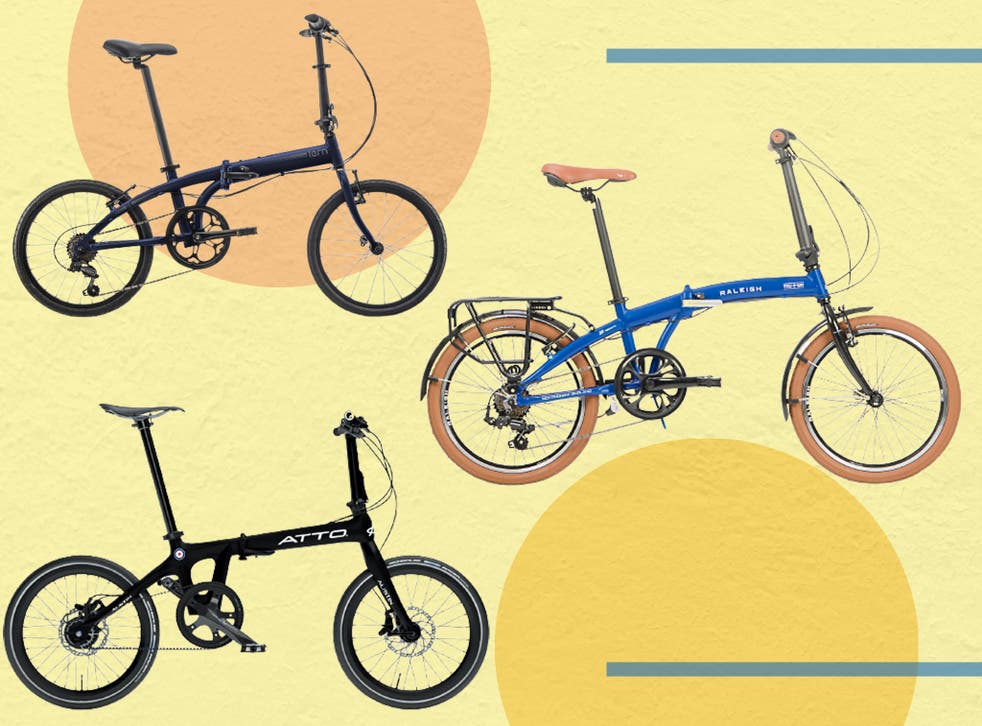 Folding bikes can be a great way to get around – especially if your travels involve other modes of transport such as buses and trains. They are also ideal if you want a bike you can stick in the back of a car to take on day trips, or if you have limited space at home and need something that won't get in the way in a hall or shared space.
But that extra practicality often comes with a weight penalty – clever folding systems tend to add bulk, while frames are often beefed up to cope with the extra stresses and strains placed on them.
When choosing your folder, consider what's most important to you – are you looking for a bike you'll need to lug around at either end of your journey, or would you be happier with a cheaper, heavier model you'll only need to lift from time to time?
Whatever you choose, stick to models you can trust – there are some appalling, and sometimes dangerous bikes lurking on the internet awaiting unsuspecting buyers, so don't get caught out.
Read more:
How we tested
We have been zipping around on a range of the best models on the market – putting them through their paces on the roads, folding and unfolding them, and lugging them up and down stairs to find out which are best suited to a variety of situations.
The best folding bikes for 2022 are:
Folding bike FAQs
Can you take a folding bike on the Elizabeth line?
Yes. Electric and non-electric folding bikes are allowed everywhere on TfL transport services, including on London Underground trains and Elizabeth line trains. Bus drivers may refuse to let you board with your folding bike if it's too busy. And non-folding bikes are only allowed on some sections of the Elizabeth line, and only at certain times.
Generally speaking, non-folding bikes can be taken on the above-ground sections of the TfL network outside of peak hours, but aren't allowed in deeper tunnel sections as non-folding bikes can block access in emergencies. Check out TfL's cycle map to see when and where you can take a bike.
Electric scooters of any kind are banned across the entire TfL network. This ban doesn't extend to e-bikes.
The verdict: Folding bikes
For its excellent build quality and frankly amazing price, we're giving the best buy to the Raleigh stowaway. The seven-speed gears will see you up all but the steepest hills and it easily folds down small enough to bring on the train or leave in your car. If you've got a bigger budget and want some electric assistance, you can't go wrong with the Gocycle G4. We loved it's futuristic design and, thanks to it's powerful motor it's the most fun bike we tested.
If you'd rather go for a big name, we'd recommend any of Brompton's C line range, both the C line urban and the electric C line explore. Brompton are the market leaders for a reason, folding them is a breeze, they look the business and you can go for a battery powered model if you like for extra convenience.
Voucher codes
For the latest discounts on bikes and other cycling kit offers, try the links below:
To stay visible on the road, read our review of the best bike lights
Register for free to continue reading
Registration is a free and easy way to support our truly independent journalism
By registering, you will also enjoy limited access to Premium articles, exclusive newsletters, commenting, and virtual events with our leading journalists
Already have an account? sign in
Register for free to continue reading
Registration is a free and easy way to support our truly independent journalism
By registering, you will also enjoy limited access to Premium articles, exclusive newsletters, commenting, and virtual events with our leading journalists
Already have an account? sign in