The Independent's journalism is supported by our readers. When you purchase through links on our site, we may earn commission.
8 best turbo trainers for cycling at home
From smart trainers to wheel-on rides, clock up the miles with an indoor steed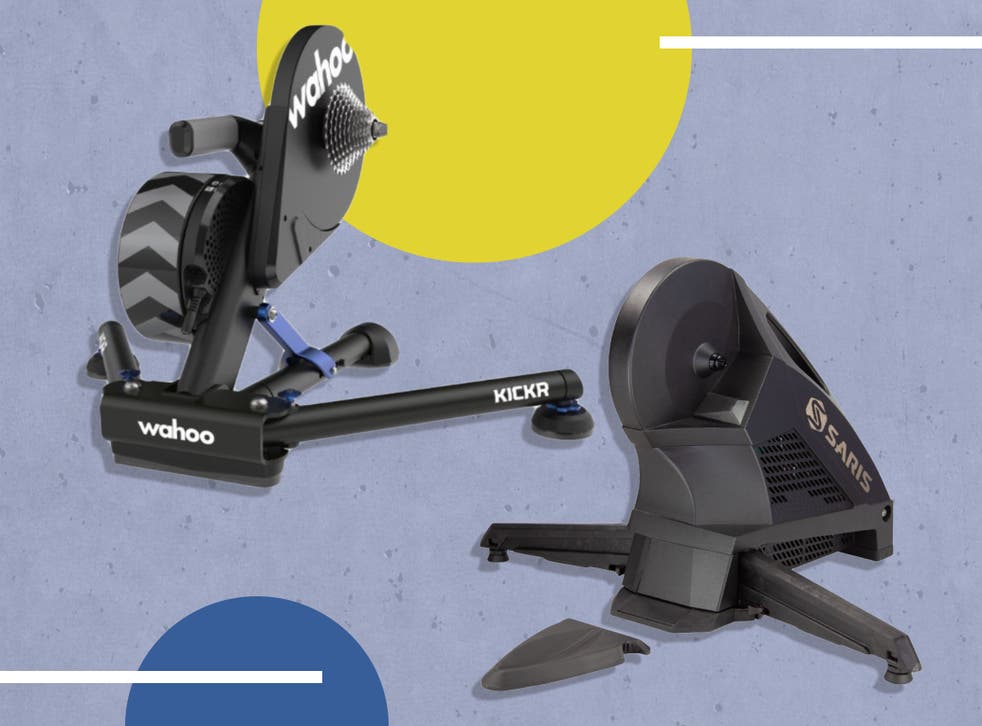 Whether you're looking to race with your mates on apps like Zwift or you're just looking to keep fit, a turbo trainer is an essential bit of kit for any cyclist who wants to clock up some quality training without leaving the house.
Turbo trainers are divided in two main categories: "direct-drive" and wheel-on. The main difference between the two is that wheel-on models are generally simpler to set up and are cheaper too. But more on that later.
Many of these "smart" devices come fitted with power meters, so you can accurately gauge your power output, and are compatible with ANT+ and Bluetooth. That means you can easily connect to training apps, your heart monitor or even a separate power meter. Plus, they tend to fold down when not in use, making life easier if you're short on space.
If this is your first foray into the world of turbo trainers, make sure you also buy a fan to keep you cool. Without a breeze while you're riding, you'll overheat and won't be able to perform to your best. It's also worth investing in a mat to place beneath your trainer to dampen any vibrations and keep complaints from your neighbours to a minimum.
How we tested
We tried out these turbos trainers with our usual bike, looking at how easy they were to mount and set up. We connected them to our sensors where possible and used them in conjunction with Zwift to see how they performed for workouts and riding. We also kept an ear on how loud they were, and considered build quality too. These are the eight that made the cut...
Read more:
The best turbo trainers for 2022 are:
Turbo trainer FAQs
Wheel-on vs. direct-drive
There are two key types of turbo trainer: wheel-on and direct-drive. Wheel-on trainers are the cheapest option and work by using a roller that touches the rear wheel to provide the resistance. They're cost-effective, but don't provide the most realistic ride feel. And we'd also recommend a turbo trainer specific tyre to avoid wearing out your normal road tyres.
Spend a little more and you can get a direct-drive trainer. These require the rear wheel of the bike to be removed so that it can be mounted on an integrated cassette (the bit with the gears). The resulting ride feel is much more authentic and performance metrics such as power and cadence are more accurate.
What is a smart trainer?
Aside from the most basic of options, most turbo trainers these days are what are known as "smart trainers". This simply means that they possess the functionality to connect to a smart device, allowing the user to train virtually by using a multiplayer training program such as Zwift. This is usually achieved via a Bluetooth or ANT+ connection.
The verdict: Turbo trainers
With features and connectivity that are perfect for most amateur riders, the Tacx flux 2 is our recommendation and is an amazing value smart trainer for less than £650, with all the features you need to get a great workout. If you just want a no-nonsense turbo trainer though, you can't go wrong with LifeLine's magnetic offering.
Voucher codes
For offers on fitness equipment and clothing, try our discount code pages:
Carry out saddle, handlebar and pedal adjustments or mend punctures withour best bike multitools
Register for free to continue reading
Registration is a free and easy way to support our truly independent journalism
By registering, you will also enjoy limited access to Premium articles, exclusive newsletters, commenting, and virtual events with our leading journalists
Already have an account? sign in
Register for free to continue reading
Registration is a free and easy way to support our truly independent journalism
By registering, you will also enjoy limited access to Premium articles, exclusive newsletters, commenting, and virtual events with our leading journalists
Already have an account? sign in