The Independent's journalism is supported by our readers. When you purchase through links on our site, we may earn commission.
10 best rowing machines for building muscle and boosting fitness
Resistance isn't futile, it's very, very good for you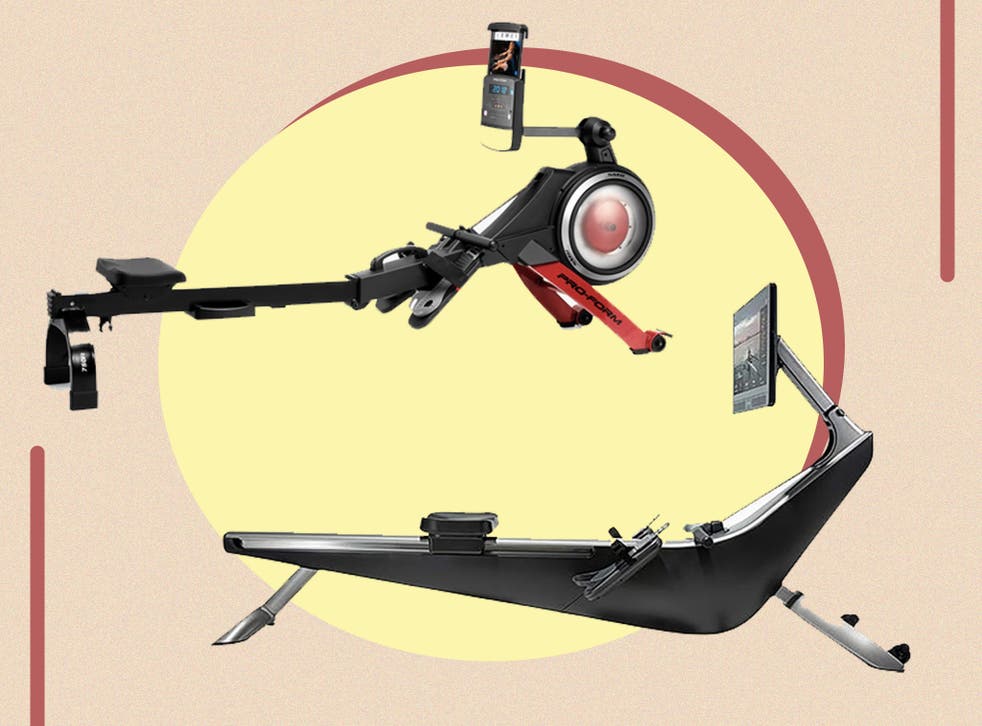 Getting on an indoor rower (or ergo, as they're also known) is one of the best ways to get all the benefits that the discipline can bring, without swerving the early morning starts on a freezing cold river. Quite simply, a rowing machine is one of the best workouts you can do at home, as it ticks both boxes of strength and cardio endurance training in one go.
The Concept 2 rower (£860, Amazon.co.uk) used to be several lengths ahead of the competition. However, plenty of machines are now closing the gap, offering more connected workouts with online libraries of motivational content. So, we thought it would be a good time to take a seat on as many machines as possible to see which ones came close to replicating that on-the-water feeling, while optimising functional fitness through various forms of resistance.
Rowers generate this resistance in different ways, some have air flywheels, so the harder and faster you row the greater the intensity; while others use magnetism or water itself. Some air rowers will have dampers that allow you to adjust the flow of air to the flywheel, so you can change the stroke cycle to be light and fast or bigger and heavier, to replicate different kinds of boats.
A quality ergo will allow for a rowing movement that's both smooth and dynamic and avoid any jerky stuttered movement from the chain or belt drive that connects you to the source of the resistance, so that you feel it all the way through your stroke, like you would if you were sat rowing on water.
A rower's monitor is also very important if you're going to follow your progress, stay motivated and get the most out of your time with the machine. The display needs to be well thought out, easy to read and have all the necessary metrics, which at the very least should be distance, time, calories, stroke rate, watts and the all-important 500M split time.
Read more:
Connected rowers will have all this and more, from immersive content to online classes that are both live and stored. These rowers will be more expensive and will require a subscription, however, the motivational advantage of this content can be incredibly useful, whether that's allowing you to get out on the River Thames or just take part in a high energy rowing class whenever suits you.
Finally, rowers take a lot of punishment, so build quality is always a consideration and the machine has to remain stable throughout your workout, so that your focus is on your technique and your targets and not trying to avoid toppling over.
How we tested
All our rowers were put to the test by a club rower who competes in national indoor tournaments, using the Concept 2 as a standard by which all the other machines were judged. Each rower was rated on a set of criteria that included things like ergonomics, the quality of the resistance and the readability of the display. Like most other pieces of home exercise equipment, ergos have a big footprint, especially if you're short on usable space at home, which is why we always tested how easily and discreetly the rower stored away when not in use.
The best rowing machines for 2022 are:
ProForm 750R
Best: Affordable connected rower
Rating: 9/10
The magnetic resistance on the connected ProForm, controlled digitally, means that you can take full advantage of the 30-day iFit family membership as the trainers and classes that you choose to follow will automatically change the resistance of your rower as you progress the workout.
The iFit streaming service will give you a mind-boggling number of live and on-demand classes that are well curated and will benefit all experience levels. You'll have no problem finding content to match up to your own training goals – just add your tablet to the rower's holder and you're good to go.
In motion, the ergonomics were good, the rower itself was very fluid and the availability of 24 resistance levels means that there's plenty of potential to keep progressing fitness and strength. The readability of the large, colour display was also excellent and featured all the essential metrics as well as the opportunity to access 20 preset workouts, if you're not iFit subscribed. Build quality was impressive with an excellent cord/belt drive, so we never experienced any jumps, which can happen on inferior machines, and the 750R had one of the most fluid and compact folding mechanisms on test.
Be aware that the 30-day iFit family membership isn't free forever and it will auto-renew at £28 per month.
JTX ignite air
Best: Budget air rower
Rating: 9/10
This air rower has good ergonomics all around from the seat to the footrests, and the handle and the rowing action were nice and smooth with no jumping mid-stroke. This translates to life-like simulation, which you can really dial in using the sensitive 9-point damper. The display is clear and well laid out too with eight workout modes to keep things interesting. It also gives you the option to strap yourself up to a Polar heart rate monitor, so you'll get live feedback as you row for training in a specific heart rate zone, which we really liked.
We were very impressed with the superior build quality of the rower and the nickel-plated steel chain, which can be kept well-oiled to ensure that the stroke action stays smooth even after continued use. The fact that it's self-powered (so you don't have to plug it in anywhere) also gives you a lot of freedom when it comes to where you work out and it can be a real advantage when the weather warms up as you can take your rower outside to train. Finally, the rower easily separates into two pieces, so storage was never an issue.
TechnoGym skillrow
Best: For simulation
Rating: 7/10
This well-designed rower is nicely balanced and stable with a comfortable seat, efficient rail mechanism and angled footplate, all of which combine to promote a good rowing position. The air resistance comes primarily from a fan flywheel, but there are three further levels of magnetic resistance that can be utilised to switch your training from cardiovascular to a power session – we think this would appeal to serious rowers who want to add strength as well as stamina.
The resistance did a very good job of mimicking the sweep of an oar through water and there was good constant tension from the belt drive, which meant that we could really pull hard and concentrate on our stroke without having to worry about it slackening. It's also more gradual, making the movement fluid throughout and avoiding any backlash effect.
As for the display, it's backlit and provides all the feedback that any rower would need. You can also pair this with your phone, so workouts can be recorded and shared, or you can take part in virtual races.
Concept 2 rowerg
Best: For competitive rowers
Rating: 9/10
If you're a club rower or are thinking about taking your indoor rowing all the way into the competitive arena then there is simply no substitute than the machine that is used in all the major rowing competitions. What makes the rowerg a consistent entry in our round-ups is the simulation, which is second to none thanks to the air resistance and ten damper levels to change how the rower's output feels, which is then interpreted by the clear, concise and well-organised PM5 performance monitor.
The high build quality that the American manufacturer is renowned for is again in evidence and the whole machine feels ergonomic when in use and can be broken down easily into two separate pieces when your training's done.
Water Rower British rowing edition
Best: Premium water rower
Rating: 9/10
As the name suggests, this is the official water rowing machine of the sport in the U.K., and it's clear to see why the governing body has endorsed the machine as soon as you sit on it. The seat rolls smoothly on four rollers across two rails and the stroke cycle is incredibly smooth and satisfying as the water flywheel closely replicates the dynamics of real-world rowing, even down to the swooshing sound on the final stroke phase.
Fitted with the Water Rower series 4 performance monitor, you'll get plenty of functionality from the display which has all the metrics you'll need, whether beginner or advanced, including a split time per 500m and one per 2km. And when it's not in use you can stand the machine on its end, complete with the water tank, although if you have enough room the Water Rower is undoubtedly one of the nicest machines to look at in situ.
DKN H2Oar
Best: Build quality
Rating: 9/10
Aesthetically, it may not be as pleasing to look at as the original water rower. But, on sitting down, we immediately noticed the excellent ergonomics with the seat and footpads which make it easy to achieve an optimal position for any height.
The action of both the monorail and the drive was smooth and efficient, so that we didn't feel we were wasting any energy on inefficiencies from the machine. This speaks to the fact that the overall build quality is superb and we're sure that the H2Oar, will be able to soak up even the most energetic workout with ease.
As with all water rowers, the harder you row, the more challenging the resistance. Because the tank is vertical – rather than the Water Rower's (£1,049, Waterrower.co.uk) horizontal position – you will be able to get slightly more resistance out of the H2Oar, something to consider if you're keen to push yourself to the limits.
If you want to challenge yourself with tailored workouts or live-action content to keep things interesting, there's Bluetooth connectivity, via the Kinomap video-sharing app. But if you're happy to compete with your own metrics the clear monitor will give you all the data you need. And in terms of storage, the H2Oar can be tipped on its end without having to drain the tank.
Nordic Track RW700
Best: For quiet rowing
Rating: 7/10
This dual resistance machine means that you can cycle through 26 resistance levels as you get fitter and stronger. The magnetic resistance is also whisper quiet, which could be helpful if you like to work out early in the morning and don't want to wake anyone.
The seat has a nice, smooth slide on the monorail and with oversized footrests and a nice soft-touch handle, the rower feels comfortable to use with excellent simulation on all phases of the stroke. The 10-inch, adjustable, touchscreen and the sound system add to the premium feel of the R700 and make for a more immersive experience when you take advantage of the iFit support – one year's membership is included in the price. When you're not online, the monitor is easy to read and has all the data of your row represented and it's foldable for easy storage in between training sessions.
Echelon row
Best: Connected rower
Rating: 9/10
The Echelon boasts 32 levels of resistance, controlled via two convenient paddles on the handle, so you can tweak the difficulty of your workout as you row. The resistance was buttery smooth which translated into a clean stroke and the geometry of the Echelon makes it easy to row with good technique, which might appeal to anyone taking to the rower for the first time. Another factor that makes this very attractive for rookie rowers is the wealth of content available from the Echelon fitness community, which starts at £19.99 every month, if you sign up for two years.
If you don't want to commit to that just yet, a month-by-month subscription is £29.99, however you do get quite a lot of bang for your buck. It turns your phone or tablet into your performance monitor, via an app that is split into featured, on demand and live tabs. This gives access to hundreds of classes for all levels and all outcomes. The classes always had a focus on proper rowing technique, which is good if you're just starting out and each trainer emphasises the resistance level and stroke rate that you should be using for that class.
The rower stayed static during the most energetic session and storage was very straightforward with the machine hingeing at the rail, so you don't have to worry about it taking over a room.
Hydrow
Best: For coaching content
Rating: 9/10
The Hydrow made quite a splash when it was launched last year, but it's a quality machine that has managed to live up to the hype in our eyes. Its computer-controlled electromagnetic resistance creates more drag the harder you row and you can adjust it via the touchscreen, so there's plenty of scope to progressively overload your workouts for constant gains.
The resistance is feathered by the rower's computerised brain to mimic a water stroke and it's incredibly effective, translating to a very natural and fluid connection with every stroke. The comfortable padded seat, webbed strap and foam handle make finding and maintaining good form very easy.
The 22in touchscreen, meanwhile, is your window to a wealth of content and coaching that is among some of the best you'll find, as the coaches, or "athletes" as Hydrow calls them, are obviously rowers themselves. Additionally, the third-person view of the workouts that populate the online content really is a game-changer as by mirroring movement and stroke rate you can work on technique and fitness at the same time.
One downside is that the machine can't be broken down, although its aluminium and steel modernist styling is very eye catching. If space is a concern though, you can buy an upright storage kit, sold separately (£70, Hydrow.co.uk).
JLL R200
Best: Entry-level rower
Rating: 7/10
This magnetic resistance machine has ten levels of resistance and if you're an experienced club rower who is after a lung-bursting, quad-shredding workout, you probably won't find a resistance level among the ten available that's quite tough enough for you. However, if you're just after a solid, total-body cardio workout then the R200 is more than adequate and has a nice smooth rowing action from the belt drive and the padded seat rail.
There's no connectivity, but the large (3-inch) LCD screen is easy to view, even when you're pushing hard and will give you total count, calories, count/min, count, distance and time, which is more than enough to track your progress. When you're done, the seat rail hinges so that you can fold the rower away and it won't take over the room.
Rowing machine FAQs
Is it safe to row every day?
As with any exercise you're new to, it's important to gradually build up strength and stamina balanced with rest days, so while it is safe to row every day, it is dependent on how intense your workouts are.
However, be wary that over-training can lead to injuries and your body needs time to repair muscles, so if you're buying your first rowing machine, start slow and build up to stronger workouts.
What muscles does a rowing machine work?
Rowing can provide a full-body workout, as it activates your legs, arms, back and core muscles.
The sliding seat works your triceps, hamstrings and quadriceps, while your biceps, glutes, hamstrings and abdominals are put to work when you pull all the way back with the handle. As a result, rowing can strengthen your back, arms and abs.
What is the difference between a magnetic, air and water-powered rowing machine?
If you've just started the search for a rowing machine, you're probably aware that this isn't a simple task. Aside from filtering through many brands and settling on a budget, there's also the big question of what type you should go for – magnetic, air or water-powered?
Air – These devices provide resistance by blowing air through a flywheel, meaning the harder you pull, the faster the fans spin and the more resistance you get. Fan-based rowing machines are typically the best value, which is why they are the go-to choice for most commercial gyms. However, they can be noisy.
Magnetic – As the name suggests, these rowers use two strong magnets that move past one another to create resistance. Because there's no friction, magnetic machines are fairly quiet and are generally more compact.
Water – What separates these machines from the others is that they work by using a transparent drum that's full of water. Resistance is created by paddles that turn as you row and many claim the action more closely replicates the feel of rowing on water. However, these machines tend to be the most expensive.
How much do you need to spend?
The type of rowing machine you'll buy is heavily dictated by how much you're willing to spend but there are plenty of options to suit all budgets – you can spend anything from £100 to well over £1,000.
Those at the lower end of the price scale will still do what you need them to, but you may notice that the quality isn't great. However, if you're new to rowing this could be a good place to start, as you can make sure you really enjoy it before shelling out.
For £100 to £750, you will be able to get your hands on an air or magnetic machine, which is likely to have more features than budget versions, such as different resistance options and preset programmes.
If you're able to spend upwards of £750, you'll be able to get a high-quality machine that does it all. Most rowers in this price range will be quiet, offer varying levels of resistance and have a digital monitor that can track your workouts. If it's a more high-tech water resistance model that you're after, expect to pay £800 or more.
Do I need a rowing machine mat?
When it comes to deciding if you need a mat, the first thing to consider is your flooring. Rowing machines are heavy duty, which means they could damage a wood or carpet floor. If you plan on doing high-intensity workouts that may cause vibrations, a mat should be able to absorb these shocks.
You may also want to consider what your living space is like. If you live in a flat, a mat can reduce noise that might leak into your neighbours' apartments, while also keeping your machine on a stable surface.
Does the level of resistance on a rowing machine matter?
In short, yes. The higher the resistance level, the harder your workout is going to be. The idea is to replicate rowing on a real boat where you'd experience a drag from the wind. So if cardio is your thing, you'll want to have a larger drag. Alternatively, if you only plan on using your rowing machine for low-intensity workouts, you may prefer a lower resistance.
Many air rowing machines will adjust automatically depending on your stroke size – but do be aware that using a higher resistance may make your machine noisier.
The verdict: Rowing machines
With its excellent library of curated and live content from iFit the ProForm 750R will satisfy those who need the motivation that comes with connected rowers. Similarly, old-schoolers who just want a good workout won't be disappointed by the build quality, ergonomics and simulation of the rower itself.
Voucher codes
For offers on fitness equipment and sportswear, try our discount code pages:
For more at-home gym equipment, read our round-up of the best exercise bikes
Register for free to continue reading
Registration is a free and easy way to support our truly independent journalism
By registering, you will also enjoy limited access to Premium articles, exclusive newsletters, commenting, and virtual events with our leading journalists
Already have an account? sign in
Register for free to continue reading
Registration is a free and easy way to support our truly independent journalism
By registering, you will also enjoy limited access to Premium articles, exclusive newsletters, commenting, and virtual events with our leading journalists
Already have an account? sign in