The Independent's journalism is supported by our readers. When you purchase through links on our site, we may earn commission.
15 best men's running gear: Shorts, shoes, jackets and more that will help you perform at your best
Having the right kit is key to achieving your goals, so we've compiled a runner's dream wardrobe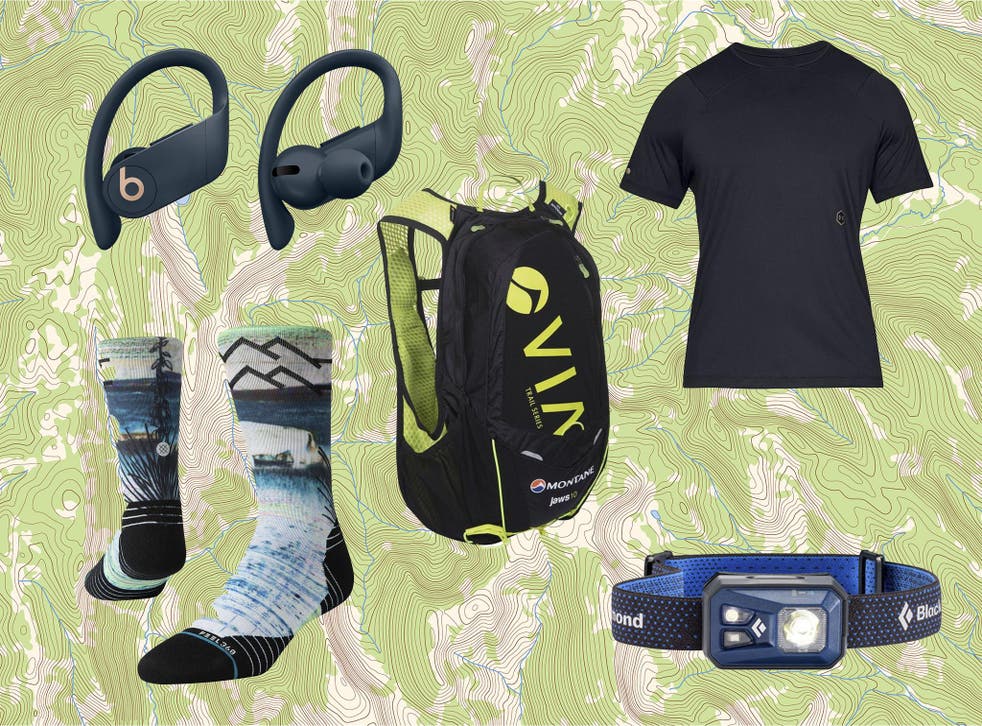 It is possible to go out for a run by having just four bits of kit – trainers, socks, shorts and a T-shirt. Indeed that is one of the great beauties of running: simplicity.
However, more often than not there will be other factors at play, such as temperature, weather conditions, terrain and distance. This is when you'll be needing additions or adaptations to these pieces of kit.
The following gear was all tried and tested over the course of many runs in all kinds of different environments and conditions.
The items in this roundup of course aren't exhaustive, however, we see these as key bits of gear that'll keep you running in a wide range of scenarios.
Columbia men's titan ultra short: £27, Columbia
These shorts are the perfect balance between lightweight and supportive, with the stretchy internal compression brief and comfortable material. The length doesn't leave your thighs feeling too exposed, and with the brief, they double up perfectly for bootcamp-style workouts as they maintain your modesty. With a handy zip pocket in the back for your keys and a couple of energy gels, you're perfectly set.
On Running cloud X: £130, On Running
ON is one of the world's most up-and-coming trainer brands, with shoes to suit all terrains and types of runners. The Cloud X is a lightweight running shoe ideally suited to road running up to mid-level distances. At 218g, it has a minimal feel on your foot, and its mid-level cushioning will ensure you don't run in a clumsy heel strike manner – you'll be a little more poised on your forefoot. These fit like a glove so you can place your feet with real precision.
Stance great plains crew: £14.99, Stance
These from Stance are not only technically very capable running socks, they are also a bit of a style statement, which we like. They also come in short (tab) and mid (quarter) lengths, but the crew versions pull up to your calf and are often have fun designs. The height also helps keep any dust or small stones from working their way in. They feel great and comfortable for hours of running, the thicker section along the sole of the foot and lighter more breathable fabric on the top help with this.
Under Armour rush run short sleeve: £55, Under Armour
As far as base layers go, Under Armour turn out some of the best. This running tee comes from its recently launched "rush" line which features mineral-infused fabric that absorbs the energy omitted from your body and reflects it back into your muscles. Whether it does this or not is hard to say, but what we can say is it feels and fits great. It's quick-drying and has an ideal near-skin fit, which is particularly good around the chest and shoulders.
Iffley Road waterproof gilet black: £135, Iffley Road
Constructed from a lightweight triple-layer Italian softshell fabric, this is a highly waterproof, highly windproof and breathable gilet, and it's lightweight too, coming in at 125g. This British manufacturer turns out super premium runwear, and this gilet is no exception – it's built to last which you can feel the moment you put it on – it's machine washable, and looks great too. All its seams are taped which adds extra waterproofing, it has one good-sized pocket placed centrally to the rear and is finished with a soft on-skin fabric round the neck and front zip. What's not to love?
Arc'Teryx incendo SL jacket: £100, Arc'Teryx
If you're heading out for an extended period or on more of a running adventure, having a windproof jacket tucked into a pocket or backpack is a must. This one from Arc'Teryx weighs just 80g – so it's barely noticeable – and packs down into almost nothing. Windproof on the front and arms with a breathable and stretchy fabric under the arms and on the back panel mean it's a comfortable fit and you shouldn't sweat too badly in it.
On Running pants: £135, On Running
A really well thought out design, these premium-feel, relaxed fitting joggers are ideal for running in cold or wet weather. On the front, the top half is a water repellent, plus it doesn't re-attach below the knee so they don't restrict your movement at all. The rest is made of a comfortable and stretchy polyester/elastane fabric. They fit snug around the ankle and have zips for ease of taking on and off, and the elasticated waistband sits comfortably in place.
Arc'Teryx calvus: £25, Arc'Teryx
This moisture wicking cap is a go-to in all conditions. It fits really nicely and at 50g it's really lightweight so you'll very soon forget you're wearing it. Sometimes the peak of a cap can be too long – which is just annoying, plus can get blown off easily – or too short thereby not providing shade from the sun or rain, but we found the calvus to be the perfect length. It's finished with a water-repellant finish and is breathable.
Bolle bolt: 85.99, RX Sport
A no-nonsense, excellent pair of wrap around sunglasses, ideally suited to running but also good for all types of summer sports. They fit perfectly – helped by their adjustable nosepiece and having no gaps on the side – and the frame is made from great quality nylon which offers some flex too. They have interchangeable lenses so you can replace them if damaged or switch them for lower light alternatives (they don't come with additional lenses), plus a special treatment and coating on the outside of the lens means any grease, rain or dust will struggle to settle, ensuring good visibility. These are polarised which is ideal around water and high glare too.
Montane via jaws 10: £95, Montane
Montane has an extensive range of quality running packs, and with its 10l storage, this one sits bang in the middle in terms of its size and capacity. Weighing 350g, it's not an ultra lightweight option, but as it fits so well you really don't notice the weight of the pack itself.
It holds two 500ml soft flasks in the front pocket, and you can house a 2l hydration pack in the rear should you be heading for a long run. With a total of eight storage compartments, it's great for organising and quickly being able to find what you're looking for. With its stretchy sides, a stretchy Velcro strap on the front (plus smaller sternum strap), once you've got it on, it feels really stable and comfortable.
Camelbak ultra belt: £44.99, Wiggle
If you feel a backpack is overkill for what you need, consider a belt – they're lightweight, convenient, pretty unnoticeable and cheaper. This superb one from Camelbak comes with a 500ml soft flask and a range of pockets – some expandable ones to stow extra gear and gels, and one large zip one to keep phone and keys safe – plus you can stow your poles onto the side of it which is handy. It comes in three different sizes, as this particular belt is one complete loop which fits snug and secure just above your waist.
Leki micro trail vario: £194.95, Leki
Giving you extra stability and power if you're taking on longer runs or on uneven terrain, poles are a great piece of kit. Here we have specialist German pole manufacturer Leki's latest flagship offer for trail running. Made entirely from carbon, they're lightweight yet strong with a nice amount of flex. They're adjustable too.
Garmin forerunner 235: £199.99, Garmin
If you're looking for the perfect running watch, this is it – the perfect balance between price and functionality. If you go for cheaper options in the Garmin range, there is a noticeable drop in quality and reliability, but the 235 excels, tracking all those essential stats such as distance, pace, time, heart rate, cadence and training zones. It's really lightweight too at 42g, which is great for those PBs as it sits relatively unnoticed on your wrist. Not unsurprisingly, the battery life is less than other heavier and more expensive options, but it's perfectly sufficient for a typical week of training runs.
Beats powerbeats pro: £219, John Lewis & Partners
If you're looking for the best running headphones and have a generous budget, we found these to outclass all other options on every front. With a great battery life (advertised as nine hours, this might be a slight exaggeration), a super comfortable and secure fit combined with great sound quality, the only thing not to love about these headphones is the high price. Other great functionality includes an autoplay and pause when you remove or put the earphones in, and the ability to use either the right or left earpiece independently from one another and simple controls for volume and calls.
Black Diamond revolt: £54.37, Black Diamond
We particularly like this lightweight head torch because of its excellent battery life, plus you can either charge it via a USB cable or pop in three regular AAA batteries, making it super versatile. It can throw out 300 lumens which is more than sufficient for lighting up any trail, and there's a multitude of settings including main beam (dimmable), strobe, and red night-vision. You can also lock it by holding the button for 10 seconds, plus it's waterproof up to 1.1m.
The verdict: Men's running gear
If we had to pick just one item that we use over and over, run after run in all conditions, it would be the Columbia shorts. They just keep on giving even after many washes and months of hard wear – they're super comfortable, supportive and come at a very fair price too.
Register for free to continue reading
Registration is a free and easy way to support our truly independent journalism
By registering, you will also enjoy limited access to Premium articles, exclusive newsletters, commenting, and virtual events with our leading journalists
Already have an account? sign in