The Independent's journalism is supported by our readers. When you purchase through links on our site, we may earn commission.
12 best women's ski and snowboard jackets for 2019/2020 that will do you proud on the pistes
If you're heading off to colder climes this winter, make sure you invest in a worthy piece of outerwear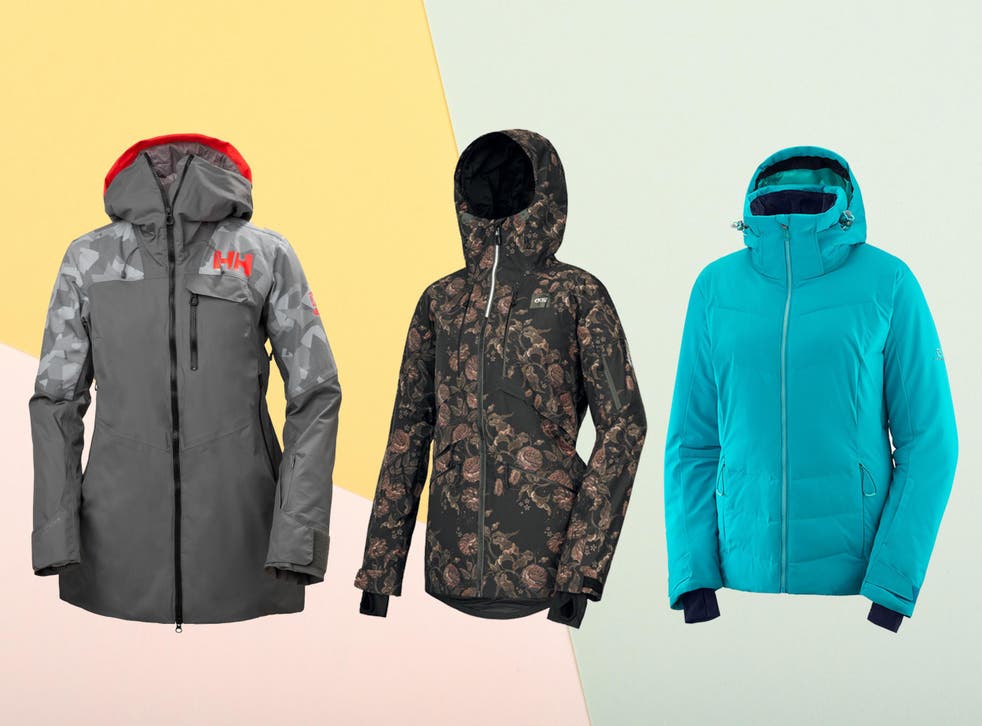 Hitting the slopes this winter? A warm, weatherproof ski jacket is probably the most important bit of clothing you can invest in before you head to the mountains.
Like a good waterproof hiking jacket, a ski jacket should be impermeable to water and snow. Look for a jacket's waterproofing rating in millimetres – this is its "hydrostatic head" rating – anything above 10,000mm will be reliably waterproof.
Alternatively, pick a jacket that incorporates branded waterproofing technology, such as Gore-Tex. You can either choose an insulated jacket for built-in warmth, or a shell jacket that allows you to layer up underneath.
We recommend choosing a jacket with certain key design features, such as a snow skirt, which does up snugly around your waist to stop any snow getting in if you do fall over. Zipped pockets are also useful – look for a lift pass pocket on the forearm and an inner pocket designed to hold goggles.
Wrist gaiters with thumb holes stop snow getting in between your jacket and your gloves, and if you're heading off-piste, it's worth picking a jacket with a built-in RECCO reflector – this makes you searchable to rescuers by bouncing back the directional signal used by rescue teams.
Ski wear is all about bold shades and retro styling this winter, and bright colours make you easier to spot on busy pistes. That said, it's worth choosing a jacket you'd be happy to wear back home, in order to get your money's worth – ski jackets are expensive, but they do work well as general winter coats for cold weather hiking, outdoor adventures or just walking the dog on freezing mornings.
We tested these jackets in sub-zero conditions and rainfall to find the warmest and most waterproof options this season. And while it's worth spending as much as you can afford on a great ski jacket, especially if you want to use it for general winter use, we've also included some great options for under £200.
You can trust our independent reviews. We may earn commission from some of the retailers, but we never allow this to influence selections, which are formed from real-world testing and expert advice. This revenue helps to fund journalism across The Independent.
Spyder prime jacket: £549, Spyder
This was the most comfortable ski jacket we tested. It feels really soft to wear, with a silky lining and a great cut for unrestricted movement. This may be a lightweight jacket, but it's still reliably warm and tough when conditions deteriorate on the mountain – the outer layer is fully waterproofed with Gore-Tex, and the inside is lined with 100g of cosy PrimaLoft insulation. This packs in all the design features we look for – good wrist gaiters and snow skirt, a RECCO reflector, arm vents and a well-cut, helmet-compatible hood. It may be one of the priciest jackets in our roundup, but it's also one of the top performing. A worthy investment if you're a serious skier or boarder.
Patagonia powslayer jacket: £600, Patagonia
We always trust Patagonia's excellent, eco-friendly outdoor wear, and its newest ski jacket is no exception. The Gore-Tex waterproofed shell can deal with any snow storm, but is still highly breathable, and thoughtful design features make this recycled jacket mountain ready, such as a helmet-compatible hood, a built-in RECCO reflector, a snow skirt, adjustable cuffs and longer length cut. This is a shell jacket, so you'll need to layer up underneath, but it was one of the lightest and most packable jackets on test. If you're a dedicated backcountry explorer, this is perfect. If you're just venturing into the world of snow sports, we'd go for something less pro.
Dare2b avowal jacket: £167.95, Dare2b
This smart striped number is a great choice if you favour a shorter cut jacket. It's very comfortable to wear, with a silky soft inner material and great flexibility – we love the stretchy side panels, which allow the jacket to move as you do even when you're skiing hard, and the snug slim fit, which adds warmth. There's a good removable hood, plus wrist gaiters and a removable snow skirt. The neck did prove on the stiff side when zipped all the way up, but otherwise, this is a good jacket for skiers who like a streamlined look.
Salomon icepuff jacket: £300, Salomon
Waterproof meets cosy in this ski jacket/down jacket hybrid, which is really warm and lightweight to wear. It's designed with the slopes in mind, with a wide snow skirt, wrist gaiters, a lift pass pocket and a pocket with a built-in goggle wipe. Despite plentiful insulation it isn't too bulky, and has a great fitting hood and a warm high neck, both of which are useful for staying snug on freezing chair lifts. This is a jacket to wear on the coldest days and still feel cosy, and its down jacket styling make it a versatile piece to use back home, too.
Picture Haakon jacket: £283.91, Picture
If you favour a longer, snowboarder-style jacket, you'll get on well with this. Highly waterproof to 20,000mm, it incorporates a stretchy snow skirt, wrist gaiters and an adjustable hood. The drop-bottom cut and well placed insulation makes it great for keeping warmth in. We reckon this is one of the best looking jackets on test, and as well as pastel blue there's a dark floral print version, ideal for anyone who likes to make a statement with their ski gear.
OOSC 1080 jacket: £185, OOSC
OOSC is here to shake-up the ski world with bright prints, neon colours and retro-inspired cuts, and we're on board. But its head-turning 1080 jacket isn't just about looks – it features a removable snow skirt, wrist gaiters, a lift pass pocket and 10,000mm of waterproofing. There's a good compromise between insulation and freedom of movement, and it feels comfy to wear all day long – the brand claims you could wear this from "dropping cliffs to dropping jagerbombs at apres ski", and we agree. It's made from recycled polyester, for eco brownie points.
KJUS Laina jacket: £499, KJUS
The sporty looking option wins the award for comfiest ski jacket on test. It slips on easily, with a soft fleecy lining that's very comforting in freezing weather, and instantly traps in warmth next to your torso. The arms are slim cut but are adjustable with zips, and it features the standard lift pass pocket, wrist gaiters and snow skirt. The hood is on the big side, but is adjustable. It's admittedly pricey at a smidge under £500, but some colourways are currently on sale.
Protest complete parka: £159.99, Protest
Want a ski jacket that doesn't look like a ski jacket? Protest's parka is a great pick if you're looking for a coat that's great to wear both at home and on the pistes. The long parka styling, soft suede-like outer material and fleece lined hood make this look like a normal coat – but it also packs in decent insulation and 10,000mm of waterproofing. Other ski-ready features include a removable snow skirt, lift pass pocket and long wrist gaiters. That longer length might be restrictive if you're keen to throw shapes in the snow park, though.
Jottnar ragnarok jacket: £845, Jottnar
The big one on our list both in price and performance is this jacket from Jottnar, designed for big mountain skiing and snowboarding without plummeting temperatures getting in the way. Everything about this jacket is high quality and thoughtfully designed. It's fantastically warm, instantly trapping body heat with hydrophobic goose down insulation, is also breathable and, at 20,000mm, is as waterproof as we would expect for the price tag. All the design extras we'd expect are here, such as wrist gaiters, a lift pass pocket and a RECCO reflector. Top quality for a top-end price.
Dakine Tilly-Jane jacket: £275, Dakine
We love the two-tone look of this jacket, which also hits the sweet spot when it comes to a warm cut that isn't too long. The fully waterproof Gore-Tex outer shell does feel quite plasticky and noisy to wear, but the inside is soft and quilted, and keeps in warmth without letting you overheat. The generous cut makes it easy to layer up underneath. This was one of the most waterproof jackets we tested, with fully waterproof zips and deep pockets that are zipped and covered with Velcro flaps to ensure that not a single snowflake gets in.
Wed'ze downhill jacket: £64.99, Decathlon
On a budget? Decathlon's ski brand Wed'Ze is the place to shop for affordable ski wear. Its ski jackets start from just £19.99, but our top pick is the downhill jacket, which makes the perfect first ski jacket for beginners. It's wonderfully soft, with a quilted lining and a soft fleece lined neck, and is waterproof to 8,000mm. There's a good hood and adjustable cuffs, and the muted colourway will go with all your existing kit. We found this slim fitting and it wasn't the warmest jacket we tried, so we'd suggest going up a size to layer up underneath.
Helly Hansen whitewall Lifaloft jacket: £300, Helly Hansen
We rate the urban look of this camo patterned and neon accented jacket – it would make a good winter coat when you're back from the mountains. Helly Hansen's Lifaloft insulation is warm and lightweight, keeping you cosy without weighing you down, and there are plenty of pluses here, including a great hood, a RECCO reflector, decent waterproofing and a longer length. We love that there's an inner pocket lined with thermal materials, designed to preserve the battery life of your phone. A few design features do miss the mark though – the snow skirt feels rather tight and restrictive when done up, and the neck is cut too wide and high.
The verdict: Women's ski and snowboard jackets 2019/2020
The excellent Spyder prime jacket will do you proud on the pistes. If you can afford to, splash your cash on the high-performing Jottnar Ragnarok. On a budget? We'd recommend Decathlon's Downhill.
Register for free to continue reading
Registration is a free and easy way to support our truly independent journalism
By registering, you will also enjoy limited access to Premium articles, exclusive newsletters, commenting, and virtual events with our leading journalists
Already have an account? sign in
Register for free to continue reading
Registration is a free and easy way to support our truly independent journalism
By registering, you will also enjoy limited access to Premium articles, exclusive newsletters, commenting, and virtual events with our leading journalists
Already have an account? sign in