The Independent's journalism is supported by our readers. When you purchase through links on our site, we may earn commission.
11 best men's walking boots and shoes for a blister-free hike
Put your foot down and insist on some quality wear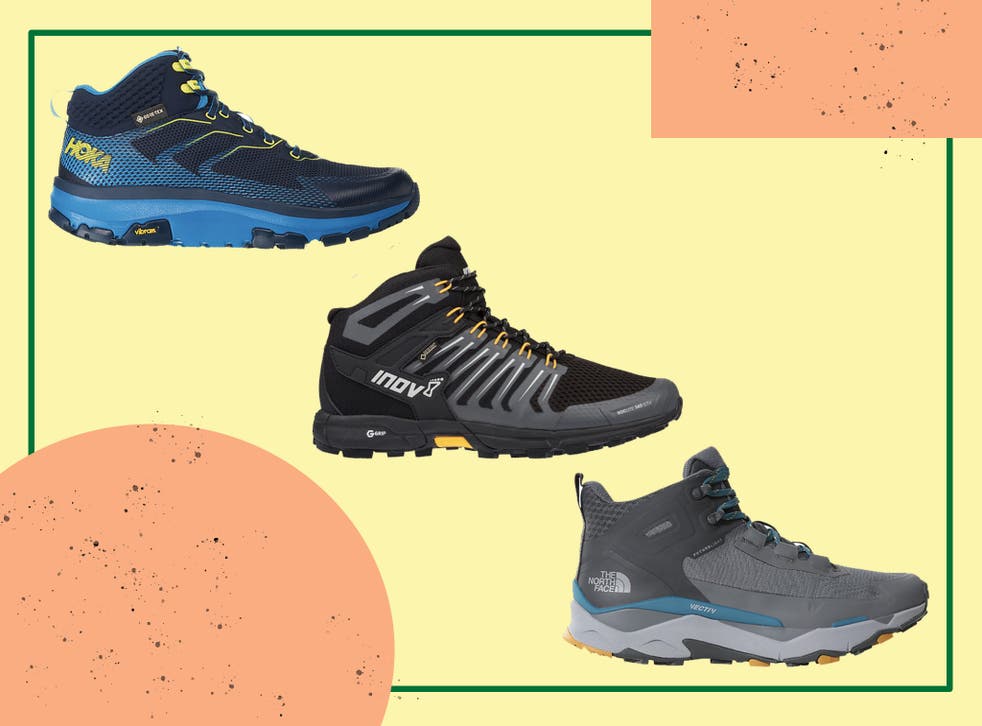 You need to think carefully when choosing a walking boot or shoe for your outdoor adventuring, as what's on your feet can make all the difference between an enjoyable experience in the fresh air and a tortuous blister-fest. Choose well and you shouldn't even have to think about them, as they will carry you in comfort through terrain and trail.
We're assuming because you're reading this you're not just walking down to the shops, but have got something more epic planned. That's why one of the first things we looked at was the out-of-the-box wearability of each shoe, as you don't want to spend hours breaking in a new pair.
Supple and moulded materials should combine to make the boot or shoe comfortable and snug-fitting from their very first outing, especially because after hours of walking, feet tend to swell. So you need a nicely proportioned shoe, regardless of your size, and a comfortable fit.
The outsole has a dual role to ensure traction from the lug pattern so that you're more confident than a mountain goat and also to be constructed in such a way that it gives good energy return with every footstrike
The importance of weight, waterproofing, breathability and protection will all depend on where you're going, so we've included a range to ensure that wherever you're headed, this lot is an absolute shoe-in (sorry) for your next adventure.
Read more:
How we tested
We headed to Dartmoor and the Highlands to test the boots, so we could run the gamut of terrain and conditions with which to scrutinise each shoe. While we were walking, we specifically sought out mud, wet grass and rock to test the grip and traction of each shoe's outsole, while everything else, from comfort and fit to the waterproofing and breathability of the materials, was scrutinised by the moorland trails and Highland weather.
The best men's walking boots and shoes for 2022 are:
Men's walking boots FAQs
How snugly should walking boots fit?
When buying a new pair of walking boots, it's important to make sure they fit you properly. If they're too tight, you may encounter painful blisters, but if there's too much room, you'll lose out on ankle support and cushioning. Instead, the perfect pair should fit as well as your most comfortable trainers, not too snug, nor too loose.
Will I need to break in my boots?
Breaking in means wearing your new boots until they mould to your feet. Typically the heavier and more solid the boot, the longer it will take to for this to happen.
To break your new boots in, wear them around the house to get used to walking in them, which will later ensure they don't cause any discomfort when on a trail, hike or trek.
Lightweight boots will require less breaking in and are likely to be more flexible thanks to the softer, more supple materials.
How to clean and look after hiking boots so they last
If you're walking across muddy, rocky and rough terrains in all weather conditions, you will encounter a build-up of dirt on your boots.
Look after them in between your hikes by lightly scrubbing them with a soft nylon brush to get rid of any dry mud. You can also scrub them with a gel or spray to remove debris and then wipe off any residue with a damp cloth.
Avoid softening the uppers as this will cause them to lose their shape and become less supportive. You shouldn't soak them in warm water during washing either, or use leather-softening products. To help your boots maintain their shape after cleaning, try stuffing them with newspaper, which will also soak up any excess moisture.
The verdict: Men's walking boots
Offering the protection and stability of a boot with the lightweight performance of a shoe the North Face vectic exploris futurelight was a top performer on a range of trail beds, staying planted in mud and loose rock, while gripping well over wet surfaces. Responsive and comfortable they were a pleasure to explore in.
Voucher codes
For the latest discounts on walking shoes and other activewear offers, try the below links:
Pair your new boots with the best men's walking trousers that will see you through the toughest hikes
Register for free to continue reading
Registration is a free and easy way to support our truly independent journalism
By registering, you will also enjoy limited access to Premium articles, exclusive newsletters, commenting, and virtual events with our leading journalists
Already have an account? sign in