The Independent's journalism is supported by our readers. When you purchase through links on our site, we may earn commission.
11 best men's walking shoes for all conditions and terrain
Feel comfortable on long walks with these trusty pairs of footwear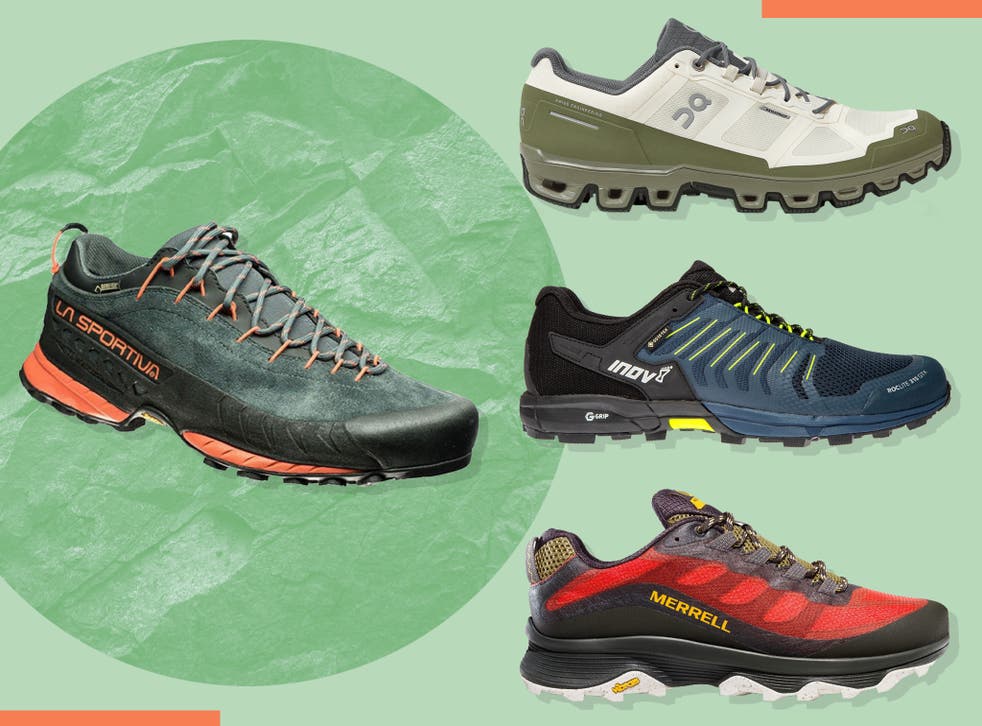 Walking shoes are in vogue, with many outdoor enthusiasts ditching their bulky, blister-inducing boots in favour of lighter, comfier and lower-cut footwear.
It's a good strategy. Walking shoes offer the best of both worlds: the protection, support and waterproofing of boots, combined with the out-of-the-box comfort and flexibility of trainers. And because they're so much lighter than boots, each stride exerts far less energy – meaning you'll have a spring in your step like never before.
Comfort is king when it comes to walking shoes, so it's best to try before you buy. Aim to find a pair that fits snugly without any rubbing or pinch points. Your next big decision is waterproof or non-waterproof. Shoes with a waterproof membrane such as gore-tex will keep your feet dry, but if you do end up in a knee deep bog they'll take forever to dry out.
Non-waterproof shoes are far more breathable and dry out way quicker, but they let water in like a sieve. For hot, dry days, non-waterproof shoes are preferable, as your feet will sweat less. In rainy and waterlogged conditions, waterproof shoes are obviously better – although you might favour pairing non-waterproof shoes with waterproof socks.
Other key features for hiking include a deeply-lugged outsole for grippy traction over rugged terrain, and a well-designed midsole for cushioning, support and shock absorption. Quality lacing for a fine-tuned fit and a comfortable ankle cuff are also important.
Read more:
Most of the pairs in our top picks are akin to trail running trainers, with a fast and agile design. These tend to be the comfiest, lightest and best for long hikes, but they aren't the most protective or durable. Other pairs are styled like "approach shoes", a kind of hybrid footwear fusing the characteristics of climbing and walking shoes. These provide superb footing on rocky terrain and ridge scrambles, due to a stiffer and stronger build – but they aren't the most forgiving if you're clocking big mileage.
How we tested
We've carefully assessed the technical performance of each pair, and graded them in terms of comfort, fit, waterproofing, grip, support, energy return and value for money. Testing took place in the Lake District's mountains, including hiking some of England's highest peaks and most iconic ridges.
Here are our top 11 pairs of men's walking shoes that'll keep your feet happy, whether you're walking the dog, commuting across town, marching up Ben Nevis or hiking a long-distance trail.
The best men's walking shoes for 2021 are:
Register for free to continue reading
Registration is a free and easy way to support our truly independent journalism
By registering, you will also enjoy limited access to Premium articles, exclusive newsletters, commenting, and virtual events with our leading journalists
Already have an account? sign in
Register for free to continue reading
Registration is a free and easy way to support our truly independent journalism
By registering, you will also enjoy limited access to Premium articles, exclusive newsletters, commenting, and virtual events with our leading journalists
Already have an account? sign in