The Independent's journalism is supported by our readers. When you purchase through links on our site, we may earn commission. Why trust us?
10 best Fairtrade chocolate
Indulge in some delicious, ethically-sourced chocolate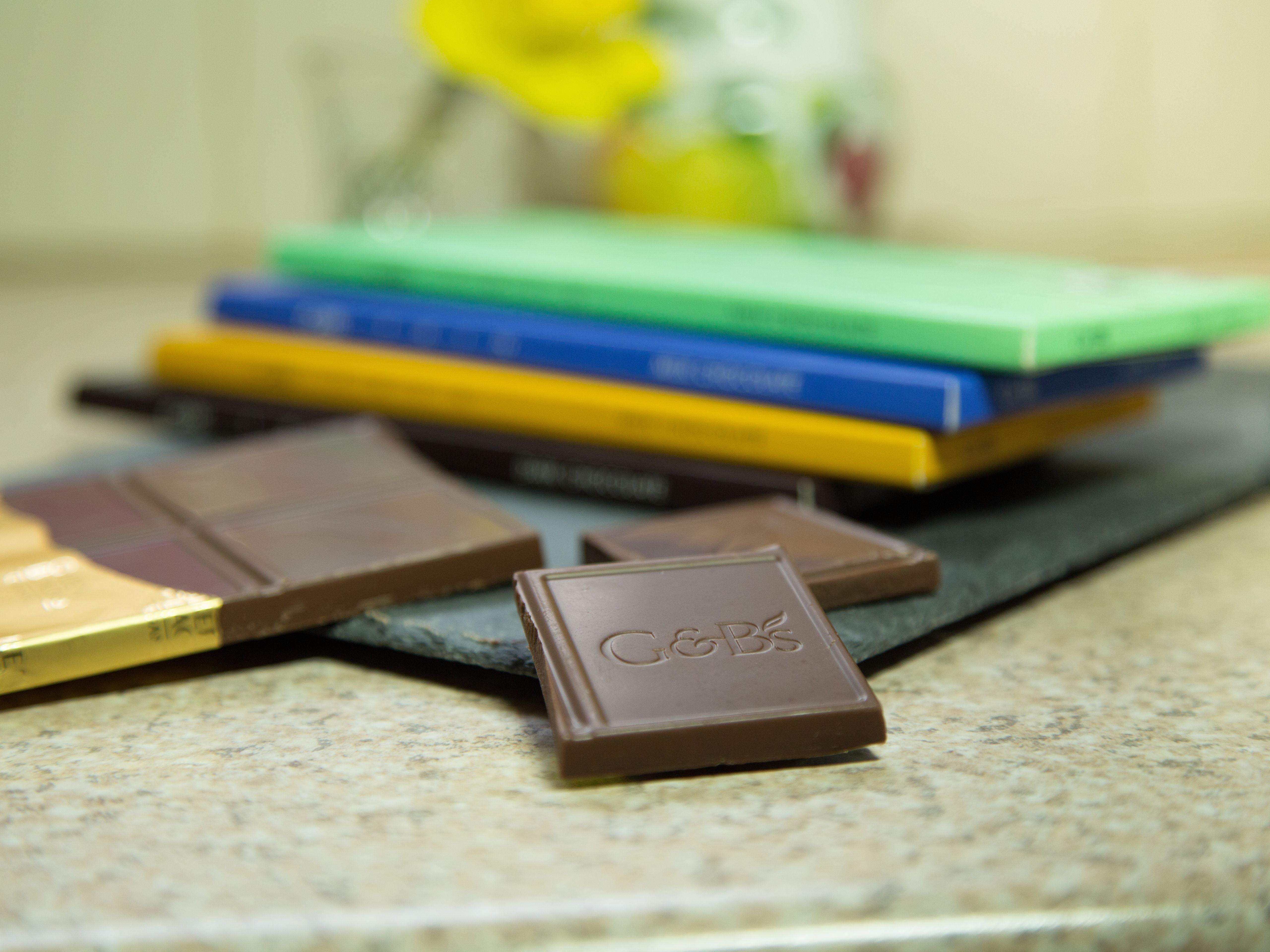 What's not to love about Fairtrade chocolate? By tucking into one of the bars listed below, you are supporting small-scale suppliers from across the globe who may otherwise be pushed out of business by their larger competitors. Oh, and it all tastes fantastic too.
We willingly accepted the task of sampling each bar below - some are own-brand offerings from well-known supermarkets, while other choclatiers you may not have heard of, but all are certified by The Fairtrade Foundation. From classic milk chocolate done superbly and others with exotic ingredients to bars fit for vegans, there's something for every chocolate-lover here.
1. Salted Caramel Thin Bar: £2.29, greenandblacksdirect.com
Part of a new range from Green and Black's, this bar has tiny chunks of salted caramel packed into it. The flakes of Anglesey sea salt aren't overpowering, which is always a danger with this type of flavour, and it perfectly complements the caramel.
2. Milk Chocolate with Salted Butterscotch: £2, marksandspencer.com
M&S buy their sugar and chocolate from small producers, and then ship it over to Milan, where a family-owned factory of chocolatiers creates the bars. This bar, which has crunchy pieces of butterscotch with a salty punch, is our favourite of their Fairtrade range.
3. Organic Chocolate with Goji Berries & Vanilla: £2.45, rawrchoc.com
This is raw chocolate, made at low temperatures so as to preserve as much of the cacao's natural flavour as possible. The added flavouring is subtle, with just the right amount of kick. There's no dairy or gluten, and it even comes in wrapping that's made partially of recycled cacao shell.
4. Peruvian Dark Chocolate, Taste The Difference: £1.40, sainsburys.co.uk
This smooth, rich dark chocolate is made using cocoa grown high up in the Andes. The pear and hazelnut flavouring is delicately balanced and only just noticeable, but adds a nice twist to the overall taste.
5. White Chocolate from Ghana with Madagascan Vanilla: £1, co-operativefood.co.uk
Back in 2002, The Co-operative became the first supermarket to start using Fairtrade ingredients across its entire own-brand chocolate range. This white chocolate is sumptuous, with the added Madagascan vanilla enhancing the creamy texture.
Buy in-store
6. Luxury Milk Chocolate: £2.99 each, shop.meaningfulchocolate.co.uk
Here's a lesson in how to excel with simplicity — no added flavours, just rich, delicious milk chocolate. The company, based in a small Cheshire village, also produces the UK's only Fairtrade charity advent calendar, so keep any eye out for that.
7. Almond and Orange Chocolate Single: £2.25, traidcraftshop.co.uk
This is a winning combination of chewy, zingy orange pieces, crunchy almonds and silky milk chocolate. It comes courtesy of Traidcraft, who since the 80s have been supporting non-mainstream suppliers, now spread across the Americas, Asia and Africa.
8. Cacao Nature 75% with Muscovado sugar crackers: £3.50, zotter.co.uk
One thing is for certain: this is not a chocolate for binge eating. Rather, as the eating guide that comes with each bar suggests, "you should not munch the chocolate, but savour it by letting it melt". Perfect for after dinner, the taste of the intensely strong dark chocolate lingers long after you've finished it. There are also some left-field flavours - how about basmati rice with saffron?
9. Vanoffe Dark: from 99p, therawchocolatecompany.com
With only 55 per cent cacao, this dark chocolate bar is not as strong as its counterparts on this list, but that works to its advantage, allowing the vanoffe (vanilla and toffee) element to be fully appreciated.
10. 38% Milk Chocolate with Spiced Toffee Apple: £2.19, divinechocolate.com
Divine is in fact part-owned by the cocoa farmers who supply it, so the company's profit go directly into supporting the farms. This limited edition bar is one of the most interesting in Divine's range, and has a hint of festivity about it thanks to the spiced toffee apple.
11. Sicilian Hazelnut and Almond: £2.49, Seed and Bean
This Derbyshire-born choclatier is a small one — its batch size is a relatively modest 45 litres — but you wouldn't know it, such is the large and exotic range of flavours on offer. Some will split opinion (the Cornish sea salt and lime bar was the subject of much debate in the IndyBest offices) but there's something here for everyone. Our favourite was the Sicilian hazlenut and almond bar, a sweetly nutty treat.
12. Coco Loco Dark Chocolate Cinder Toffee: £3.99, Cocoa Loco
Based in Horsham, West Sussex, all Cocoa Loco's chocolate is Fairtrade and organic. As well as boxes and bars, the company makes some other sweet treats, like this homemade cinder toffee dipped into silky-smooth dark chocolate. Ginger, brazil nuts and mango also get the dunked treatment if you're looking for other options.
Verdict
While we greatly enjoyed each bar on this list — it is chocolate, after all — our favourite would have to be the well-crafted, delicious offering from Rawr.
For overall experience, and for the would-be chocolate connoisseur, we'd recommend Zotter, whose chocolate, and the way in which it's presented, makes eating the stuff into an event.