The Independent's journalism is supported by our readers. When you purchase through links on our site, we may earn commission. Why trust us?
Struggling with post-lockdown anxiety? Try these mindfulness products, recommended by experts
Here four specialists share the tools and resources worth using as we try to adapt to a new normal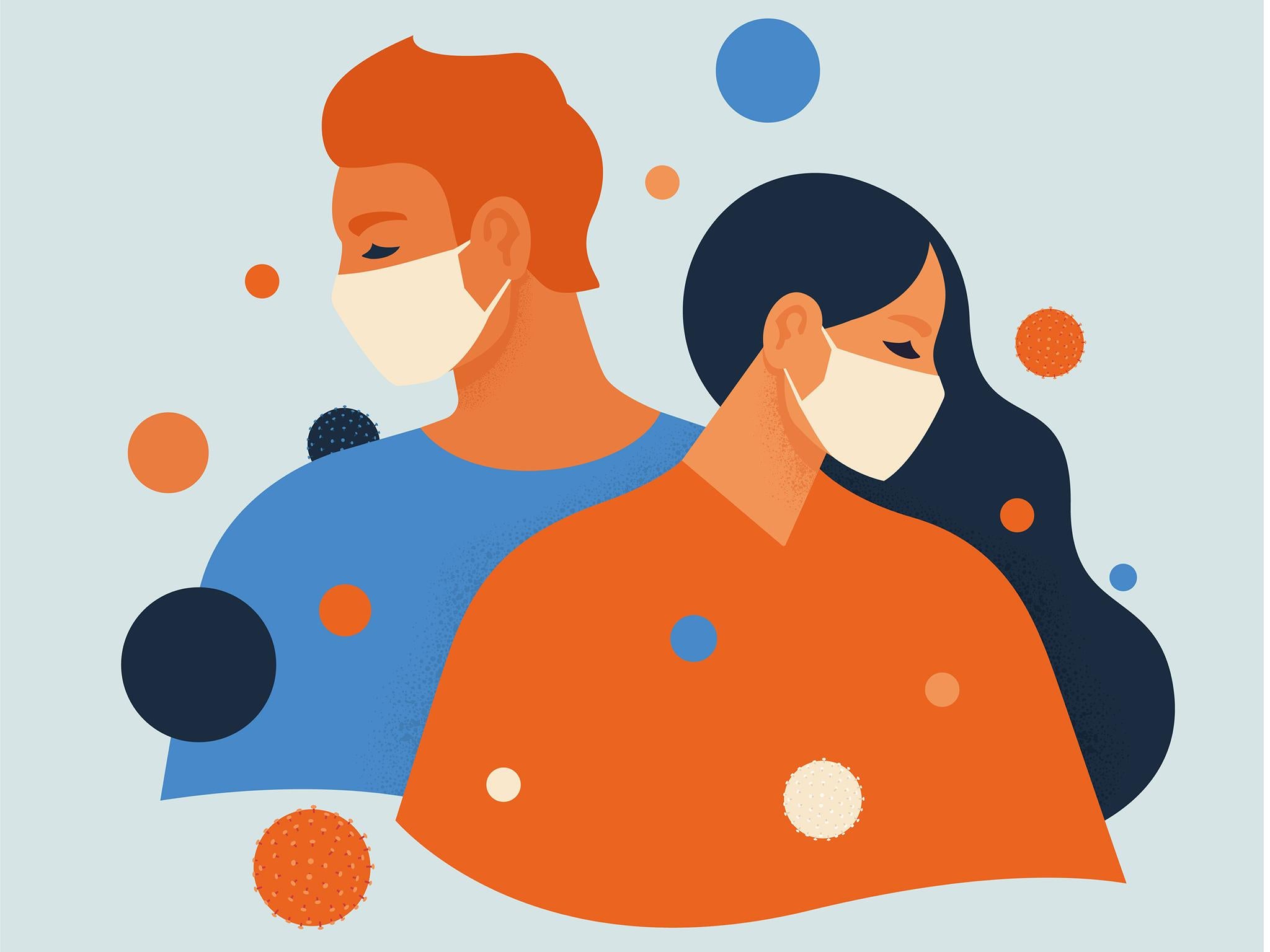 From 4 July, many lockdown restrictions eased in England, as the normality of everyday life gradually returns, albeit it looking different to pre-pandemic.
Pubs, restaurants, museums, art galleries, cinemas and hairdressers have reopened, with social distancing measures in place. The 2m social distancing rule were also relaxed from the same date and instead, a "1m plus" distance is recommended, along with staying side by side rather than face to face and wearing face coverings in confined spaces.
Bigger bubbles of people are also now allowed to meet, with no limit on how many people can gather indoors, as long as they are members of just two households. Additionally, from 6 July those shielding in England have been allowed to meet other people outdoors in groups of up to six, and from 1 August they will no longer be asked to shield.
For some people, it's a welcome change to enjoy more freedoms following three months of lockdown, but as the strains of a pandemic have taken their toll, returning to some form of normal life seems daunting for many.
The stress of unemployment, being furloughed, the predicted recession, adjusting to working from home and juggling homeschooling have all impacted our mental health during the past four months.
Returning to a faster paced way of living, with new rules such as mandatory face coverings on public transport and in shops and supermarkets, will be a difficult adjustment for many.
An Ipsos Mori survey published on 1 May found more than 60 per cent of Britons feel uncomfortable about the idea of going out to bars, restaurants, gigs, sporting events or using public transport when lockdown is lifted. Less than half (49 per cent) of those who are currently employed feel comfortable going back to work.
The unease about returning to life after lockdown has been coined as a psychological condition known as re-entry anxiety.
Marc Hekster, consultant psychologist at The Summit Clinic in north London, previously told The Independent: "It's the fear of the unknown and the loss of this period of safety created by the enforced lockdown into our homes.
"Lockdown has created an artificial sense of security about the world. We have been protected from the virus and perhaps also protected from complicated family circumstances, family conflicts and other external issues."
There are, however, small ways to help manage this fear, and we've asked psychologists to share their recommendations for the tools and resources that can help.
It's important to note that it's not a case of one size fits all, and what works for one person, may not work for you. But with a range of products in our round-up, from books to aromatherapy oils, we hope you find something that helps.
You can trust our independent round-ups. We may earn commission from some of the retailers, but we never allow this to influence selections. This revenue helps us to fund journalism across The Independent.
Books
Dr Rose Aghdami, chartered psychologist and resilience specialist, recommends reading The resilience drive by Alexia Michiels (Amazon, £18.16).
"I specialise in helping people build their resilience, which is the best antidote to anxiety – and highly recommend this book," she says, explaining it includes 100 simple practices to help cope well with daily challenges and build resilience.
"Bringing yourself back into the moment allows you to put things into perspective and gives you a rest from the relentless cycle of anxiety. You can use that space to create an alternative response, and break your cycle."
Dominique Antiglio is a sophrologist at BeSophro clinics. Her work focuses on the practice of breathing, relaxation and visualisation techniques using a blend of Eastern philosophies and Western science.
She recommends her self-authored title, The life-changing power of sophrology (WHSmith, £8.19), as it offers lots of practical tips and techniques including breath work, visualisation, meditation and light body movement, so you can tap into your resilience and find calm whenever the anxiety takes hold.
"The techniques take just a few minutes but practising for 10 minutes a day can have much more profound effects," she adds.
For more tried-and-tested self care books, read our review of the best here.
Words at the window: Social isolation and the Coronavirus
Show all 12
Apps
Another product Dr Aghdami recommends is the Calm app, which she likes for the down-to-earth and soothing daily meditations.
"There's a set of meditations for various issues including anxiety, which is perfect to help with worries about re-entry," she says.
It also topped our IndyBest guide to the best mindfulness apps, where our reviewer praised its exclusive music tracks engineered to help you focus, relax or sleep.
They particularly enjoyed such as "calm body" – a series of 10-minute guided videos on mindful movement – and "sleep stories", which are calming tales narrated by celebrities including Stephen Fry and Matthew McConaughey.
The app is free to download and offers a limited selection of programmes at no cost, but the premium subscription (£28.99 a year) offers the full library of services. You can download for iOS here or for Android here and there's a 7-day trial of the premium service available.
According to Dr Sarita Robinson, a psychologist at the University of Central Lancashire, learning to control your breathing can be very helpful and there are lots of devices around to try.
"Slowing your breathing can help to switch off the physiological side of a stress response," she says.
"If you can learn to control your breath you can avoid hyperventilation and slow down your heartbeat which might spike if you are anxious about coming out of lockdown."
She suggests trying the Relax app on Fitbit devices, which offers deep breathing sessions in two-minute or five-minute sessions.
The app can help you when you need a moment of calm, whether that'd before you start your date, prior to a meeting or to wind down before bed.
We loved the Fitbit charge 3 tracker (Argos, £89.99) which claimed a spot in our guide to the best fitness trackers that encourage motivation and better sleep.
As well as having the Relax function that Dr. Robinson recommends, it also monitors your heart rate continuously rather than just during workouts. It considers health trends and also gives information during workouts to help understand them better.
It goes beyond being just a fitness tracker too: our reviewer found its sleep tracking feature excellent, which measures REM sleep as well as deep and light.
Aromatherapy and sensory products
Jilly Gibson, psychologist and lecturer in health psychology at the University of Sheffield, uses the Temple Spa breath of life aromatherapy inhalation essence (Temple Spa, £12) for both herself and with her clients.
"It does what it says on the tin," she says. "Inhaling a fragrance like this (either from drops on a tissue or from a bowl of hot water) can quickly calm and ground you by engaging your senses and bringing you back into the moment and away from your anxiety."
Gibson also suggests trying a Tangle Creation (Tangle Creations, from £3.60), a sensory, brightly coloured toy, which engages your senses.
"Focus on the bright colours, feel the different textures, hear the scrunching sounds and move it around for tension relief," she says, adding, "this is a product that you can go to in moments of stress and to find space for responding differently.
If you are in need of mental health support, you can contact charity Mind by calling the helpline on 0300 123 3393, emailing info@mind.org.uk or texting 86463. The helpline is open Monday to Friday (except bank holidays), 9am-6pm