The Independent's journalism is supported by our readers. When you purchase through links on our site, we may earn commission.
10pm closing: Everything you need to socialise safely as pubs and restaurants face new rules
England's hospitality sector is the first to have new rules imposed, which come into force on 22 September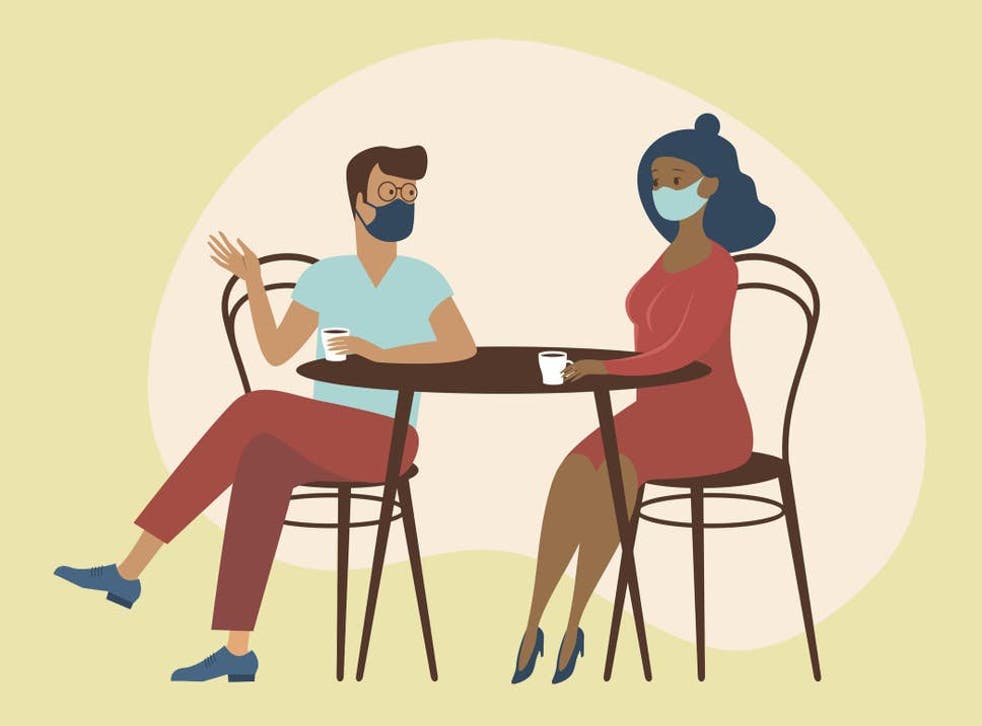 As coronavirus cases begin to rise again on the UK, lockdown restrictions that were slowly easing are being re-introduced in a bid to reduce the risk of transmission.
The latest rules will impose a 10pm closing time on pubs, cafes and restaurants across England, and hospitality venues will also be restricted by law to table service only, which will come into effect on Thursday 22 September, following an announcement by the prime minister.
Working from home is expected to continue to be encouraged due to the surge in cases, as the government campaign to drive staff to return to offices has made a sharp U-turn.
It comes after the chief medical officers of all four nations of the UK lifted the Covid-19 alert level to 4, indicating the pandemic is in general circulation with transmission "high or rising exponentially".
From July, businesses has recommendations to follow in order to keep staff and customers safe which were shared by Boris Johnson, and included avoiding face to face seating, reducing the number of people in enclosed spaces, providing hand sanitiser, changing shift patterns, and encouraging the use of face coverings.
The 2m social distancing rule is also encouraged when meeting people you do not live with, or 1m with extra precautions in place, such as wearing face coverings or increasing ventilation indoors.
Due to spikes in some areas of England, some local lockdowns have been imposed with stricter restrictions being enforced, and it is illegal for groups bigger than six to congregate across the country, with exceptions applied to schools and workplaces.
In Scotland, changes to lockdown measures mean adults can meet socially indoors or outdoors in groups of up to six from two households at a time, and people should meet no more than four households a day. Anyone who is over 11 should stay 2m apart from one another.
Pubs, restaurants, hairdressers, barbers, cinemas, tourist attractions and places of worship reopened in July, where exemptions to the 2m rule were applied provided other safety measures are put in place, such as plastic screens to separate customers and better ventilation systems.
Face masks have also been made mandatory in shops in Scotland, as all non-essential retailers have reopened too.
In Wales, restaurants, pubs hairdressers, barbers, beauty and tanning salons have been permitted to reopen and people can gather in groups of up to six, with anyone that is not a member of their household. Face coverings are also required in all indoor public places, for both customers and staff, including; shops and shopping centres, places of worship, hairdressers and salons, cinemas and museums, gyms and leisure centres, and anywhere that is open to members of the public.
Social distancing should continue to be maintained in Wales when meeting anyone outside of your household too.
Ahead we've compiled the necessary and helpful items to see you through your next meet-up with friends and family that will both keep you safe and minimise the risk of transmission of germs.
You can trust our independent round-ups. We may earn commission from some of the retailers, but we never allow this to influence selections. This revenue helps us to fund journalism across The Independent.
Face masks
It is now mandatory to wear face masks when using public transport, in hospitals, shops, supermarkets, cinemas, museums, galleries and places of worship in England. Failure to follow these rules can result in people being refused entry and a £100 fine in England.
In Scotland, face masks are mandatory in shops and on public transport.
These rules apply to everyone, except those under the age of 11 and people with disabilities or breathing problems, or anyone travelling with someone who lip-reads, while in Scotland those under five and those with certain illnesses will be exempt.
Trish Greenhalgh, professor of primary care health sciences at the University of Oxford, told The Independent: "Many infections are spread by droplets, which are relatively large when they first come out as a cough or a sneeze but become much smaller as they travel through the air. The job of a cloth face covering isn't to protect the wearer but to block the source of infection (what's known as 'source control').
"The main benefit is most of your germs will be caught in it, making you less of an infection risk to others. My mask protects you; yours protects me," she adds.
Uber has also enforced a mask-wearing rule for both riders and drivers.
In our face mask buying guide, we've covered the different types of mask, what to consider before you buy one and how to wear and wash one.
Since the beginning of lockdown, many businesses have pivoted their production to manufacturing face masks, along with individuals creating their own via retailers such as Etsy. Other larger retailers who have launched cloth face masks include Mango, Asos and Aldi, along with independent brands including Aeibe, Newt, Just Hype, Florence Bridge, Plumo and Wawa Clothing. Prices range from a couple of pounds for basic styles up to £50 for higher-end masks from luxury labels. Keep in mind that due to the pandemic, deliveries may be delayed.
Alice Cox, a freelance theatre prop maker and set designer, started creating bespoke face masks from old designer fabrics from her spare room in Kennington, London.
She has designed them with a pocket large enough to fit a filter and non-elastic band that will minimise irritation around your ears. To place an order, email your choice of colour and material to alicecoxcreative@gmail.com. One mask will cost you £10, unless you want the liberty-printed style, which is £15. You can find a list of other retailers to shop from in our guide on where to buy a face mask in the UK.
However, covering your mouth can cause problems for deaf people and those who have hearing problems and communicate through lip-reading. This has a detrimental effect on the 12 million people in the UK who are deaf or have hearing loss.
Roger Wicks, director of campaigns and policy at London-based charity, Action on Hearing Loss, told The Independent: "Many people who are deaf or have hearing loss rely heavily on visual cues for effective communication including facial expressions and lip-reading."
Transparent face masks are available to help prevent this issue, though they are not yet as widely-accessible as other face coverings. Etsy has many options for different styles of transparent face masks, in varying designs, patterns and colours.
For sweet prints such as little foxes or bouquets of flowers, this lip-reading clear smile mask (Etsy, 20.95) allows you to choose from vibrant, playful patterns. It has a soft vinyl window and double-layered 100 per cent cotton lining.
You can choose from two straps, elastic or tie loops, depending on your preference.
Hand sanitiser
Health experts have stated that the virus is spread through droplets transmitted into the air from coughing and sneezing, which people nearby can take in through their nose, mouth or eyes. However, if the droplets land on surfaces and are picked up on the hands of others, it can spread further.
If you are not able to wash your hands with soap and water, then hand sanitiser is the next best thing, as long as it contains at least 60 per cent alcohol, which will kill microorganisms on the skin.
For your next outing, have one stored safely away in your handbag or pocket so you can easily re-apply throughout the day.
In our guide to buying hand sanitiser online, sustainable beauty brand Beauty Kitchen has created its own vegan hand sanitiser spray, from 50ml (Beauty Kitchen, from £10) refillable form, so you can fight the germs and reduce your single-use plastic consumption simultaneously.
It has three options to shop from; two 50ml refillable sprays, a 500ml refill bottle and starter pack of one 50ml spray and a 500ml refill bottle.
It's also worth having a pack of antibacterial wipes on hand at all times like this plastic-free antibacterial apple and apricot surface wipes (Wilko, 50p).
You can use them to wipe down cutlery, tableware and surfaces to keep the spread of germs to a minimum.
What you need for a picnic
Dining alfresco has become much more common now that meeting up outdoors and in parks, is allowed, as long as you observe the social distancing rules.
Instead of hastily packing cocktail sausages and a cheap six-pack of beers into a plastic bag, we suggest taking an eco-friendly approach to your picnic, which is not only better for the envrionment, but also helps reduce the spread of germs.
In our round-up of the best picnic blankets, the VonShef herringbone picnic blanket (VonShef, £26.99) came out on top. Comfortably fitting four people (if they're from the same household), it's made from a hard-wearing fleece polyester.
Featuring a waterproof lining, there's no chance of getting soggy if the ground is a little wet. And most importantly, our tester praised how easy it is to roll up and secure using the leather-look carry straps.
You'll also want something practical to take your picnic essentials from A to B. Try the Hydro flask unbound series cooler pack 15 coolbox (Alpine Trek, £197.95) which topped our test of the best cool bags.
Thanks to the smart insulation, it will keep your food and drink cool for up to two days, so you won't have to worry about your picnic perishables going bad or your bottle of white wine getting warm in direct sunlight. The added bonus of the watertight zip means you can transport ice from your freezer to the park, leak-free, making it ideal for picnicking.
And our tester was pleasantly surprised at how compact the bag was considering its 15l capacity, and the number of pockets available was an added bonus – perfect any family or large household outing.
Tableware and glassware
Now that the limit on the amount of people gathering inside have been removed – as long as it's just two households – you can enjoy eating at other people's houses – and not just in their gardens. But whether that's dinner inside or a bbq outside (weather permitting, that is), you should consider taking your own cutlery, so as not to share it and potentially spread germs. It's also a good idea to do the same for picnics, too.
This Joseph Joseph goeat compact portable stainless steel cutlery set (John Lewis and Partners, £14) means you don't have to put up with flimsy, often single-use plastic cutlery or wooden ones.
Made of stainless steel, the set includes a knife with a magnetic handle, fork and spoon and comes in a silicone case to help keep them clean before and after use. They're easy to wipe clean once you're done eating using antibacterial wipes too and you can pop in your bag after eating.
You can also take your own plates to other people's houses too fo the same reasons, while at picnics everyone should bring their own food, drinks and crockery and also not share any of it either. Serve up your picnic food on these multicolour simply eco large plates (Meri Meri, £8) designed in sorbet, scallop-shaped pastel shades and made from wood fiber, bamboo and sugarcane.
They're stylish but kind to the environment, and will be a set you can reuse over and over, so you've no excuse for using wasteful paper plates.
If you're planning on bringing a bottle of bubbly, cut down on you single-use plastics by ditching the plastic cup containers. Or you can even keep one on you for any pub visits instead of using single-use pint glasses.
Instead opt for a more robust, reusable alternative such as these leon bamboo picnic tumbler set of 4 (John Lewis and Partners, £15).
Bold, bright and beautiful, you can use them time and time again for wine, processo, Pimm's and soft drinks.
When it comes to drinking, plastic straws are wasteful but thanks to the many reusable options now available, making the switch to more sustainable options isn't a problem.
We love these Lakeland joie reusable stainless steel drinking straws (Lakeland, £6.99).
Eco-friendly products can sometimes fall flat in the aesthetic department, but these are chic enough to earn a place in our kitchen drawer.
The benefit of steel is that it can't be chewed by kids (or adults…guilty) or snap in the middle, meaning this pack of six should last you years. They're angled, earning design and practical points, and the set comes with a silicone holder for keeping them together and a flexible, tapered cleaning brush that effectively scrubs off any residue left inside. You can throw them in the dishwasher for an extra clean, too.
If your weekend plans involve a trip to you pub for a long-awaited pint, bring your own biodegradable pint glass, which not only will reduce your plastic consumption, but will also help you minimise the germs you come into contact with.
This biopac biodegradable half pint tumblers (Drink Stuff, £8.99) are available in packs of 70, so you'll never run out either. Your friends will thank you for being organised too.
They're made from 100 per cent compostable materials and will degrade after use, so one you've finished with them simply pop them on your compost heap or in your recycling bin.
Register for free to continue reading
Registration is a free and easy way to support our truly independent journalism
By registering, you will also enjoy limited access to Premium articles, exclusive newsletters, commenting, and virtual events with our leading journalists
Already have an account? sign in
Register for free to continue reading
Registration is a free and easy way to support our truly independent journalism
By registering, you will also enjoy limited access to Premium articles, exclusive newsletters, commenting, and virtual events with our leading journalists
Already have an account? sign in