The Independent's journalism is supported by our readers. When you purchase through links on our site, we may earn commission.
9 best vegan cookbooks: Plant-based recipes for Veganuary and beyond
Start cooking up a storm in the kitchen with these tried and tested top titles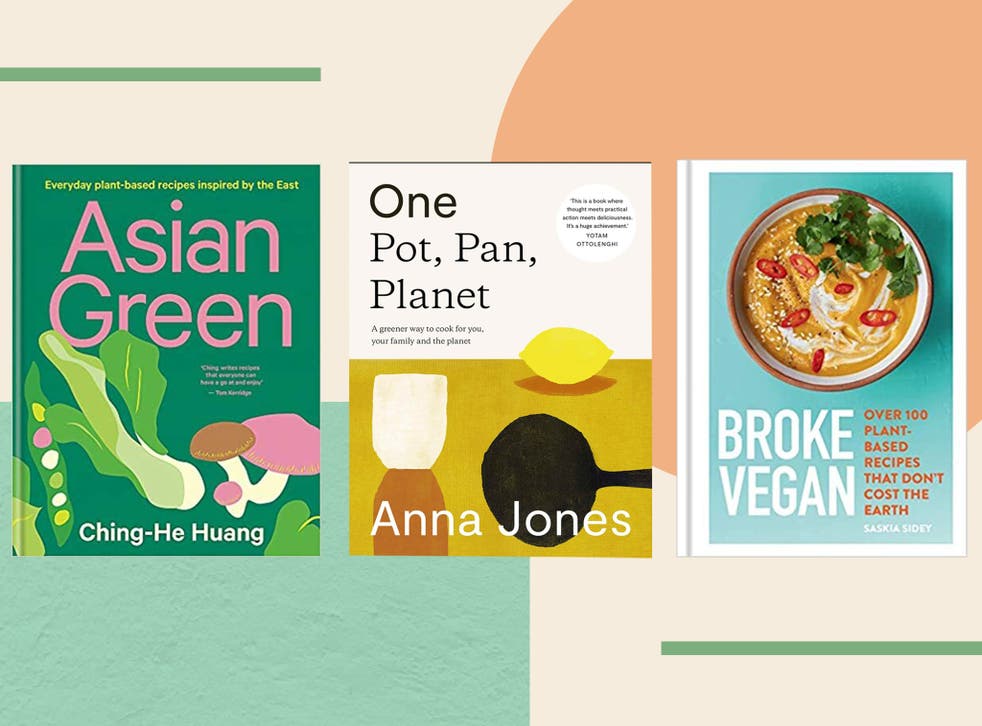 Going vegan is a journey, and cookbooks are a big part of it. Many who consider themselves competent home chefs will find themselves suddenly unmoored by not just a lack of meat, but a pantry that's full of things they're no longer sure if they can trust, and a book collection that constantly demands the use of fish sauce and clarified ghee. The comfort of a tome that can be followed to the letter is a salve during these unsettling times, and particularly about two weeks into Veganuary, when finally you've been through every meat alternative that your local supermarket stocks.
However, we here at IndyBest know a secret about vegan cookbooks: most of them aren't very good. They're either written by people who have been plant-based all their lives and could happily eat tofu for every meal, or they've been compiled by those who came to veganism as a healthy-eating choice (a fine position) and are therefore exclusively interested in salads (not so much).
So we have spent the past six years of our lives trying to build a collection of vegan recipe books worth their maldon salt. As a keen home cook and recipe-follower extraordinaire (we may have been known to google what a "slug" of olive oil is in milliletres), we believe we've found the clearest and most foolproof bunch of vegan cookbooks out there, which we come back to time and time again.
Here are some of the favourites that have got us through years of weeknight meals, dinner parties and special occasions aplenty, with vegans and meat eaters alike leaving our home satisfied (well, they at least pretended to be).
Read more:
How we tested
For many of the cookbooks below, we have been testing them for numerous years. For the newer releases, we gave at least three recipes a go and judged them on simplicity, clarity and, of course, tastiness.
We also judged them on how vegan they were – our favourite books tend to be vegan-friendly rather than vegan-exclusive examples, but we understand that the stress of having to substitute foods, or parse an ingredients list before you get going, is not for everyone. However, we tend to think vegetarian and meat-eating chefs often do plant-based food the best, and as you become a more accomplished vegan cook, you often learn what things you can substitute most successfully, so we've included both sorts in our round-up.
The best vegan cookbooks for 2022 are:
The verdict: Vegan cookbooks
All the books here offer something unique, and which one you plump for will depend on your level of skill and, of course, what foods make you salivate. We think Isa Chandra Moskowitz's I Can Cook Vegan will make an unbeatable addition to the bookshelf of vegans both long-minted and amateur. If you unabashedly refer to yourself as a foodie, Ottolenghi is, as always, your man. And if you're looking to refresh your weeknight repertoire, Meera Sodha's East is certain to invigorate.
Voucher codes
For discounts on audiobooks, try the link below:
You've got the instructions, now you need the ingredients – take a look at the best vegan products to try now
Register for free to continue reading
Registration is a free and easy way to support our truly independent journalism
By registering, you will also enjoy limited access to Premium articles, exclusive newsletters, commenting, and virtual events with our leading journalists
Already have an account? sign in
Register for free to continue reading
Registration is a free and easy way to support our truly independent journalism
By registering, you will also enjoy limited access to Premium articles, exclusive newsletters, commenting, and virtual events with our leading journalists
Already have an account? sign in