The Independent's journalism is supported by our readers. When you purchase through links on our site, we may earn commission.
9 best turkey crowns for festive feasting
These are simply the breast for white meat enthusiasts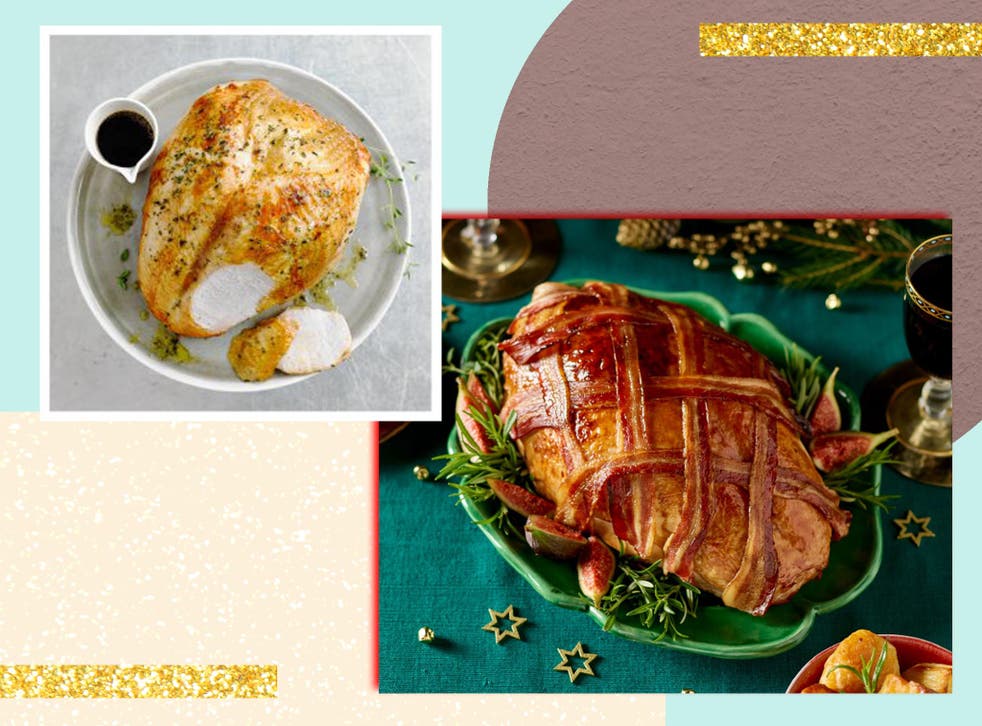 Christmas Day is fast approaching, and that means one thing: turkey. But you don't have to go for the whole big bird. Whether you're catering for a slightly smaller crowd or just prefer tender white meat, a turkey crown is a great alternative. You still get the carving experience, but they take up less room in the oven and cook faster than whole birds, too.
Not all turkey crowns are created equal. There are the obvious differences in size – they come as small as 1.5kg for a few people, or as large as 5kg-plus to serve more than two dozen. Crowns are always on the bone, but you can get them with or without wings attached.
Some come plain – ready for prepping as you desire – and others are already stuffed and topped with bacon or butter. Whatever your taste or cooking ability, there's a crown out there to suit you.
How we tested
When we tested our best turkey crowns, we judged them on flavour and texture, of course. But that wasn't all. We judged them on how true they were to the producer's description – for example, if it was stuffed with sage stuffing, could we really taste the sage? We also, crucially, judged them on value for money. Turkey crowns can vary dramatically in price; the cheapest we tried came in at £10 per kilo, while the most expensive was three times that.
As so few people cook turkey on a regular basis, we felt that the quality of the included instructions was crucial. We cooked each turkey exactly as stated by the producer or retailer, following temperature and timing instructions exactly. Unless specifically told to do so, we didn't add any additional flavourings (save a bit of butter under the skin). If the turkeys were not already stuffed, we did not stuff them. We awarded extra points to instructions that were clear, concise and – crucially – didn't lead to that dreaded turkey dryness. Crowns that seemed overdone after the stated cooking time were slightly marked down.
Finally, because we are dedicated to turkey testing here at IndyBest, we prepared each turkey the way you would at Christmastime, with the full retinue of sides, cranberry sauces and gravies, so they could be appreciated properly. Just as you'll be doing, on Christmas Day.
Read more:
The best turkey crowns for 2021 are:
The verdict: Turkey crowns
The best turkey crown for you will largely depend on what you're willing to pay for it. When it comes to value for money, we found it hard to look past Waitrose's Heston offering, which for around £15 per kilo provided a deliciously juicy bird. It was easy to cook and still was lusciously moist the day after cooking. Even 12 hours in the fridge couldn't dampen its deliciousness.
One could argue, however, that if you're handy in the kitchen you could do the brining yourself. Or, just order a top-quality free-range bird that may taste a bit more flavourful from the get-go. For that, it's a toss-up between Morton's and Farmison.
Finally, if you want a pre-stuffed bird, go for M&S. All you have to do is bung it in the oven and enjoy. It's stress-free, and that can't help but result in a relaxed, happy Christmas feast.
Voucher codes
For the latest foodie offers, try the links below:
Want to discover more festive launches? Read our guide to Aldi's Christmas hamper range
Register for free to continue reading
Registration is a free and easy way to support our truly independent journalism
By registering, you will also enjoy limited access to Premium articles, exclusive newsletters, commenting, and virtual events with our leading journalists
Already have an account? sign in