The Independent's journalism is supported by our readers. When you purchase through links on our site, we may earn commission.
We tried AllSaints' new 'one size fits three' jeans in all three sizes: Here's our honest review
Can one size really fit three (especially when it comes to denim?)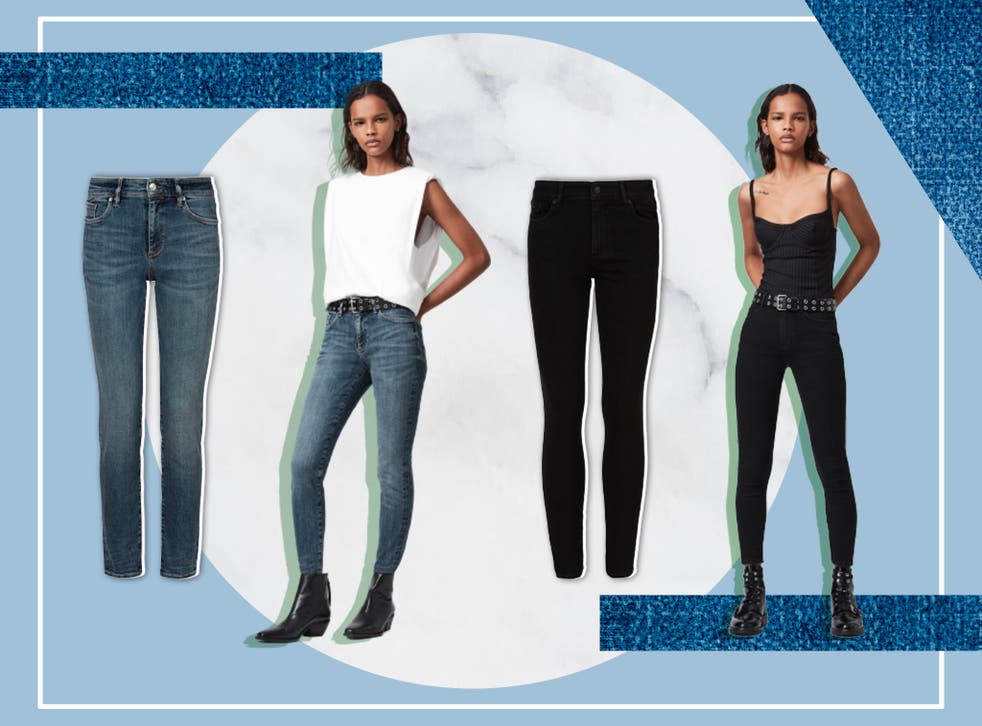 A good pair of jeans is hard to find. Involving many considerations on wash, colour, fit, flare; it is a very personal decision, and one that most of us have spent hundreds of hours trying to make.
When news of new jeans that only come in three sizes landed in our inboxes, it was something we were more than a little bit dubious about. But AllSaints' new "size me" denim range really does claim to be able to cater to nine different sizes with just three, adapting to your shape to stretch or shrink as needed. The small apparently fits a waist 24, 25, 26, the medium a 27, 28, 29 and the large a 30, 31, 32.
With this degree of flexibility, you might wonder about having to frequently yank up your skinnies in inconvenient places – supermarket aisles, work meetings – but you needn't worry about these jeans sliding down. Their special "t-power technology" ensures that your jeans don't get baggy throughout the day, and keep their premium look without elastane yarn slippage, and therefore retain their structural integrity (and yours).
In theory, this wider-net approach also means that you'll likely get the sizing right the first time and avoid the endless loop of sending back your deliveries; both time-saving and better for the environment, saving the miles that your jeans have to travel to get to you. That combined with the low EIM (environmental impact measure) score, make these jeans begin to feel like a foolproof choice.
The IndyBest team tried out the three sizes on three different women; we evaluated the style, fit, rise and whether they can withstand a day working from home. And – spoiler alert – we were rather pleasantly surprised.
Read more:
You can trust our independent reviews. We may earn commission from some of the retailers, but we never allow this to influence selections, which are formed from real-world testing and expert advice. This revenue helps to fund journalism across The Independent.
Tal Dekel-Daks, audience lead – size S
My millennial self could not be more pleased with these new skinny jeans from AllSaints. First, there was just the shock that they fit perfectly when I first tried them on. I'm a 5'0" short person with curvier thighs so finding jeans that fit has always been a confusing, disappointing nightmare. I've looked everywhere on the high street over the years trying to find the perfect pair of denim, from Levi's to H&M and Zara to Everlane. I once even spent along afternoon trying on almost every single pair of jeans that would fit me in Selfridges – to no avail. Up until now, the only jeans I've liked have been exclusively from Topshop's petite "mom" jeans section.
It did feel quite rebellious hoisting on a pair of super skinny black jeans while Gen Z dictate that skinnies are cancelled, however, this pair proves skinny jeans are here to stay. Their design is functional and diverse. I like this style's mid-rise silhouette which tucks me in in the right places. While they are super skinny and require that wiggle to get them off, the ultra stretch material means they're still comfortable. I didn't miss my usual yoga leggings too much while sat at my desk working from home.
Eleanor Magill, freelance – size M
There is not much that I don't buy online; skincare, make-up, electronics, you name it. But jeans are the one thing that I never trust to order off the internet, because any time I have it has resulted in wasted money in return postage. However, once I've found a good pair, I am a devotee and I will buy the same pair in all the varying shades.
I tried out the AllSaints jeans on a day when I was working from home, when I usually very rarely stray from tracksuit bottoms. Safe to say I was impressed – they didn't dig in at all, and I barely noticed they were on, they felt like a second skin. The jeans have a healthy bit of give in them so could even manage to contain my dinner, which was a whole sourdough pizza, without having to unbutton – no mean feat.
When it comes to jeans, much of the time it is complete guesswork about what is going to fit and look good, but this pair really look the struggle out of the situation. I was an easy peasy size M, no measuring tapes were needed in this experiment. The jeans slipped on nicely, with minimal jumping to get over my hips, supported my bum and thighs and miraculously stayed comfy all day! A big yes for me.
Suzie McCracken, senior production journalist – size L
Look, my body type is crazy. I have narrow hips, a small chest, broad shoulders and I carry any extra weight on my stomach. My legs, meanwhile, are quite long considering my height (5'4"). All of this is to say that I am unlikely to be a stand-in for your particular issues when it comes to jeans. But I am absolutely an example of someone who struggles to find a pair that fits.
These did – very well – despite the fact that I would normally pick a size above the range that AllSaints indicated these would cater to. I wore them on a day when I walked around five miles in fresh spring weather. I felt supported, comfortable and like I was wearing a high-quality pair of kecks. They also kept me a bit warmer than my usual, looser styles. My companion liked how they were skinny but still firmly on the jean end of the jegging scale. And I liked that they were a true black – a quality that can be surprisingly difficult to find in trousers.
I'm not sure I would count them as lounging-level comfy, as the brand's press release insinuates, but, also, I have worn nothing but sweatpants for a year now, so perhaps this was an unfair test. Overall, I was impressed. AllSaints promises new styles on the horizon and I would certainly be interested in a straight-leg version, should it be forthcoming.
For more great jeans, head to our edit of the best sustainable denim brands you need on your radar
Register for free to continue reading
Registration is a free and easy way to support our truly independent journalism
By registering, you will also enjoy limited access to Premium articles, exclusive newsletters, commenting, and virtual events with our leading journalists
Already have an account? sign in
Register for free to continue reading
Registration is a free and easy way to support our truly independent journalism
By registering, you will also enjoy limited access to Premium articles, exclusive newsletters, commenting, and virtual events with our leading journalists
Already have an account? sign in