The Independent's journalism is supported by our readers. When you purchase through links on our site, we may earn commission.
World Bamboo Day: Eco-friendly swaps to make, from toothbrushes to cutlery
Ditch virgin plastics in favour of eco-friendly alternatives across your kitchen, bathroom and bedroom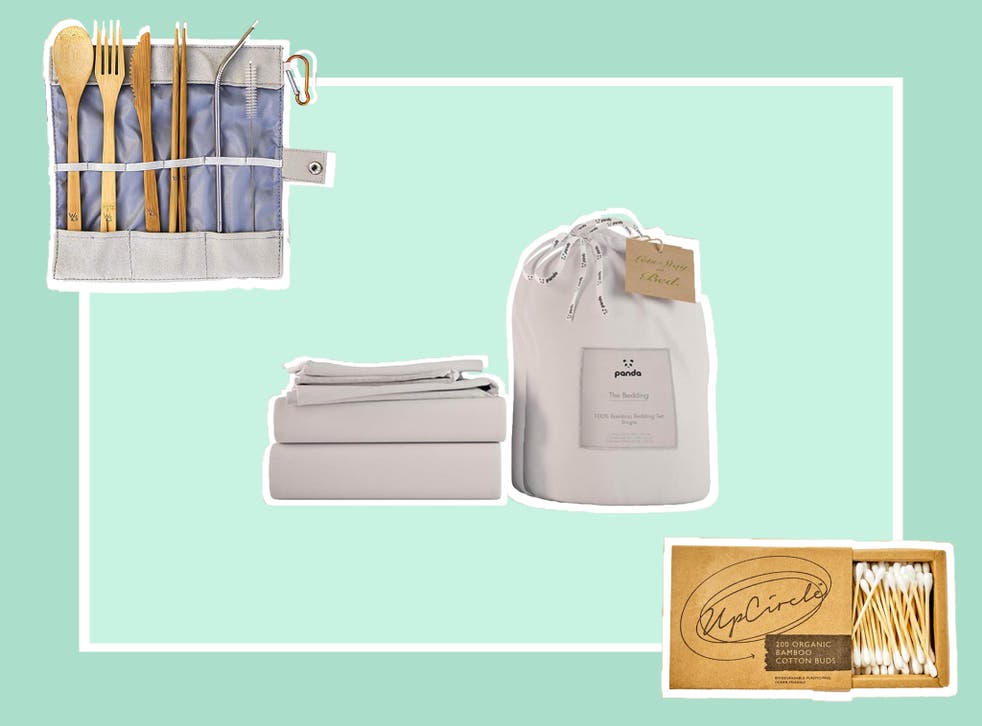 Shopping while considering our impact on the environment has fast become the norm for consumers. We are more informed than ever on the need to recycle, cut down our plastic pollution and make more eco-friendly choices with our buying habits.
It's not hard to start either and a few simple swaps in your everyday routine needn't be expensive either. Items such as coffee cups and cotton pads can easily be replaced with more environmentally-friendly, and plastic-free, alternatives.
Today is World Bamboo Day, founded by the World Bamboo Organization in a bid to raise global awareness of the use of bamboo and how using it can benefit our environment and educate on the sustainable utilisation of it.
Bamboo can be used effectively across a huge range of items as it's naturally antibacterial, flexible and extremely strong, not to mention bamboo forests can grow back within three to five years without the need for pesticides, making them more sustainable than plastic and paper.
To help you make the transition from plastic-heavy products and switching to bamboo, we've rounded up 10 of our favourite pieces from kitchen utensils to beauty bag essentials.
You can trust our independent round-ups. We may earn commission from some of the retailers, but we never allow this to influence selections. This revenue helps us to fund journalism across The Independent.
Kitchen
Reusable cutlery sets are becoming more common, as we now know the disposable plastic knives and forks can damage our ecosystem and accumulate huge amounts of waste.
This 8 piece bamboo picnic cutlery set (Wild and Stone, £10.49) is easily portable too, as it comes in a cloth bag, so if you're unable to clean it straight away it won't make anything near it messy either.
The set contains a fork, knife, spoon, pair of chopsticks, straw and brush, so there's no meal you won't be able to enjoy.
Complete the rest of your crockery with this bamboo dinerware set (Wearth London, £58) , That's made from a mix of bamboo and corn starch materials.
The set include four plates, four cups, a large salad bowl with a lid and servers, perfect for picnics.
When you're done eating, ensure your plates and cutlery are squeaky clean with this Addis bamboo dish brush (Waitrose, £2.75).
A decent size with plenty of bristles to scrub every pot, pan and tray you've used, it's a feel-good purchase that will look good too.
Earth Day 2020: in pictures across the world

Show all 21
Bathroom
One of the most common bamboo items you'll have seen is the humble toothbrush.
As explained in our guide to the best bamboo toothbrushes, it's estimated that 3.6 billion plastic toothbrushes are used worldwide every year, with the average person using 300 in their lifetime. Unfortunately, roughly 80 per cent of these end up in the sea, where they pose a risk to our marine ecosystem.
We loved this the environmental toothbrush (Boobalou, £2.65) Boobalou that's made from Moso bamboo, which grows a metre a day without the need for fertiliser, making it highly sustainable, safe and eco-friendly.
Created in Australia, the brand employs local farmers and pays them fairly, with the bamboo harvesting helping to control unwanted spread into precious agricultural land.
"These brushes feel well made and solid to hold and the medium nylon-6 bristles are on the softer side, which dentists recommend to minimise damage when giving your gnashers a good scrub," said our reviewer.
Ditch the single-use cotton pads too, in favour of these 16 reusable bamboo/cotton makeup pads and wash bag (And Keep, £12.95) that are made from 80 per cent bamboo and 20 per cent organic cotton.
12 are velvety soft and with a larger surface area than a typical pad made of cotton wool, while four have a scrub-like texture to gently exfoliate.
They're ideal to take off your make-up and cleanser, and are travel friendly, coming with a cotton drawstring bag.
We'd recommend washing them at 40 degrees inside the bag to avoid them getting stuck in the door of the washing machine. Easy to use and easy to clean, they're a no brainer.
For fixing make-up mishaps, add these bamboo cotton buds (UpCircle, £3.99 to your cosmetics arsenal.
You can buy a box of 200 of them in a recycled cardboard box that are plastic-free and completely biodegradable.
We also like to use them to tidy up nail polish in between salon visits.
Who Gives A Crap is an Australian company that began in 2012 and donates half of its profits to charities and projects – including Sanergy, which builds toilets in slums of Nairobi, as currently more people in the world have a smartphone than access to hygienic sanitation.
It doesn't use any virgin trees in its product – or inks, dyes, scents – and instead its premium bamboo toilet paper (Who Gives A Crap, 24 rolls for £26) is made with 100 per cent forest friendly bamboo.  
Each roll is three-ply and individually wrapped in a thin piece of brightly pattnered kraft paper that keeps them dry, which is the most sustainable way to package them.
In our guide to the best plastic-free beauty products, our reviewers loved that it's a sign-up delivery service too, meaning you'll never have to awkwardly carry a bargain multipack home again.
Bedroom
When it comes to shopping more sustainably, it's easy to forget about larger items such as bedsheets, and while bamboo might not be the first material you think of when it comes to bedsheets, but environmentally friendly brand Panda is out to change your mind.
We were impressed with the Panda bamboo bedding set (Panda, £110-£180) in our guide the best ethical home products.
Our reviewers enjoyed the soft feel of them that had a silk-like sheen and as a natural material it's breathable and suitable for allergies too, with no synthetic or plastic in the mix.
Your wardrobe can also be upgraded to a more eco-friendly option with this House by John Lewis bamboo clothes rail with shelf (John Lewis & Partners, £150).
Because of its material, it's highly durable and won't break, no matter how much you hang on it, and we love the shelf that can hold shoes and accessories.
It's the perfect compromise if you want to keep your floor clutter-free but still add a contemporary feel to a small space.
For the perfect finishing touch to a bedroom, this Madam Stolz rectangular bamboo shelf (Trouva, £69) is a stylish storage space.
Made using natural, dark bamboo and rattan, it's a wall decoration that will display books, perfumes, photo frames and trinket pots proudly while adding a rustic feel.
It's a brilliant way to store your stuff if you're short on floor space too.
For more on sustainable living, read our guide to the 9 best brands turning plastic bottles into clothes 
Register for free to continue reading
Registration is a free and easy way to support our truly independent journalism
By registering, you will also enjoy limited access to Premium articles, exclusive newsletters, commenting, and virtual events with our leading journalists
Already have an account? sign in