The Independent's journalism is supported by our readers. When you purchase through links on our site, we may earn commission.
10 best sherries: From dry to sweet, these drinks are so much more than a Christmas tipple
The Spanish booze is making a comeback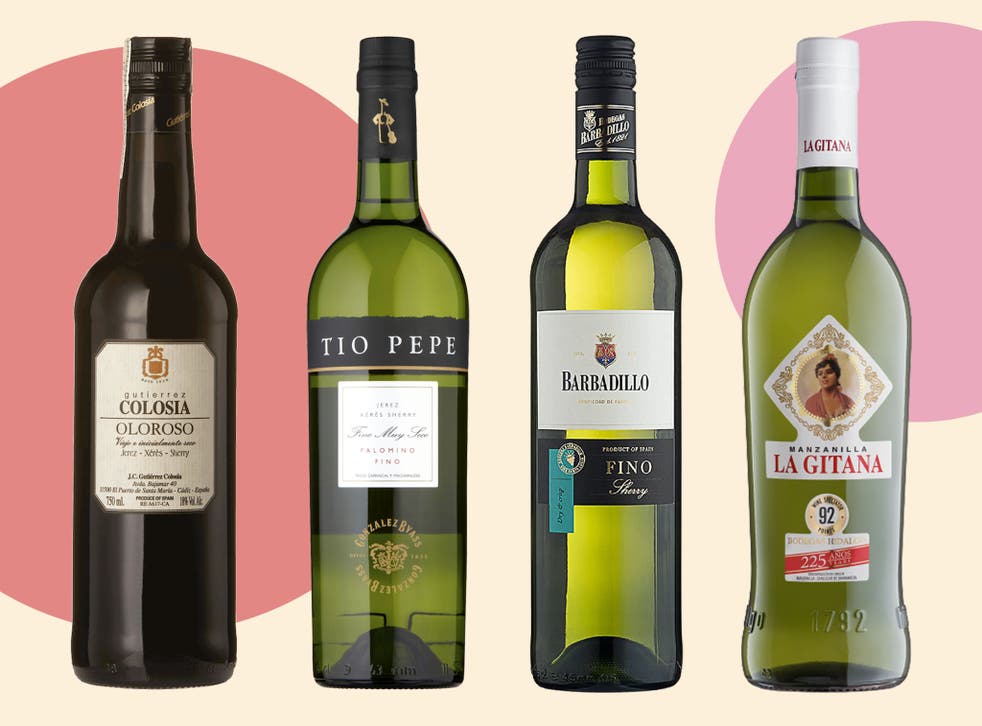 Sherry, one of our nation's favourite festive tipples, is one of the most fascinating of all wine styles. It can truly be deemed unique in that it can only be labelled as such if it is made in a certain place – in this case in the Jerez region of southern Spain, close to the port of Cadiz.
But that's not the only quality that makes it so distinctive. While versions of champagne and port are made all over the world – although they cannot call themselves that – sherry isn't really made anywhere else.
Sherry wines also run the gamut from very dry to very sweet, but are made almost entirely from two grapes – palomino for the drier style (which runs from fino to palo cotardo) and pedro ximenez or PX for sweeter wines.
Another unique aspect of sherry is that the grape juice is mostly aged under a type of yeast, called "flor", to give it the distinctive, oxidised flavour. Like port, it is fortified with clear grape spirit after fermentation, but then most are aged using the "solera" barrel system, whereby younger wines are used to top up older ones; the finished wine can therefore be a complex fractional mixture of ages, which can stretch back decades.
Despite these highly distinctive qualities, sherry is also a remarkably well-priced wine for everyday drinking, and if you pay around £20 or above, you will get a variety of considerable sophistication and complexity.
Read more:
Brits have been drinking sherry – or sack, as it was sometimes known  – since Elizabethan times, when London was awash with it after Sir Francis Drake looted Cadiz.
And sherry became, of course, indelibly associated with Christmas, whether it is an affection for a glass of sweet "cream sherry" – very much a British version of the real thing – or the classic sherry trifle.
But new aficionados know to drink bone-dry sherries, such as a fino or manzanilla, as you might drink a white wine. Richer, dry sherries, meanwhile, are perfect after-dinner sippers, and can also be great with charcuterie and game as well as hard cheeses.
One more unique thing: the ultra-sweet PX version is the only wine you can pour over vanilla ice cream as a sauce. Try it – and explore other sherries – and you might find yourself hooked.
How we tested
Sherry is an incredibly food-friendly wine, suitable as an aperitif with canapés or throughout a meal, whether it's a festive one or not. These wines were therefore tasted with appropriate foods – from salty canapés and shellfish starters with dry varieties, to puddings and ice creams with the sweeter kinds.
The best sherries for 2021 are:
The verdict: Sherries
Because of the season, it's the more concentrated style of sherry that we have chosen our best buy. The fabulous Gonzalez Byass del duque amontillado VORS delivers unforgettable flavours in the glass and will grace anyone's Christmas table, or fireside, perfectly.
Voucher codes
For the latest alcohol deals, try the links below:
If you'd rather a G&T, discover our best gins and tonic waters
Register for free to continue reading
Registration is a free and easy way to support our truly independent journalism
By registering, you will also enjoy limited access to Premium articles, exclusive newsletters, commenting, and virtual events with our leading journalists
Already have an account? sign in
Register for free to continue reading
Registration is a free and easy way to support our truly independent journalism
By registering, you will also enjoy limited access to Premium articles, exclusive newsletters, commenting, and virtual events with our leading journalists
Already have an account? sign in