The Independent's journalism is supported by our readers. When you purchase through links on our site, we may earn commission. Why trust us?
7 best food waste apps for more sustainable eating habits
From rescuing restaurant meals to tackling your household waste, do your bit for the planet with these aids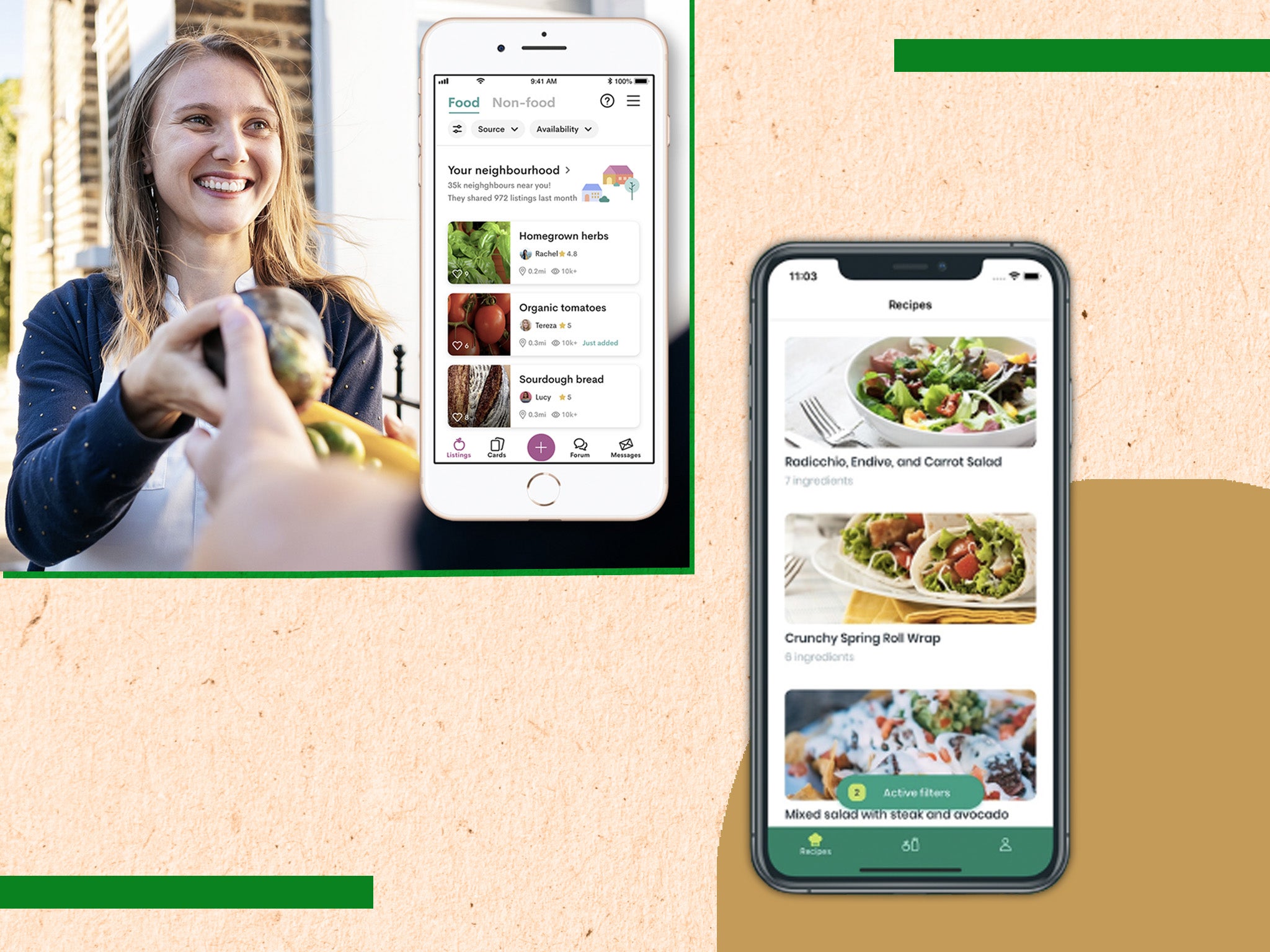 Earth Day – an annual event that falls on 22 April this year – has been raising awareness of how we can protect the environment for more than five decades. And one major way in which we can all make a difference is to adopt more sustainable eating habits.
With 6.7 million tonnes of food wasted per year in the UK and a third to a half of all food produced thrown away globally, we all play a part in the far reaching problem of food waste.  
According to the United Nations, the world's population is expected to grow from 7.6 billion to 9.8 billion by 2050 – and with it, our food waste is predicted to swell. With decomposing food in landfills emitting methane greenhouse gas that contributes to global heating, this waste carries a serious environmental cost.
Occurring at all four stages of the supply chain, from producers to processors to retailers and finally to consumers – it's clear that both consumers and the food industry need to change their habits.
Over the last couple of years the development of food waste apps mean it's never been easier to intercept the supply chain and tackle the problem of food waste – all with just a few taps on your phone.
Read more:
Some of these apps involve rescuing perfectly good food from cafes, restaurants, bakeries, shops and neighbours that might otherwise be destined for the landfill. This win-win initiative allows consumers to eat cheaply and do their bit for the environment while local businesses enjoy extra customers and avoid throwing away their surplus. From bakery pastries and loafs to chow mein and sandwiches, you can enjoy restaurant food left-over at the end of serving time at discounted prices.
As well as food rescue schemes, other apps are helping tackle the problem of household waste, allowing you to log your weekly shops, keep track of sell-by dates and use up food with recommended recipes.
With these apps all operating in slightly different ways, we put seven to the test, considering ease-of-use, accessibility, value for money, tastiness and practicality.
You can trust our independent reviews. We may earn commission from some of the retailers, but we never allow this to influence selections, which are formed from real-world testing and expert advice. This revenue helps to fund journalism across The Independent.
Too Good to Go 
Free to download
Download on iOS
Download on Android
Founded in 2016 in Copenhagen, Too Good To Go has since expanded to 14 more countries, boasts 28 million users worldwide and saves more than 100,000 meals every day. B-Corp certified, the app connects consumers to restaurants, cafes and bakeries with surplus food that would otherwise be thrown away – this excess is sold on the app in the form of a surprise "magic bag." Once users have registered for free, they can browse local food sources nearby that appear on a map, including Greggs, Costa and Waitrose, pay for a meal at a fraction of the retail cost and go and collect some fresh food. The app is one of the most accessible available in the UK, with eateries signed up in towns and cities all across the country.
Our tester tried the app at lunchtime in central London, ordering a £4.50 vegetarian falafel salad box in a recyclable "magic bag" that was worth £13.50. On another day, we rescued food from the restaurant chain Leon, purchasing two burgers, a portion of chips and a smoothie worth more than £15 for just £3.75. In both orders, the food was of equal quality to buying normally, both in terms of taste, warmth and packaging. Once the food is ordered, you receive a collection time frame and simply show your app (wifi connection not necessary) to receive your food. The useful browsing categories include vegetarian, groceries and baked goods which helps save time scrolling.
Karma
Free to download
Download on iOS
Download on Android
Having rescued more than 4 million meals already – equating to 1,800 tonnes of CO2 saved – Karma allows you to save food from restaurants, cafes and bakeries with just a tap on your phone. Beginning as a start-up in Sweden in 2016, the platform now boasts more than 1 million users and even Barack Obama is a fan. Endorsing the app in 2019, Obama praised the organisation's "extraordinary" work in helping to create "the first zero food waste generation".
Working similarly to the Too Good To Go app, once registered for free you can browse local eateries and purchase anything from burgers and wraps to rye breads and cheeses. Rather than a mixed bag of leftovers, food on Karma is sold as individual discounted meals meaning you know exactly what you're getting. Our tester tried the app at lunchtime using the map to see what was nearby, ordering a sushi main and side for £5 cheaper on Karma. The restaurant quality food arrived in recyclable packaging and was just as fresh as it would be if you ordered as you usually would. For ease of use, you can follow your favourite eateries on that app and receive notifications when food becomes available. Karma is constantly expanding but is currently only available in London and Brighton in the UK.
Olio
Free to download with optional subscription of £4.99 per month
Download on iOS
Download on Android
Believing small actions can lead to big change, the founders of Olio wanted to create an app that connected not just consumers and businesses but neighbours, too. Whether it's sell-by date food from local stores or rescued cupcakes, Olio allows surplus food to be shared among communities all across the UK. It can also be used for non-food household items with a quick browse on our map bringing up a Nintendo game, armchair and lampshade.
But back to food. If you have surplus food you can't bear throwing away, simply list it on the app and someone in your area will pick it up. Tessa Clarke, Olio co-founder, thought up the idea when she was moving abroad and had no one to donate her food to. Everything on the app is free, except listings in the "made" section where you can buy local homemade crafts or food goods. A nice good-will scheme on the app involves signing up to be a local volunteer, collecting leftovers from supermarkets and distributing to the community via the app. While free to download and use, you can become an "Olio supporter" for £4.99 a month which allows you to see a map view of listings.
NoWaste
Free to download
Download on iOS
Download on Android
Rather than rescuing restaurant food, NoWaste tackles the excess that starts in people's homes. With 30 million tonnes of household waste generated in the UK each year, NoWaste helps you manage and reduce this waste. The food inventory app allows you to keep track of your purchases, expiry dates and fridge contents, letting you see what needs to be used first and reduce unnecessary purchases. With a receipt and barcode scanner, you can log your weekly shop and enable automatic reminders for when food will expire. The handy meal-planning feature helps you save money and avoid leftovers at the end of the week.
With lists for your freezer, fridge and cupboard, you can sort and search for food in seconds while synchronising and sharing lists with others in the household. Being able to follow your monthly food waste and money savings as well as learning about the high waste risk of certain foods are gratifying incentives too.
nosh
Free to download
Download for iOS
Download for Android
Another app honing in on your household waste is nosh, a new AI-based app developed during the pandemic. The free app's smart technology allows households to keep better track of their fridge and cupboard, which has proved more important than ever during lockdown. The team of scientists behind the app are based at the University of Essex, and argue that lockdown has changed our buying habits, and not in a good way. Stockpiling and shopping less has often led to more food wastage as we all adapted to new shopping routines.
Users of nosh can track the expiry date of products, plan their weekly shop in the app and get recipe suggestions on items so nothing ends up in the bin. Helping you make smarter purchases, the weekly analytics feature tracks items that are common in your buying and wasting habits. Food campaigners Wrap estimate the average household spends £700 a year on thrown out food, so apps like nosh aren't just helping save the planet but also your bank balance.  
Kitche
Free to download
Download on iOS
Download on Android 
With household waste representing 70 per cent of all food waste generated after its been grown and produced, kitchen management is key to reducing your own waste. If you're ever stumped on how to make use of disparate leftovers, inventory app Kitche can help get you organised. Similarly to nosh and NoWaste, you scan your supermarket receipt on the app, receive prompts for when food is going to expire, create shopping plans and keep track of the contents of your kitchen. One feature allows you to swipe binned products meaning you can keep track what regularly goes to waste and adapt your weekly shop accordingly.
Setting Kitche apart from other food inventory apps is the wealth of more than 1000 recipe suggestions pulled by the app from databases to help you use up your leftovers. Simply log which food you want to use up, choose a recipe and follow the cooking instructions all within the app. Having this all in one place takes the indecision out of cooking while helping you find inventive ways to make use of leftovers.
Giki Badges
Free to download
Download for iOS
Download for Android
Everyday food choices can have a big impact on the environment, which is what the founders of Giki had in mind when creating an app that provides ethical and sustainability information about everyday supermarket products. The app centres around 13 "badges" that are awarded to products based on their eco-credentials, from recyclable packaging to ethically sourced ingredients. Buying food with better packaging can help reduce waste ending up in the landfill, which the Better Packaging Giki badge can help you find.
Simply scan the barcode of the product you buy, whether at home or at the shop, and see the number of badges awarded and the sustainability of the brand. Ensuring you understand the true impact of food products on the environment, Giki helps you to use your consumer power for good. A quick scan through our kitchen revealed that the butter we use has a considerable carbon footprint compared to our porridge which boasted five out of six possible eco badges. If you're disappointed with the awarding a product has, Giki recommends alternative options with higher eco ratings.
The verdict: Food waste apps
If you're looking to switch up your eating habits, all these apps offer handy and easy ways to help reduce food waste – whether that be your own household excesses or helping companies and restaurants reduce theirs. The rescue app Too Good To Go is a win-win initiative for both consumers and companies, with users able to eat cheaply while saving food from the landfill. That said, our only criticism is the risk of the "magic bags" contents not being suitable for vegetarians or anyone with dietary restrictions. If this is a concern, Karma is your best bet as you know exactly what you're getting.
Beyond rescuing food, tackling your own household waste has never been easier with NoWaste being a simple and efficient way of managing your kitchen while Kitche helps you use up your leftovers and take the indecision out of mealtimes.
Compare the best mobile deals with Independent compare
Make more eco-friendly fashion choices with our guide to the best sustainable clothing and accessories brands