The Independent's journalism is supported by our readers. When you purchase through links on our site, we may earn commission.
10 best mirrorless cameras: Perfect for budding photographers
Capture everything from wildlife to winning goals with these lightweight models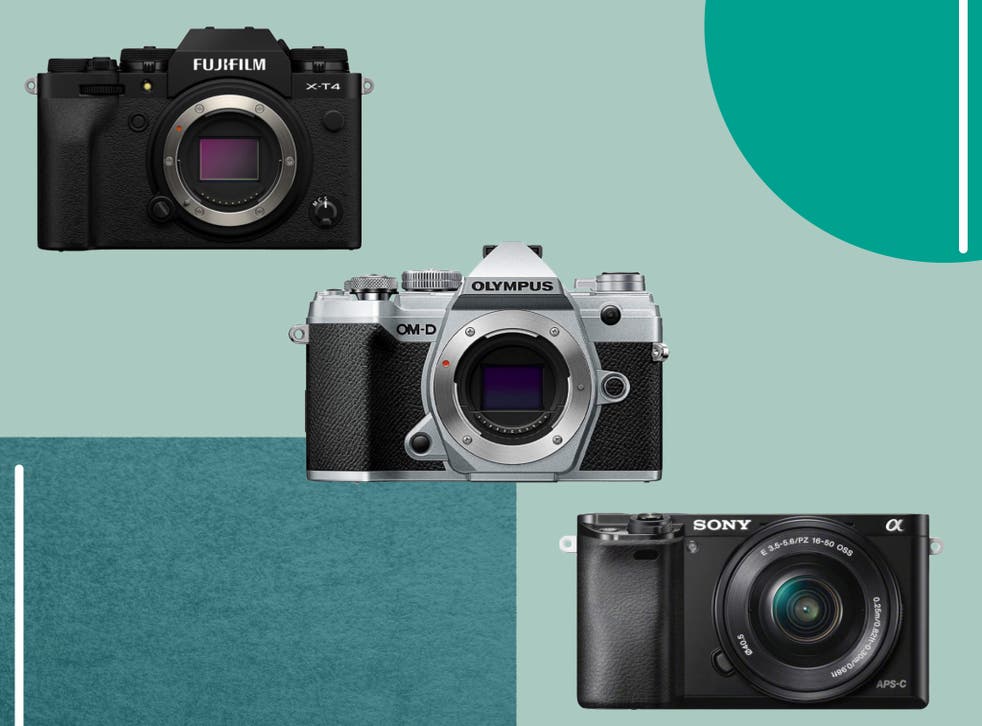 Mirrorless cameras have risen in popularity in recent years. Smaller, more portable, more suited for a travel-savvy generation and able to make the most of emerging, lightweight technology, many manufacturers are looking to develop their mirrorless lineups, and have expanded hugely in the process.
Put simply, a mirrorless camera doesn't have a reflex mirror in the body. It sounds obvious, but this is the crucial thing that determines what makes mirrorless cameras so appealing. It doesn't reflect light in the traditional way we know from old-fashioned SLR cameras. Instead, light from the lens gets sent directly to a sensor that displays via an LCD screen at the back and via the viewfinder.
Not seeing a "real" interpretation of what you're shooting takes a bit of getting used to, as all viewfinder options are screens rather than mirrors, but the benefits this provides soon outweigh the negatives.
Not having a mirror in the body denotes excellent weight-saving abilities, a much faster shooting rate – ideal for sports and wildlife photographers in particular – and excellent image stabilisation. It's also really handy to have an immediate representation of your image in the viewfinder before you hit the shutter button, and most mirrorless cameras have a more-or-less silent operation.
Many top brands such as Canon, Nikon and Sony have made big claims about the mirrorless camera world's future, and hence are developing their product lines quickly. Mirrorless options are fast gaining traction in the professional world too and the system looks likely to surpass traditional DSLRs in the coming years.
Read more:
We tested these cameras in a range of setups, but because of their lightweight ability, we really wanted to get a handle of their performance on the move. They were taken around urban and countryside situations, with street photography performance and portraiture measured alongside battery live, ease of operation, weight, ergonomics and depth of features.
The best mirrorless cameras for 2021 are:
The verdict: Mirrorless cameras
The camera at the top of this list has to be the Canon R5. If you can stomach the initial outlay, this is a camera that will continue to grow with you, and you'll continue to be impressed by the quality of the images it produces.
If you're looking for more of a budget option, we'd recommend the original Canon R or the Nikon Z5. For compact or four-thirds enthusiasts, the Olympus OM-D E-M10 mark IV surprised us with its versatility and range of ability for such a small setup.
Voucher codes
For more camera and tech offers, try the links below:
Can't decide between DSLR, compact, instant or mirrorless? Read our camera buying guide to make the decision easier
Register for free to continue reading
Registration is a free and easy way to support our truly independent journalism
By registering, you will also enjoy limited access to Premium articles, exclusive newsletters, commenting, and virtual events with our leading journalists
Already have an account? sign in
Register for free to continue reading
Registration is a free and easy way to support our truly independent journalism
By registering, you will also enjoy limited access to Premium articles, exclusive newsletters, commenting, and virtual events with our leading journalists
Already have an account? sign in