The Independent's journalism is supported by our readers. When you purchase through links on our site, we may earn commission.
26 best PS4 and Xbox One games of 2018
We've tested a range of game releases from the past year to find you the must-haves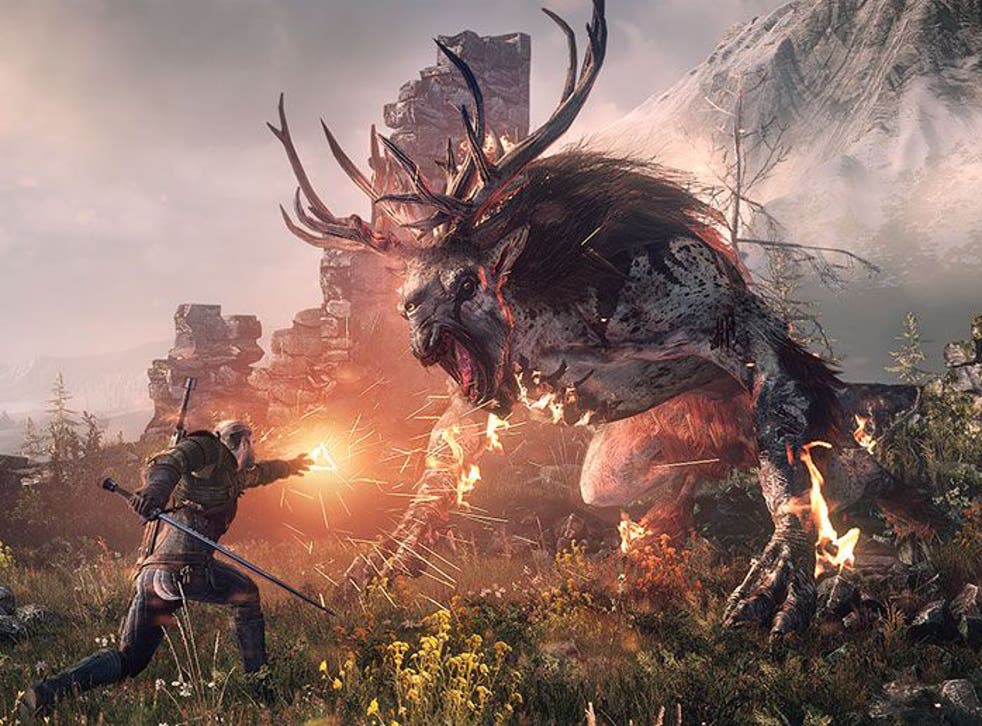 As ever, the video game world continues to get more creative and even broader in its offering of genres and play styles. No matter what type of gamer you are, there's something out there for you to find and enjoy. This year has given us huge mythological epics and historical period dramas, not to mention fantasy lands, thrilling shootouts and wheel to wheel action. Here are the best of 2018 to stock up on this Christmas.
Red Dead Redemption 2: £49.99 for PS4 and £49.56 for Xbox One, Amazon
Red Dead Redemption 2 is the latest epic from developer Rockstar Games. It places you in the worn leather boots of cowboy Arthur Morgan, setting you free into the most well realised open world to date – a gorgeous rendition of the frontier, complete with rocky mountains, open plains, swampy bayous and arid deserts. With reactive AI, brilliant missions, a tragic story and an upcoming online mode, this is the best game of 2018.
Buy for PS4 now
Buy for Xbox One now
God of War: £44.99, GAME
God of War is a masterful reboot of the long-running PlayStation series of the same name. This new game, released in early 2018, shifts the series from the ancient greek mythos to norse mythology. That means snowy mountains, frost giants and big heavy axes. It's a beautiful, action-packed adventure that also has a lot of heart, and is one of the PlayStation 4's best single player only exclusives.
Horizon Zero Dawn: £19.99, Amazon
Horizon Zero Dawn is a stunning open-world adventure that gives you the chance to roam the lush wastelands of the far future. In a world overrun by sentient machines, you play as Aloy, a troubled girl with a mysterious past, and the game sees you uncovering the secrets behind the fall of humanity. It's one of the best looking games on PS4, too, with stunning 4K and HDR support, and offers 40+ hours of action-packed questing. There's also an excellent expansion pack, titled The Frozen Wilds, which offers more content and new locations.
Forza Horizon 4: £40.99, John Lewis & Partners
One of the Xbox One's best exclusive games sees the Forza series adopting changeable seasons into its mix. This means scorching sun, battering rain and freezing snow that sees the game's British landscape change entirely week in, week out. It's a great change for the series as a whole, and one that sees new races and events included each week to keep you coming back for more.
The Witcher 3: Wild Hunt: £21.87 for PS4 and £23.91 for Xbox One, Amazon
One of the best role-playing games ever made, The Witcher 3: Wild Hunt is a grand adventure through a beautifully realised fantasy world. You play as Geralt of Rivia, a famed monster hunter who's dragged into a much bigger plot to save the world. It features some of the best storytelling in video gaming, plus excellent combat and quests, and will take you at least 100 hours to complete. A must-play for anyone interested in the role-playing genre.
Buy for PS4 now
Buy for Xbox One now
Destiny 2: £4.50 for PS4 and £9.49 for Xbox One, Amazon
Now one year since release, Destiny 2 has just had its best ever expansion in the form of Forsaken. The game is now more complete than ever, with activities and missions of all sorts for players to indulge in, all of which are updated regularly to keep you interested and invested. Forsaken also added Destiny 2's best multiplayer mode, Gambit. With all of this content since launch, Destiny 2 is now one of the best value games you can buy.
Spider-Man: £42, Amazon
Spider-Man is a pristinely produced adventure that gives players one of the best traversal systems ever made for a game. Playing as the nimble Spidey, you get free roam across the huge city of New York, flinging and swinging your way high above the city streets, completing a compelling story that balances Spidey's superheroism with his student life as Peter Parker.
Grand Theft Auto 5: £21.99 for PS4 and Xbox One, Amazon
The second Rockstar game on this list, Grand Theft Auto V is now five years old, but you wouldn't know it. The city of Los Santos is still a sumptuous creation, and one of the best game worlds created to date. The story is full of black comedy and satire, and it's a game that packs an untold amount of things to do – from cycling to shooting up gangs, to flying planes and robbing banks. With GTA: Online still active as ever, you also get the opportunity to dive into an ever updated online community.
Buy for PS4 now
Buy for Xbox One now
Assassin's Creed Odyssey: £47.99 for PS4 and Xbox One, HMV
Assassin's Creed Odyssey takes the series' famed open world stab fest to the verdant lands of ancient Greece. It's a truly enormous game with several different biomes and a completely seamless landscape to explore either on foot or by boat. Combat is customisable and fluid, and the story marries historical figures with mythological ones to create the most grandiose Assassin's Creed game yet.
Buy for PS4 now
Buy for Xbox One now
The Elder Scrolls V: Skyrim : £20.99 for PS4 and Xbox One, Argos
Arguably the biggest, most content rich game on this list, The Elder Scrolls V: Skyrim may be seven years old, but it's still offering up surprises to this day. Set in the fantasy world of Tamriel, Skyrim is a fully open role-playing game that has you killing magical creatures, firing lightning from your hands, and toying with elves and dwarves in a quest to save Skyrim from becoming overruled by dragons. It's one of the most exciting RPGs to date, and still has the ability to impress despite its age.
Buy for PS4 now
Buy for Xbox One now
The Last of Us: Remastered: £15.99, Playstation Store
This is a storytelling triumph. The Last of Us was originally released on PS3 back in 2013, but has since received a great remaster for modern consoles with increased resolution and HDR support. The game is a sombre, violent, tragic tale that plays out in an alternate reality where a form of fungus infects humanity and causes worldwide disaster. From developer Naughty Dog, most famous for its Uncharted series, The Last of Us is one of PlayStation 4's most memorable games.
Wolfenstein II: The New Colossus: £19.99 for PS4 and Xbox One, GAME
Wolfenstein II: The New Colossus is one of the best first-person shooters of the decade. Set in an alternate reality where the Nazis won the Second World War and now rule the world, The New Colossus sees you journeying across a Reich-overrun America to try to turn the tide on the war. It's violent, ridiculous and fantastically well written, successfully blending extreme gore with some of the most touching, poignant moments in an FPS.
Buy for PS4 now
Buy for Xbox One now
Metal Gear Solid V: The Phantom Pain: £14.97 for PS4 and £11.97 for Xbox One, Amazon
A stealth gaming masterpiece, The Phantom Pain may not have a wholly complete narrative arc, but the gameplay satisfaction it presents is unrivalled. Playing as longtime series protagonist Solid Snake, you venture to the deserts of Afghanistan and later the jungles of Africa to complete tense covert operations. Choice is very much a focal point of Metal Gear Solid V, down to the weapons you carry, to how you approach an operation, to the time of day you want to tackle them, all the way to how you upgrade your home base.
Buy for PS4 now
Buy for Xbox One now
Bloodborne: £19.60, Amazon
Bloodborne is perhaps the most challenging video game in years. Set in the dark, gothic world of Yharnam, the game sees you adopting the role of a hunter. The story is obscure yet engrossing, and the world is twisted and gross, but utterly compelling. It demands a lot of the player, offering up hard as nails enemies and bosses for you to do your best to defeat in bitter combat. It's now several years old, but still remains one of the most talked about, mysterious games ever made.
Hitman: £25.99 for PS4 and £28.89 for Xbox One, GAME
Initially released as an episodic series, the Hitman reboot packs some of the best missions in the franchise's history. From the sun-soaked streets of Sapienza to a mountain clinic in the snowy mountains of Hokkaido, Hitman lets you trot the globe to do bloody murder. It's inventive, sardonic and immensely replayable, offering tons of challenges and objectives to incentivise multiple replays.
Buy for PS4 now
Buy for Xbox One now
Dishonored 2: £8.95 for PS4 and £7.79 for Xbox One, Amazon
Dishonored 2 takes everything that was great about the original Dishonored and amps it up considerably. A better story, more creative abilities and some truly impressive levels result in one of the most original and unique first-person action games in recent years. It marries fantasy with steampunk, creating an aesthetic not seen in many other games, and offers up constant player choice that drastically affects the outcome of the game's story.
Buy for PS4 now
Buy for Xbox One now
Overwatch: £29.84 for PS4 and £25.95 for Xbox One, Amazon
As a multiplayer only first-person shooter, Overwatch is one of the best around. Complete with dozens of unique playable characters, each with their own specialised abilities and skill sets, the game offers endless hours of fun, strategic multiplayer battling. It's colourful, vivid and hugely entertaining – unlocks and skins keep your treasure trove of progression topped up, while the frantic nature of its multifaceted gunplay makes each battle a surprise.
Buy for PS4 now
Buy for Xbox One now
Uncharted 4: A Thief's End: £15.99, Argos
Supposedly the last story in the adventures of Nathan Drake, Uncharted 4 is also his most serious and emotional ride. That doesn't mean it doesn't have the quips and levity you expect from an Uncharted game, or the beautiful locations spanning the globe, but it makes for also the series' most emotionally weighty episode. Great shooting, fantastic set piece moments and brilliant characterisation round off what is one of PS4's best single-player titles.
Monster Hunter World: £19.99 for PS4 and Xbox One, GAME
Monster Hunter World brings the famous Japanese franchise into modernity. With a fully explorable, seamless open world, the game is a gorgeous 100-hour romp that lets you fend off against some truly magnificent creatures. As the title suggests, the name of the game is still monster hunting action, which often takes hours to identify, track, hunt, fight and kill individual beasts. It's not for everyone, with hardcore mechanics fit for dedicated gamers, but the satisfaction found in felling its foes is unparalleled.
Buy for PS4 now
Buy for Xbox One now
Fortnite: Free to download, Playstation Store and www.xbox.com
The mega-phenomenon of the last few years, Fortnite is all-online multiplayer on a massive scale. It combines fun shooting with building mechanics and a whole amount of strategy, and packs it all into a game that begs to be played and replayed for dozens of hours to come. The best thing is that you can play without spending a penny.
Download for PS4 now
Download for Xbox One now
Titanfall 2: £10.99 for PS4 and £6.79 for Xbox One, GAME
Titanfall 2 is one of the fastest paced online shooters ever made. It takes the intensity of on-foot action with the bombast of big robots and blends them together seamlessly to create a tour de force of the first-person shooter genre. That's not all: as well as multiplayer there's an incredible single player game that delivers inventive, exciting missions that play with, of all things, time travel.
Buy for PS4 now
Buy for Xbox One now
Halo: The Master Chief Collection: £24.97, Amazon
The Master Chief Collection packs all of the best Halo games into one package, making for perhaps the most bang for your buck in any game to date. It includes full remasters of both Halo: Combat Evolved and Halo 2, too, meaning you get refreshed versions of two of the most iconic shooters in Xbox's history. The game had multiplayer issues at launch, but now represents an excellent package worth your consideration.
FIFA 19: £49.53 for PS4 and £41.60 for Xbox One, Amazon
Ah, the beautiful game. FIFA games always offer updated versions on a football formula that's proven to work time and time again, and the latest FIFA is no different. However, that doesn't mean that what it offers isn't truly excellent. It looks great, sounds authentic, plays fantastically and lets players of every skill level get involved. Add in FIFA Ultimate Team, multiplayer and more, and you have exactly enough game to keep you going for the next 12 months. Until FIFA 2020, that is…
Buy for PS4 now
Buy for Xbox One now
Battlefield 1: £14.85 for PS4 and £19.99 for Xbox One, GAME
The Battlefield series is best known for its unique take on large-scale online warfare, and Battlefield 1 whisks the series to the dark age of the Great War. That means some of the most bloody battles in human history, hulking tanks, powerful bolt-action rifles and heavy, unwieldy equipment in the thick mud. There's a huge amount in Battlefield 1, from a single-player story to long, tactical multiplayer modes – all of it looks beautiful and delivers an impressive sense of scale.
Buy for PS4 now
Buy for Xbox One now
Rocket League: £18.12 for PS4 and £18.47 for Xbox One, Amazon
Imagine playing football but doing so in a super-powered remote control car capable of jumps, flips and zero-gravity style wall runs. If that sounds like the kind of thing you'd enjoy then Rocket League is exactly your type of video game. It's fast, fluid and wholly addictive, roping you in with its crazy mechanics and keeping you hooked with its satisfying victories.
Buy for PS4 now
Buy for Xbox One now
DOOM: £9.99 for PS4 and Xbox One, GAME
Killing hundreds if not thousands of demons takes a lot of energy, but DOOM makes it look easy. This is a bloody, gory kill fest set on the surface of Mars and the depths of hell, and has you wielding all sorts of absurd super-weapons to take your enemies down. The series is a long-running gaming favourite, but developer id Software rebooted it last year to critical acclaim and it's not one to miss out on.
Buy for PS4 now
Buy for Xbox One now
The Verdict: Best PS4 and Xbox One games of 2018
As the best game of 2018, and we'd argue one of the greatest ever made, Red Dead Redemption 2 makes the top spot on our list. It packs everything impressive about video games – from immersive storytelling to breathtaking visuals, and packs it all into a natural world with an untold amount of things to do. From hunting deer out in the wilderness to robbing trains with your gang of outlaw pals, this game is an unmissable treat.
IndyBest product reviews are unbiased, independent advice you can trust. On some occasions, we earn revenue if you click the links and buy the products, but we never allow this to bias our coverage. The reviews are compiled through a mix of expert opinion and real-world testing.
Register for free to continue reading
Registration is a free and easy way to support our truly independent journalism
By registering, you will also enjoy limited access to Premium articles, exclusive newsletters, commenting, and virtual events with our leading journalists
Already have an account? sign in