The Independent's journalism is supported by our readers. When you purchase through links on our site, we may earn commission.
10 best bean-to-cup coffee machines for cafe-quality drinks at home
From cold brew to cappuccinos, take the grind out of your morning brew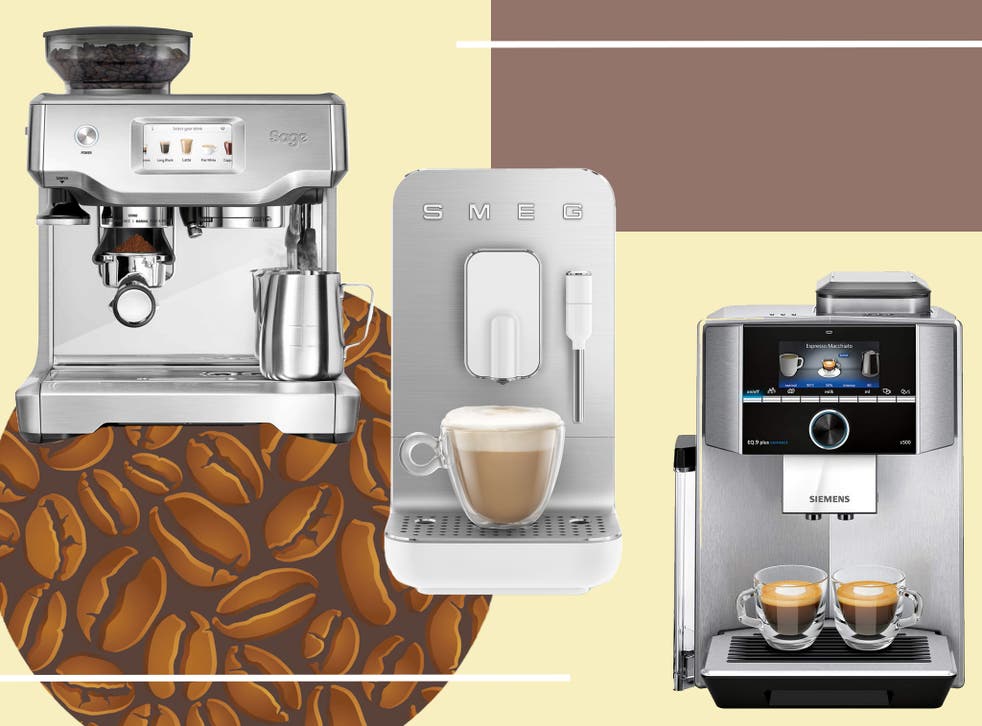 The connection between the humble coffee bean and the shot of espresso in your cup has significantly shortened with the advent of bean-to-cup machines. These machines are rapidly gaining in popularity thanks to the fact that they can deliver fresh ground espresso, and a range of other preparations, at the touch of a button (or three), without you having to separately grind the beans and then extract the espresso using a stovetop or other machine.
The popularity surge might also have something to do with the fact that they have an eco-advantage over the current crop of capsule coffee machines, because they side-step the thorny issue of all those plastic pods that are produced and need recycling, and the coffee grounds that are produced from the machines can easily be composted or used in the garden.
So, what were we looking for in our edit of the very best bean-to-cup machines? Well, we love our coffee, but not at the expense of losing most of the counter space in our kitchen – bean-to-cup machines can be quite unruly (although this year's crop is significantly downsized) so we were looking for designs that packed all their tech into as small a footprint as possible. Similarly, because the machines are permanently on display, we were looking for a nice aesthetic that would fit in with a range of kitchen styles.
The easier they were to use, the higher they rated, because the last thing we want to do when we're struggling to come around in the morning is to contend with a control panel that would confuse a Nasa specialist – but if it's filling up a water tank and pushing a couple of buttons, we can definitely handle that.
Of course, the machines also needed to reflect the so-called "third wave coffee" revolution where espresso is now drunk in a dizzying number of ways, so we wanted the ability to produce different preparations to suit a wide range of tastes and customisation options. And, obviously, we wanted quality espresso, the kind that we would be happy to be served in a coffee shop.
Read more:
How we tested
All the machines were in use in a household of coffee lovers, all with different favourites when it came to the drinks themselves, from espresso doppio purists to latte macchiato maniacs. We went through the entire menu of each machine so that we could see how consistent the quality of the coffee was, whether that was espresso, specialty coffees with milk, or longer coffees, like americanos.
​The best bean-to-cup coffee machines for 2022 are:
Bean-to-cup coffee machine FAQs
What is a bean-to-cup coffee machine?
It grinds whole coffee beans on demand to produce a range of espresso-based drinks at the touch of a button. Grinding on demand allows the maximum flavour, aroma and freshness of the bean to be preserved, resulting in a superior cup of coffee that showcases the crema of the coffee – the natural "creamy" textured layer – sometimes lost in pod-based coffee machines or in manual brewing. Some of the more advanced bean-to-cup machines allow you to save your personal coffee preferences and can even be controlled via apps or your own home tech networks.
How do they work?
Most bean-to-cup machines feature an in-built hopper and burr to grind whole coffee beans finely (though the grind is generally adjustable), which hot water is then pumped through at pressure to deliver a freshly brewed shot of espresso.
Some machines also have milk components inbuilt or as an add on, which may heat, steam and froth milk automatically for cappuccino, latte, macchiato or other drinks, while others require you to prepare any milk yourself.
What features to look for?
Consider how many of your household will use the machine; is it worth paying extra for multi-cup functionality, or multi-profile coffee memory, for example.
Consider space – some machines require a certain amount of breathing room so may not be suitable for small kitchens or underneath low cupboards.
What type of coffee do you tend to drink? If you'll be consuming a few milky coffees a day then make sure the machine you're considering has a milk storage solution you are happy with and that the cleaning required seems doable. If you rarely drink coffee with milk, you may find it makes financial sense to stick to a pure coffee machine.
Are bean-to-cup coffee machines easy to clean?
​Yes and no. Each machine is different so do research using online videos and tutorials for any you have your eye on. Pure coffee machines are very easy to clean, requiring you to manually clear the coffee grinds from a removable panel, empty the drip tray and usually run a descaling or cleaning programme when prompted. Machines comprising milk pipes, tanks and steamers mean some more manual cleaning is required and more often, though some machines do have automatic programmes for this too.
How should you store beans to keep them fresh?
Coffee beans lose their freshness quickly. Buy them in appropriate quantities and keep them in an airtight container to preserve maximum aroma. Add the least amount of beans required to your machine before each use to prevent oils evaporating and to allow you the full enjoyment of the beans.
The verdict: Bean-to-cup coffee machines
The whole point of bean to cups is to simplify the coffee making ritual without compromising on the quality of the espresso. The Smeg automatic coffee machine does this superbly, and it means you can get rid of all your espresso paraphernalia and in its place have a stylish, simple and super functional machine that will keep you caffeinated all day long.
More coffee recommendations:
Voucher codes
For the latest discounts on coffee machines and other home offers, try the below links:
Register for free to continue reading
Registration is a free and easy way to support our truly independent journalism
By registering, you will also enjoy limited access to Premium articles, exclusive newsletters, commenting, and virtual events with our leading journalists
Already have an account? sign in