The Independent's journalism is supported by our readers. When you purchase through links on our site, we may earn commission.
11 best reusable coffee cups that aren't adding to the landfill
Billions of single-use cups are chucked every year, so consider swapping to these sustainable alternatives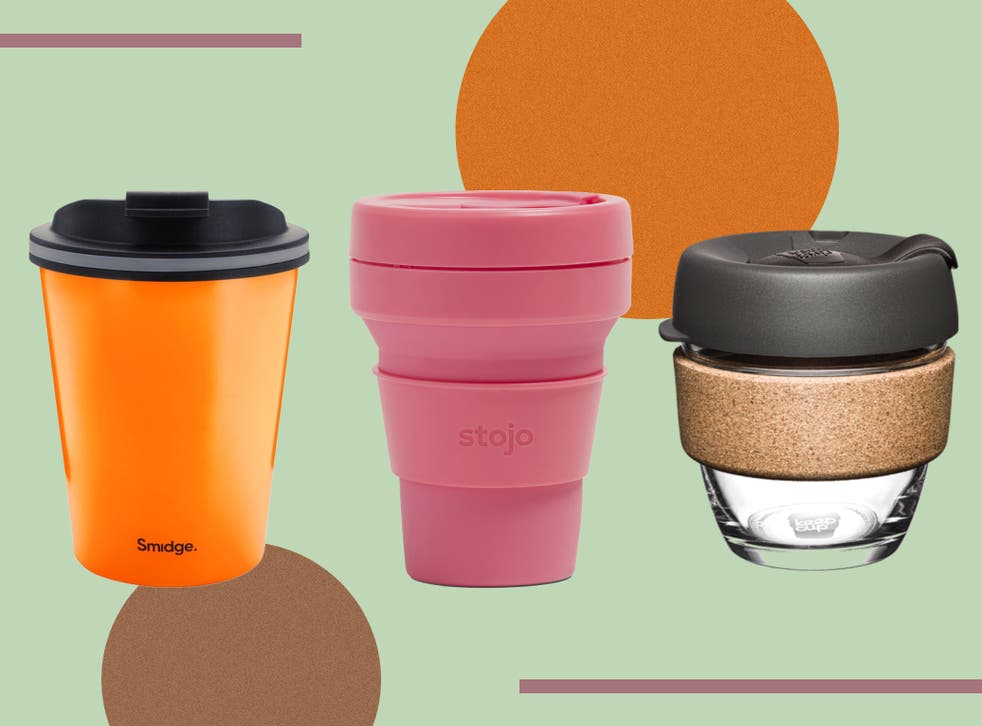 Britain has a love affair with coffee. As a nation, we drink about 95 million cups a day, with the average fan sipping two cups daily. Some people have their own at-home morning routine, while others frequently visit their favourite cafe or coffee shop for a takeout brew on the way to work.
Britons spend billions of pounds a year at high street coffee chains. It's a habit that does not come cheap, and it could be costing the earth.
The UK's fondness for takeaway coffee sees us disposing of 2.5 billion plastic-coated takeaway cups annually, and that number is set to increase by a third by 2030. Only one in 400 cups is recycled. The rest are sent to landfill, generating 152,000 tonnes of carbon dioxide a year – equivalent to the emissions of 33,300 cars.
In light of this, and the single-use plastic hiatus – aka Plastic Free July – now encouraging us to make more eco-friendly choices, is now finally the time to start making the shift?A breakup between Britain and coffee shops is unlikely, so we need to limit the environmental impact in other ways, and reusable coffee cups could help.
Baristas will gladly make your regular drink in your own refillable cup, and some retailers even offer discounts or extra loyalty stamps if you have one. When you've finished your drink, take it home to wash up for use the next day. Your coffee experience will be all the better for knowing that you're not contributing to waste and are doing your bit to care for the planet.
Read more:
How we tested
There are dozens of reusable coffee cups available as brands try to help consumers be more environmentally conscious. To help you find the right one for you, we've whittled down the options to the ones we think are best. There are glass, stainless steel and silicone versions, those that look like takeaway coffee cups and others that more closely resemble a bottle.
Each one included in our roundup has been tested with hot drinks and some also with cold. We've rated each on drinking experience, functionality, ease of use, leak protection, design and looks. It's time to quit your takeaway cup habit.
The best reusable coffee cups for 2022 are:
Circular&Co reusable coffee cup, 355ml
Best: Overall
Rating: 10/10
We named the Circular&Co reusable coffee cup our best buy before, and we're doing it again. Even after testing many different mugs, it's still our favourite in all the factors we consider important – not least because the company helps tackle the problem of takeaway cups in more ways than one. The brand collects millions of used coffee cups from around the country, cleans and shreds them and blends the material with a recycled polymer to form the new cups. The result is a robust, high-quality travel cup that is designed to last a decade and is 100 per cent recycled again at the end of its life.
The smooth cup allows for a 360-degree drinking experience, which means it feels no different to drinking from a standard mug or coffee cup, and it kept our drinks hot for longer than an hour. Plus, it is leakproof, thanks to a lid that clicks open and closed when pushed. It's also dishwasher safe on the top shelf, is excellent value for money, and there are several colour combinations to choose from, so you'll undoubtedly find a favourite.
Smidge citrus travel cup, 236ml
Best: For colour
Rating: 8/10
Do you have one of those bags where you can never find a thing? One item you're unlikely to lose in there is this orange cup, which is sure to brighten your day. It's a double-walled, vacuum-insulated cup made from food-grade stainless steel and designed to last a lifetime. The Smidge cup promises to keep drinks hot for six hours or cold for up to 12 – and we found it delivers for perfectly toasty coffee even if you forget about it for a couple of hours.
We also put its leakproof claims to the test, and the contents stayed securely inside, even when we gave it a little shake with the cup turned upside down. So we'd be confident about carrying the cup in our bags even if it were half full. Drinking from this cup is through a small opening, the standard type you find on coffee shop cup lids. We found the hinged mouthpiece cover a little tricky to open when we first started testing, but it became easier with each use.
Klean Kanteen insulated tkwide with café cap, 355ml
Best: For hiking
Rating: 8.5/10
No hike is complete without a warming brew for when you're taking a well-earned breather. You'll want a lightweight, leakproof, insulating container to carry it in safely, and we think this cup is among the best for the job. It's compact, features a durable metal loop for attaching to a bag or belt and is made from 90 per cent recycled food-grade stainless steel that can take the bumps of outdoor adventures.
The insulating performance is outstanding, keeping drinks hot for up to 11 hours and cold for 38 hours, perfect for long expeditions (although we'd suggest taking more than one cup because you'll need more than 355ml to stay hydrated). Instead of a hinged lid, this cup features a twistable cover that reveals a smooth opening for comfortable, dribble-free drinking.
Stojo on the go coffee cup, 355ml
Best: Collapsible cup
Rating: 7.5/10
Having only a dinky bag is no excuse for not carrying a reusable coffee cup because Stojo's design collapses down to a couple of inches high for easy storage on the go. It's a clever concept, but you'll need to be mindful that the cup's body is made from flexible silicone, because we found that it can leak when it's full and accidentally squeezed. The insulated heat sleeve can help stop too much pressure from being put on the flexible part, and it keeps your hands safe because the cup can get quite hot.
The cup is pleasant to drink from and features a swivel stopper to close the mouthpiece and prevent leaks, but we wouldn't risk putting it in our bags if it were full. There are plenty of design options and colours, and we like that there is the option of a straw, which also folds down inside the cup.
S'well traveler, 470ml
Best: For iced coffee
Rating: 9/10
As the temperature rises, our drinks get cooler, and we need a reusable cup for iced lattes and frappes. Enter S'well's traveler, which is perfect for both hot and cold drinks. The design is simple, with only the bottle and lid, making it super easy to keep clean and fresh.
We found this to be among the best bottles for mouthfeel because you drink from it like you would a conventional cup or mug, and it's just as good if used with a straw. The wide opening is also ideal for adding ice cubes, whether crushed or whole, and makes cleaning easy.
We found it kept our cold drinks cool for several hours, up to 24 in fact, not that you'll be able to resist drinking a delicious frappe for that length of time. But this cup is equally good all year round because it keeps hot drinks warm for up to 12 hours, and the insulation keeps the outer bottle cool enough to handle safely.
BugBear antimicrobial purple knit cup, 310ml
Best: For hygiene
Rating: 8/10
Clean freaks will love the idea of this travel cup. The cute design makes it look like the cup is wearing a knitted cosy, but really it is made from food-grade stainless steel treated with AntiBug technology. This antimicrobial silver ion material kills 99.9 per cent of all known bacteria, including MRSA, E. coli and salmonella, and lasts for the lifetime of the cup, which is about five years. This doesn't mean you can get out of washing it as you would any other cup. It will still need cleaning after use, but it just adds a little extra protection.
Besides its bug-killing powers, the cup is comfortable to drink from and pretty good at keeping the liquid inside warm for over an hour. It's also leakproof thanks to the hinged stopper that closes the mouthpiece.
Lululemon the hot/cold bottle, 500ml
Best: For a post-workout brew
Rating: 8/10
If all your fitness gear has to be matching, you might as well include your refillable drinks bottle in that too. This one from Lululemon is designed for both hot and cold drinks, allowing you to use it for both throughout the day. And because you'll be needing plenty of hydration after a workout, it accommodates for a generous 500ml of liquid.
We especially love the look of this bottle and its handy features, including a loop for easy carrying, a shiftable tab for locking the lid closed and a single push-button for quick and easy one-hand opening. Drinking is through a smooth, medium-sized spout, which we enjoyed and placed it second only to those with 360-degree openings in terms of comfort. While this bottle is out of stock at the moment, we have asked the brand if and when it will be back – so do check back for updates.
KeepCup design your own, from 227ml
Best: Customisable cup
Rating: 9/10
There are now dozens of options for drinks at coffee shops, so why should the size and design of your reusable cup be limited? KeepCup doesn't think it should and offers a design-your-own service on its trusty cups. The sizes available are 227ml, 340ml and 454ml, and there are options for the material the cup is made from, including glass, stainless steel and the original plastic. You can choose between a cork or a silicone heat band on the glass versions, and there are so many colour combinations to choose from, allowing you to create something truly personal.
As with all the brand's cups, the lid pushes on for a secure fit, and there is a smooth opening from which to drink that can be closed with the swivel stopper. We love that KeepCup also sells replacement parts to keep your cup going for many years and out of landfill.
Hermosa everything bottle, 350ml
Best: Multi-use cup
Rating: 8/10
It might seem strange to buy your reusable coffee cup from a protein powder brand, but they're spot on with the design of this bottle. It's a multi-tasking all-rounder that can see you through the day with coffee, tea, water, juices and even shakes after a workout at Barry's because it doubles as a shaker – without a metal spiral – to create a smooth drink.
The cup has a sleek, black design with orange branding and is made from stainless steel, so it is super durable yet compact and perfect for carrying in a bag. It features a double lid, with both options offering 360-degree drinking for the feeling of sipping from a traditional cup. We also found the cup kept coffee hot for about two hours and water cooler for longer.
SoleCup travel mug, 310ml
Best: For tea drinkers
Rating: 8.5/10
Real tea fans will agree that tea bags are equivalent to the coffee world's instant drink and loose leaves are king for the perfect cuppa. The only thing is that drinking them on the go isn't always possible because an infuser is essential, and few travel cups feature them. But the SoleCup is here to make your proper tea-drinking dreams a reality. It features a beautifully designed tea diffuser that attaches to the lid and holds plenty of loose leaves for the perfect brew. A detachable plastic smoothie filter is also included in the box.
The cup is a charming, colourful little number too, with plenty of options to choose from, including whether you have a silicone or cork heat band. Best of all, the cup is made from glass, which we find is the best for tea because it doesn't affect the delicate flavour.
Ember travel mug², 355ml
Best: Smart mug
Rating: 9/10
Smart tech makes almost every area of our lives that little bit easier nowadays, including on-the-go drinking with the Ember mug². It is a marvellous bit of kit, and you'll never worry about cold tea or coffee again if you choose to invest in one.
Set your perfect drinking temperature – between 50C and 62.5C – and you will get a notification from a phone app to say it has reached that optimum point, plus the mug will keep it there for three hours. A touch-sensitive display on the front of the mug itself can also be used to check and change the temperature, so no worry if your phone is not at hand.
The black matte cup looks elegant, and it is comfortable to hold and use, with 360-degree drinking. Plus, it is 100 per cent leakproof, with a push of the lid to open and close with a tight seal. We tipped it up when it was full several times to test, and not a drop came out.
The mug comes with a matte black charging coaster, which we keep on our desks because the battery life does not last beyond those three hours. And despite the internal electrics, this cup is safe to handwash and submersible up to 1m in water, but do not put anything but the lid in the dishwasher.
The verdict: Reusable coffee cups
The Circular&Co reusable coffee cup ticks all the boxes in terms of insulation, drinking experience and, importantly, environmental consideration. We love how the UK-made travel cup helps to do away with single-use takeaway coffee cups smartly and creatively with no compromise on functionality and insulation performance.
We also love the freedom of choice you get with the KeepCup design your own and think the S'well traveler is a summer must-have for those iced coffees and picnics in the park.
Voucher codes
For the latest discounts on coffee machines and other home offers, try the below links:
Caffeine addict? We've rounded up the best coffee grinders
Register for free to continue reading
Registration is a free and easy way to support our truly independent journalism
By registering, you will also enjoy limited access to Premium articles, exclusive newsletters, commenting, and virtual events with our leading journalists
Already have an account? sign in
Register for free to continue reading
Registration is a free and easy way to support our truly independent journalism
By registering, you will also enjoy limited access to Premium articles, exclusive newsletters, commenting, and virtual events with our leading journalists
Already have an account? sign in