The Independent's journalism is supported by our readers. When you purchase through links on our site, we may earn commission.
9 best wheelbarrows for heavy-duty jobs in the garden
Transporting detritus is a walk in the park with these sturdy workhorses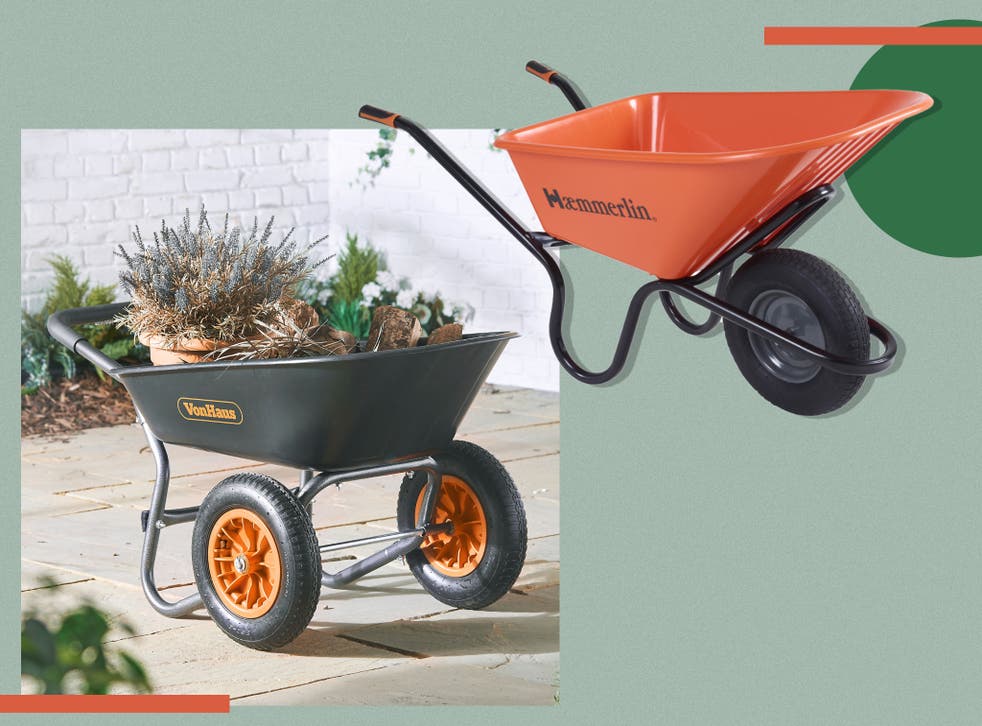 Wheelbarrows are the noble steed of manual labour, standing proud by the side of any good gardener, builder or equestrian, and likely saving the NHS millions in bad backs every year.
They come in all shapes, materials and sizes, so we did our best to get our green fingers on as many different models and wheelbarrow types as we could.
To save our backs, and because logs don't tend to get up and move themselves, we used our local groundsman, Tom (85kg, 5ft 11in), as our load. We popped him and/or a heap of logs (50kg), in the barrows listed below, then pushed and pulled him around our specially designed wheelbarrow obstacle course.
How we tested
Most models we ordered needed to be assembled. For the majority we needed to use a large flat-head screwdriver, a normal wrench/spanner, and a torque wrench. Most of the bolts we encountered were M8s and M6s, and only one model came with tools.
We had Tom sit in the barrows he could fit in and make himself comfortable. He then wiggled about a bit to test its stability and load bearing over a flat patch of grass. We did the same with the logs by taking the barrow handles and giving it a jiggle.
Read more:
We then took the reins and ran Tom/the logs over some uneven ground, a stretch of grass, mud, a puddle, through a large garden gate, across a small gravel car park that dips down an uneven verge onto an asphalt car park, dodged around our van, and took him up a soft grass verge. We then took Tom around a three-point figure-of-eight slalom, pushed him up a shallow and narrow concrete ramp, pivoted 90 degrees to the right, then carefully and gently launched him down two steep cricket pavilion steps (45 degrees). Finally, we dumped Tom out onto the grass to see how easy it is to clear the barrow when you're done.
Please note that we do not encourage anyone to try this test at home. Tom volunteered of his own free will and every health and safety precaution was taken by our team.
The best wheelbarrows for 2021 are:
The verdict: Wheelbarrows
In spite of its name sounding more like a 15-bladed Gillette razor, the Haemmerlin crusader, with its alpha ultimate frame, is the best barrow on our list for its general ability to do the job as you'd expect.
However, in spite of its clever building-site-focused design, it's not the most innovative on the list. We liked the BucketBarrow, the Baksaver and the Sherpa products for specialising in different and more specific requirements like the average customers' body types, ages and gardens.
Voucher codes
For the latest discounts on wheelbarrows, lawnmowers and other gardening gear, try the links below:
Keep your lawns and grass neat and tidy with our best leaf blowers and weed killers
Register for free to continue reading
Registration is a free and easy way to support our truly independent journalism
By registering, you will also enjoy limited access to Premium articles, exclusive newsletters, commenting, and virtual events with our leading journalists
Already have an account? sign in
Register for free to continue reading
Registration is a free and easy way to support our truly independent journalism
By registering, you will also enjoy limited access to Premium articles, exclusive newsletters, commenting, and virtual events with our leading journalists
Already have an account? sign in