The Independent's journalism is supported by our readers. When you purchase through links on our site, we may earn commission.
10 best Christmas scented candles
Take the season through the nose without paying for it through the nose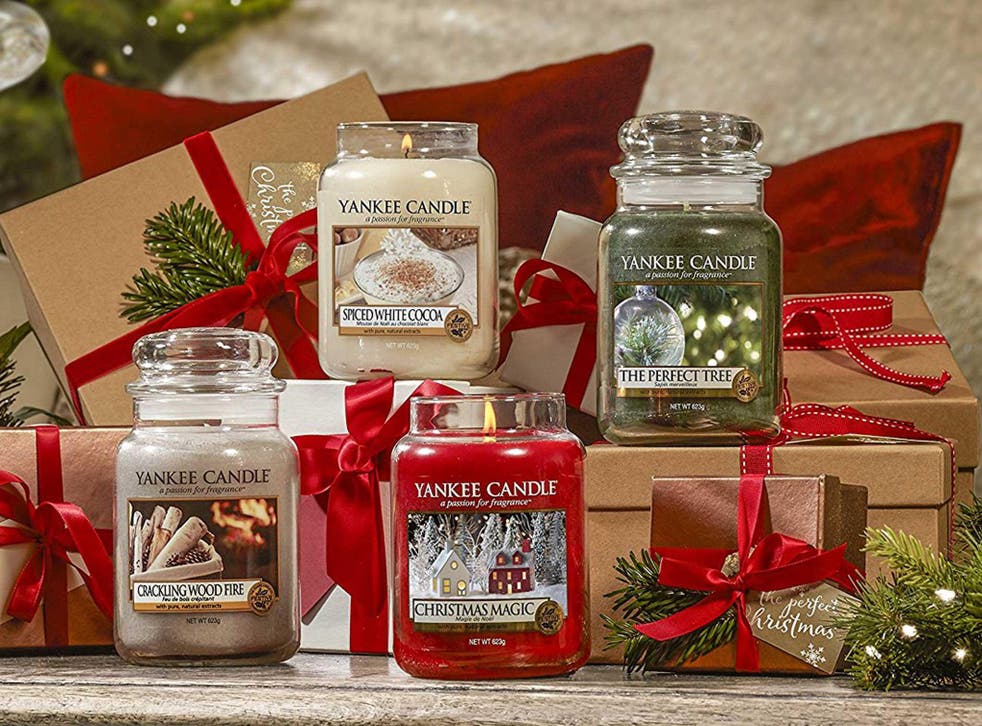 We love scented candles at the best of times but Christmas-specific versions really help with the festive ambience. This lot are all made for the holiday season and as such, will imbue your rooms with those aromas that conjure up the festivities: the likes of fir, cinnamon, mandarin, cloves, berries. There are also some you won't expect – Christmas candyfloss, anyone?
We got into the spirit of things early and burned all of these to bring you our favourites. We judged them on the all-important scent, burn time and ingredients (bonus points for non-polluting soy wax) and appearance. Some of these beauties are like decorations in their own right. And of course, we also considered sheer Christmas-cheer factor.
Neom Organics Christmas wish candle: £45 for 420g, Selfridges
Complete with a suitably seasonal bronze illustration on its exterior, this from organic beauty specialist Neom is made with essential oils such as mandarin, cinnamon and tonka bean. Its scent reminds us of freshly baked Christmas cake and with its generous three wicks, it provides the perfect amount of candlelight for a yuletide bath. It is made from 100 per cent vegetable wax and will provide up to 50 hours of burn time.
Yankee Candle, The Perfect Tree: £19 for 623g, Amazon
This beast of a candle isn't going to go unnoticed, packed into one of Yankee's signature large jars (10.7cm x 16.8cm). Still, sometimes size has its advantages – this one has a burn time of 110 to 150 hours; almost a week. The dark green wax mimics the look of a real fir tree, while the smell is pleasant but not overpowering. We expected it to be harsh on the nose – like an overly pungent car air freshener – but in reality it hit all the right notes, leaving an aroma of freshly cut pine without the need to drag a real Christmas tree up four flights of stairs.
Byredo Sense incense candle: £54 for 240g, Harrods
A suitably crimson candle from the Swedish beauty brand, this will look just right perched on top of the fireplace this holiday season. The scent is subtle – a mellow mixture of mulled wine and toasted cinnamon – so it's one you could put on the dining table without it interfering with the smells of your Christmas dinner. Plus, it's encased in a sophisticated red and black glass container, making for a very chic addition to your home. It should burn for up to 60 hours and is one of a scented trio.
Penhaligon's Christmas is in the Air Candle: £58 for 290g
The British fragrance house has manage to package up Christmas in a candle with its festive offering. The crisp cedar wood-meets-juniper berry scent conjures up the nostalgic feelings of the cosy family time that permeates the chilly months. It's made from soy wax, has a generous burn time and with its decadent-looking brass exterior, it will double-up as a smart pen pot come January.
Jo Malone Christmas miniature candle collection £66 for 5 x 35g, John Lewis
Do not let the small size dissuade you from investing in this festive set of five. As is typical of Jo Malone products, the individual scents are as rich as you'd expect from a candle twice its size. Containing a medley of festive scents, the set also includes two new fragrances launched especially for Christmas: a nectarine blossom, honey and zingy grapefruit one and a cherry and clove option for those after a more traditionally festive scent. At just 35g each, they're the ideal travel candle and should each burn for up to roughly 10 hours.
Frédéric Malle Joyeux Noel: £80 for 220g, Les Senteurs
There is no mistaking the intended season for this chic scarlet offering from the French perfumery with a cult following. We didn't find it the most festive of scents, admittedly we got sweet candyfloss and cinnamon but there are notes of pine and amber in there too – yet we found the subtle fragrance uplifting. You'll only get 25 hours of burn time for the considerable cost but you're left with a glass jar that looks as if it could have come off the shelves of an expensive interiors shop.
Acqua di Parma Christmas Candle: £91 for 900g, John Lewis
Studded with mini silver-painted berries, this large red candle looks the part all right. The scent is a gentle but warming mixture of mulled wine spices and cherry wood. Yes, it's expensive, but you'll get 60 hours of burn time and really it's a decoration in its own right.
M&S Collection Star of Night Frosted Blackberry & Cedarwood scented candle: £15 for 180g
If you're after something that says offbeat yuletide, this might be the candle for you. While it still invokes the festive season, the notes of blackberry and cassis add a layer of complexity that make Star of Night that bit more exotic. Design-wise, it also eschews the standard red and green theme, instead encased in an attractive deep blue glass jar. At 180g it's a good size, offering around 30 hours' burn time, and it comes in a blue-and-gold box fit for a king and/or wise man.
Crabtree & Evelyn Mini Noel Candle: £16 for 67g
This is small but scent-wise, it packs a gorgeous Christmas punch. With a burn time of 18 hours, it's worth lighting sparingly, but the aroma is powerful enough that 30 minutes is more than enough time for Noel to imbue some festive vibes. The scent is pure Christmas, with cinnamon and cloves – like lingering over a warming vat of mulled wine. Small enough for a luxury stocking filler, the small diameter also means the wax melts pleasingly evenly. Also available in a 200g size.
Molton Brown Festive Frankincense & Allspice Single Wick Candle: £42 for £180g, Molton Brown
This limited-edition scented candle is on the pricier side for a mid-range brand, but the sophisticated fragrance of frankincense, allspice and ginger is worth the extra spend in our opinion – it's the perfect accompaniment to any Christmas soiree. The heavy-bottomed glass exterior is reassuringly weighty, with a delicate pattern of vaguely festive red interlocking diamonds around the edge. It's 180g and comes in an understated red box.
The Verdict: Christmas-scented candles
For a long-lasting candle made from natural, organic ingredients, we like Neom's festive offering. If it's value you're after, you can't beat Yankee Candle for burn time. For a candle that keeps on giving after it's burnt out, try Penhaligon's or Frédéric Malle.
Register for free to continue reading
Registration is a free and easy way to support our truly independent journalism
By registering, you will also enjoy limited access to Premium articles, exclusive newsletters, commenting, and virtual events with our leading journalists
Already have an account? sign in
Register for free to continue reading
Registration is a free and easy way to support our truly independent journalism
By registering, you will also enjoy limited access to Premium articles, exclusive newsletters, commenting, and virtual events with our leading journalists
Already have an account? sign in