The Independent's journalism is supported by our readers. When you purchase through links on our site, we may earn commission.
8 best bread makers for delicious homemade loaves
Bready, steady, bake!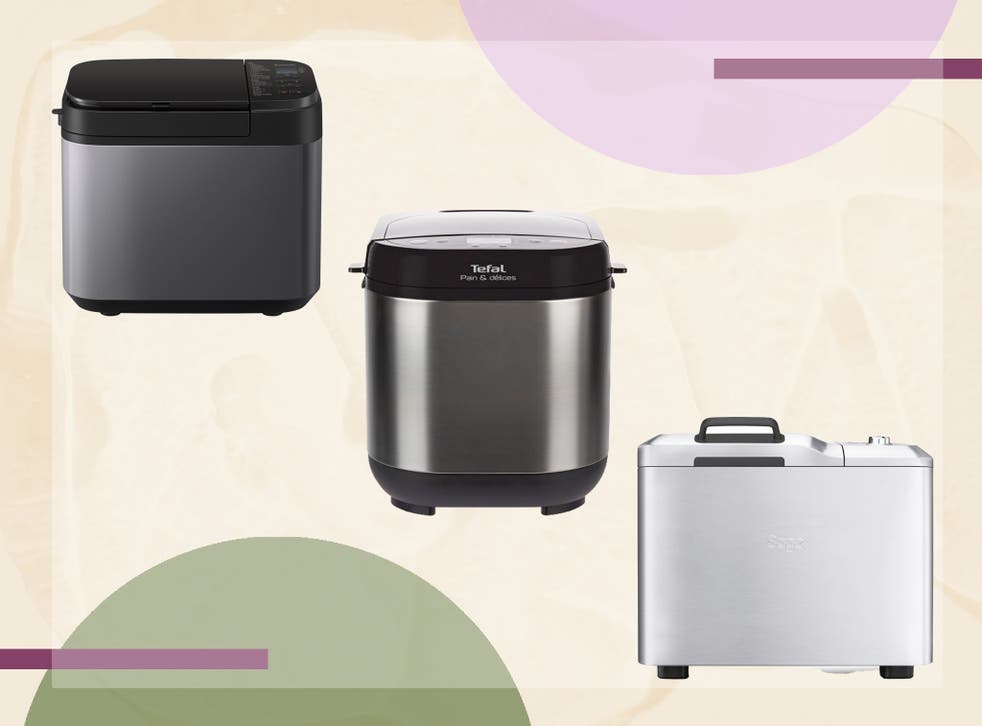 Bread makers can save you huge amount of money – not just because the cost of the ingredients is much less than the shop-bought stuff, but because programmes such as fast-bake settings allow you to whip up a loaf in 60 minutes. That means no dashing to that (very expensive) corner shop for emergency bread when supplies run low.
They're great for your health, too – if you're familiar with the ingredients lists on processed bread, you'll be shocked at how little salt you need when you make your own.
The number of programmes on a bread maker is important – it can range from around 10 to 35, and they'll cover not just different types of bread but also pasta, jam and cakes.
Delayed timers are standard (and incredibly handy when it comes to kneading dough and baking bread overnight), while fast-bake settings are increasingly common, too. Most bread makers will have a window in the top, along with a digital readout, although the information displayed on these varies hugely – some will just display the chosen setting, while others will display real-time information.
To avoid wastage, it's important to think about how much bread you're likely to consume. "Consider the size of the loaves the bread maker will produce, and make sure that you'll be able to get through the bread before it goes stale," says Daniel Burke, owner and head baker at Charles Artisan Bread.
Read more:
Daniel's top tip? "Don't be afraid to open up the machine during the kneading phase and have a look at your dough, and to feel it. This will give you an idea of whether the dough needs more water or flour, or whether you need to adjust the timer. The same recipe can yield different results depending on lots of different variables, so experience counts for a lot. Not every loaf will be perfect but over time, and with experience, you'll be creating great bread in no time."
How we tested
We baked. A lot. Since we first started using a bread maker several years ago, we've never looked back. In other words, we're huge fans of homemade bread and know exactly what to look for – what features you can do without, and which features are absolutely worth investing in.
We considered a large selection of factors, ranging from size and aesthetic appeal to the range of functions and ease of use. We focused mainly on each machine's bread-making capability, but also considered its ability to produce other items such as pasta, pizza dough and cake. The result? Ten brilliant bread makers truly worth your dough.
The best bread makers for 2021 are:
Bread maker FAQs
What should I look for when buying a bread maker?
There are a number of things to consider when buying a bread maker. Firstly, the shape and size you want your bread to be – when baking bread in the oven, you can choose your loaf tin, but when you bake it in a bread maker, all your loaves will be the same shape, so it's important to think about how big or small you want them to be.
Secondly, consider how many settings you require. Some machines have the standard settings to make white, brown and wholemeal loaves, while others have the capabilities to make a whole range of additional foods, including ice cream.
Thirdly, a timer is a deal-breaker for some because delaying the start time can mean you can make sure there's a loaf of bread waiting for you when you're home from work or when you wake up in the morning. Similarly, an automatic dispenser is useful if you do want additional ingredients, such as nuts and seeds, to be incorporated midway through the bake. Finally, you may want to keep an eye out for additional accessories, for example measuring cups and spoons, to make it easier to follow recipes.
What else can I make in a bread maker?
When you think of a bread maker, you might think it only makes bread, but it can also make a range of other foods. Cakes are probably the most common item, but you can also make jam, pizza dough, rice dishes, scrambled eggs and even yoghurt and ice cream.
Is a bread maker worth it?
A bread maker is convenient, useful and a very worthy purchase – it lowers the cost of producing your bread by up to half, you can customise your recipe however you like and you can cook in batches so your household always has plenty of fresh loaves.
Is bread made in a bread maker healthier?
It's thought that the bread makers are healthier than shop-bought bread, simply because you can choose exactly what goes into your loaf in order to suit your dietary preferences. For example, you can cut the amount of salt and your loaf won't contain additives. Similarly, you can add seeds into your homemade bread, giving it added fibre.
The verdict: Bread makers
Tower's gluten free digital bread maker is a brilliant bread maker with a great price tag, and it's got a sleek, stylish look, too. Lakeland's white compact 1lb daily loaf bread maker is another bread maker which offers brilliant value – and which is more than capable of going up against much pricier ones – and Panasonic's SD-R2530KXC automatic bread maker is a versatile, dough-kneading mean machine thatwill bake perfect loaves time after time.
Voucher codes
For offers on bread makers and other home appliances, try our discount code pages:
For more kitchen appliance upgrades read our guide to the best microwaves and the best slow cookers
Register for free to continue reading
Registration is a free and easy way to support our truly independent journalism
By registering, you will also enjoy limited access to Premium articles, exclusive newsletters, commenting, and virtual events with our leading journalists
Already have an account? sign in