The Independent's journalism is supported by our readers. When you purchase through links on our site, we may earn commission.
7 best coffee pod machines for an easy at-home brew
Need your caffeine fix without leaving the house? We've got you covered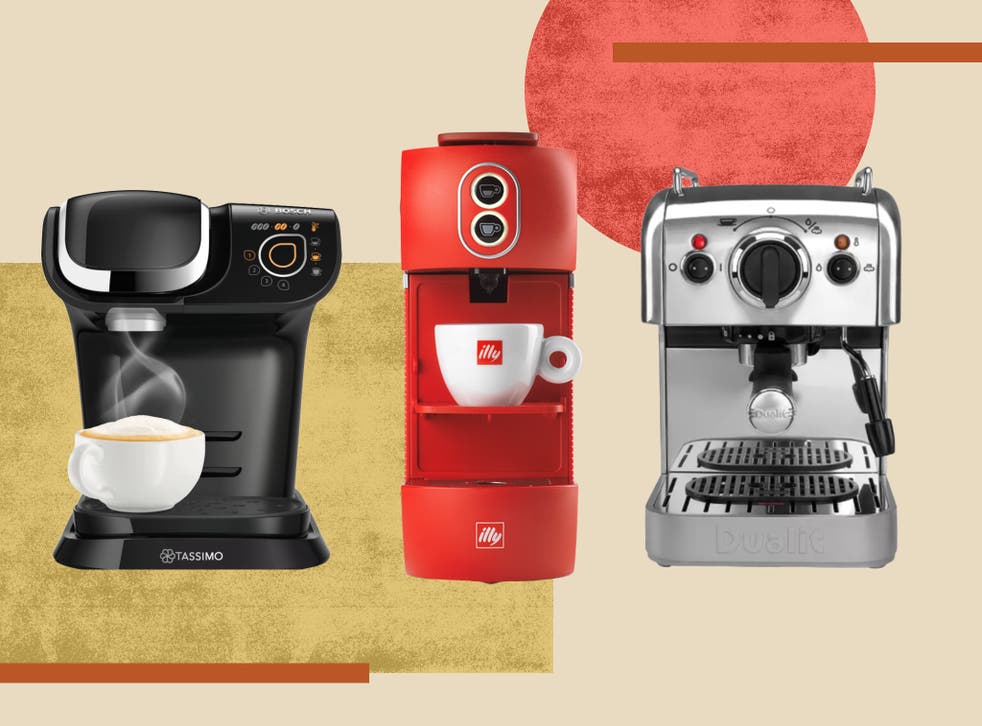 For a nation of tea drinkers, we take our coffee pretty seriously and many of us now like to have an automatic coffee machine at home. While there are a lot of varieties on the market, the pod machine is still one of the most popular options, providing our favourite beverages fuss-free and without leaving the house.
But prices and budgets vary wildly, as do the kind of capsules each pod machine takes. Styling, dimensions, functionality and all sorts of other add-ons also differ between machines. So, what should we look for when shopping for our next coffee pod machine?
Firstly, think about where you'll be using the machine: some are tall and slim, others are teeny but have less functionality, and then there are those require easy and frequent access to the water tank (so under a low cupboard might not work as well as you'd anticipated).
Once you have a size in mind, decide what kind of coffee you're keen on. If you're purchasing a machine specifically to enjoy a certain Costa coffee you enjoy, make sure the capsules will be compatible. Some machines only take their own branded caps, while others allow you to explore all sorts of independent coffee brands' pods. It's worth noting too, that many pod machines don't serve milky drinks, so if that's your thing be sure to check out any potential machines' latte capabilities.
How we tested
We have tested a lot of coffee machines over the last few years, and this list is a roundup of our current pick on the market based on style, substance and how tasty the coffee produced is. We used capsules recommended by the manufacturer and stuck to the branded ones rather than testing any indy brands' coffee for this piece, simply for parity.
Read more:
To best compare the machines, we opted for straight espresso where possible. Here's our list of the best pod machines to get your at-home coffee fix at the touch of a button.
The best pod coffee machines in 2022 are:
Pod coffee machines FAQs
How to choose the best coffee pod machine for you
In recent years the coffee pod machine and capsule market has exploded – meaning lots of choice for the consumer and, well, confusion.
Before choosing your coffee pod machine it is important to consider how the features fit in with your lifestyle. Do you have a lot of counter space for an all-singing, all-frothing coffee machine? Or do you have only room for a compact design? Are you strictly an espresso person? Or do you not wake up until you've had your latte? How many people in your household will be using your machine, having how many cups a day? Will nothing short of a 1.5l water tank cut it? Make sure to research your options to find the perfect one for you.
Do coffee pods fit all machines?
Unfortunately, when it comes to coffee pods, it is not a one size fits all. When buying your coffee pod machine be sure to check which capsules work with your product.
Can you use Aldi pods in Dolce Gusto?
Aldi's inexpensive Alcafé barista moments range – including cappuccino, americano, latte macchiato coffee pods – are compatible with Dolce Gusto coffee machines.
The verdict: Pod coffee machines
The smart speaker aspect of the Lavazza voicy has stolen the show for us, coupled with the fact that Lavazza's machines are always terrific at producing authentic-tasting Italian espresso. If you're looking for a machine to make milky drinks or big high street names then it's not the one for you, but for coffee purists looking for a helping hand in the kitchen this is your answer.
If you're not so bothered about tech but are still looking for a tremendous cup of coffee then the Grind one is worth exploring too – plus it looks beautiful.
Voucher codes
For discounts on home appliances, try the links below:
Searching for a milk frother? Our review of the best will help you choose
Register for free to continue reading
Registration is a free and easy way to support our truly independent journalism
By registering, you will also enjoy limited access to Premium articles, exclusive newsletters, commenting, and virtual events with our leading journalists
Already have an account? sign in