The Independent's journalism is supported by our readers. When you purchase through links on our site, we may earn commission.
10 best dog coats to keep your furry friend warm and dry
Ruff weather? Protect your pooch from the elements with these adorable jackets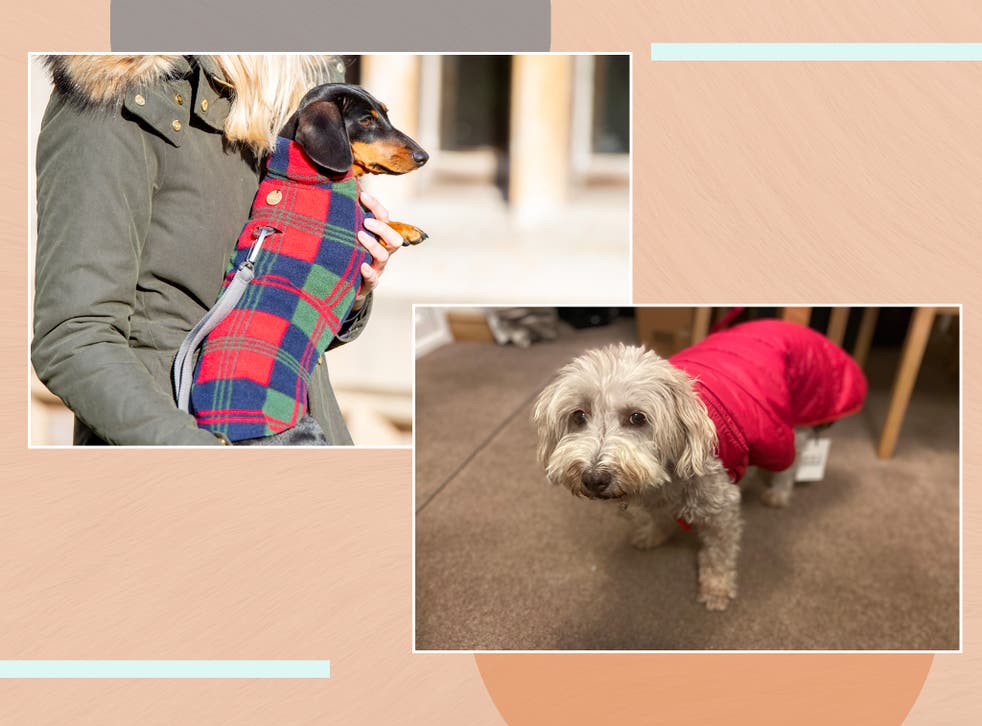 First things first: most dogs don't need a dog coat, because their fur is enough to keep them warm.
However, species with little body fat or very short fur – whippets or Chinese crested dogs are great examples – can benefit from an additional layer, as long as the garment in question is the right size.
Coats that are either too small or too large can quickly chafe the skin, leading to sore spots. Additionally, some dogs simply feel the cold more than others, or will hate going for walkies in the rain. In these cases, waterproof coats can prove extremely practical, preventing heat loss and minimising drying time.
Julia Youd at the Dogs Trust points out that owners should always take the time to help their dog become accustomed to the sensation of wearing a coat. "Should your dog require a coat for practical purposes, it is important to get them used to wearing one gradually and build up the time they wear it for," Julia says.
"It's essential that it fits correctly and does not rub or restrict your dog in any way. Finally, if your dog is wearing a dog coat, ensure this is only put on outside and not worn in a warm car or house, apart from during short, supervised training sessions where the dog is learning to be comfortable wearing it."
Read more:
How we tested
The entire process wouldn't have been possible without our wonderful test dog, Honey, a Bedlington terrier with one of the largest wardrobes in town. Honey's not only the most discerning doggie we know, but one with a dislike for damp weather, which makes her a brilliant critic.
The best dog coats for 2021 are:
Kintails rainfall dog coat
Best: Overall
Rating: 9/10
A fabulous must-have accessory for furry friends who like to switch up their look when the seasons change, this beautiful coat comes in five sizes and has the look and feel of a waxed jacket on the outside and beautifully soft quilted cotton on the inside. It's ideal for sustainably minded pooches too, because the cotton is produced under the Better Cotton Initiative – the largest cotton sustainability programme in the world. Whether Honey appreciated this particular aspect remains to be seen, but she certainly looked at home huddling under her quilt-like coat, and we're fairly sure she shared our love of the wide collar, which turns up to reveal a flash of bright blue.
Poppy and Ted walk and wear camo raincoat
Best: For an on-trend look
Rating: 9/10
The ironic thing about this coat is that despite its camouflage design, it's one for dogs who want to stand out from the crowd (or pack). What's more, everything screams quality, from the thick water-resistant material to the soft lining and the thick tummy strap to keep it in place, even when Fido's overdone it on the doggie treats. We love the collar, which has more rigidity than others and which conceals a hole for the lead, as well as the sturdy buckle. Our one gripe? It's clearly designed with smaller dogs in mind, so consult the size chart on the website. Our pint-sized Bedlington terrier took a large, despite her small stature.
Pet Range flo' yellow breathe-comfort dog coat with padded lining
Best: For practicality
Rating: 8/10
Honey looked somewhat shell shocked when confronted with this jacket, which we're putting down to its day-glo brightness and reflective areas on the straps and trim. It's even wind and waterproof, too. Despite its rugged durability, it still feels wonderfully lightweight, with a velvety soft inside lining that won't chafe your dog's delicate areas. It's clearly been built to last, with taped seams and a thick tummy strap, and we love the useful information written on the label, which has lots of helpful hints about measuring your dog correctly. Bonus points for the choice of eight sizes, too.
Joules newdale quilted pet coat
Best: For style-savvy dogs
Rating: 9/10
This thick quilted coat, which comes in four sizes, draped further down the sides of our test dog than most, which was no bad thing on an especially chilly night. Don't get us wrong – we're not one for fat-shaming our furry friends, but it's a fact of life that too many dog jackets cover the back area and not much else. It's incredibly soft on the inside, and thick straps – which attach with Velcro but have faux press studs for a touch of class – ensure this jacket stays put. The ultra-tough corded hem makes it ideal for dogs who love a bit of rough and tumble, too.
Lords and Labradors miniature dachshund fleece
Best: For hipster hounds
Rating: 9/10
This is one of the softest jackets we've ever come across, and although its name suggests it's purely for dachshunds, it also fitted Honey – a Bedlington terrier who's definitely much larger than a sausage dog (although don't tell her we said that). There were even two larger sizes on offer (out of five in total) than the mediu we tested, and although the tummy strap was on the short side, the extra-long strips of Velcro meant there was plenty of room for adjustment. The material itself is a little thin, but we suspect this isn't a coat designed for dogs who enjoy spending hours outside in the wind and rain.
Dryrobe dog
Best: For warmth
Rating: 9/10
Dryrobes are a beachgoer's best friend – loved by surfers, stand-up paddle boarders and open water swimmers, and combining the best bits of a robe and a beach towel. And now our four-legged friends can get a slice of the action, too. Dryrobe Dog has all of the features we look for in a dog jacket – including reflective piping and a waterproof exterior – along with ones we wish we saw more of. For example, we love the ridiculously soft synthetic lambswool lining, the additional back leg straps and the zippable lead hole, and we were seriously impressed by the generous use of fleece, which doesn't just line the main section but also the tummy strap.
The House of Bruar Harris tweed dog coat
Best: For tartan chic
Rating: 8/10
There's never a wrong time to wear tweed, and this is some of the best – Harris tweed, lovingly transformed into a beautiful jacket by craftsmen and women on Scotland's Hebridean islands. The coat, which comes in small, medium and large sizes, has an extra-long tummy strap that kept it firmly in place during Honey's breezy autumn jaunt. The separate neck strap is slightly shorter, but a generously sized patch of Velcro means there's no chance of chafing.
Barbour baffle quilt dog coat
Best: For insulation
Rating: 8/10
This is one seriously puffy coat – and we love it. Sadly, Honey can't talk but if she could we're pretty sure she'd describe the experience as similar to wearing a big, fluffy cloud. Available in a brilliant range of sizes (six, from extra small to extra extra large), it's a wonderfully warm jacket with separate neck and chest straps (the latter is removable) and a lightweight feel, despite its brilliant insulating qualities. We also loved the extra-large lead hole – all too often these are wafer thin, but this one was easy to locate, even on a dark, damp night. Weather, do your worst.
AniMate padded festive reindeer dog coat
Best: For Christmas
Rating: 9/10
With Christmas just around the corner, forgetting to include a festive fur-warmer simply wasn't an option. And this is about as far removed from the cheap, flimsy Christmas coats rolled out by some brands as it's possible to get. Available in a whopping eight sizes (yes, you did read that correctly), it's got a wonderful thickness and some of the longest straps we've seen on a dog jacket (because who doesn't overdo the treats at Christmas, after all?). We were also impressed by the crisp, clear print– topped off with a ridiculously cute pair of reindeer horns. We were worried the small antlers might irritate Honey, but their clever position – slightly set back from the collar – minimised the chances of irritation.
Orvis tough trail saddlebag dog coat
Best: For accessories
Rating: 8/10
We were dubious when we first heard about this jacket, but it's actually been incredibly well designed, with concealed zips which won't chafe or tug fur, an incredibly soft lining and plenty of room for adjustment. In reality, it's best described as two padded pockets attached to a light framework of straps rather than a traditional jacket, so there's no chance of your dog being weighed down, although obviously we'd only recommend using it to carry light items such as poop bags and small dog treats. Not, say, the weekly shop…
The verdict: Dogs coats
We're awarding Kintails' rainfall dog coat the top spot, because it comes in a range of sizes, looks fantastic and is supremely comfortable. Often coats that look this gorgeous aren't necessarily the most comfortable ones, but this ticked both boxes especially well. Poppy and Ted's walk and wear camo raincoat looks brilliantly on-trend and has a lightweight feel which won't weigh down your dog on damp days, and Pet Range's flo' yellow breathe-comfort is the best option for dogs partial to nighttime strolls, thanks to its combination of hi-visibility and unbeatable comfort.
Voucher codes
For the latest discounts on dog food and other pet essentials, try the links below:
For more pet accessories, read our review of the best dog collars
Register for free to continue reading
Registration is a free and easy way to support our truly independent journalism
By registering, you will also enjoy limited access to Premium articles, exclusive newsletters, commenting, and virtual events with our leading journalists
Already have an account? sign in
Register for free to continue reading
Registration is a free and easy way to support our truly independent journalism
By registering, you will also enjoy limited access to Premium articles, exclusive newsletters, commenting, and virtual events with our leading journalists
Already have an account? sign in