The Independent's journalism is supported by our readers. When you purchase through links on our site, we may earn commission.
8 best posture correctors to help back pain and improve your slouch
These aids can help ease the strain and remind you to take regular breaks while working from home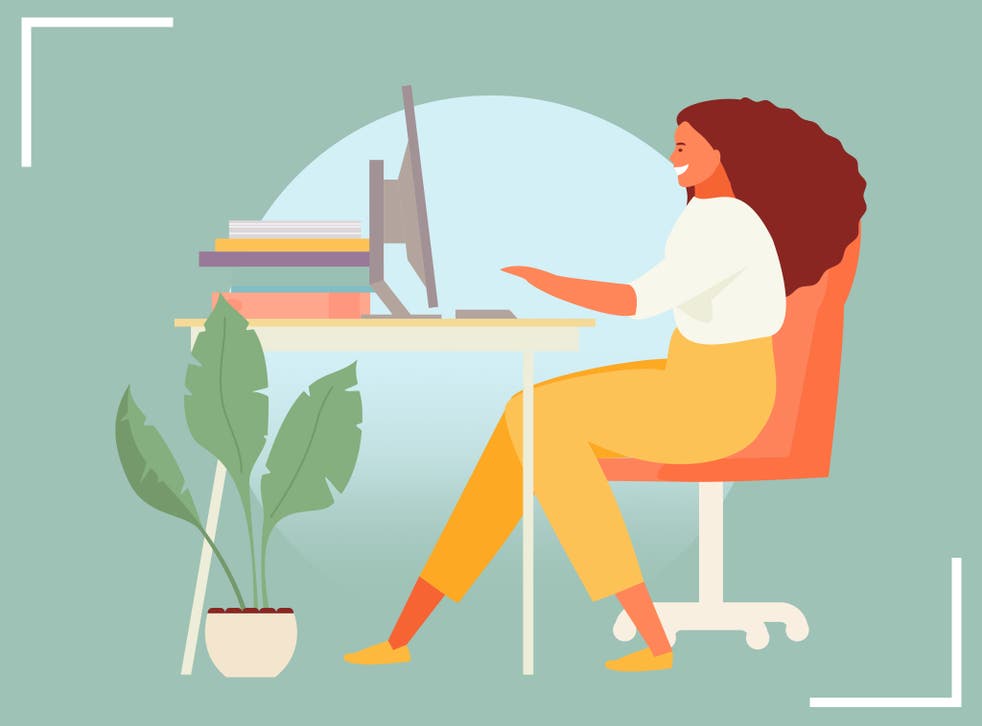 Many of us suffer from pain and discomfort triggered by bad posture and our sedentary lifestyle. The answer? It's pretty straight forward: maintain good posture and keep moving.
But sitting or even standing up straight isn't always easy, especially over longer periods of time.
Instead, "our bodies adapt to the easiest, least energy-consuming positions possible by slouching, slumping or leaning for a sustained timeframe," according to Harry Andrews, a physiotherapist at Oakwood Physiotherapy and Wellness Centre.
And when you have an office job, it's even harder to get out of the habit of sitting still for long periods of time.
This problem is exacerbated by the fact that so many of us are now working from home, where our home office set-ups aren't always as ergonomically designed as those at work.
Read more:
Fortunately, there are different posture aids on the market that can help you sit up straight, take away some of the strain from your back and shoulders, and remind you to take regular breaks. Here are our favourites.
You can trust our independent reviews. We may earn commission from some of the retailers, but we never allow this to influence selections, which are formed from real-world testing and expert advice. This revenue helps to fund journalism acrossThe Independent.
8sense by Beurer posture control device
The 8sense posture-control device looks like a skinny USB stick. You simply clip it onto your collar with the sensor touching your spine. It's operated through an accompanying app – each time you put it on, you connect the app and the device via Bluetooth, then calibrate it, while maintaining good posture. Throughout the day, the device will monitor your posture as well as how long you've been sitting and in what position. If you're slouching or sitting for too long, it will buzz to alert you.
There are two settings: posture and motion. Posture looks at whether you're maintaining good posture and will buzz when you're not. We found it was very sensitive – for example, it buzzed when we leaned to one side without realising it. While in motion mode, the device will buzz when you've been sitting down or in one position for too long. It will also remind you to walk around and identify stretching exercises that are designed to counteract "bad positions". It can be distracting when you're just getting into a moment of deep concentration, though.
My Posture Reflex lumbar lower support mesh cushion
Ergonomic office chairs can cost hundreds of pounds but this mesh support cushion can help transform most chairs and even sofas into something a little more friendly for your lower back. It's also incredibly lightweight, which means you can easily move it around your home if you need to.
We tried it on a normal chair and found it offered good support for the lower back. It was especially helpful when we wanted to lean back a little to think. We also tested it while working from bed – it's best propped over pillows and against the headboard as this offered better cushioning than pillows alone. However, on a sofa it can be tricky to get right, as it was easy for the device to sink down – depending on the firmness of your sofa – meaning that the support isn't always in the right place.
Posture corrector kit
The Perfect Posture kit comes from Mike Cassidy-Hogg and Lucy Cassidy, a husband-and-wife team who work as a chiropractor and physiotherapist respectively. Developed through trial and improvement, the kit features three pieces of equipment: a shoulder brace, a resistance band and a peanut-shaped posture ball. The idea is that you slowly improve your posture through daily training with the brace, muscle building with the resistance band and stretching with the help of the posture ball – the couple show you exactly how to do this through a simple instruction card included with the kit, and online videos.
While wearing the shoulder brace, we saw an immediate improvement. It doesn't physically pull your shoulders back, but it does make slouching very uncomfortable, like you're wearing a T-shirt that's too tight, so you naturally adjust your body into an upright position. We also liked that there were instructional videos that showed you exactly how to use the kit to improve your posture over time.
Swedish Posture posture flexi
Swedish Posture's Posture flexi is very similar to the Posture corrector kit's shoulder brace in shape, except it's thinner, has partially elasticated straps and a single velcro fastener for adjusting the tightness. The latter makes it a bit fiddly to put on, so you may need a second pair of hands.
The idea is to wear it loose for about one to three hours a day. When you're standing up straight, you'll barely notice it – but as soon as you slouch, the brace will start to pull against you to remind you to straighten up. Compared to the Perfect posture version, this is much more discreet if you want to wear it under your clothes. It's also barely noticeable when you're standing up straight. But we found Perfect Posture's shoulder brace allowed for a greater range of motions, which is better if you're intending to wear it while sitting down at a computer.
Sissel sit special sitting cushion
Having tried other cushions in the past, we were surprised and impressed by how Sissel's sit special cushion forced us into sitting in an upright position by tilting the body forward slightly through its wedge design. The shape of the cushion, which features a bridge to divide the legs, as well as the varying firmness of the foam, also helps you to maintain that position. The bridge in particular is helpful for those who are prone to crossing their legs while sitting down.
There are two things to note. First, because of your new seating position, you will need to rearrange where your screen is. For laptop users, this will mean getting a separate screen or keyboard so you can adjust the screen for your new line of sight. Second, the cushion is quite big so you'll need a sizable chair to use it on. The size might also be problematic for shorter people as you need to be fully seated back to get the most out of the cushioning.
Swedish Posture posture reminder T-shirt
This is a loose-fitting top that you can wear on its own or under other clothes. It comes in black or white, male or female, and in a range of different traditional sizes. The T-shirt works through a combination of a panel of fabric that sits against your shoulder blades and the construction of the shoulder area itself, which tightens and loosens depending on your position, applying just enough pressure to remind your body to straighten up.
We liked the idea of an unobtrusive posture aid that you can wear any time of the day, and the T-shirt proved very comfortable. But we found it was most effective when you're standing up, because when you're sitting down and typing, the natural movement of the arms forces the top to tighten.
Percko Lyne Up T-shirt
In contrast to Swedish Posture's posture reminder T-shirt, Percko's Lyne Up version is designed to be tight and form-fitting. In fact, there are multiple sizes available, determined by your height, weight and age if you're male, and height and bra size if you're female. There are also adjustable fasteners at hip level that control how tight the top is, and therefore how much pressure your body is under.
Even in its lightest setting, it is good at prodding you into the right position, though you might want to ease into it. At first, we experienced some muscle fatigue, especially around the shoulders and the lower back – Percko recommends you start by wearing it every other day as your body adjusts to it – but this lessened the more we maintained correct posture or moved regularly. You'll also want to wear it under other clothes as the adjustable fasteners have a way of pushing up any paunch, while those with larger breasts will spill out over the top in the same way as if you're wearing too small a bra.
Posturite moovrite
Moovrite is a relatively stable balance board that's designed to be used with standing desks. The idea is that you stand on the board while working at your desk and your body will naturally readjust to stay balanced. The constant movement helps to relieve the pressure on your joints and stops you from being in one position for too long. When you're sitting down, you can also use the board as a footrest, while using the rocking motion to keep your leg muscles stimulated.
We found the board surprisingly easy to stand on – sometimes the adjustments are so minor, you have to concentrate to notice it – so there was no distraction from working. The minor movements meant we could stand up for longer without feeling the strain on our lower backs or knees. But we'd only recommend getting Moovrite if you're going to use it with a standing desk as we didn't feel that it helped with our posture when sitting down.
The verdict: Posture aids
8sense by Beurer is the best all-round posture aid for us because it isn't obtrusive or uncomfortable, and can be worn in any situation. In reminding us to move regularly, it did more than just help our posture – it improved our overall wellbeing.
The Posture corrector kit is an affordable alternative and focuses on long-term posture improvement rather than just an immediate fix while My Posture reflex's lumbar lower support mesh cushion was the best affordable adjustment we tried.
Register for free to continue reading
Registration is a free and easy way to support our truly independent journalism
By registering, you will also enjoy limited access to Premium articles, exclusive newsletters, commenting, and virtual events with our leading journalists
Already have an account? sign in
Register for free to continue reading
Registration is a free and easy way to support our truly independent journalism
By registering, you will also enjoy limited access to Premium articles, exclusive newsletters, commenting, and virtual events with our leading journalists
Already have an account? sign in