The Independent's journalism is supported by our readers. When you purchase through links on our site, we may earn commission.
10 best compact cameras
Smartphone cameras fine, but for the really special moments you need a quality compact camera to do them justice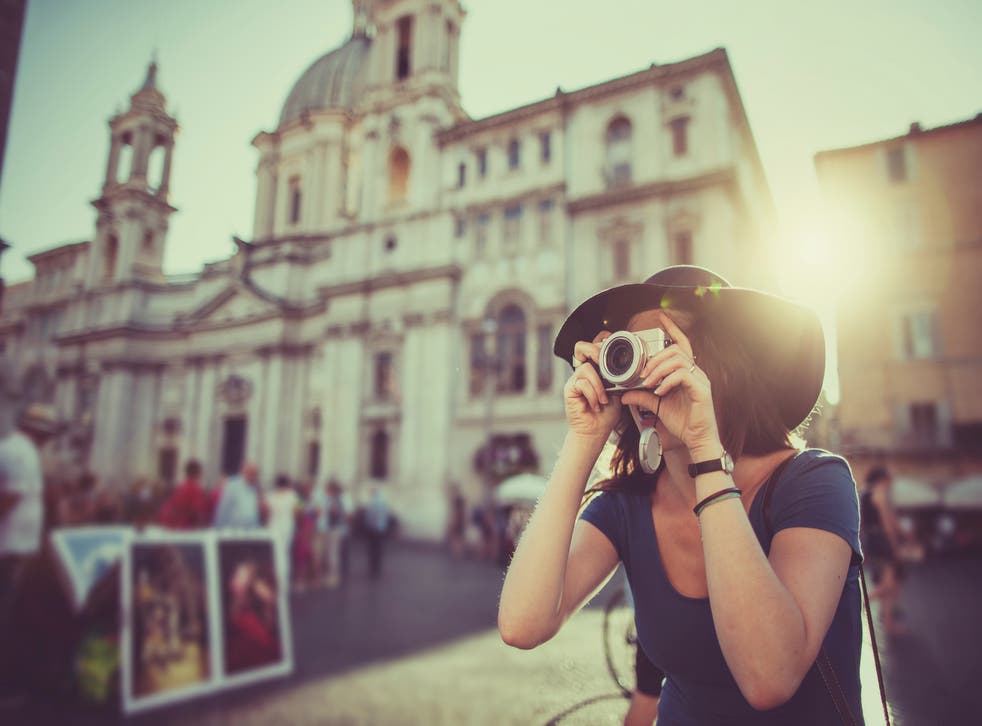 Your best camera is the one that's always with you. For most of us, that's the smartphone in our pocket. So, why would you buy a compact camera? Well, there are still plenty of good reasons.
First, optical zoom. Although there are smartphones which boast, or at least mimic, optical zoom, most phones offer digital zoom which merely crops into the middle of the frame so that when you enlarge it, you're enlarging a lower-resolution image. Digital zoom = bad. The iPhone X, for instance, has two lenses and one is twice the zoom of the other, so switching from one to the other effectively gives a 2x optical zoom. But shoot at in between 1x and 2x or beyond, and digital zoom plays a part. Compact cameras have real, moving lenses, which is much better.
Second, sensor size. Even the most advanced cameraphone has a relatively small sensor compared to a regular camera. Bigger sensors make for bigger pixels, which can suck in more light more accurately. The smallest sensors here are 1/ 2.3in which isn't big but is bigger than in many smartphones. For comparison, the Samsung Galaxy S9+, which has a great camera, has two sensors and the larger is smaller than the smallest sensor here (1/ 2.55in).
The 1in sensor on most of the advanced compacts makes for much better images, though the APS-C sensor found on the Fujifilm X100F is the biggest on test. There are two main kinds of sensor CMOS and CCD. CMOS is more recent and better. All the cameras here have CMOS sensors apart from the Panasonic cameras which use MOS, which is similar.
There are two kinds of compacts: point-and-shoot cameras which are cheaper and simpler to use and advanced compacts which have even bigger sensors and greater manual override capabilities. Both are covered here but as you'd expect, the results are better on the advanced models, especially if you take advantage of the more sophisticated features.
Look for 3x optical zoom or more - though one of the best cameras here, the Fujifilm X100F, has a fixed lens, so you'll have to, you know, walk closer.
A 25-100mm lens offers 4x zoom, as you might expect from the maths. The smaller the mm, the more wide-angle the effect, and the higher the number, the more telephoto. In other words, as you zoom in, the lens switches to the higher end of its capabilities. A higher zoom means you can get closer to the action, handy for sport or wildlife, say.
Many cameras now lack optical viewfinders, using a screen as a way to frame shots. Some screens are higher-resolution than others - pixel count is listed in each review.
Incidentally, those looking to improve their photography could do worse than check out the beautiful and engaging "Read This…" series of books by Henry Carroll which elegantly cover photographs of people, of places and so on. There's even one called "Read This If You Want To Be Instagram Famous". Published by Laurence King, prices start at $12.99.
Megapixels: 20.1MP
Lens: 24-360mm equivalent
Aperture: f/3.3-f/6.4
Zoom: 15x
Sensor: 1in MOS
LCD: 3in, 1,240,000 pixels
One of the main elements that defines an advanced compact camera is the size of the sensor. This one is a one-inch sensor, meaning there's plenty of room for big, light-hungry pixels. This means better results in all conditions but especially in lower-light situations. This is a small, easy-to-manage machine and its small size means the 15x zoom lens inside is all the more impressive. At the telephoto end, towards 360mm, image stabilization becomes important and it's very good on the ZS200. And such a zoom means that for most people, all eventualities are covered, from wide-angle for landscapes to telephoto for shooting at quite a distance. Touching the high-resolution LCD screen to choose where to focus or when to shoot are useful and work well. The ZS200 is Best Buy thanks to its balance of small size and usability, big sensor and remarkable zoom. This camera is known as the Lumix TZ200 in the UK.
Megapixels: 24MP
Lens: 35mm equivalent
Aperture: f/2-f/16
Zoom: none
Sensor: APS-C CMOS
LCD: 3in, 1,040,000 pixels
This camera has an APS-C sensor, that's bigger than a 1in sensor and the biggest on test. As a result, the camera itself is heftier than most here but it's a stunning machine that takes brilliant photographs with great detail and strong color fidelity. There are plenty of buttons and dials but it's still easy to use, though the LCD is not touch-sensitive. The viewfinder, though, is brilliant, and can be switched between optical and electronic. The lens is fixed, that is, there's no zoom and the focal length is ideal for street photography and landscapes, say, though portrait photography is still an option. There are filters and effects to satisfy casual users but this camera really repays the effort you put in. There are few disappointments and the rewards are considerable.
Megapixels: 20.2MP
Lens: 25-625mm equivalent
Aperture: f/3.2 – f/6.6
Zoom: 25x
Sensor: 1/ 2.3in CMOS
LCD: 3in, 922,000 pixels
The chunky PowerShot SX620 HS feels great in the hand thanks to a raised ridge on the front and a thumb rest on the back. But it's still a small, easily manageable gadget, despite squeezing in a 25x optical zoom. This means the camera is extremely versatile and you can use a ZoomPlus feature which loses a little detail but gives you an effective 50x zoom! There are plenty of cool features, such as Auto Zoom which, once a face is detected, will keep it in frame and at the same size even if the subject moves. There's also an Eco mode which squeezes the battery life from about 300 shots to over 400 by dimming the screen quickly. The flash is manually raised from the side, which at least means you won't accidentally shoot with flash unless you want to. It also has an effective image stabilization system which reduces camera shake impressively. Canon's PowerShot cameras are keenly priced and highly feature-packed - they are tremendous for beginners and experienced users alike.
Megapixels: 20MP
Lens: 24-70mm equivalent
Aperture: f/1.8-f/2.8
Zoom: 3x
Sensor: 1in CMOS
LCD 3in, 1,228,800 pixels
The RX100 is the latest in a series of tiny but very effective compacts. As the V suggests, this is the fifth. Despite its pocketable size, it features a 1in sensor. Although there's only a 3x zoom, the lens is highly versatile and will suit many photographers, though not those keen on shooting sport from a distance, where a longer lens would be needed. It's not cheap, and you can find earlier models in the series for less. This edition adds faster burst shooting and more advanced autofocus. The LCD helpfully folds out so you can frame your shot even if it's above your head or on the ground. It can even fold back on itself for a self-portrait. There's also an electronic viewfinder which pops up - which is extremely handy. It looks and feels great and has excellent build quality. Some of the features are buried (it's a shame you can't move the focus point just by tapping on the touchscreen, as you can on a smartphone, say) but for most users this is an easy-to-use, highly capable camera which can deliver great photos.
Megapixels: 20MP
Lens: 24-480mm equivalent
Aperture: f/3.4-f/6.9
Zoom: 35x
Sensor: 1/ 2.3in CMOS
LCD: 3in, 921,000 pixels
The A900 is a little chunkier than some, and given the small sensor it's at the higher end of the price range for regular compacts. But it's very good. Not least because the 35x optical zoom gives it outstanding flexibility. There's also a lot of manual control available here, so this camera offers great possibilities to grow your skills as you go - though the automatic settings are also very good. There's no viewfinder her, though the 3in LCD screen is decent enough and tilts out to make it more useful, though this is not a touch-sensitive display. With such a big zoom it's easy to lose your subject sometimes. Here, a dedicated button zooms you out quickly, so you can reframe your shot. The smaller sensor means it's not the best low-light performer.
Megapixels: 20MP
Lens: 28-82mm equivalent
Aperture: f/2-f/4.9
Zoom: 3x
Sensor: 1in CMOS
LCD: 3in, 1,040,000 pixels
Small but powerful, the G9 X Mark II can fit the tightest of pockets and is slimmer than many rivals. It comes in demure black or stylish silver and brown, which has an appealing retro look. An advanced image processor make for a fast, effective camera that performs well. It only has a 3x zoom but, like several cameras here, it cleverly pauses as you zoom to warn you when you're spilling over from optical to digital zoom. The touchscreen LCD is rich and easy to use and most of the camera is controlled from here - there's no viewfinder. It has strong connectivity including Bluetooth and wi-fi, not least because the PowerShot G9 X Mark II is hoping to prove you can take pictures which are much better than your smartphone, from a small gadget which is just as well-connected.
Megapixels: 20MP
Lens: 25-300mm equivalent
Aperture: f/3.6-f/7
Zoom: 12x
Sensor: 1/ 2.3in CMOS
LCD: 3in, 461,000 pixels
The ELPH series is among the most stylish cameras you'll find: slim, colorful and chic. Ideal for slipping into a pocket or bag for a light, sleek camera that's easy to have with you at all times. Also, because it is so stylish, it attracts attention - so at least your subjects are likely to be looking in the right direction already. The automatic settings are useful but there are also effects with filters. There's also a fun Hybrid Auto setting which additionally shoots a video clip when you take a still shot. In fact, fun is the best description for this camera. It's capable, but no match for the other cameras here for range of features.
Megapixels: 20.1MP
Lens: 24-72mm equivalent
Aperture: f/1.4-f/2.8
Zoom: 3x
Sensor: 1in MOS
LCD: 3in, 1,040,000 pixels
Another big-sensor camera from Panasonic, which is capable of tremendous results. The zoom is just 3x but a short focal range is often a sign of a good-quality lens, which is the case here. The touchscreen LCD is fast and responsive and has enough pixels to make it great to look at for framing your shots. The whole camera, actually, is very speedy, responding fast to whatever you're doing, with quick autofocus, for instance. The lens is versatile enough to work well in different situations. The LX10 is a great combination of something small enough to be pocketable and powerful enough to be used in demanding conditions. This camera is called the LX15 in the UK.
Megapixels: 18.2MP
Lens: 25-250mm equivalent
Aperture: f/3.3-f/5.9
Zoom: 10x
Sensor: size 1/ 2.3in CMOS
LCD: 2.7in, 460,000 pixels
This is a great-value, simple-to-use compact with a lot going for it. For a start, this camera has a 10x optical zoom, and a reasonably-sized sensor. It is responsive, too, making it excellent in low-light situations. The zoom makes it very versatile, and the camera squeezes such a big zoom into a small space. One of Sony's specialities is the Sweep Panorama, which lets you move the camera horizontally to take in a wide landscape shot. That feature is here and works well.
There's no touchscreen on the rear LCD, so you must operate it via the buttons which are small but manageable, including the dedicated video button which is gently recessed to make accidental presses less likely. There are filters that can be applied to change the appearance of each image. These are variable but can be impressive.
Megapixels: 16MP
Lens: 28-140mm equivalent
Aperture: f/3.9-f/6.2
Zoom: 5x
Sensor: 1/ 2.3in CMOS
LCD: 3in, 920,000 pixels
This is a ruggedized camera which means you can drop it in the snow, the swimming pool or on to a hard surface from over five feet and it'll survive. This is useful if you're clumsy or have plans for an action holiday. It's also a good general camera. It's available for pre-order now and should be on sale in the next weeks. Ruggedized cameras have strikingly different designs to add to their sturdiness and come in bright colors to make it easy to find if you drop it in the water, snow, sand, whatever. The XP130 is a good fit in the hand and is fun and enjoyable to use.
Verdict
The standouts in this group, unsurprisingly, are the advanced compacts with their bigger sensors and increased range of features. The Panasonic Lumix ZS200 is competent and speedy, small and effective, plus it has a remarkably big zoom in a small body. The bigger Fujifilm X100F is highly impressive, though it lacks any kind of optical zoom so is more suited to keen enthusiasts or street photographers. But the more basic camera from Canon, the PowerShot SX620 HS, has a lot going for it.
IndyBest product reviews are unbiased, independent advice you can trust. On some occasions, we earn revenue if you click the links and buy the products, but we never allow this to bias our coverage. The reviews are compiled through a mix of expert opinion and real-world testing.