10 best headphones for running
There's a wealth of evidence to show that music boosts your workout, so finding the perfect pair of headphones can supercharge your run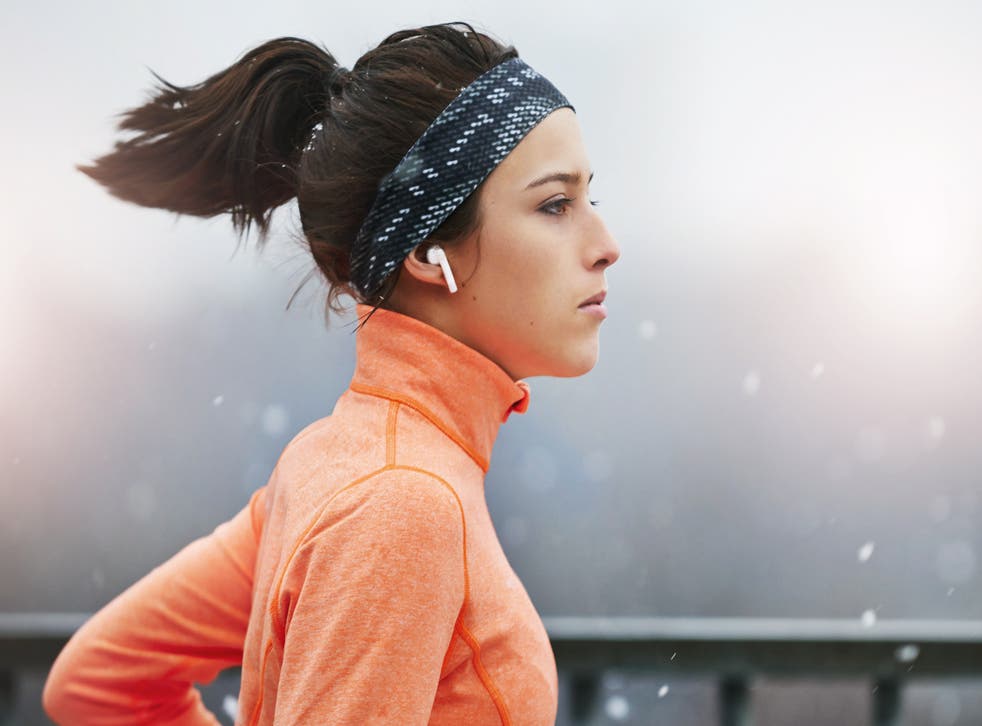 Headphones for runners and other athletes have made giant strides in recent years, from customizable earbuds to the introduction of truly wireless headphones with significant battery life. Yet as companies continue to bring improved sound and training functionality into the mix, finding the right gear can feel as tiresome as training for a marathon.
Bear in mind that when it comes to running and playing sport, the fit is so important. It's irrelevant how good the sound quality is if your headphones fall off or your earbuds fall out. And because you probably won't be able to try earbuds before you buy, make sure they come with a range of bud sizes or clips and hooks so you know they'll stay in place.
Going wireless is something you'll want to consider too; while Bluetooth headsets generally offer more comfort and convenience, their equivalent wired models are usually cheaper, and you don't have to worry about battery life and recharging.
Whatever you decide, we've done the heavy lifting for you (but don't worry, we stretched first) and tested an array of headphones to bring you 10 of the best – whether you're on the treadmill at the gym or hitting the trails.
1. Jaybird X3 Wireless Headphones: $129.99, Best Buy
These sleek headphones feel great and sound even better with crisp sound and plenty of bass. Built with a multitude of users in mind, the X3 come with a bevy of customizable earpieces, easily accessible controls and overly energetic audio notifications to indicate status – from battery level to Bluetooth connections. Occasional dropped audio and a proprietary charging dock are the only downsides to the X3, but for $100 the quality features far surpass momentary dropouts in our workout soundtrack.
2. Fitbit Flyer Headphones: $129.95, Target
We found these modular headphones to be the snuggest, blocking outside noise with dynamic sound modes. The Flyers offer easy access to settings on a three-button control box and can connect to two devices at once. The call quality is generally solid, with little feedback, despite an occasional drop in sound from the left bud. Contrary to what you might expect from Fitbit, these headphones can't track your heart rate or steps, but are designed to accompany the Fitbit Ionic.
3. Monster iSport Victory headphones: $89.95, Kohl's
This refresh of Monster's sport headphone offers a powerful sound in a small package. They're comfortable and come with a handful of adjustable earbud covers, though some might find the inner conch hook to be ill fitting. The cable isn't adjustable and inconveniently puts the volume controls at the back of your head, and call quality leaves something to be desired. Yet with two sound modes, more than 8 hours of battery and voice activated controls, these headphones are a steal for less than $100.
4. Jabra Elite Sport: $149.99, Best Buy
Customization is the name of the game with these truly wireless earbuds, which offer an array of covers and fins to shape these pods for your ears. They're designed for a runner on a mission with options for heart rate monitoring and coaching, a 13-plus hour battery life and touch functionality. The sound quality is solid, though we heard significant feedback when our phone was placed near the headphones, and these buds may be problematic in smaller ears or when wearing a hat.
5. Powerbeats 3 Wireless: $134.99, Walmart
Beats by Dre's headphone refresh is most impressive for how it goes the distance – Apple's new W1 Bluetooth chip means that Powerbeats stay connected up to 100 feet away. Unsurprisingly, Powerbeats offer dynamic sound and stay put due their ear hook design. For $199.95 at Apple, Powerbeats is worth it for the new chip, improved remote talk line and battery life (which includes a fast charge option). But if you're looking for a sound upgrade from Powerbeats 2, these are sonically the same.
6. Skullcandy Method Bluetooth Wireless In‑Ear: $59.95, REI
On the under $100 headphone spectrum, Skullcandy's comfortable earbuds are an excellent entry-level wireless sport experience. While less conventionally attractive than other options on this list, the headphones are a nice alternative to behind-the-head straps and sit well around your neck without too much movement. However, it's difficult to tell whether they're powered on and we couldn't connect this to a Chinese manufactured Android phone.
7. SoundSport Pulse Wireless: $179, Amazon
While less sleek than other headphones in its class and price tag, Bose's SoundSport have a more secure fit and sound fantastic. Although these headphones have a heart rate monitor, you can't do much with it – for anything beyond a live reading, you'll need to connect to other fitness apps. SoundSport also loses points for its short battery life, which at about 5 hours is great for a run or a workout, but doesn't keep up with the competition.
8. Apple AirPods: $159.00, Apple
These wireless buds are shaped like Apple's traditional wired headphones but miraculously don't fall out during strenuous activity. Although the battery life is just 5 hours (with the option of a 15 minute express charge that offers an extra 3 hours of juice), AirPods are intuitive to use, laden with sensors and sound great. They only pair with Apple products, so if you want to keep your entire tech under the same brand the price tag is worth it.
9. Bose SoundLink II: $229, Amazon
It's no secret, unless you're willing to shill out loads of cash, headphones and earbuds made for running sacrifice sound quality for functionality. So that leaves the question, which headphones not specifically built for exercise are best for running. Bose has you covered! The SoundLink ll offers a premium on sound quality and has both wired and wireless modes. They fit snug and unless you're doing some sort of extremely rigorous work out, they won't fall off. Running ear buds of this price range will not sound ANYTHING like these. If your run is light or on a treadmill you will be more than satisfied, and you can transition from a work out to gallivanting around town seamlessly.
10. Skullcandy Hesh 2: $79.99, Amazon
Like the Bose option above, the sound quality for the price when compared to work out ear buds is astonishing. While not as crystal clear and robust in its sound compared to the Bose option, these continue the Skullcandy tradition of sticking to your head. Try them on before you buy because these babies squeeze your skull with force when fresh out of the package. Even when they are broken in they have a stronger grip. Sacrifice some comfort to save some money and gain superior sound quality. These are sturdy, wireless, and will last you a long time.
Verdict
While we absolutely love the functionality of the Jabra earbuds, we found the comfort and sound quality of the Jaybird headphones to fulfil all our most basic running needs and were impressed by the price. If you're looking for something to pair with a monitor, try the Fitbit Flyers.
IndyBest product reviews are unbiased, independent advice you can trust. On some occasions, we earn revenue if you click the links and buy the products, but we never allow this to bias our coverage. The reviews are compiled through a mix of expert opinion and real-world testing.