The Independent's journalism is supported by our readers. When you purchase through links on our site, we may earn commission.
7 best kitchen knives, according to top chefs
From chopping vegetables to de-boning poultry, these are the best knives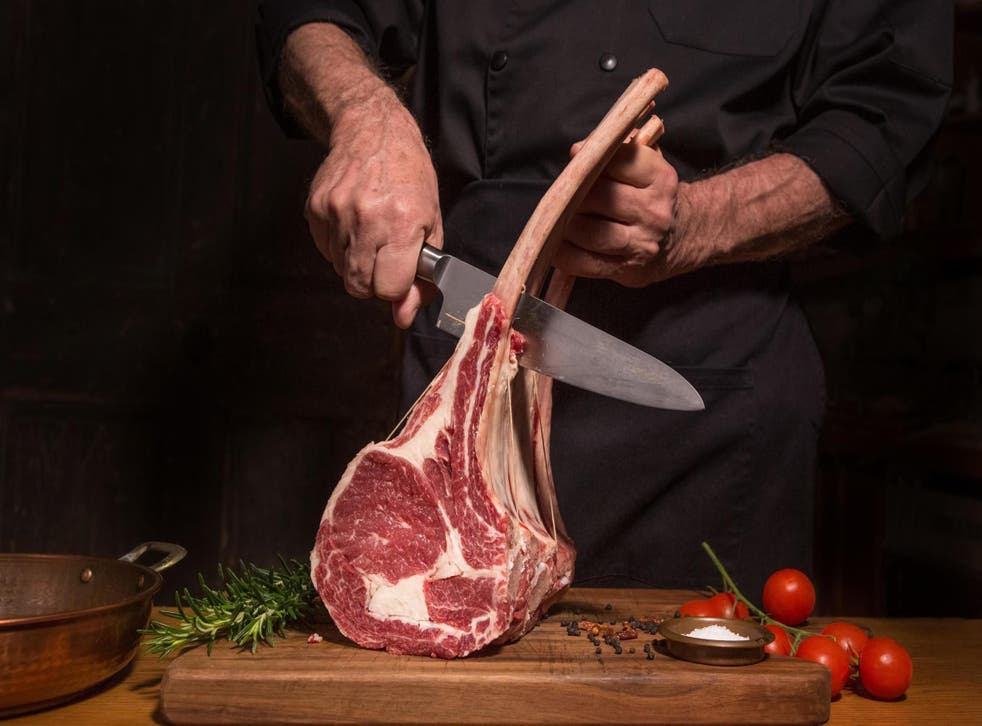 Whether you're a cooking novice or consider yourself something of a professional home chef, the secret to success is a good knife.
Necessary for even the most basic of meals, a sharp knife is the tool that can elevate a sub-par meal into a restaurant-worthy one.
To see which knives are worth investing in for all of your dicing, chopping and filleting needs, we asked top chefs for their recommendations.
While most chefs will agree that a few good knives are important to have on hand, if you are looking to invest in just one, these are some of the best on the market.
Chef's knives are one of the most versatile knives to have, which is why many chefs recommend them as a worthy first investment.
The multi-purpose knives are generally large and feature a blade that curves upward and ends in a narrow point.
"For me, the best kitchen knife for the home cook would have to be a 13in chef's knife," Darren Pettigrew of Valerie told us, adding: "A good chef's knife, like the chef, is a multitasker.
"A good chef's knife is designed to handle multiple jobs, chopping, slicing, dicing, filleting - it does it all."
For the job, he "highly recommends" Mac chef's knives.
"It's a light-weight, Japanese design which makes it a great investment for any enthusiastic home cook," he said.
While prices for a good chef's knife can reach the thousands, investing in a chef's knife from Korin, a Japanese brand, is also a good option if you are looking for an affordable and reliable version.
"I usually buy my knives at Korin in New York City," Guillaume Thivet, executive chef of Mister French NYC told us. "In my opinion, it is one of the best places for chef's knives. I have been using Japanese knives for 20 years, the edge and sharpness are on point to execute a perfect cuisine.
"They are precise and flexible, which helps manipulate delicate food and heavy duty work."
John DeLucie, chef partner of Lumaca NYC also recommends the brand.
"I love knives by Korin in Tribeca - they're so sharp and accurate…" he told us, adding that "They require love and dedication, but what's worthwhile in life that doesn't?"
If you are looking for knives that are both inexpensive and reliable, Krishnapal Negi, head chef of 1947 London, recommends Victorinox knives.
"They are like my best friends in the kitchen," he told us. "They're light as a feather and give a great performance. And as any chef knows we have to have knives that are easy to sharpen because we are constantly sharpening our knives over and over!"
According to Negi, Victorinox knives are "super easy in that sense and they last basically forever".
Matthew Whitfield, head chef at The Montagu Arms, also recommends the brand.
"I think for a basic everyday use knife, a Victorinox chef's knife is good and reliable to use," he said.
For chefs looking to splurge, Oliver Marlowe, owner and chef director of The Hunter's Moon, recommends this knife, which are hand-crafted in the town of Takefu, Japan, by the Takamura family.
"My favourite by a stretch is the Takamura Gyuto 210mm chef's knife by Kin," Marlowe told us. "It's on the expensive side but is a huge cut above any other knife I've used, is incredibly sharp and will last forever."
The knife features "32 layers of hot forged Damascus steel" and a handle made of mixed Pakkawood, according to the website.
A chef's knife may be the most versatile in your inventory, but when it comes to certain tasks such as de-boning meat, a boning knife is your best option.
Boning knives are used for removing the bones from poultry, meat and fish and feature a narrow blade and a sharp point.
For the task, some top chefs such as Guillaume Gillian, executive chef at Bōkan 37, rely on Honesuki boning knives, which translates to "bone lover" in Japanese.
"The best knife for me is the Honesuki boning knife," Gillian said. "They are really different to Western knives as they are not flexible at all and much heavier to work with.
"It cuts through meat effortlessly but it's also great for filleting a fish or cutting vegetables. The blade is really strong, hard and easy to sharpen as well, which is helpful after boning meat."
If you're looking for a knife designed for slicing fish, neither a chef's knife nor a boning knife will do the job successfully.
Rather, you'll need a sashimi knife, which features a long, thin blade designed for the task.
According to Nobu Matsuhisa, restaurateur, chef and founder of Nobu, who likes to emphasise the importance of Japanese ingredients and tools in his work, the best sashimi knives are Japanese-made.
His preference is for sashimi knives from Masamoto, the leading sushi chef knife maker in Japan for more than 150 years.
Like chef's knives, petty knives are also known for being extremely versatile in the kitchen. These small knives are typically used for delicate knife work including peeling, shaping and slicing fruits and vegetables and chopping herbs.
Acknowledging that the "best knife is one which feels the most comfortable to use for the job in hand", Alistair Craig, head chef at Careys Manor Hotel & SenSpa told us that his favourite is "a handmade petty knife from Joel Black Knives".
"It is a good size for cutting ingredients in your hands or on chopping boards," he explained.
Register for free to continue reading
Registration is a free and easy way to support our truly independent journalism
By registering, you will also enjoy limited access to Premium articles, exclusive newsletters, commenting, and virtual events with our leading journalists
Already have an account? sign in
Register for free to continue reading
Registration is a free and easy way to support our truly independent journalism
By registering, you will also enjoy limited access to Premium articles, exclusive newsletters, commenting, and virtual events with our leading journalists
Already have an account? sign in