The Independent's journalism is supported by our readers. When you purchase through links on our site, we may earn commission.
8 best Valentine's Day chocolates
Embrace the cliché and indulge in some delicious selections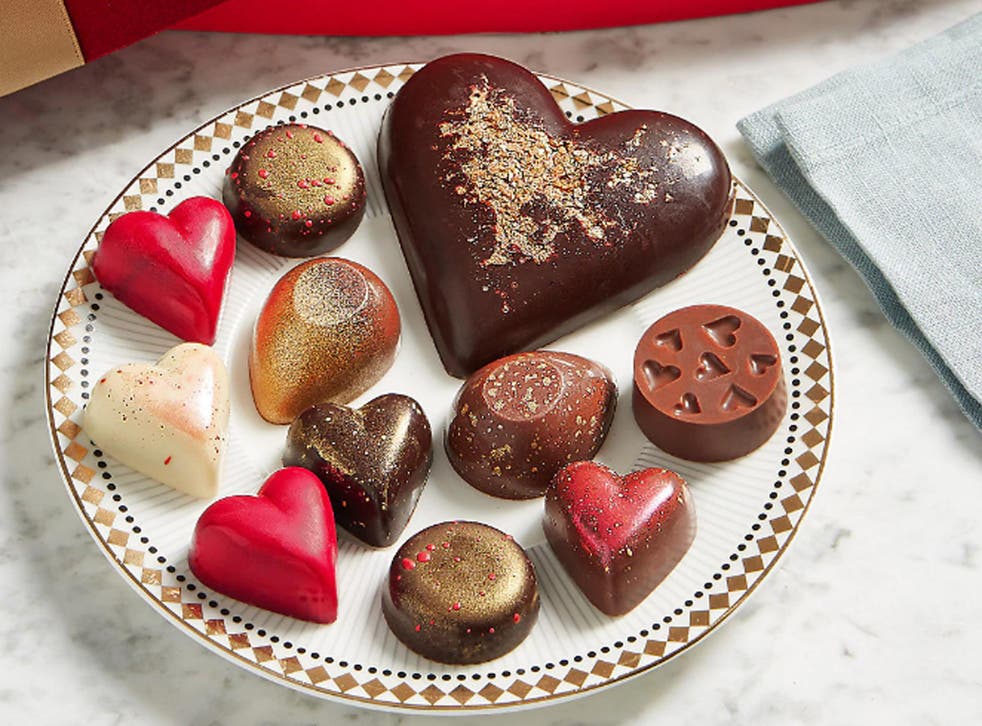 With Valentine's Day fast approaching, the question is: how best to share the love with your other half? A romantic city break? A poetically written love letter? Incorrect. The answer is: chocolate.
And lots of it. Here, we've rounded up a feast-worthy collection of the good stuff ready to be rapidly scoffed.
Most of the Valentine's offerings out there are heart-shaped, but if you can embrace the cliché, then your taste buds will surely thank you.
Marks & Spencer Large Velvet Heart Box of Chocolates, 450g: £25, Marks & Spencer
This giant, heart-shaped box of chocolates is made from soft velvet and finished off with a golden ribbon. You'll find a variety of milk, dark and white chocolate treats inside, all filled with different flavours and coming in various shapes and sizes. Our favourite fillings include coconut milk, Valencia orange and caramel, while you'll be fighting over who gets the large chocolate heart centrepiece. Looking for that personal touch? Add a special message for your loved one at the checkout.
Hotel Chocolat Valentine Goody Bag, 325g: £18, Hotel Chocolat
This chocolate goody bag from the British chocolate maker is the ideal choice if you're looking for some variety. Champagne truffles, salted caramel hearts (our favourite), a raspberry-flavoured slab, milk chocolate hearts, and a praline and vanilla heart duo come beautifully wrapped for you to gift to your Valentine. Hotel Chocolat has a range of delicious Valentine's Day gifts to pick from though, so if this isn't for you, make sure you take a look at the other options.
Fortnum & Mason Small Heart Chocolates Box, 225g: £30, Fortnum & Mason
London-based store Fortnum & Mason, which has been around for over 300 years, has a tempting range of Valentine's Day gifts to choose from. Our pick is this pretty, heart-shaped chocolate box though, containing 19 mini truffles. Flavours include pink Marc de Champagne, milk chocolate caramel and passion fruit, which make up a truly delicious treat. It's a great option for those looking for a traditional chocolate gift set to give to someone special.
Charbonnel et Walker Peacock Milk Sea Salt Caramel Heart, 295g: £30, Charbonnel et Walker
Whenever we've tried Charbonnel et Walker's salted caramel chocs in the IndyBest office, they're always the quickest to be snapped up by our colleagues. So we can't guarantee that your recipient will save many of the hearts to share with you, but quite frankly, we can't blame them. If they do, you'll both be treated to exceptionally sweet, undeniably moreish hearts, with a selection of both milk and dark chocolate. The box is certainly gift-worthy, too, with an elegant peacock design.
Chococo Personalised Love Heart, 200g: £12.50, Chococo
This Dorset-based chocolatier is one of our favourites, specialising in chocolates that give you a genuine reason to scoff them right away: they're made fresh, so the shelf life is shorter than usual. For Valentine's Day this year, we'd choose this personalised heart which is available in milk (43% Venezuelan) or dark (67% Madagascan) chocolate. Each one is hand-piped in white chocolate with up to 25 of your most romantic characters (although there is also the option for a gift message if you need to elaborate further). It's comes attractively packaged and wrapped with a ribbon.
Lindt Pick and Mix: from £12, Lindt
If your lover is a chocolate lover, chances are they'll love Lindt. But if you can't make it into one of Lindt's shops (as pictured above) to pick out your favourites, then try this pick and mix service. There are various sizes available, from 400g all the way up to 1.5kg. Once you've settled on that, you get to curate a collection of goodies, from the classic milk chocolate hearts to coconut truffles, packing in as many as you can up to your chosen weight.
Willie's Cacao The Golden Pod, 120g: £12.99, Chocolate Trading Co
If the idea of a heart-shaped box of chocolates makes you recoil, then try something out of the ordinary, such as this from Willie's Cacao – a leader in the UK's burgeoning bean-to-bar chocolate scene. It certainly feels like a gift for a special occasion, presented as it is in an eye-catching "golden pod". Once you've cracked it open, you'll find some utterly delicious dark chocolates, filled with mouth-watering salted caramel.
Pierre Marcolini Maline Découverte Chocolate Selection, 216g: £35, Selfridges
We're big fans of this Belgian chocolatier, and this is one its best-known creations – while it's not overtly themed for Valentine's Day, we're sure your recipient will fall in love with the chocolates they find inside. There are 34 goodies to choose from, showcasing the best of Pierre Marcolini's wares, including everything from delicious, textured pralines to incredibly juicy ganaches.
The Verdict: Valentine's Day chocolate
We reckon the collection from Marks & Spencer should be your go-to choice this Valentine's Day. Not only is it very appropriate – it is a massive red heart, after all – but it also provides great value for money. The Chococo heart is great option if you want something with that personal touch, and if you want to avoid the hearts all together, Pierre Marcolini comes highly recommended.
Register for free to continue reading
Registration is a free and easy way to support our truly independent journalism
By registering, you will also enjoy limited access to Premium articles, exclusive newsletters, commenting, and virtual events with our leading journalists
Already have an account? sign in