Whether they're for listening to music or audio books, using a tablet or phone or watching the telly, headphones aimed at kids are a much better option than them borrowing yours or making do with airline-supplied headphones on flights. And this is for two main reasons. First, they are designed for small heads, so don't slip off. Second – and most importantly – adult headphones tend to be much louder than kids'.
Indeed, adult headphones usually peak at 115 decibels and experts warn that children could face hearing loss as a result of listening to this volume for even just 15 minutes a day. Most children's headphones, on the other hand, have a volume restrictor of 85 decibels – the maximum noise level recommended by auditory health organisations. What's more, even children's headphones that don't have this restrictor won't usually go as loud as adult ones. That said, if you do opt for a pair without the restrictor, you'll need to trust your child not to turn it up full whack.
Other things to consider when buying children's headphones are comfort level round the ear, the fit over the head, and the look, as three-year-olds may prefer a very different design than 13-year-olds. Also consider the cable length and whether you'd in fact prefer no cable at all, opting instead for Bluetooth. Ideally, you'll want a pair that keeps the noise inside the headphones and has decent sound quality.
Whichever ones you buy, remember that the maximum time spent using them should be limited to two hours a day.
1. Puro Wireless Kids' Headphones: £79.99, Amazon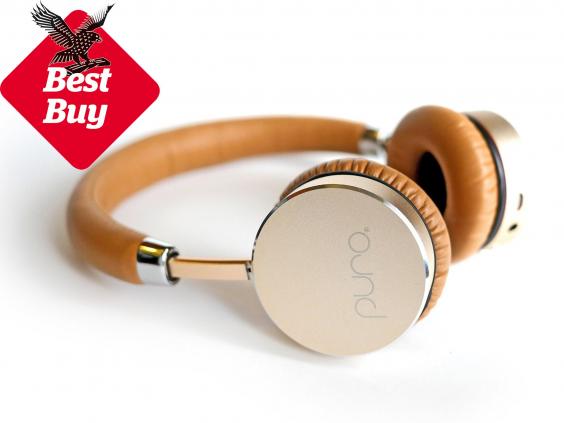 You'll be hard pushed to find more professional, well-designed and stylish headphones specifically aimed at kids. The audio quality is noticeably higher, even with Bluetooth, and the fact that they're wireless means kids can dance to their hearts content, without tripping over cables. The volume is maintained at a safe level, and they are outstanding at preventing noise leakage. There's a long, 18-hour battery life and a back-up cable for if it runs out.
2. JVC HAKD5Y Headphones: £13.99, Amazon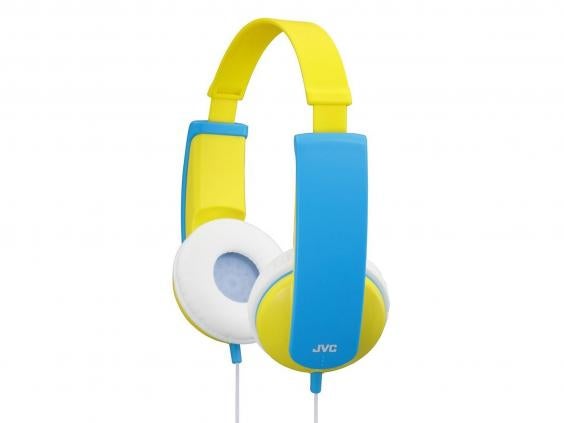 Our testers found the soft padding particularly comfortable on these. Meanwhile, parents praised the durability. They look more grown up and professional than many kids' headphones and are available in a pink and purple combo or yellow and blue, with stickers so kids can decorate them. They've got good restriction of noise leakage and volume restriction, but the cable length of 0.8m is shorter than most.
3. Groov-e Kiddies Headphones: £11.65, Amazon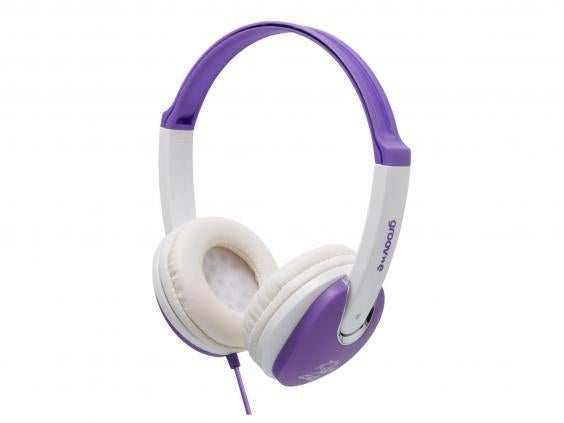 These are the cheapest headphones in our round-up, yet they are sturdy and comfy, with the ear pads cupping even the smallest of ears well, which also helps to block noise leakage. Noise quality is good for the price, and there's a volume restrictor. There's no doubt they look cool and if you don't like this colour combination, there are others.
4. Kidz Gear Limited Wired Headphones: £17.99, John Lewis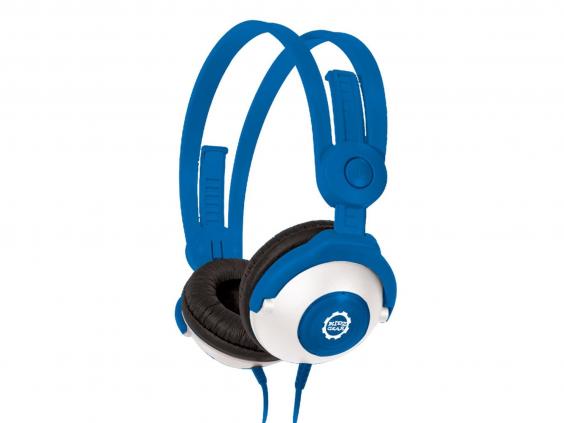 Unusually, these robust and great quality headphones, which come in several colours, work for children as young as two, yet are comfortable for older kids too as the size can be adjusted. The cord is long at 1.5m, which means they can be a godsend for the telly, although it can get in the way when attached to tablets and phones. They are well sound-proofed, but the sound limiter is removable, which older kids like, but it does mean young ears can be put at risk if taken out.
5. Smiggle Neon Headphones: £20, Smiggle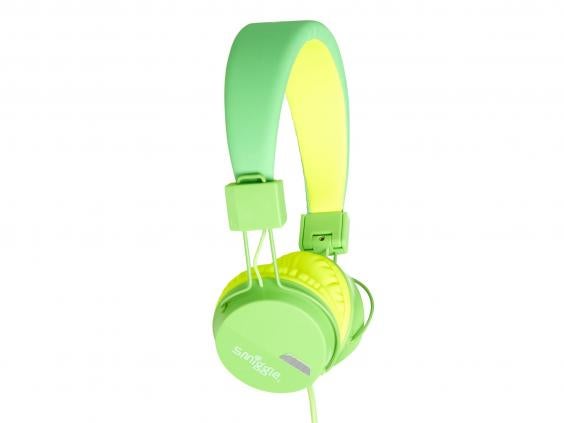 You can always count on Smiggle to come up with jazzy colours and designs and these neon offerings are no exception. Helpfully, the cord is long at 1.5m, as well as being tangle-free, and the adjustable head band is suitable for most ages. The sound does go up to 95 decibels, however – 10 decibels above the recommended maximum for kids.
6. Go Travel Child Safe Headphones: £12.99, Go Travel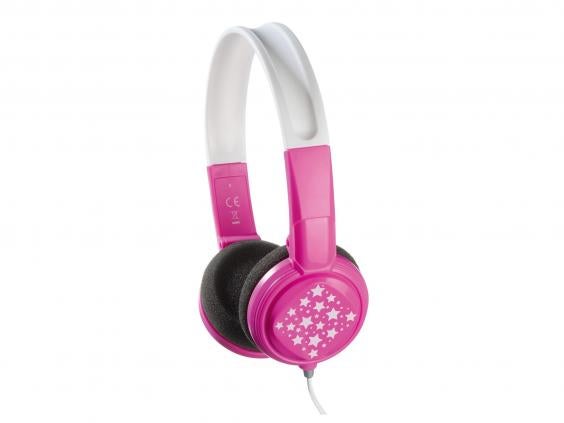 These volume-limiting headphones are nice and light, and they sit comfortably on young heads. The single audio cable means less chance of wires getting tangled and caught round necks and the headband is easily adjustable. Available in pink or blue, with a space-themed design, they look fun and although the sound quality isn't quite as crisp and clear as some, young listeners are unlikely to notice. 
7. ZAGG ifrogz Little Rockerz: £14.95, John Lewis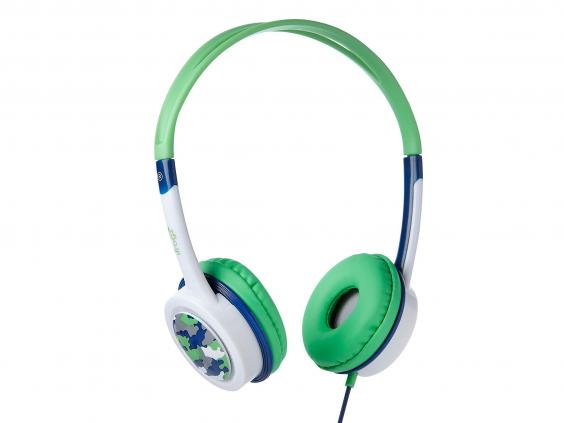 Available in a range of funky colours and designs, these look appealing and fun, and are recommended as safe for young ears due to the volume limiting circuitry that keeps the sound pressure down. They fit close to children's heads, meaning they can dance away without them falling off, and they have generous padding, with a robust design that means they suit clumsy kids who are prone to dropping things. 
8. Philips SHK400: £29.99, Argos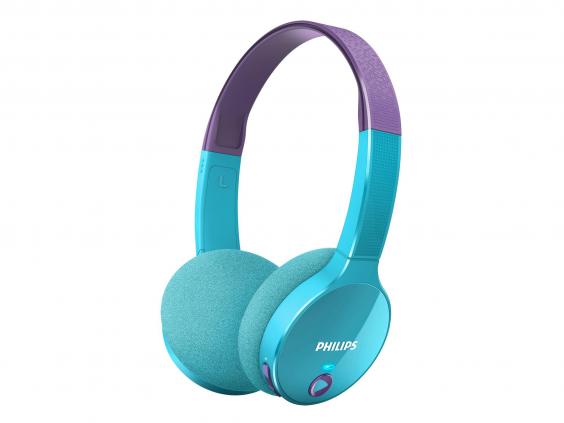 This affordable pair of Bluetooth, volume-restricted headphones comes in two colour schemes and the design isn't too babyish to put older kids off. They are light, well-padded around the ear cup and they have an easily adjustable, flexible headband, as well as a colourful design. They're easy to set up, the sound is good quality and there's a nine-hour battery life – and no cables gives you peace of mind about no wires around necks.
9. Kondor Superman Man of Steel On Ear Headphones: £19.99, I Want One Of Those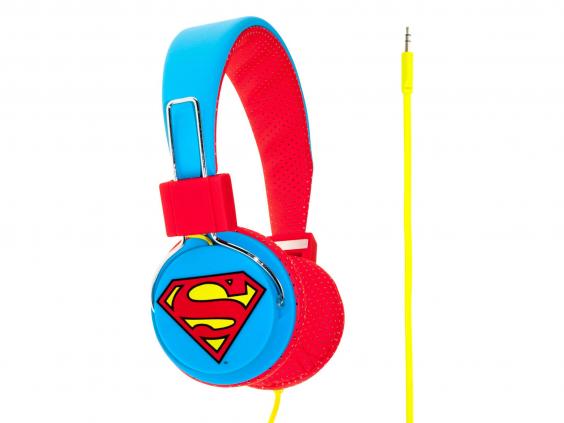 These superhero-themed headphones are bright and cheery. They're easy to adjust to the right head size and both the ear cups and headband are comfy. Good news for little travellers is that they are foldable and are robust enough to survive toddlers yanking at them, but they don't have a volume restrictor. 
10. Sennheiser HD201: £24.99, Sennheiser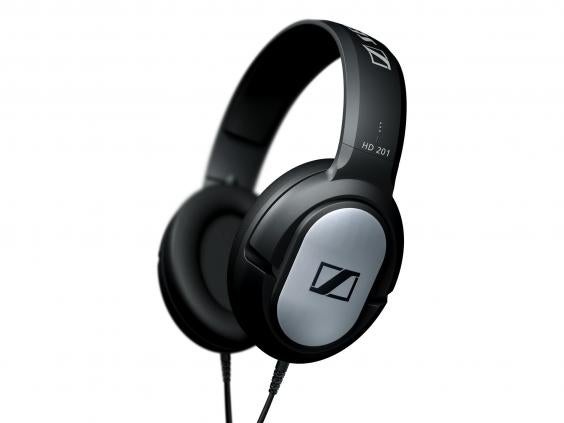 Although these are the only headphones in our round-up that aren't designed exclusively for kids, they can be adjusted to fit smaller heads. The sound quality is terrific for the price, and they are good at cutting out external noise, as well as providing a more all-round-sound experience. But there's no volume limiter, so we'd only recommend them for teenagers.
Verdict
Puro Wireless Kids' Headphones are easily the best of the bunch, but their price reflects this. For something more purse-friendly, our vote goes to ZAGG ifrogz Little Rockerz.
IndyBest product reviews are unbiased, independent advice you can trust. On some occasions, we earn revenue if you click the links and buy the products, but we never allow this to bias our coverage. The reviews are compiled through a mix of expert opinion and real-world testing