The Independent's journalism is supported by our readers. When you purchase through links on our site, we may earn commission.
6 best VR headsets for immersive virtual reality gaming
The latest tech offers incredible realism, depending on how much time and money you want to spend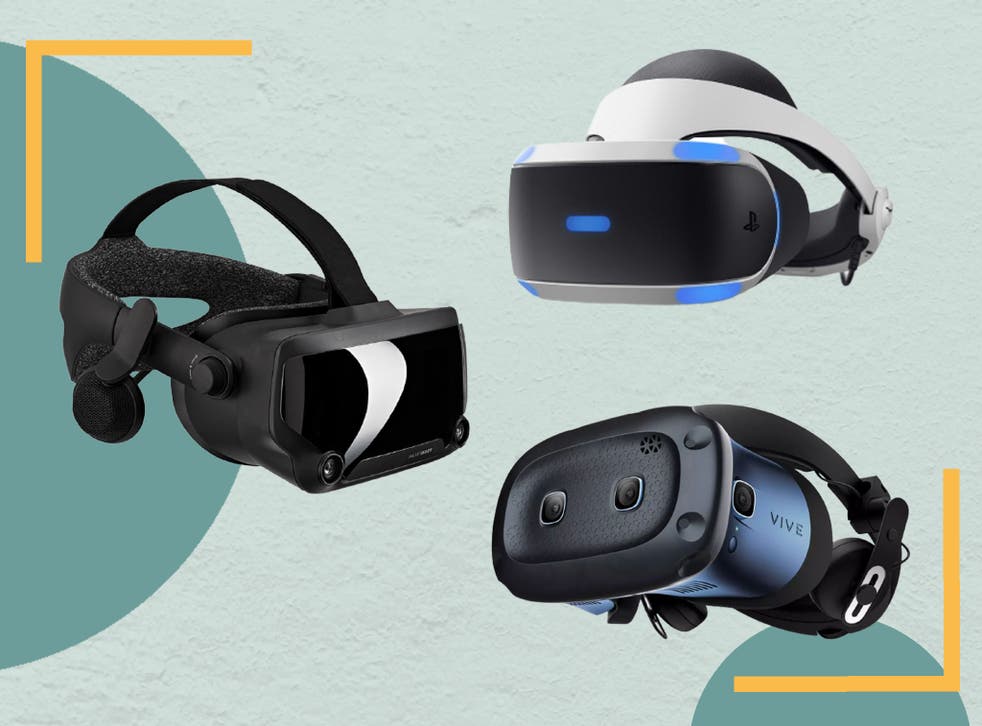 Virtual reality is on course to replace actual reality. Or at least that's what the dead-eyed avatar of Mark Zuckerberg would have you believe, as he hovers around lifeless digital conference rooms like some dreadful, office-bound ghoul.
But even if the thought of living inside Zuckerberg's so-called "metaverse" leaves you feeling cold, the world of VR headsets goes way beyond the corporate realm of virtual Zoom meetings with distant colleagues. A cyclical trend in tech, the most recent iteration of virtual reality earned its foothold in the video games industry with the soft-launch of the Oculus Rift headset in 2012. A clunky affair, the Rift needed to be tethered to a powerful gaming PC with a physical wired connection you could easily trip over.
Despite the limitations of the hardware and the relatively low-resolution display, the sensation of being transported to virtual worlds and alien landscapes was convincing in a way previous generations of VR headset never managed. It wasn't long before Facebook saw the potential of the Oculus Rift and purchased the company for $2bn in 2014. Now part of the Meta conglomerate, the completely wireless Oculus Quest 2 leads the company's charge in convincing users that VR is more than just a novelty.
Around the same time, other companies were developing their own VR headsets. HTC launched the HTC Vive shortly after the Oculus rift, games publisher Valve created the Valve Index headset to support its own VR games, Sony has the PlayStation VR with plans to launch a new model for the PS5 in 2022, while Google dabbled with budget VR solutions with its cheap Daydream (now discontinued) and cardboard products.
As consumer interest in VR grew and investment capital poured into the industry, competing companies launched incrementally improved versions of their headsets every year or so. Resolutions improved, meaning what you see inside the headset looks more crisp and believable. Controllers were added so you could pick up and interact with things in the virtual world. Product lines split into wired and wireless headsets, the former able to produce far more realistic graphics thanks to the processing power of an external PC, and the latter more convenient to pick up and start using straight out of the box.
Read more:
The expertise and money needed to produce a viable, mass-market VR headset today is so prohibitively high – and the risk that this might be yet another fad is so big – that there really aren't many major players in the industry yet. Oculus and HTC dominate in the world of business, entertainment and professional applications, while the likes of Sony and Valve are trying to corner the games market with their specialist headsets. So let's take a look at the best each of these brands has to offer.
How we tested
Our testing area is a relatively small room of a flat, so among other things these headsets are rated by how comfortable they are to use in confined spaces. With the exception of the self-contained Oculus Quest 2 (and the also-ran Google cardboard), we tested each headset while tethered to a moderately powerful games PC.
We used SteamVR as our main games platform, and tested out games including Job Simulator, Superhot VR, Keep Talking and Nobody Explodes, and Half-Life: Alyx. The PSVR was tested with a PlayStation 4 console, on games such as Astro Bot: Rescue Mission, Beat Saber and Resident Evil 7.
The best VR headsets for 2022 are:
The verdict: VR headsets
Despite being relatively underpowered compared to traditional PC-tethered gaming headsets, the Oculus Quest 2 is a genuine breakthrough for the technology. Not only does it look smart, with no protruding cables or messy wiring to worry about, but it's straightforward enough to set up that even the most tech-averse users will be able to experience VR within minutes of opening the box.
For more serious gaming and professional applications, the HTC Vive Ppro 2 is the most technically advanced VR experience in our round-up, with the highest resolution and refresh rate of any headset we've tested.
Voucher codes
If you're looking for discounts on technology or video games then try one of these codes:
If you're still trying to get your hands on the elusive PS5 console, we're keeping an eye on restocks
Register for free to continue reading
Registration is a free and easy way to support our truly independent journalism
By registering, you will also enjoy limited access to Premium articles, exclusive newsletters, commenting, and virtual events with our leading journalists
Already have an account? sign in