The Independent's journalism is supported by our readers. When you purchase through links on our site, we may earn commission.
11 best stocking filler books
Give the gift of a good (and small) read with one of these modestly sized buys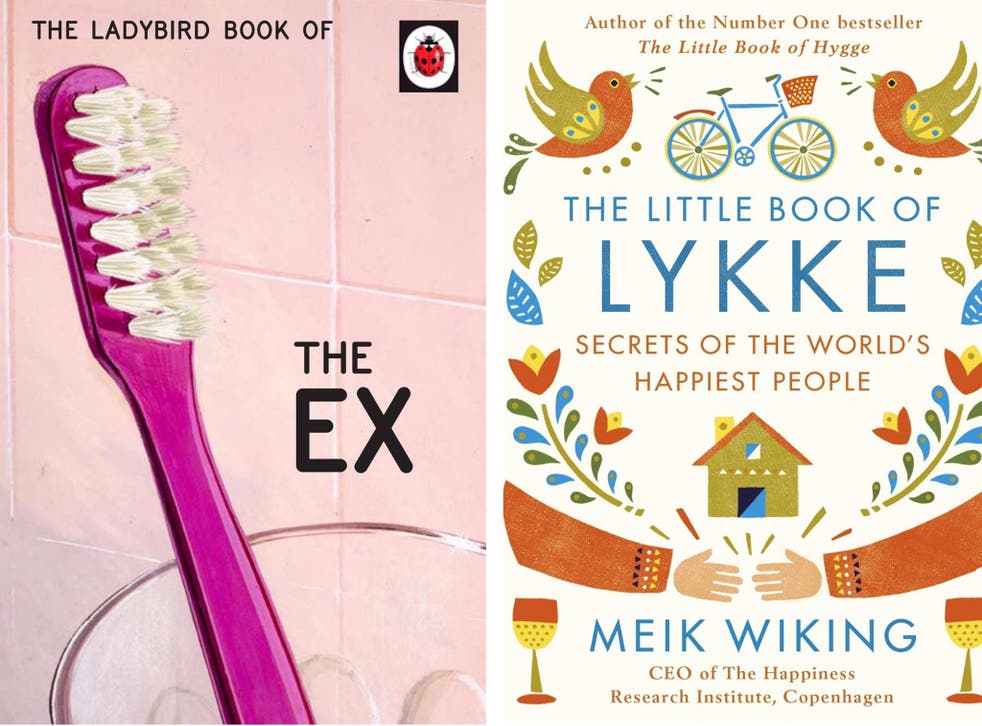 If you're looking to fill the stocking of a loved one or family member, but would like to give them something a little more lasting than just a satsuma or some chocolate coins, then look no further.
Here we have read through the best new books of 2017 that are small enough to be slipped into a stocking (or stuffed into the top of one), from fun adult picture-books to silly stories and fresh looks at life lessons to live by. Guaranteed to perk up any post-Christmas dinner slump.
Christmas with Dull People by Saki: £4.99, Daunt Books
Hector Hugh Munro, better known by his pen name, Saki, was a master of wit and satire in the Edwardian era. Here, Daunt Books has reproduced four of his short stories that explore one the most dangerous aspects of Christmas: dealing with dull people. Saki expertly takes apart the traditions of the upper classes during the festive period for all to enjoy, from being given unhelpful gifts to writing thank you notes. Short and sharp enough to devour before breakfast on Christmas Day, this is an excellent stocking filler for anyone who pleasures in moaning about the festive holiday before getting into the swing of it all.
Mr Greedy Eats Clean To Get Lean by Liz Bankes, Lizzie Daykin and Sarah Daykin: £5.99, Egmont
Roger Hargreaves' Mr Men series lives on in this new set of stories made for grown-ups. The new books have been created with the Hargreaves estate and use original artwork by the Mr Men creator. In this new tale, Mr Greedy lives in Fatland, where everyone loves nothing more than "devouring a cheeky bhuna, downing a cheeky wine, and demolishing a cheeky cheeseboard". Everything changes when Mr Small starts juicing, Mr Muddle starts posting pictures of himself in the gym, and Mr Strong starts his own boot-camp. For those left wanting more there is Mr Happy And The Office Party to pick up, too, as well as a Little Miss series including, our favourite, Little Miss Shy Goes Online Dating.
The Ladybird Book Of The Ex by Jason Hazeley and Joel Morris (illustrator): £7.99, Penguin Random House
The successful Ladybird Books for Grown-Ups series is back again this year with a new set of silly explanations set to artwork from the original series. "This is Tina with the man she used to call her husband. Tina now calls this man 'that man'. She also calls him 'the most expensive mistake of my life' and other, much ruder things. This man is Tina's ex." So begins the new Ladybird Book Of The Ex, which is filled with amusing scenarios of denial, heartbreak, sadness, anger and revenge set to classic Ladybird illustrations. A book guaranteed to make you giggle and snort out loud.
Five At The Office Christmas Party: £7.99, Quercus
It becomes increasingly apparent that as the Famous Five have grown into adult millennials, Julian has had far more lashings of actual beer than his family over the years and may have a slight problem. After losing his job he is employed at his dodgy uncle Rupert's business, where he and Anne, George, Dick (and eventually, Timmy the dog) are tasked with coming up with an excellent office Christmas party to distract everyone from looming redundancies – and Julian's boozy habits end up coming in rather handy.
Be More Cat by Alison Davies and Marion Lindsay (illustrator): £7.99, Quadrille
Author Alison Davies has taken inspiration from her two rescue cats Minnie and Honey and dedicated this book to them. Here, she presents a guide to "unleashing your inner cattitude" by learning from a few life lessons given by our feline friends. From the art of "Catfulness" to finding "Purrrfection" and appreciating the art of the cat nap, this book offers tips help us live more relaxed and healthier everyday lives, with little relaxation exercises and fun cat facts accompanied by delightful illustrations.
Doctor Who: Now We Are Six Hundred: A Collection Of Time Lord Verse by James Goss: £9.99, BBC Books
As someone who has written a number of his own Doctor Who books and adapted a few of Douglas Adams' well-loved Time Lord stories for BBC Books, James Goss is an excellent choice to put together an anthology of inventive poetry about everybody's favourite alien. Peppered with jokes about the Whoniverse and enjoyable new takes on classic verse, this book of poems and illustrations would make a great choice for any young Dr Who fan.
The Little Book of Lykke by Meik Wiking: £9.99, Penguin Random House
The author who brought the world The Little Book of Hygge is back with a new offering about the Danish search for the world's happiest people. And as the CEO of the Happiness Research Institute in Copenhagen, author Meik Wiking is more than qualified for the job. Setting out with the knowledge that Denmark often tops world happiness rankings, Wiking searches for examples from around the globe, learning what contributes to people's happiness and how we can learn from it. Filled with case studies, happiness tips and current cultural examples, this book is a great choice for anyone wanting a better understanding of what happiness, or lykke, means – and how to give it to ourselves.
Make Your Bed by William H McRaven: £9.99, Penguin
In this book from Admiral William H McRaven, the retired US Navy SEAL draws on his 37 years in service to bring stories of overcoming adversity to illustrate the ways you can change your own life. He starts with the sense of accomplishment that comes with making your bed every day (a rigorous operation in the military, but something civilians can still learn from) and goes on to describe overseeing a captured Saddam Hussein to illustrate the importance of standing up to bullies a particularly painful parachute accident to drive home that we all need help sometimes, and what it truly means to be a "sugar cookie". An eye-opening read.
On Being Nice by The School of Life: £15, Oliver Bonas
While it has been going for some years, The School of Life is a new kind of institution that offers classes and therapies for people to attend, covering the various aspects of emotional intelligence we want in our lives. This book is an extension of that work, which looks at how to help us be nicer. Part academic, part philosophical (Alain De Botton co-founded the company, after all) this book looks at how to be less irritable and impatient, and instead more forgiving and warmer. It states that niceness "deserves to be rediscovered as one of the highest of all human achievements", and it's not wrong.
Read This If You Want To Be Instagram Famous by Henry Carroll: £9.99, Laurence King
Photographer Henry Carroll – the author of books helping people to take great pictures of people, places, and well, just take great pictures in general – has moved into the world of commanding images on social media to help any aspiring Instagrammer become a member of the platform's royalty. Featuring advice, tips and insights from 50 of the world's most successful Instagrammers, from @SymmetryBreakfast to @Ovunno, this book covers everything from what to put on your profile and how to make money to capturing the best light in pictures and how to get the best "flat lay".
Disappointed Monsters by Eli Bowes: £9.99, AE
Illustrator Eli Bowes has created a truly delightful compendium of monsters who have been tripped up or set back by the disappointing circumstances of everyday life. Set out as an A-Z, examples include an 11-eyed monster sitting on the toilet and staring at an empty toilet roll, with a text explaining that the monster thought there was a spare roll in the cupboard under the sink – but there isn't. Another has spent a long time assembling flat-pack furniture and has worryingly important looking pieces left over, while another is regretting its choice to buy over-priced tickets to an overrated immersive theatre experience to take its date to. Bowes' inventive and detailed illustrations are great for picture-book lovers young and old, while his little stories will amuse any adult who has had to replace an expensive umbrella because it blew inside out, or found themselves trapped in a bathroom after forgetting to take their towel with them to the shower.
The Verdict: Stocking filler books
The Mr Men books for adults is a welcome addition to the world of children's books for grown-ups, and the new Ladybird and Famous Five tales will entertain anyone who revels in this growing genre. For life tips, Admiral William H McRaven's short book offers gripping anecdotes plucked from a tough military world, while anyone looking for entertaining illustrations will love Eli Bowes' Disappointed Monsters. But for short, sharp and witty commentary on Christmas itself, the modestly priced collection of Saki's short stories will entertain any literary fan over the holiday.
All listed prices are RRP
IndyBest product reviews are unbiased, independent advice you can trust. On some occasions, we earn revenue if you click the links and buy the products, but we never allow this to bias our coverage. The reviews are compiled through a mix of expert opinion and real-world testing.
Register for free to continue reading
Registration is a free and easy way to support our truly independent journalism
By registering, you will also enjoy limited access to Premium articles, exclusive newsletters, commenting, and virtual events with our leading journalists
Already have an account? sign in