The Independent's journalism is supported by our readers. When you purchase through links on our site, we may earn commission.
9 best eco-friendly sunscreens that are helping to protect our oceans
From luxury to budget buys, these are the "reef-safe" SPFs that won't leave a white cast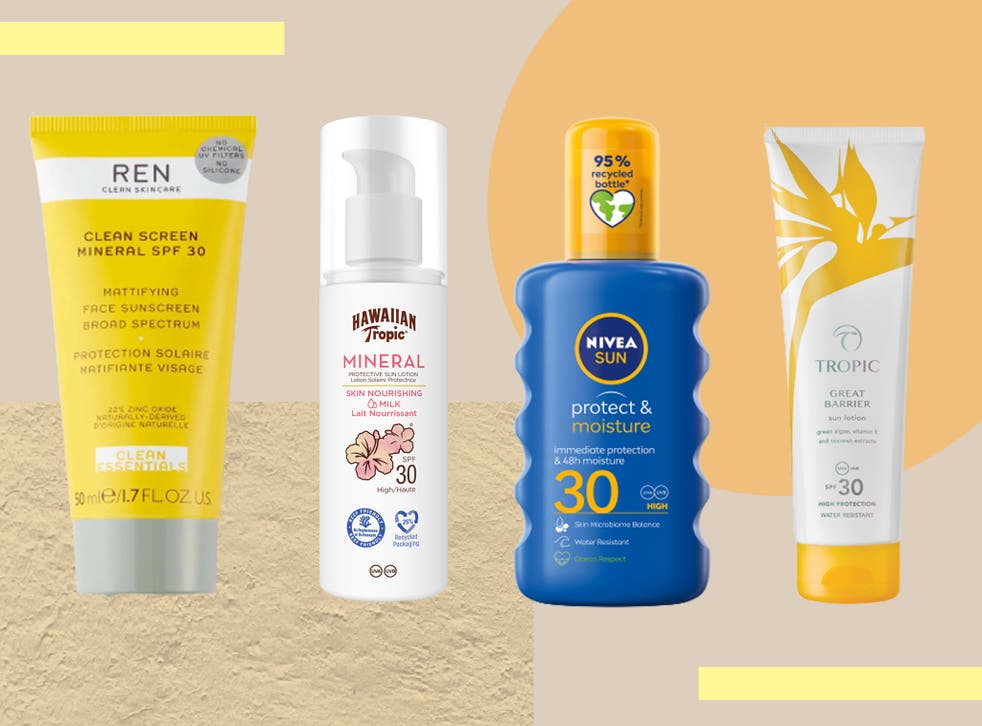 By now, we should all know about the importance of sun care and the value of a decent sunscreen: it's vital to protect against sunburn and the ageing effects of the sun's rays, but there's also more to consider than simply which SPF to plump for.
Sunscreens fall into two major categories: physical and chemical. Containing tiny minerals, physical sunscreens act as a shield and deflect the sun's rays, while chemical sunscreens make use of synthetic compounds that absorb UV light before reaching the skin.
But a growing awareness of the impact of ingredients common in chemical formulas, such as oxybenzone and octinoxate, means that consumers and brands have begun to take action.
In 2018, Hawaii became the first nation to ban sunscreens containing these compounds after scientists found that they were harmful to aquatic life.
Read more:
How we tested
We tested the below eco-friendly sunscreens, assessing aspects such as formulation, ease of application and how it wore on hot, sunny days. We also noted if we liked the packaging, including how easy it was to dispense the sunscreen and whether it was portable, for top-ups on the go.
Some of the options include methylene bis-benzotriazolyl tetramethylbutylphenol (MBBT). Although it's an EU-approved UV filter, some have questioned its long-term impact. Eco-friendly sunscreens can be a complex business, and it's worth doing further research or reaching out to brands if you're particularly concerned about specific ingredients. There are also answers to some frequently asked questions about eco-sunscreen at the bottom of this article.
The best eco-friendly sunscreens for 2022 are:
Eco-friendly suncream FAQs
Why choose an eco-friendly sunscreen?
"The biggest concern about SPFs for the planet is the pollution that it does to the oceans, thus affecting the ecosystem of these delicate environments," explains Dr Ross Perry, medical director of Cosmedics Skin Clinics.
According to The Ocean Foundation, an estimated 14,000 tons of sunscreen is believed to be deposited in oceans annually and it's a big problem: protectants, preservatives and parabens found in chemical sunscreens, which wash off into the water, can endanger marine organisms and contribute towards coral bleaching.
What is an eco-friendly sunscreen?
So, what should we be considering when opting for an eco-friendly, or reef-friendly, sunscreen? Well, the first thing worth noting is that "reef-friendly" and "reef-safe" are not regulated terms. Generally speaking, though, eco-sunscreens are natural alternatives to traditional sunscreens: they are biodegradable and made of non-toxic ingredients, such as zinc oxide and titanium dioxide, which block the sun's UV rays and include safe synthetic filters.
The most common mineral sun filters – zinc oxide and titanium dioxide – are known to leave a white cast, so this can be an issue for darker skin tones, but with formulas becoming more advanced, a good rubbing in will usually make any white, chalky residue disappear.
Dr Perry also shares this useful piece of advice: "When looking for a coral-friendly sunscreen, ideally you're looking for ones that don't have oxybenzone and octinoxate ingredients, as these are known to cause the most damage to coral reefs."
You should look out for the SPF rating of at least 30 for UVB, HEV filters to protect against blue light and, ideally, a five-star rating for UVA.
What are the skincare benefits of an eco-sunscreen?
"Eco-sunscreen is particularly suitable for people with sensitive skin or skin conditions such as eczema," says Dr Lakhani, cosmetic doctor and skin care specialist at Harley Street's Cranley Clinic. "Also, if you're prone to sun rash or other issues like prickly heat, then eco-sunscreen can be particularly beneficial."
The verdict: Eco-friendly suncreams
Tropic Skincare's great barrier sun lotion has earned itself a spot in our beach bag, with its easy application, silky formula and hydrating finish. We were also impressed with Pai's British summer time facial sunscreen, although it's definitely one for a more generous budget. If you're looking for something less pricey, then Hawaiin Tropic's new mineral milk range is worth checking out, plus it smells fabulous.
Voucher codes
For the latest discounts on sun care and other skincare offers, try the links below:
For more sustainably sourced products, read our guide to the best vegan and cruelty-free skincare brands
Register for free to continue reading
Registration is a free and easy way to support our truly independent journalism
By registering, you will also enjoy limited access to Premium articles, exclusive newsletters, commenting, and virtual events with our leading journalists
Already have an account? sign in
Register for free to continue reading
Registration is a free and easy way to support our truly independent journalism
By registering, you will also enjoy limited access to Premium articles, exclusive newsletters, commenting, and virtual events with our leading journalists
Already have an account? sign in