The Independent's journalism is supported by our readers. When you purchase through links on our site, we may earn commission. Why trust us?
Apple iPhone 15 and 15 Plus review: Quiet colours, impressively fast
Basically the iPhone 14 Pro in disguise, the newest cheap iPhones boast Pro-level features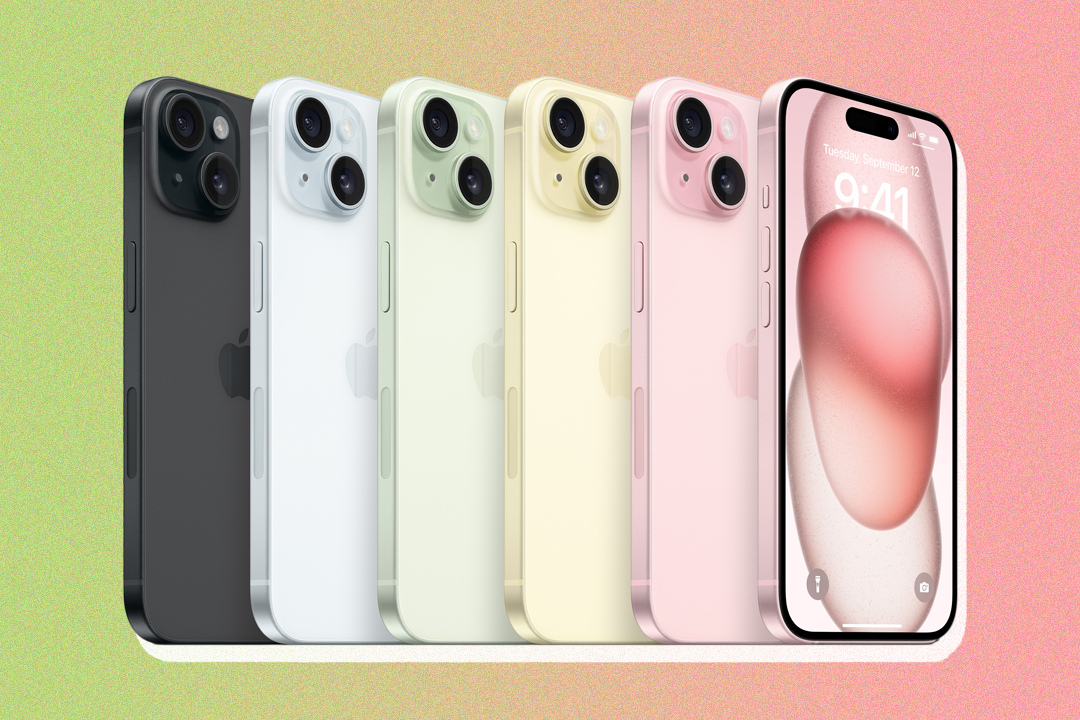 Apple's iPhone 15 series is out now. While the pricier iPhone 15 Pro and iPhone 15 Pro Max have been grabbing a lot of the headlines, for most of us, it's the iPhone 15 and iPhone 15 Plus that are important. These are the more affordable iPhones, designed to be more than enough for most people.
That doesn't mean they are underpowered machines – they are powered by the super-fast A16 bionic chip, which was previously exclusive to last year's iPhone 14 Pro models.
While there are only two cameras on the back of the 15 and 15 Plus (rather than the three found on the more expensive 15 Pro and Pro Max), the introduction of a 48MP sensor, and some clever computational photography, is excellent.
The iPhone 15 and iPhone 15 Plus are identical but for three things: the screen size, which is 6.1in on the iPhone 15, and 6.7in on the iPhone 15 Plus; the battery life, which is longer on the Plus; and, of course, the price – the Plus is more expensive.
So, do this year's pair of baseline iPhone 15 phones represent enough of an upgrade to make it worth parting with your money? Read on to find out.
Read more: Get £60 off refurbished iPhones with this deal
How we tested
From switching on the phones for the first time to testing ease of setup and becoming familiar with the new iOS 17 software on board, we put the new iPhones through their paces. The cameras have been tested in numerous situations, to see if the claims Apple has made are justified. We ran apps, streamed video and played games. Above all, we checked whether the iPhone 15 and iPhone 15 Plus had good enough battery life to get you through a full day without having to worry about running out of juice.
iPhone 15 and iPhone 15 Plus: From £799, Apple.com
Screen: 6.1in / 6.7in
Processor: Apple A16 Bionic
Storage: 128GB, 256GB, 512GB
Dimensions (iPhone 15): 147.6mm x 71.6mm x 7.8mm
Dimensions (iPhone 15 Plus): 160.9mm x 77.8mm x 7.8mm
Weight: 171g / 201g
Rear cameras: 48MP main, 12MP ultra-wide
Front camera: 12MP
Colours: Black, blue, yellow, green, pink
Design
These are perhaps the most understated colours Apple has ever released (apart from the second iPhone, the iPhone 3G, which only came in black). There's a black one in this range, too, and it's the only dark option.
Then there's pink, which is an eye-catching pastel shade, while the other three, at a quick glance – especially in bright light – look as though they're white. In fact, they're blue, yellow and green. If you can remember the trend some years ago for household paints being named along the lines of 'white with a hint of yellow' or 'white with a touch of lime', you'll get an idea of the iPhones' colourways.
The quiet nature of the colours is linked to the process by which they're made, where the colour is infused into the glass, instead of being painted on top of it. Glance at your iPhone in a less bright room, however, and the blue, yellow and green shades become clearer. Although, even then, these colours are never super-bright.
That said, they look great, and they feel even better. The previous gloss of iPhones is upgraded to the matte of iPhone Pro. It's a textured, premium finish, which is wonderful to the touch. In fact, it's so tactile, you might want to consider going case-free, especially as the sharp edges that defined the iPhone 14 have been replaced here with contoured edges, which are much softer in the hand – particularly useful on the larger iPhone 15 Plus. This new, curvier aluminium edge is colour-matched to the rest of the phone.
In other respects, the iPhone 15 and 15 Plus retain the design of last year's iPhone 14, maintaining the ceramic shield front, which Apple says is tougher than any other smartphone.
Apple's display is brighter than last year's, rising to 2,000 nits peak outdoor brightness, and there's a higher peak HDR brightness for watching video, for instance.
Overall, this screen looks beautiful, with exceptional colour fidelity. But it lacks the dynamic refresh rate – which Apple calls ProMotion – found on the Pro models. All very well, but there are plenty of more affordable rival phones that offer the higher refresh rate that delivers smoother scrolling. Let's hope it comes to a regular iPhone one day.
Dynamic island
One major feature that's come down from the Pro to the regular iPhone is the dynamic island, and it's a big deal. There's now a cut-out on the iPhone display, which contains the front-facing camera and face ID sensor. It's now much smaller – a lozenge-shaped hole in the display rather than the chunkier notch found in older phones.
More than that, Apple cleverly manipulates the display both around and within the lozenge, to create great graphical effects and live notifications, which effectively hide the camera array. It works amazingly. When you play music, you'll see album art next to the island. Start a timer and the countdown will float next to the cutout.
Third-party apps can also make use of the dynamic island. For me, the best of these is Flighty – a sensational app for anyone who travels by plane regularly. The app shows live flight information, such as how long until departure, which gate to board from and more, often sending you these updates before they appear on airport departure boards.
The arrival of the dynamic island across the entire iPhone 15 range should encourage more developers to make use of the features and will change how many people interact with their iPhone.
Improved cameras
Last year, Apple upgraded the resolution of its camera sensor, but only for the Pro models. After years of only including 12MP sensors, Apple made the move to boost the main sensor to four times that: 48MP. A similarly sized 48MP sensor is now to be found on the iPhone 15 and iPhone 15 Plus, and it's a game changer.
Cramming more pixels into a sensor small enough to fit into a smartphone doesn't automatically create better images but Apple's camera smarts are exceptional, and the image processing software it uses can improve things hugely. First of all, Apple uses something called quad pixels. This means four adjacent pixels are combined into one, so they can draw in a lot more light between them. This is very helpful in low-light situations, and means you effectively get a much superior 12MP image.
There's more. Apple simultaneously takes a full 48MP resolution shot and then adds the extra detail this provides. When the clever stuff is all done, you end up with a 24MP image, rather than a 12MP one. This makes for greater detail, especially in those parts of a picture that can be hard to capture, such as wisps of hair or skin tone.
There are only two lenses on the back of the iPhone 15 and 15 Plus, but when you open the camera app, it gives three zoom lengths: 0.5x, 1x and 2x. This means, for the first time, there's effectively a telephoto-style lens on the iPhone, not just the iPhone Pro. Apple achieves this by cropping in on the central 12 megapixels of the sensor, giving you an effective telephoto picture without the reduction in image quality and resolution you'd normally get with digital zoom.
The other photographic features Apple is known for are here, too, including night mode, which takes decent and tonally balanced images in near darkness, without the image looking artificially brightened.
Portrait mode has been improved so you no longer have to think about it. Portrait photos put your subject in sharp relief and cover the rest of the image in a gentle blur. To do this, the phone needs to save depth information from both lenses at the same time. This is computationally tricky to achieve, so you'd usually have to switch to portrait mode before snapping the picture.
Now, even if you're in regular photo mode, the iPhone is smart enough to spot when it sees a human face (or, happily, a dog or cat) and automatically saves the depth data it needs for a portrait. This means you can edit the photo afterwards to create a portrait, placing the focal point pretty much anywhere. This is a big step forward.
Shooting video remains excellent on the iPhone. Action mode, introduced last year, means that even if you're on the move your video has effective optical stabilisation to remove jittering and make it look smooth.
Performance
The baseline iPhone 15 and iPhone 15 Plus use the same A16 bionic chip found in last year's iPhone 14 Pro models, so it's unsurprising that these new phones feel fast and responsive. Apple's phones do everything at speed, from opening apps in a flash to ensuring there is zero shutter lag when taking a photo. Games look great and video is impressive, especially with HDR playback of Dolby Vision content.
Voice isolation is a new feature, designed so that if you're making a phone call – an often overlooked feature on smartphones these days – the background noise fades away and your voice is suddenly front and centre.
Like last year, Apple has included an emergency SOS feature that connects you to a satellite if you're out of network coverage and get into difficulties. There's crash detection, too, a feature you'll hopefully never have to use, but that will automatically send your location to emergency services if you're in an accident and are unable to use your phone.
Battery life is key to a phone as fully featured as this, and you want all-day life. Happily, the iPhone 15 delivers this, and the iPhone 15 Plus lasts even longer, offering some of the longest battery life Apple phones have ever seen.
Verdict: iPhone 15 and iPhone 15 Plus
The new iPhones are slick, fast and effective. I'd still like to see Apple introduce the better ProMotion displays it saves for its Pro models, but the new, brighter screen here looks very good, especially with the brilliant dynamic island. The cameras are a very big update this year, delivering sensational images with zero effort.
This is a much more extensive upgrade compared with the one from the iPhone 13 to the iPhone 14. If you don't need the extra camera found on the Pro, this is the ultimate all-round smartphone.
Best iPhone 15 and iPhone 15 Plus contract deals
Voucher codes
For the latest discounts on phones and tablets, try the links below:
Upgrade your tech with our round-up of the best laptops, whether you're working from home or gaming on the go