The Independent's journalism is supported by our readers. When you purchase through links on our site, we may earn commission.
9 best door stops and draught excluders to keep your home snug
From novelty toads to simple tartan, we've found the stoppers to suit any home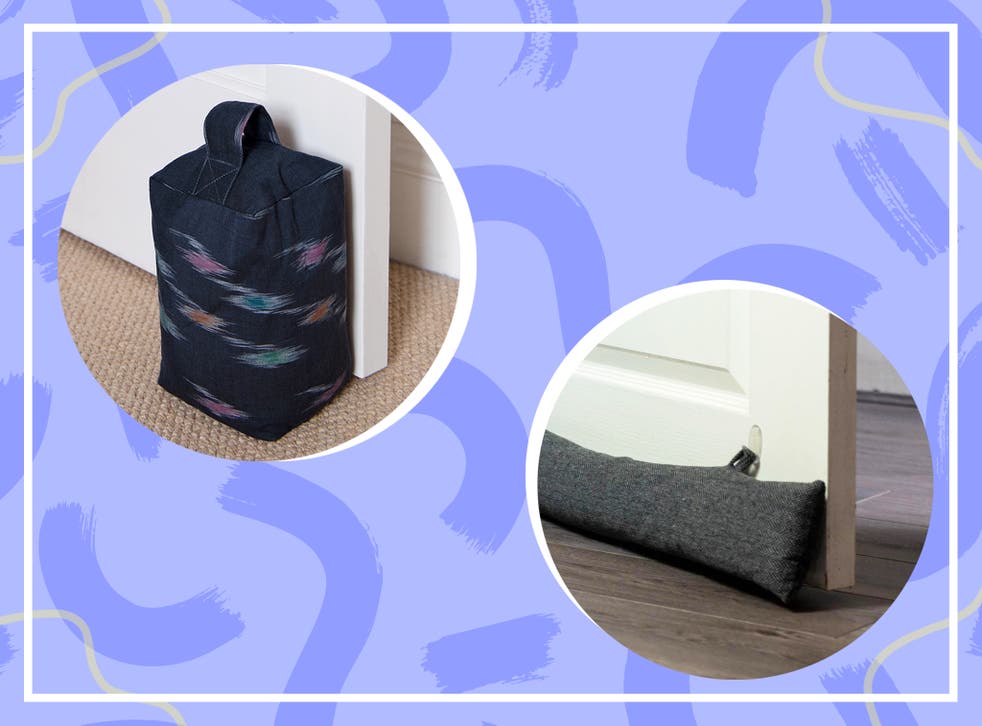 Thought all draught excluders were equal? Think again. The use of a certain type of stuffing, or the presence of accessories such as hanging loops, can make or break a draught excluder.
One of the key considerations is the contents – although we'd never suggest discounting softer fillings such as hollowfibre stuffing or feathers, materials such as sand or gravel are preferable if you're expecting your draught excluder to double as a door stop, and given that draughts are often caused by doors swinging open, these heavier fillings can be a godsend.
For this reason, how easily the draught excluder stayed in place was a key factor throughout our rigorous testing sessions, and when concerns relating to stuffing weight arose, we looked for other features (such as loops) which helped the excluders stay put.
We also considered maintenance – how easy was it to remove the stuffing, if this was an option, and could stains be easily removed? 
This was less of a concern with excluders with designs which helped conceal minor stains, although if the excluder didn't have a removable cover, we certainly placed more importance on fabrics which could be easily cleaned with a damp sponge or cloth.
You can trust our independent reviews. We may earn commission from some of the retailers, but we never allow this to influence selections. This revenue helps us to fund journalism across The Independent.
Kalinko Juju door stop
This reassuringly weighty doorstop and draught excluder is truly a thing of beauty, with a tie dye-like design printed onto dark maroon cotton. Kalinko's door stops are handmade in Burma and the printing process means that every single one is unique.
The double-lined material has a top-quality feel, and the weighty gravel filling ensured it stayed put. Although its compact size means it's not ideal if you've got deep gaps beneath the entire width of the door, it's a great option if your cold air issues stem from doors swinging open, and the pretty paper packaging it comes in makes it a brilliant present. We also loved the fabric hook at the top – why don't more door stops and draught excluders have this?
Dora Designs Bertie Bristle's family draught excluder
Who wouldn't want a row of ridiculously cute hedgehogs guarding their doorway? A wonderfully quirky take on the traditional (and let's face it, often boring) draught excluder, this brilliant piece of home décor is seriously weighty (sand is used as a filler) and is the best option for anyone looking for an excluder which will ensure doors stay firmly closed. It's brilliant quality, with ultra-tight stitching between the eight individual hedgehogs and a wonderful level of detail – every hedgehog has a cute button nose, a stitched smile and two beady eyes.
Nicola Spring herringbone fabric draught excluder
Why oh why don't more draught excluders have double hooks? These are the features we loved the most about this draught excluder – two tiny loops of fabric which attach to suckers, allowing the excluder to be fixed to the base of the door. The classy grey herringbone design makes this a perfect home accessory for rural retreats, and we loved the fact that the use of two different designs (one side is plain and the other features three appliqued hearts) allowed us to switch between sides depending on our mood.
Dora Designs Lionel Armstrong frog door stop
You don't have to have a thing about frogs to love Lionel Armstrong. He doubles as both a doorstop and a draught excluder – he's heavy enough (sand is used as a filler) to keep loose doors sliding open and letting cold air in, and clever weight distribution ensures he stays upright while defending against draughts. He's a brilliant centrepiece too, with a beautifully-tailored jacket and velveteen hands and feet. The obvious downside with this type of door stop/draught excluder is that washing it isn't an option, although Lionel's forgiving colour scheme means we can't see this being a problem.
Dunelm Isabella check draught excluder natural
This is a brilliantly priced draught excluder which feels wonderfully luxurious, and which made us question why consumers are willing to pay so much more for cotton or wool excluders (this is one is polyester). Although it's not the heaviest excluder we tested, it's thick, full and keeps its shape easily, and its striped, neutral-hued design is easy on the eye without being bland. Although it's another one which is sponge clean only, the use of polyester made it easy to spot-clean stubborn stains without worrying that we'd damage the fabric.
John Lewis & Partners tartan draught excluder
This cheery draught excluder, with its tartan design and thick, woollen blend fabric, instantly ramps up the cosiness, and a leather loop at the end allows it to be hung up when not in use. We're also awarding top marks in the stuffing stakes – it's a reassuringly weighty draught excluder, with more than enough tightly-packed stuffing to ensure it stays put. This is aided by its slim profile; during our testing we found that fatter, rounder draught excluders were much more likely to roll out of place.
Isabelline Kristin triangles fabric draught excluder
For a splash of geometric-themed style, nothing beats this funky draught excluder, which has just the right amount of stuffing – it's heavy enough to stop doors from swinging open and to keep out draughts, but light enough to slide easily out the way when the door is opened. We also loved the luxuriously thick feel of the material (a blend of cotton and polyester which definitely feels more cotton than polyester) and the thoughtful colour coordination – even the zip has a yellow hue, to match the fabric's pattern.
Brambly Cottage Kian draught excluder
Our one gripe with this pretty draught excluder? It's a self-stuffing job – the stuffing comes separately, and we're struggling to work out why we'd opt to do this surprisingly fiddly task ourselves. Stuffing sagas aside, there were plenty of little details which won us over, including the concealed three quarter-length zip (lending the draught excluder a more uniform stiffness along its entire length), the pretty herringbone design of the fabric and the thick, cord-like trim in a contrasting colour, which adds a splash of style to a household item which can easily look hum-drum and plain.
Maisons du Monde doggy draught excluder
A generous filling of sand prevented this mood-boosting, draught-blocking dog from going walkabout, and its oversized tweed ears proved handy when it came to moving it into place (not that we'd move any other dog using this technique, to be clear). It's also great value – you'll struggle to find draught excluders with this level of detail for under £15. With a width of 90cm it's also long enough to span the widest of doors (most sausage-style draught excluders we came across had lengths of between 84 and 86cm).
The verdict: Doorstops and draught excluders
The weightiness, styling and sheer quality of the Kalinko Juju door stop bagged it the top spot (it's also the only draught excluder which we'd consider giving to someone as a gift) while the Dora Designs Bertie Bristle's family draught excluder came a close second, thanks to its quirky take on traditional sausage-style excluders, along with its sturdy weightiness – all too many excluders use lightweight stuffing which fail to keep them in place. 
A special mention should go to the Nicola Spring Herringbone fabric draught excluder, which has an easy-on-the-eye price tag and a simple design boosted by the presence of two hooks which ensure it stays put.
Looking for clever storage for your vino? Read our review of the best wine racks
Register for free to continue reading
Registration is a free and easy way to support our truly independent journalism
By registering, you will also enjoy limited access to Premium articles, exclusive newsletters, commenting, and virtual events with our leading journalists
Already have an account? sign in
Register for free to continue reading
Registration is a free and easy way to support our truly independent journalism
By registering, you will also enjoy limited access to Premium articles, exclusive newsletters, commenting, and virtual events with our leading journalists
Already have an account? sign in