The Independent's journalism is supported by our readers. When you purchase through links on our site, we may earn commission. Why trust us?
How to get your garden ready for post-lockdown entertaining, according to a landscape artist
Follow these simple steps to transform your outdoor space so you can socialise alfresco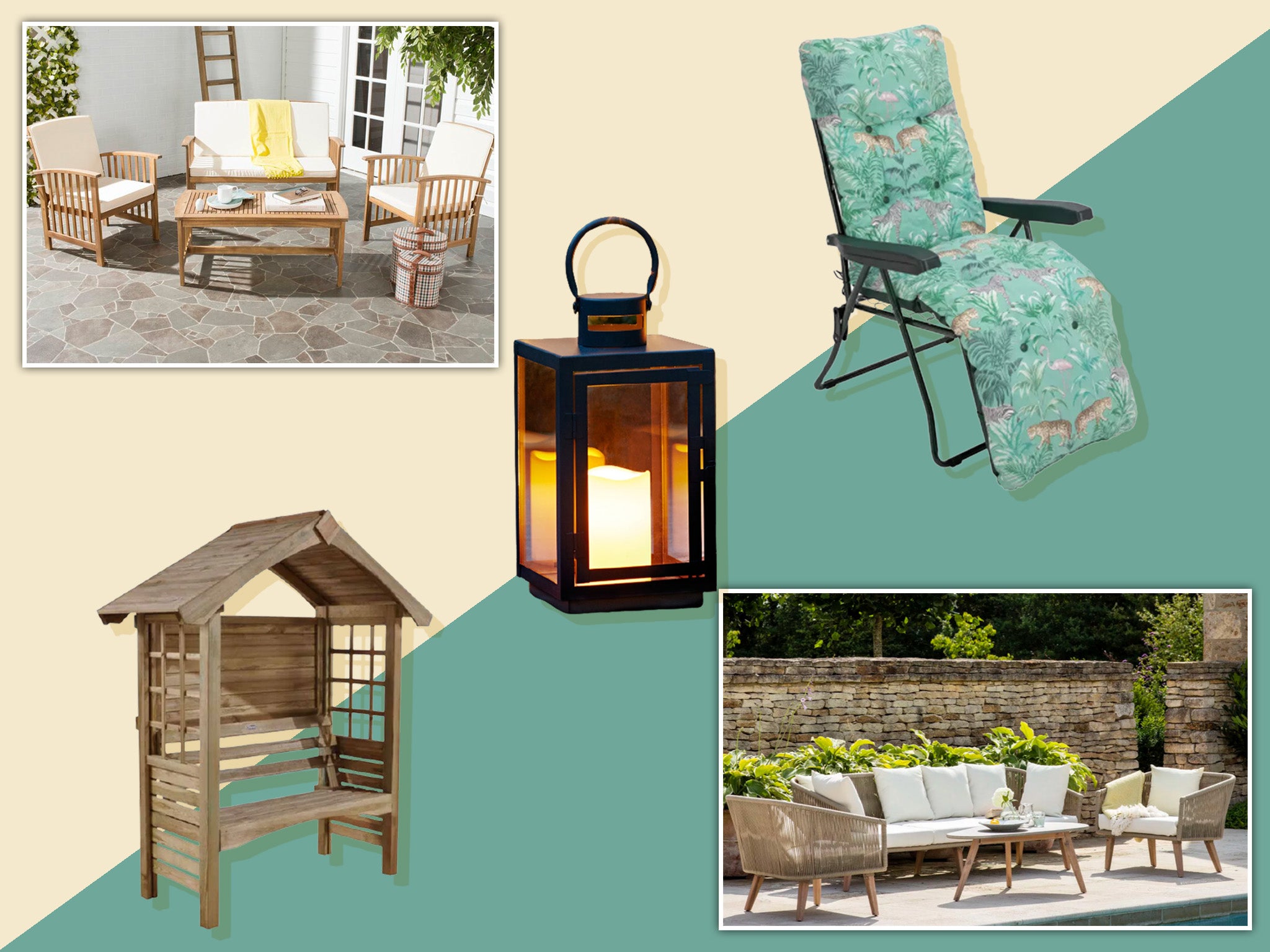 Leer en Español
With daffodils beginning to bloom, there's a real hint of spring in the air.
While this would ordinarily be cause for celebration, this year it's particularly pertinent since the arrival of the new season also brings with it the prospect of finally being able to socialise with friends, albeit in small groups and outside.
From 29 March, the government's lockdown roadmap stipulates that we will be allowed to meet in groups of up to six people from multiple households or an unlimited number of people from two households outdoors.
With this in mind, you might be considering how you're going to update your outdoor space to accommodate for hosting guests in a socially distanced manner. And you're not alone, since retailers are reporting that sales of outdoor furniture and accessories are already far higher than usual.
In order to help you get your outdoor space in fine order ahead of hosting, we asked Ula Maria, an award-winning garden designer and landscape architect for the essentials you need in your garden.
Read more:
From outdoor furniture and creating an ambience through lighting to BBQs, pizza ovens and even an alfresco bar, no stone is left unturned – this is your ultimate guide to alfresco fun at home if you will.
You can trust our independent round-ups. We may earn commission from some of the retailers, but we never allow this to influence selections, which are formed from real-world testing and expert advice. This revenue helps to fund journalism across The Independent. 
Furniture
When thinking about the essentials you need for hosting in your garden, seating is particularly important, says Maria. "Comfortable furniture prolongs time spent in the garden immensely and will not only enhance your visitor's experience, but it can change the way you use your garden on a daily basis yourself," she says.
Luckily, you can usually find garden sets and accessories fairly affordably by keeping an eye out for outdoor furniture sales, with retailers like Wayfair and Argos reducing prices considerably. But if you don't find anything that suits your taste or budgets at these retailers, you can find a range of online shops that will deliver straight to your door. 
With Maria's advice in mind, we'd suggest investing in the Bay Isle Home Carson four-seater sofa set (£449.99, Wayfair.co.uk), which includes two armchairs, one bench and a table. The teak wood is weather-resistant and it comes with cushions for extra comfort on a hot summer's day. 
If budget allows, Sofa.com has recently launched its debut collection of garden furniture, which combines comfort and style and has been designed to extend your living space. The shape and size of your garden will inevitably dictate which set you opt for, but for an afternoon spent sipping Pimm's with friends you've not seen in a while, we'd recommend the colwell sofa set (from £2,100, Sofa.com). 
The brand says it took inspiration from a seaside bay on the Isle of Wight for the set, which features a three-seater sofa and two armchairs. Each piece has a rope frame design and is styled with off-white seat cushions and tapered legs. But, perhaps most importantly, it is waterproof.
Having a large garden is a luxury and we appreciate that many people have only a sliver of outdoor area, so if space is limited, we'd recommend opting for foldable, lightweight seating options.
The Argos Home metal relaxer chair (£40, Argos.co.uk) can be easily moved to where the sun is as light changes throughout the day. It not only reclines for extra comfort when reading your book in the sunshine, or enjoying an Aperol Spritz with a friend, but can also fold away for easy storage. 
Similarly for smaller patios, your dining area needn't be dominated by a large garden table and we'd instead suggest a collapsible table and chairs, which allow for easy alfresco dining options. Go for something minimalist such as Argos Home's Eve folding metal bistro set (£50, Argos.co.uk), which is affordable and stylish. 
Made of metal, it's suitable for outdoor use all-year-round but it easily folds down for storage. If the sage green isn't for you, the set also comes in grey. 
Read more: The best garden furniture deals to shop now
Lighting
"Lighting is just as important outdoors as it is inside your home," says Maria. "It can improve your garden experience both aesthetically and practically".
"You don't need to have an expensive, elaborate lighting setup – a simple mobile, rechargeable lantern can do a good job," she recommends. As such, we'd suggest this Malvern battery operated outdoor lantern (£29.99, Lights4fun.co.uk). 
The brand claims that the cream pillar candle, which is housed in a glass-panelled lantern, gives off a warm white flickering glow – perfect for evening soirees. It's a stylish addition to your garden for summer that would work just as well around a fireplace during the winter months.
Alternatively, we'd also recommend a set of solar-powered outdoor string lights (£11.98, Amazon.co.uk), which can be dotted around your garden and provide a gentle flow.
While affordable options can make a huge impact, Maria adds that, if your budget allows, lighting should be at the top of your design considerations. This is because it is not only beneficial for extending how long you can spend in your garden, but it also creates an ambience.
In our guide to the best outdoor lights, our writer noted that "if you're serious about transforming your garden or patio into an extra living room, design-led lighting is the way to go". These Tribu monsieur tricot garden lights (from £815, Gomodern.co.uk) are created by Ilia Eckardt for the Belgian brand Tribu. 
Featuring "a removable knitted cover that's made from polyolefin rope," these "lights cast beautiful shadows and patterns as they gently move in the breeze and best yet is that they're dimmable, allowing you to control the mood". While they are an investment purchase, "they're undeniably magical".
For something a little more affordable, our writer also praised this adjustable pillar light (£75, Pooky.com) for being "elegant and versatile". Adding that "it's contemporary in form, with a simple cylindrical shape that can be adjusted to allow for a soft, directional light, whether that's illuminating the garden path or the entrance to the patio doors". 
Coming in a range of metallic finishes, it's "discreet, understated and top quality". For larger gardens, we'd recommend adding more than one to your garden to create a beautiful ambience.
Read more: 9 best sun loungers for basking in the heat this summer
Sense of privacy
"Our homes are our sanctuaries, and I believe gardens should be too, perhaps even more so," says Maria.
"Gardens are spaces where we can relax and unwind, so I think it is important to create a sense of privacy so that you and your visitors feel as comfortable as possible," she adds. "If you have an exposed garden think about potentially using trellis, climbing plants, hedges or taller trees – all of these elements can help in order to create a sense of enclosure and sanctuary."
This flamed planter box with trellis (£52.90, Relaxdays.co.uk) not only provides climbing support for your plants but once it's covered it'll make for an ideal privacy screen. Made from sturdy fir wood, it's 1.5m tall and is perfect for gardens, patios and balconies alike. 
If you're looking for tall trees to transform your garden into a secluded sanctuary, bamboo (from £24.99, Jacksonsnurseries.com) is a fast-growing evergreen plant that is tall and full of green foliage all year round.
Read more: The online garden centres and nurseries that deliver plants to your door
Shelter
There's no denying that the British weather is unpredictable, so it's important to have "an area which would allow you to be sheltered from the elements, be it sun or rain," says Maria. Plus, shelter "is bound to encourage you spending more time in your garden, alone or with others," she adds. 
"Whether it's a light pergola structure or perhaps even a large umbrella that can shelter you from the weather extremes, it will for sure improve the quality of your time spent in the garden".
With so much on offer, it can be difficult to know where to begin but we've got you covered. If you're looking for a sturdy, all-year-round feature in your garden, turn to the forest cadiz arbour (£325, Wilko.com), which provides cover for two people to sit comfortably.
With a 15-year guarantee against rot and fungal decay, it arrives flat packed for self-assembly. The trellis sides provide an ideal home for climbing plants and a haven for you.
An alternative to shade you from the sunshine is a garden parasol (£95, Ellajames.co.uk), and this particular style featured in our guide to the best ones. "We loved this large garden parasol for its understated elegance," noted our writer. 
Reaching a full three meters in diameter, the "height adjustable parasol features a strong metal pole with an easy to use crank handle," they added, before praising it for being a "timeless, sophisticated, and stylish addition to the modern patio".
Keeping warm
You don't need us to tell you that it's unlikely temperatures will be scorching come 29 March, and so it's important to think about how you and your fellow guests will stay warm when the sun goes down.
One solution is to invest in a chimnea that will provide a comforting and cosy hub for hosting. While we are biased, we'd recommend this La Hacienda contemporary steel chiminea (£80, Argos.co.uk), which was selected as best buy in our review of the best chimineas.
The expansive opening means you can feed the fire with three or four sizeable logs and then "sit back and enjoy the heat without having to worry about it going out," noted our writer. Plus, the model burns "very efficiently and is nicely designed so that even on windier evenings" you won't be covered in ash or enveloped in smoke.
Another option is a heater and this Kettler Kalos copper lantern heater (£189, Garden4less.co.uk) topped our list of best outdoor heaters, with our writer noting that it "will instantly enhance the look of any patio, deck or balcony".
"The lantern comes in three different sizes with differing outputs, with the small lantern producing 1.5kW, the medium lantern 1.8kW and the large lantern producing 2kW, so the warming range was an impressive 6m," our reviewer said, so you're sure to stay toasty with this nearby.
Read more: 11 best fire pits for evenings in the garden
Food and drink
Of course, with any hosting it's important to consider food and drink. And last year, pizza ovens and BBQs were huge hits as people were spending more time outdoors – we predict a similar trend this year, so it pays to get ahead of the curve and invest early.
When it comes to a BBQ, first consider whether you want a gas or charcoal model. If the former, we'd recommend the Weber spirit II E-320 (£765.45, Weber.com), which came out top in our test of the best. 
While the price isn't exactly pocket-friendly, it "offers premium build quality combined with real versatility and consistently well-cooked food," said our writer.
For something a little more compact, try the Cadac citi chef 40 (£154, Stovesareus.co.uk), which is "ideally suited to a balcony on a warm summer evening."
According to our writer it delivers "big barbecue flavours from a smaller grill" and offers "good even cooking and heat distribution across the ceramic-coated aluminium grill with a dome lid that hooks behind it to act as a windshield when cooking".
If you're partial to a charcoal BBQ, we'd recommend using the Rösle no.1 F60 air (£450.98, Amazon.co.uk) for your all summertime grilling. It not only landed the top spot in our review of the best, but our writer also noted that it "is a guaranteed crowd-pleaser that makes delicious barbecue food with ease".
What's more, the design of the domed lid means there's plenty of room for larger meals, and it's been designed with hinged so it can be opened to 45 degrees and you needn't worry about finding a place to put a hot lid, added our writer.
As for a pizza oven, if you want to bring a taste of Italy to your garden when you host friends and family, we'd recommend beating the crowd and getting yours ordered sooner rather than later owing to their popularity last year.
If it were us, we'd opt for the Ooni konda 16 (£499, Stovesareus.co.uk) since it topped our list of the best pizza ovens thanks to being able to "turn out crisply bottomed, perfectly cooked pizzas in just under a minute" and being a "the most versatile pizza oven" that was tested. 
"The large opening and spacious oven design meant that we could really get experimental with our pizza cookery and get generous 16in bases smothered in family favourite toppings," praised our writer. It's a premium oven "that's well worth the dough".
Outdoor bars were also a huge trend as people brought the bar to them, which will inevitably be another hit this year. If you're looking for a permanent feature, Wickes has brought back its sell-out build your own garden bar kit (£400, Wickes.co.uk). 
If you're considering it, we'd recommend starting your project sooner rather than later because this was hugely popular. It comes with a 10-year anti-rot guarantee and contains everything you need to bring happy hour to your outdoor space all-summer-long. Just don't forget to get it stocked up with all your favourites, whether that's gin, beer, wine, or non-alcoholic tipples.
Update your outdoor space on a budget with our guide to the best garden furniture deals