The Independent's journalism is supported by our readers. When you purchase through links on our site, we may earn commission.
10 best patio heaters that suit any garden or outdoor space
Ditch the scarf and wooly hat to enjoy any outside area at home – even in winter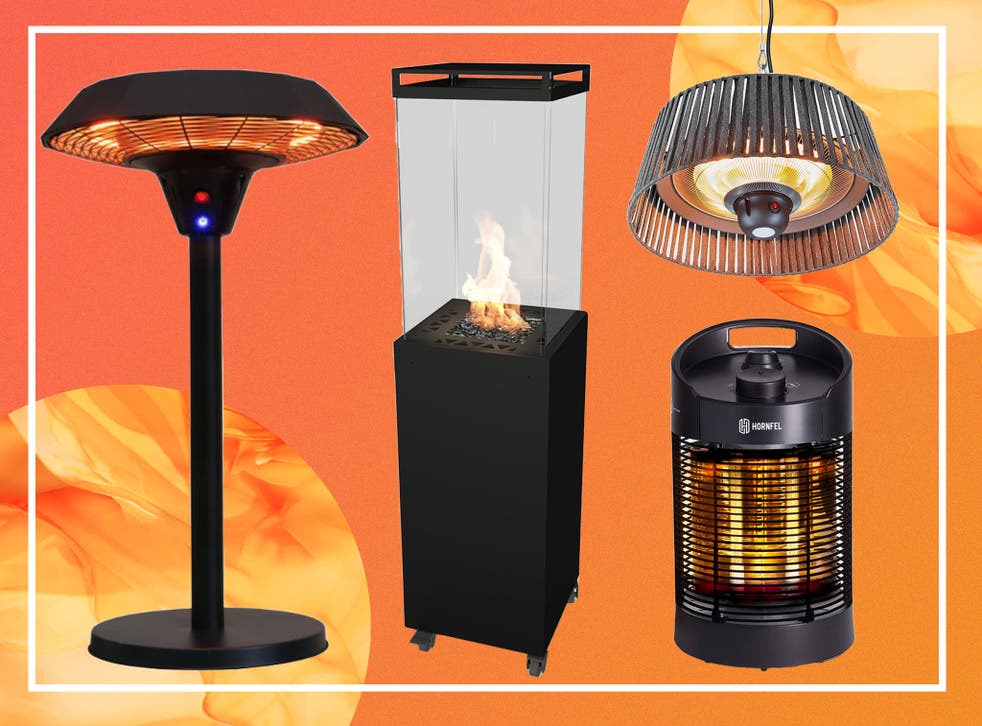 Whether you're looking to warm up an outside space, small shed or large patio, outdoor heaters allow you to entertain, work, or just chill out with a glass of something seasonal in the fresh air.
You can choose between an electric infrared or gas heater. The former is becoming much more popular thanks to their efficiency, and the fact that they instantly start pumping out warmth at whoever is in range of the radiated heat, so very little is wasted.
Gas heaters, on the other hand, convert all their energy into heating the air, so if there is a sudden gust of wind you could temporarily feel the chill, but they often warm a larger area so can be good for larger gatherings.
Obviously, we needed heaters with the ability to warm a group of people, and for that heat to be easily controllable so that we didn't end up having to socialise in extremes of temperature, spending time in conversation rather than constantly fiddling with dials, switches and remotes.
Stability was also a concern when we were looking at the heaters, because you're dealing with a heat source and you can't always rely on patios, paving and grass to be perfectly flat, so we looked at how little we would need to worry about standalone heaters staying that way, especially in gusty winds.
Read more:
Finally, we looked at what kind of glow the heater was emitting and whether it was pleasant to be around – suffice to say, any heater that required sunglasses didn't make the edit.
How we tested
Unfortunately, there are still plenty of supply issues with patio heaters, as manufacturers try and recover from the surge in demand that came from last year's second national lockdown. To try and counter this, we toured garden centres throughout a cold, windy November to see what was currently available, and tested the heaters in outside demo areas on a group of five people to see how effectively we all felt toasty and whether there were any cold spots. Like a moth to a flame, these were the winter warmers that we were drawn to.
The best patio heaters for 2021 are:
Patio heater FAQs
What is the difference between gas or electric patio heaters?
Most patio heaters use either gas or electricity to generate heat and which one you choose will largely depend on budget and the size of the space you're looking to warm up.
If you want to heat your garden quickly an electric heater could be the one for you as they are easy to turn on and off, and typically reach the desired temperature quickly. The majority of electric heaters are "radiant heaters", which means they heat objects directly and are generally better for large gardens because you can choose a specific area to be warmed.
Alternatively, gas-powered patio heaters often provide more wide-ranging heat, making them a good option for larger areas, and they can be cheaper to buy. However, they are far from the greenest option out there.
According to Heat Outdoors, they can be costly to run and "extremely wasteful in terms of both heat generated, the energy consumed and CO2 emissions." The carbon footprint of an electric patio heater is just 15pc of a gas model.
How effective are patio heaters?
While the idea of warming an outdoor space might seem fruitless, patio heaters are far more effective than you might realise and could be just what you need if you want to stay in the garden a bit longer when it gets chilly at night.
Whether you choose electric or gas, each option comes with its own unique appeal but they all work well as a direct form of heating. Gas heaters cover a wider area but they usually take a while to heat up. Meanwhile, electric heaters are popular because of the instant and convenient heat they can provide: once plugged in or wired into the mains, you simply need to flick a switch or press a button.
Can you put a patio heater in a gazebo?
According to Best Gazebos, it is safe to put a patio heater under your gazebo as long as it is not an enclosed structure. However, not all patio heaters are made equal so it is best to check at the time of purchasing to verify whether or not it is suitable.
It is always best to make sure your heater is placed in the middle of the gazebo and to avoid any model that uses open flames or allows direct contact with the heating element.
The verdict: Patio heaters
The real test of a good patio heater is how well it performs on windier days and all the heaters featured here did well at that. But the Swan al fresco SH16310N was one of the best and also offered controllable, even heat while being subtle enough in its design to ensure it's not going to dominate your outside space.
Voucher codes
For the latest discounts on garden furniture, try the links below:
More garden recommendations:
Register for free to continue reading
Registration is a free and easy way to support our truly independent journalism
By registering, you will also enjoy limited access to Premium articles, exclusive newsletters, commenting, and virtual events with our leading journalists
Already have an account? sign in
Register for free to continue reading
Registration is a free and easy way to support our truly independent journalism
By registering, you will also enjoy limited access to Premium articles, exclusive newsletters, commenting, and virtual events with our leading journalists
Already have an account? sign in